I love to explore and understand various cultures and to try cuisine from around the world. One of my favorite regions of food is Morocco. I love the blend of spices used in the cuisine from this region. There are many different dishes in Moroccan cuisine, but none as popular as tagine (tajine)
Tagine, is a staple of North African cuisine, and like Indian curry, there are a number of different variations. There are likely as many versions of this dish as there are people preparing it! Tagine can be made with pretty well any type of meat, like chicken, beef, lamb or fish. Usually tagine has a different mix of vegetables and even fruits, like raisins or apricots. The spice blend, called ras el hanout, has some similarities to Indian curries, but is usually not as hot and also has some sweeter spices, like cinnamon, cloves, and others.
Cooking a tagine meal is traditionally prepared in a tagine pot. This is a clay pot that has a shallow base and the food is cooked in the pot right on an open fire. The lid is cone shaped and it has an open chimney at the top. It is an effective way to slow cook meat on an open fire, but for those of us using modern Western kitchens, the tagine pot is a great way to cook the dish in the oven. It has such a unique look and design that placing a tagine pot on the table is a great way to present and serve this traditional Moroccan dish.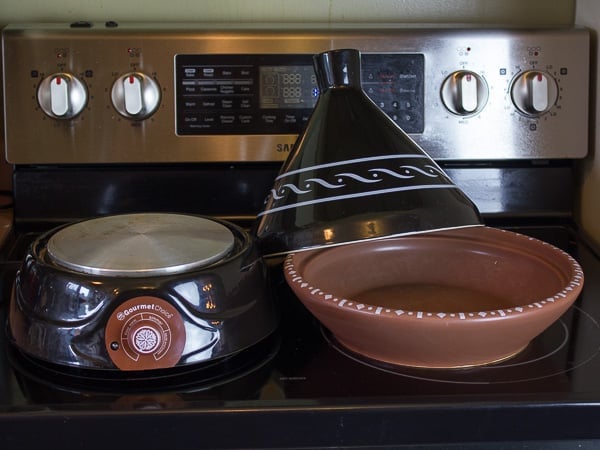 Gourmet Choice  sent me their Electric Tajine Cooker to try out. When I received it, I did not even know that there were electric tagine cookers. It is very cool looking, practical and stylish – that works for me! This electric unit has three parts: the base unit, the clay shallow pot and the cone lid. The clay pot rests right on the base unit that has a heating element.
The dial on the base unit allows you to set the temperature: saute/brown, simmer and keep warm. In many ways, this unit is similar to a slow cooker, but what it does, that a typical slow cooker cannot, is brown and saute the meat. I love being able to do everything with one pot, so I hate having to transfer. That slows things down and dirties more pots than necessary.
So, with this Gourmet Choice Tajine Cooker, it is possible to brown the meat first. I made a Chicken and Black Olive Tagine. I tossed the chicken in the spice blend and browned them right in the clay pot. One thing I noticed, is that while this appliance does allow the browning of meat, it does not get near as hot as what a skillet can get on a stovetop. Therefore, the browning took a little longer than I thought (about 10-12 minutes), but I was still happy that I was able to do everything in this pot!
Once the chicken is browned, I added the rest of the ingredients, set the dial to simmer and placed the cone shaped lid on top. This is when the unit essentially becomes a slow cooker. The tagine is heated low and slow to create a tender and delicious dish very similar to stew.
After 3-4 hours of cooking, the tagine is ready. The meat is basically falling apart and the carrots are tender. The one thing I love about this tajine cooker is that it looks great and is used to serve the dish. No need to scoop the food into a serving dish. Lift the tajine pot with lid, right off the base unit and bring it right to the table. Use this when guests are over and they will love the presentation!
I am thrilled to announce that Gourmet Choice has generously offered an Electric Tajine Cooker as a giveaway for one lucky reader. This giveaway is open to U.S. and Canadian residents only. Sorry to anyone who lives elsewhere. Make sure you use rafflecopter widget below to enter – just follow the instructions on the widget to enter (there are options for more than one entry as well!).
Disclaimer: Gourmet Choice provided me with the Electric Tajine Cooker. They did not pay me for this review and the views expressed above are my honest reactions after trying the product.