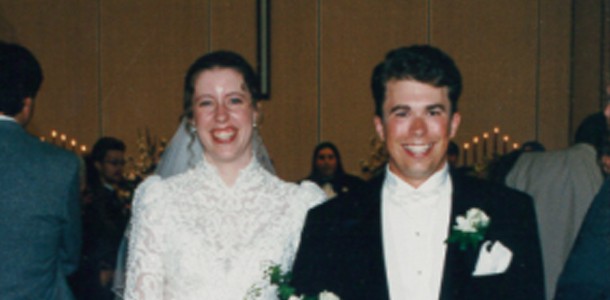 15 years ago!
On August 31, 1996 I had the privilege to marry the most incredible woman in the world! That day was so special. It was great having all our family and friends together as we committed our lives to one another. When I was younger I always hoped that I would marry someone who was my best friend. I am so thankful that God answered my prayers!
Janna is an amazing woman and an incredible mom. She has patience to the extreme – she needs that with me around! She is so creative – just check out her own online store here. She is dedicated – the amount of energy and time that she invests in our children blows me away. She is the best mom I have ever met. I know I may be biased, but I still believe it.
It is hard to believe that we are celebrating our 15th wedding anniversary today. It seems like just yesterday we moved into our place together in Kingston after our honeymoon. But, a lot has happened in those 15 years. We have lived in a number of places. We have had the privilege of ministering in different churches together. We also have three incredible kids – Ben 8, Elijah 6 and Mary 4. We are truly blessed.
I must say, I feel like the luckiest guy in the world because I got to marry the best woman around.
So, Janna, Happy 15th!!
Below are some pics of the past!!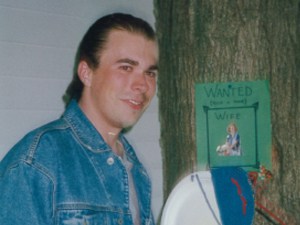 First off – no comments about my hair in a pony tail! 🙂 Many moons ago I worked at Maple Grove, a camp, and some of the ladies of the camp were trying to get me married so they hung this sign (wanted wife) up. They were instrumental that summer in getting Janna and I together. Thanks ladies!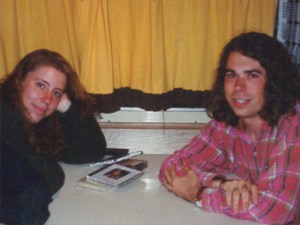 Janna and I spent so much time together that summer. We quickly became the best of friends! Again, no comments on the hair. 😛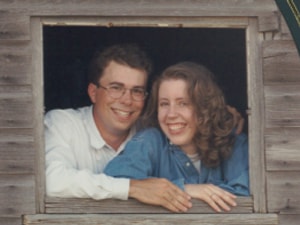 We were engaged a year and a half later. Here is one of our engagement photos. It was taken at Janna's family farm. Wow, this was a long time ago!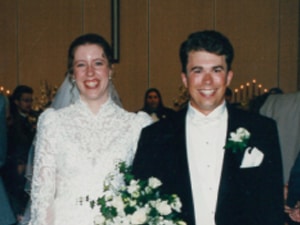 This is right after our wedding. August 31, 1996.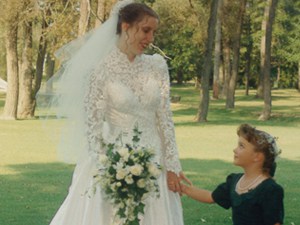 Janna looked stunning that day (well, she does every day!). Here she is with our flower girl, Chelsea Smith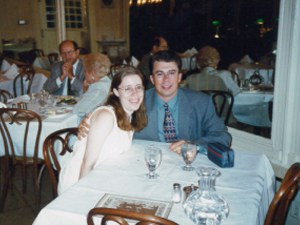 We went to New Orleans for our honeymoon. Here we are having dinner at Antoine's Restaurant. It was awesome!
Now…. 15 years later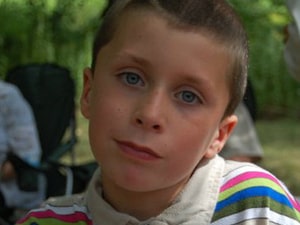 Ben, our oldest. He is a runner. He has more endurance than I could even dream of!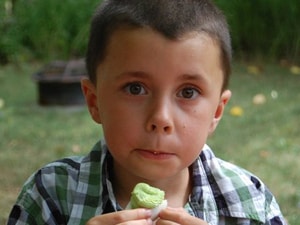 Eli – he loves anything Angry Birds. He loves to draw and create.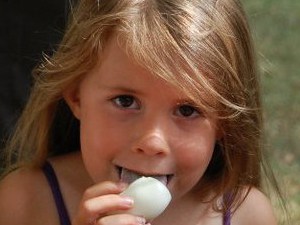 … and Mary. She is going into JK next week. She is our little princess who likes anything pink!
And to try and keep this post somewhat related to the theme of the blog, tonight I am making a special dinner for us to celebrate: Cocoa/Coffee crusted Beef Tenderloin with a Raspberry Reduction Sauce and Grilled Eggplant and Zucchini Stacks with Goat Cheese and Fresh Basil.