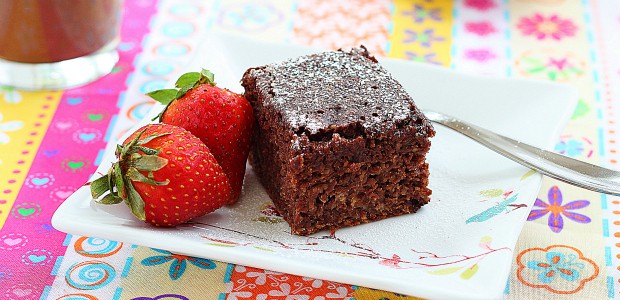 Low-Fat Brownies – guest post from A Little Bit of Everything
So far, this week of guest posting has been amazing and today we have one more awesome blogger and recipe. I have often felt that The Black Peppercorn is a little light on desserts. Sure, I did a bunch of baking during the Christmas season, but other than those, my sweet section on the blog has been somewhat sparse.
Well, Roxana has come to help me out. I am so excited to have her here as a guest blogger! If you do not know Roxana, you have been missing out. She is a baking queen. Seriously, she is. Her website, A Little Bit of Everything, is jam packed with incredible recipes. If you are a chocoholic – going to her site might be deadly. She has a wide selection of breads, cookies, and even a bunch of gluten free recipes.
So without delay… Take it away Roxana!
Hello Steve's loyal and wonderful readers. For those of you that don't know me I'm Roxana, the baker, writer and photographer behind A little bit of everything / Roxana's Home Baking. I have a passion for baking, especially bread and chocolate goodies. I have a home-schooled two-year old who keeps me going all day long. Almost all the recipes on my blog require a preheated oven and lately I've been experimenting with vegan and gluten-free baking. So far I can't complain, but from time to time you'll see me whipping up pounds of butter and dozen of eggs in my baked goodies.
Thank you Steve for allowing me to guest post on your beautiful blog. I'm happy to be here today sharing one of my favorite guilt-less (wish I could say guilt-free) brownies.
My daughter didn't care much for chocolate until recently and now, all day her requests are chocolate cake or chocolate cake. Explaining a two year old chocolate cake for dinner is not appropriate is not an easy job, but sure is fun. I was left with two choices, either I stay firm and no chocolate cake what-so-ever or I pull out some tricks and make a chocolate cake to enjoy after those broccoli disappear from the plate.
These brownies are loaded with mashed bananas to keep them moist and also to reduce the amount of sugar. The egg whites keep them fluffy and the oat bran and whole wheat pastry flour add to the daily grain servings. Did I mention they are butter and egg yolk free?
Some people like their brownie fudge-y, some like it cake-y. These are a combo between the two. Although no chocolate is called for, the cocoa powder gives is a nice brown color. They are delicious plain or served with some fresh fruit for a more colorful plate.
If you have a chocolate lover at home or if you're one but you don't want to add some extra calories to your diet, this is your go-to recipe.
Make these brownies! They are so totally worth those 15 more minutes at the gym!
Low Fat Brownies
Ingredients
1/3 cup (1 oz/28 grams) cocoa powder
3/4 cup (150 grams) raw sugar
1/3 cup (80 ml) fat-free milk
2 cups mashed bananas (about 4 ripe bananas )
5 eggs whites lightly beaten with a pinch of salt
3/4 cup (100 grams) oat bran
3/4 cup (90 grams) whole wheat pastry flour
1 tsp baking powder
Directions
Heat the oven to 350F. Line a 11X7 baking pan with parchment paper (I prefer the pan lining paper from Reynolds). Set aside.
In a mixing bowl sift together the whole wheat flour with cocoa. Add the sugar, oat bran, baking powder. In another bowl mix the milk with the bananas and egg whites. Slowly fold them into the dry ingredients.
Pour the batter into the prepared baking pan and bake for about 35 minutes. Cool completely in the pan before slicing. Dust with powder sugar before serving (optional).
~~~~
Hope I'll see you again soon on my blog, Facebook, Google+ or Pinterest.