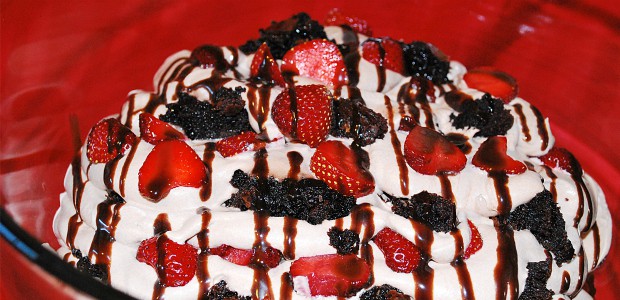 Two no-bake desserts – guest post from Chicago Foodie Sisters
Ever since I started The Black Peppercorn, I have been continually amazed at how great the foodie community is. I have made many friends over the past year, from all over the place. This week is one way that you can see how great foodies are. Since my family is on vacation this week, I wanted to have a bunch of guest posts, and right away many people offered to participate.
Today the guest blogger is not one but two people and they are sharing not one but two recipes. How cool is that! Two and Two. Carrie and Becky are sisters from Chicago and their website is called Chicago Foodie Sisters. These sisters just celebrated the one year anniversary of their blog last week. I encourage you to check out their site – it is packed with many great recipes!
So, here they are – let's welcome Carrie and Becky.
It gets quite warm in Chicago in the summer and the stove becomes an idle fixture for at least a few weeks as the crock pot is put to use and meats and veggies are cooked on the backyard grill. The sweet-tooth definitely doesn't dissapear duing the summer months and sometimes something other than ice cream is in order. Here are two of my favorite no bake desserts that are easy to whip up on a summer day without warming up the house.
The first one is a Strawberry and Brownie Trifle I made recently after our strawberry picking adventure. The Fountain Avenue kitchen had reposted a picture of the dessert that came from the blog Curry and Comfort. Hers included Cool Whip mixed with vanilla pudding, but I am of the attitude that you can never have enough chocolate, so I adapted mine to step up the chocalaty-ness of the it (yeah, I know that's not really a word.) Also, I made a half recipe from what Curry and Comfort's called for. Double it to fill up the entire trifle dish. Mine didn't fill the bowl – and it certainly looks prettier with a full bowl. Any prepared brownies will do – get some from a local bakery (we have a Sara Lee outlet nearby where you can buy an inexpensive sheet of brownies) or even use the Little Debbie version to avoid turning on the oven. If it's a cooler day, go for it and make your own. Even a pack of soft chocolate cookies will work.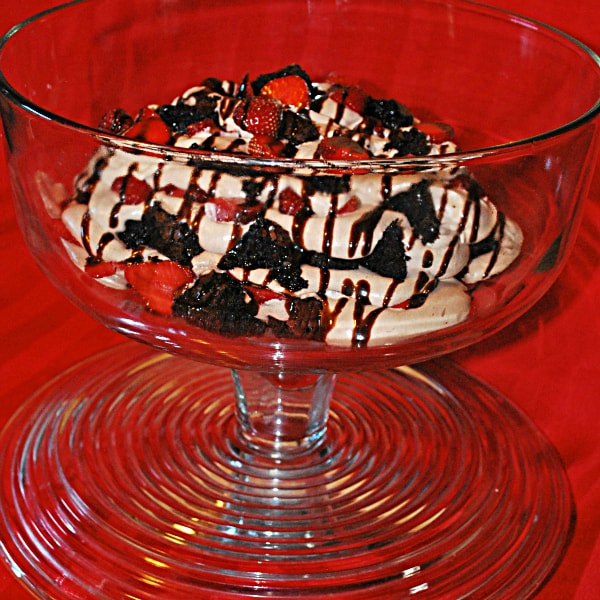 Recipe:
Strawberry and Brownie Trifle
1 8 oz. tub of Cool Whip
1 3.4 to 3.9 oz. box of instant chocolate pudding
1 1/2 pounds of sliced strawberries
1 pan of prepared brownies or box of brownie mix (prepared according to directions)
Chocolate syrup for garnish
After you prepare brownies, let cool and then cut into one inch square. Lay a layer on bottom of dish. Surround with sliced strawberries. In a separate bowl, stir pudding mix into Cool Whip until blended well. Scoop onto brownie and strawberry layer. Repeat once or twice until all ingredients are used up.
The second recipe I'm sharing is one of my all-time favorite desserts that I originally found while watching a segment of Dr. Food on a local television station. It couldn't be easier (requires NO baking) and tastes wonderful, like you spent a lot of time slaving over it – the Chocolate Eclair Cake. And yes, it does taste just like a chocolate eclair without all the work.
Chocolate Eclair Cake
1 box of graham crackers
2 3.9 ounce small boxes of French Vanilla instant pudding
1 and one-half 8 oz. containers of Cool Whip
3 cups milk
1 16 oz. container chocolate frosting
On the bottom of a 9 X 13 cake pan, place a layer of graham crackers (there are three packages in a box – You'll use one for each of the three layers.) In a large bowl, whisk milk and pudding. Fold in Cool Whip until well blended. Pour half over graham crackers. Repeat with another layer of graham crackers and pudding and Cool Whip mixture. Finish with a third layer of graham crackers.
Remove lid and top foil wrapping from frosting and put in microwave on high for 20 to 30 seconds. Mix with a knife and pour onto top layer of crackers. Spread to cover all. Return frosting to microwave for a few more seconds if needed. You want it soft enough to spread easily. Place in refrigerator and chill for at least 2 hours before serving.