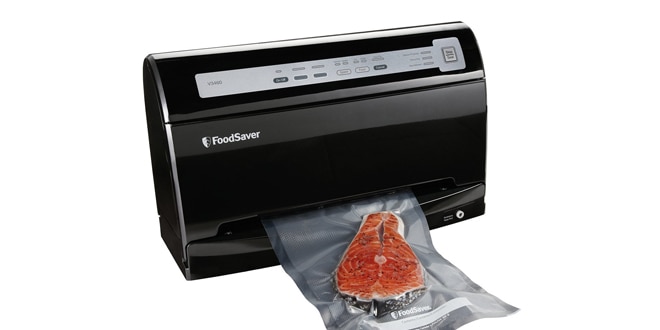 Foodsaver V3460 Vacuum Sealer Product Review
Ever since I got my Bradley Smoker last year I have been wanting to get a vacuum sealer. I love to smoke homemade sausage, kielbasa and salmon. The times that I do smoke these foods, the smoker is jam packed with it so I usually need to freeze some. I have been using freezer bags and they do an ok job, but after a couple months there were lots of ice crystals on the meat and they began to suffer from freezer burn.
I began researching various vacuum sealers and narrowed the choice down to the Foodsaver sealer. While walking through Walmart this past September, I made sure that I pointed out the Foodsaver sealer to my wife as an excellent choice for a Christmas gift. All that changed when I received an email from Foodsaver themselves. The company offered to send me their product in exchange for a review on my site. DONE! I was thrilled when the parcel arrived by courier and I could not wait to open it up and start sealing.
The Foodsaver uses special bags that are smooth on one side and have small ridges on the other to help remove the air during the vacuum process. There are a variety of sizes of bags, some with plastic zippers. Along with the different options of bags, there also roll of one massive long bag that can be cut to size and sealed on one end allowing you to have a bag the exact size and length you would like.
The sealing is done through a heat seal method where the plastic is melted to create a strong seal and bond. Trying out this Foodsaver, I wanted to try sealing a number of different types of food and you can see below that I had a lot of fun. I was truly impressed with how easy it was to operate and the results were great.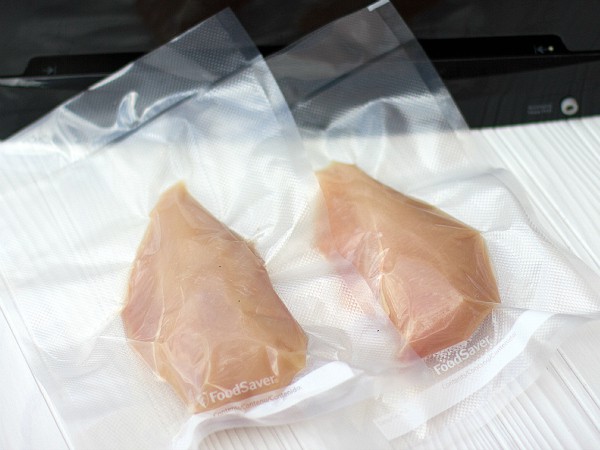 Individually sealed chicken breasts. Perfect when cooking meals for one! Buy a club pack of chicken, seal them in individual bags and throw them in the freezer.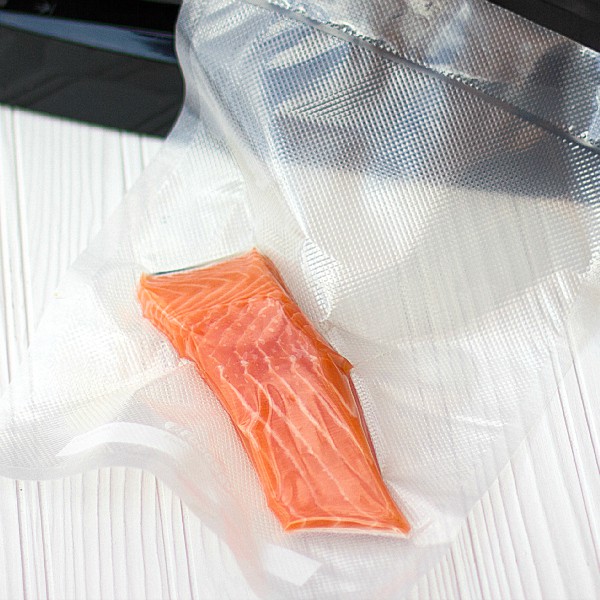 A single portion of salmon filet. I bought a whole filet of salmon and sliced it into individual portions and sealed them. It worked like a charm.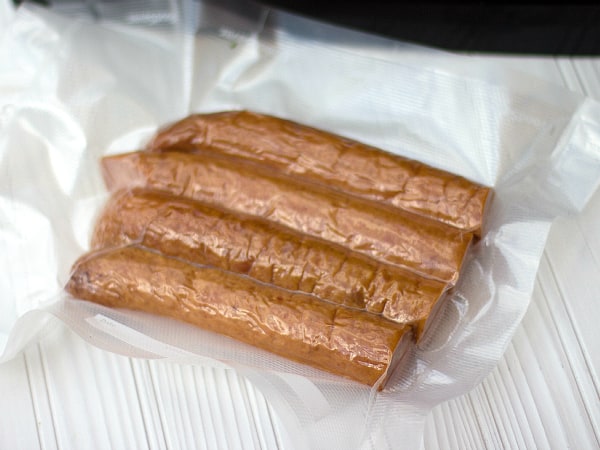 My local European deli has great kielbasa and it sealed up well. I was amazed at how effectively it took ALL the air out when vacuuming it before the sealing process.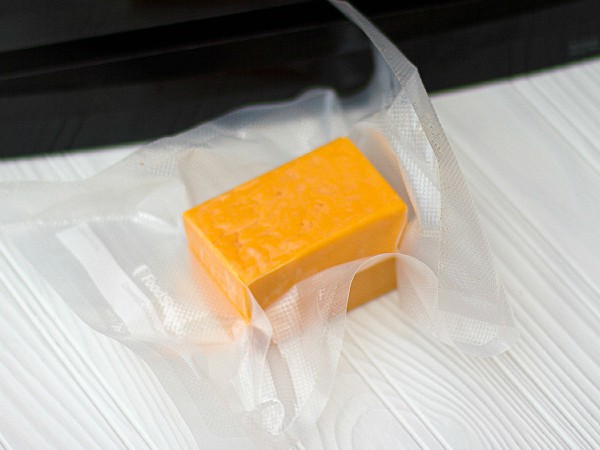 Sealing cheese is easy and can help to prolong its freshness in the fridge.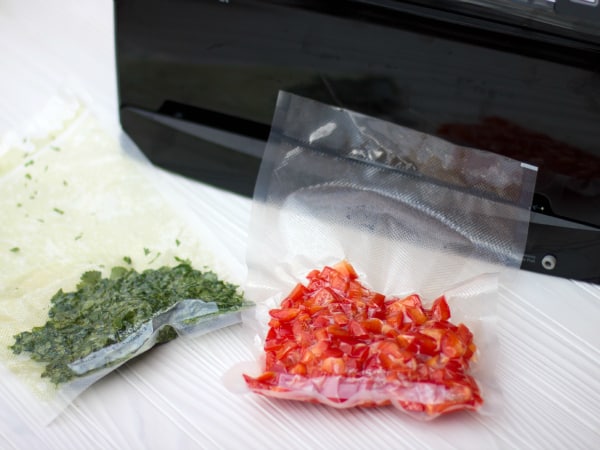 I wanted to try sealing herbs and vegetables, so I minced some cilantro and diced up a couple red peppers. Both sealed really well. I imagine that for people who have a large garden, the Foodsaver would be a great option, during harvest season, to preserve some of the extra crop.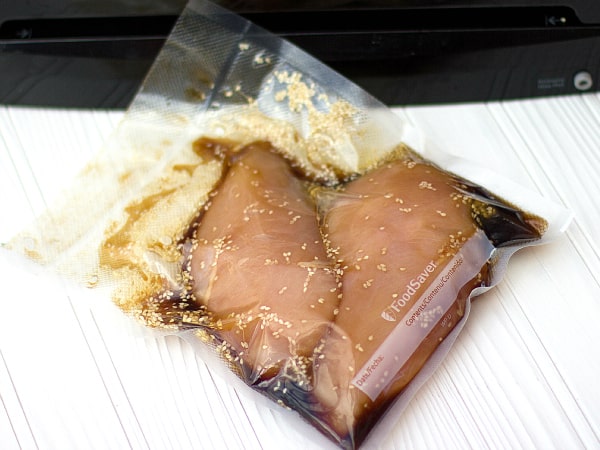 I wanted to try vacuuming and sealing some meat in a marinade, wondering how the Foodsaver might perform with wet ingredients. There is a wet setting on the Foodsaver and it can actually detect the moisture in the bag when is starts vacuuming. It was definitely not as effective as when it works with a dry product, but as you can see from the picture above, the end result is still pretty awesome. Having a bunch of frozen marinated meat, in Foodsaver bags, in the freezer would be so handy. Above are two boneless skinless chicken breasts in an Asian sesame marinade.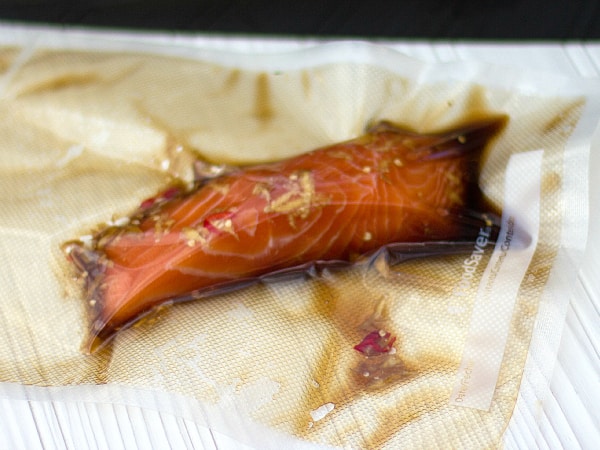 Here I sealed a salmon portion in a soy ginger marinade.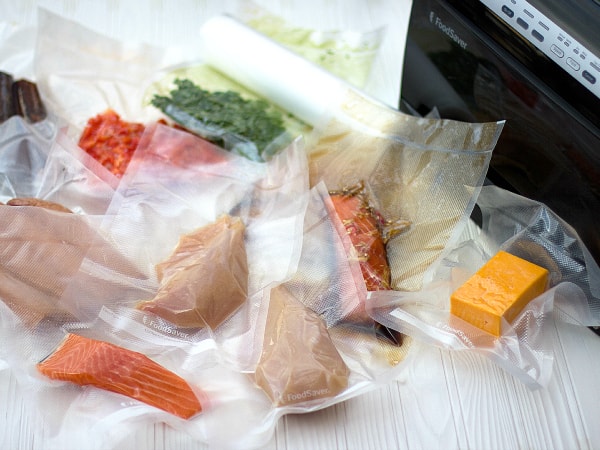 In the end, after a day of using the Foodsaver, I was so incredibly impressed with the product. I know I will be using it regularly. I cannot wait to use it to try cooking with the sous vide method and to seal meat from my smoker.
Disclaimer: Foodsaver provided me with the Foodsaver sealing unit. They did not pay me for this review and the views expressed above are my honest reactions after trying the Foodsaver product.