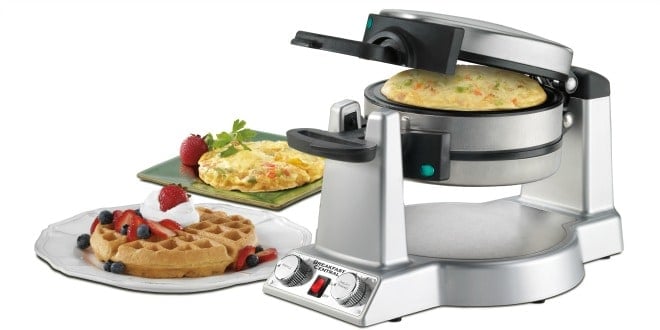 Cuisinart Breakfast Central Waffle and Omelette Maker
The Cuisinart Breakfast Central (Silver)
is the ultimate breakfast appliance. Do you like waffles? The Cuisinart Breakfast Central can make you them. How about an omelette of frittata? It can make those too. The Breakfast Central can even make English muffins and pita bread. Not only can it make all these breakfast and brunch classics, but it can even make two at the same time. This handy little kitchen appliance has two cooking sections, one for making Belgian style waffles and the other for omelettes, frittatas and more.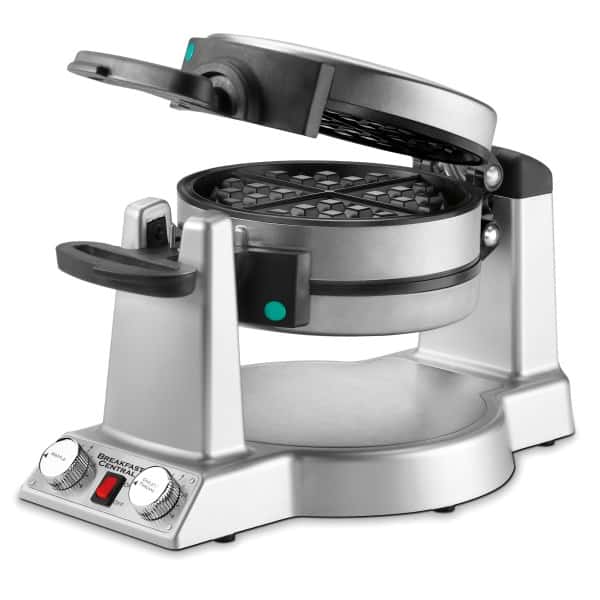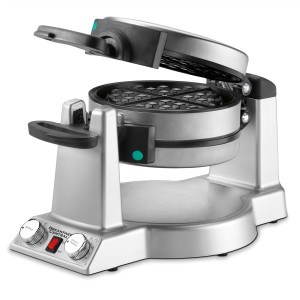 The Breakfast Central has quite a clever construction. The cooking component has two sides. One side has the waffle mold. This has deep one inch indentations. It produces amazing Belgian style waffles. On the back side of the waffle iron is another cooking element, but for omelettes or frittatas. This side does not have the waffle grid but instead is flat. This side can cook many different things and the recipe booklet included with the appliance shows the many options. These two circular cooking elements rest on two arms. A handle allows the lid to be lifted and for them to be rotated 180 degrees. One aspect of this design that makes the Breakfast Central ingenious is that you can actually use both cooking sides at the same time. Pour in some waffle batter, close the lid and turn it 180 degrees. Now the waffle element is underneath and you can lift the lid for the omelette side and pour in your favorite omelette or frittata recipe. Close this side and you have both, a waffle and an omelette cooking at the same time. A green indicator light for each side and a beep lets you know when each is done. There are dials on the front to set the heat level for either or both cooking elements. This simple appliance allows you to create so stellar breakfasts for the entire family.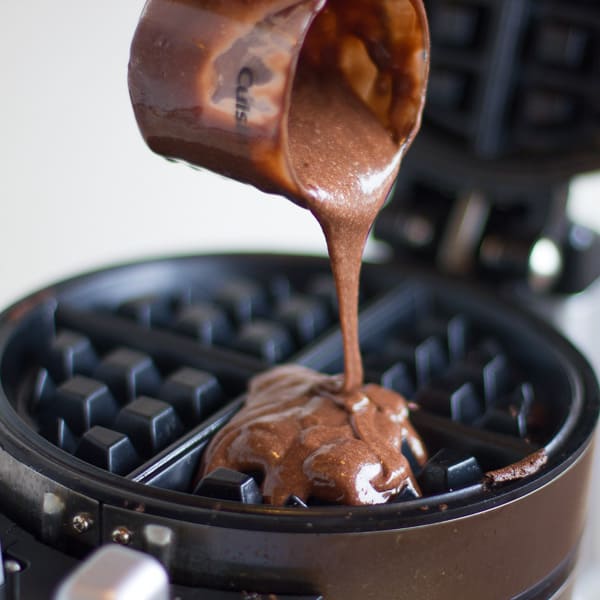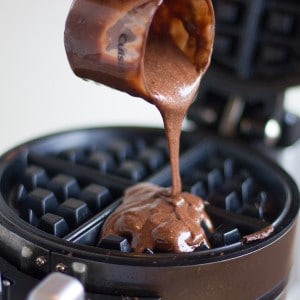 I have never owned a waffle iron before. Up to the point of trying the Breakfast Central, I had never actually made a waffle. I was eager to try it, but not near as much as my kids were eager to eat them. They hounded me for a couple of days until I went to the store and bought some real maple syrup. I figured that if I was going to make waffles, we needed some of the good syrup to go with it. Since then, I have made waffles many times using a couple different recipes. Both waffle recipes using yeast and the non-yeast kind have turned out great. I even made cake mix waffles, as seen in the picture here. Super easy but totally delicious!
The waffle iron in the Breakfast Central seems almost foolproof. I quickly spray both sides with cooking spray, and use the measuring cup that comes with the Breakfast Central. Pour in one cup of waffle batter and close the lid. It is important to turn it 180 degrees to make sure that the batter gets in all the little crevices so that it comes out even. After a few minutes the machine will beep. Lift the lid and you have a perfectly cooked waffle.
Click this link for instructions to make these Cake Mix Waffles.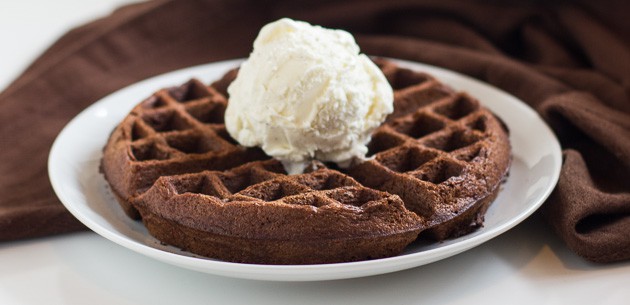 Making omelettes has been a lot of fun for our family. There are 5 of us and, as you can imagine, everyone likes different ingredients with their eggs. I put out bowls of chopped ham, chorizo, peppers, mushrooms and grated cheese. Everyone chooses their own ingredients and so everyone is happy. Making omelettes follows the same steps as making waffles. Spray both sides with cooking spray, pour in the egg mixture and close the lid. Turn the handle 180 degrees after about 30-60 seconds and wait for the beep. That is it! the Breakfast Central makes a fluffy and delicious omelette that is perfect every single time. I have already made dozens of these and every one comes out the very same.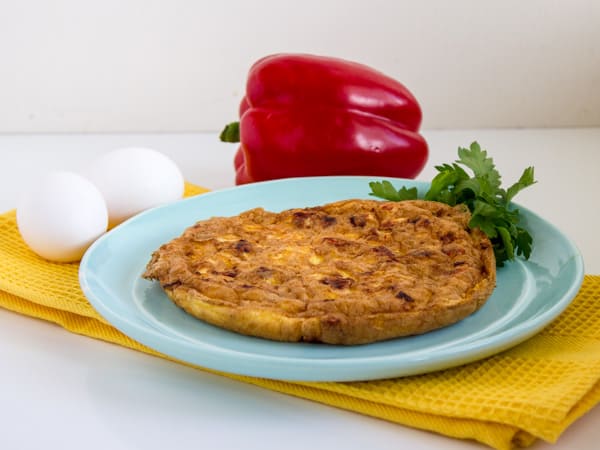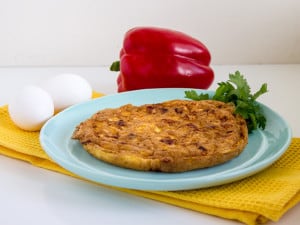 I have not used the omelette side for anything other than omelettes and frittatas but the manual has recipes for English muffins, pita bread, pancakes and more. The English muffin recipe intrigues me as it uses fresh store-bought pizza dough. Divide it, roll it in corn meal and place in the breakfast central. The whole concept of freshly baked English muffins has me excited. Those are next on the list for the Breakfast Central.
Clean up is a snap. The Breakfast Central cannot be submerged in water but there is no need to do that. Since the cooking elements are non stick, wiping them down with a wet cloth is all that is needed. The outside of the appliance is the classic Cuisinart stainless steel, so it can be wiped down easily if there are any drips of batter or egg mixture. The one thing I did find when using the Breakfast Central, particularly with omelettes, was that sometimes a bit of mixture leaks out the side while turning it. I found that waiting 30-60 seconds before turning allows enough of the egg to set limiting the leakage.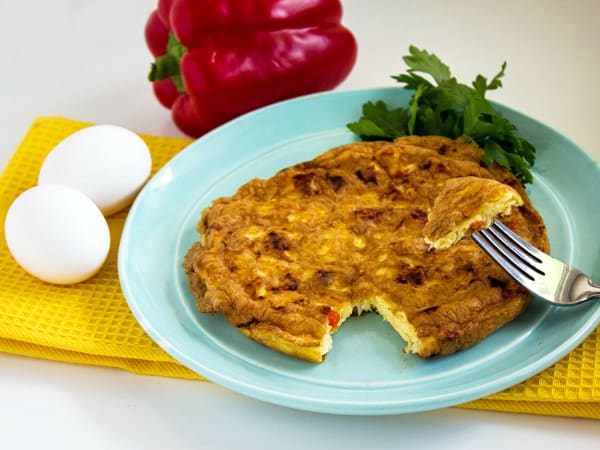 Cuisinart is known for making quality products and the Breakfast Central is no exception. Everything about this small appliance screams quality. I find more and more, that when I am looking to buy a kitchen appliance, I first check to see if Cuisinart makes it. If you are wanting to get a waffle maker or something to cook omelettes, I encourage to to check this out. It is definitely pricier than the waffle only appliances, but this can do so much more and it is built to last.
Buy your own own here – Cuisinart Breakfast Central (Silver)
Disclaimer: Cuisinart provided me with the Breakfast Central. They did not pay me for this review and the views expressed above are my honest reactions after trying the product.