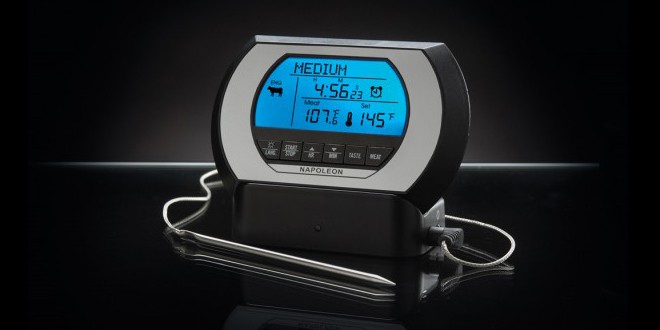 Napoleon Wireless Thermometer Product Review
A meat thermometer is an essential tool for anyone who likes to cook outdoors. Sure, you can tell how much some meat has cooked by just looking at it. Even pressing down on a steak or chicken breast can reveal if it is ready or needs more cooking. But, that does not always work and a meat thermometer can tell you exactly how things are going inside that meat. If you want to cook a whole chicken, brisket or pork shoulder, you are going to want a meat thermometer. I remember once, smoking a pork shoulder, for pulled pork and I did not use a meat thermometer. I determined its doneness by how long it was smoking, instead of the internal temperature of the meat. After the time was up, I took it out and started to try and pull the meat. The pork shoulder was fully cooked, but it had not reached a high enough internal temperature to allow the meat to easily pull. I vowed, from that moment on, to always use a thermometer.
I have a gas grill and a smoker, so I cook my fair share of meat throughout the year. I like to cook smaller cuts of meat and larger ones as well, that require more of a low and slow form of cooking. I have many different types of thermometers I use. So, when Napoleon offered to send me their new wireless thermometer, I was eager to try it. I have never used a meat thermometer that is wireless.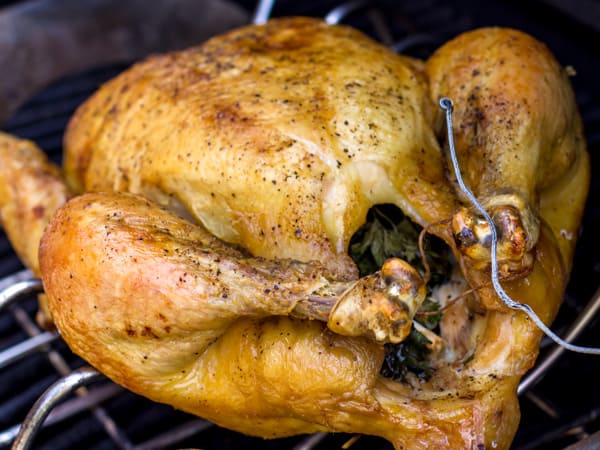 This thermometer has two parts – the base, which the food probe is attached to, and the wireless display. Each take 2 AAA batteries to operate.Napoleon makes some great products and I actually use one of their gas grills and have had it since 2004. It is a great grill!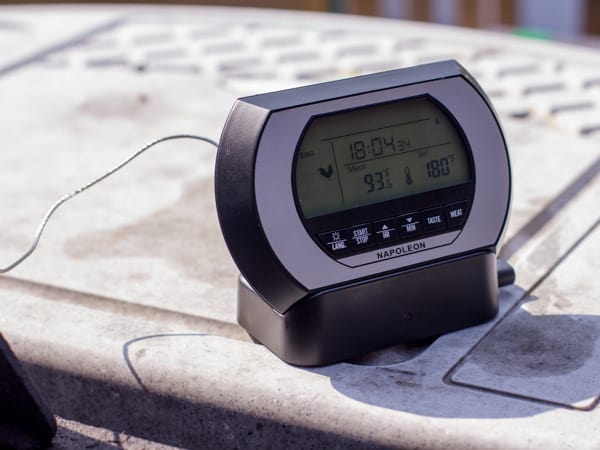 The meat probe is attached to the base of the unit and it has a 3 foot cable, which gives plenty of length whether using a large grill or any type of smoker. There is a signal button on the base unit that, when pressed, has the base searching for the display unit. There is an icon on the display to show whether the base and display units are connected. It was super easy to set up! I tested the wireless distance and found that it worked really well. I walked close to the advertised 200 feet before the signal started to get spotty. I also set the unit outside on my deck and walked inside. I went all through the house, even into the basement, and still got the signal. The wireless feature is great as it allows you to keep the display by your side and you can see how the meat is doing at any time without having to go to the grill or smoker.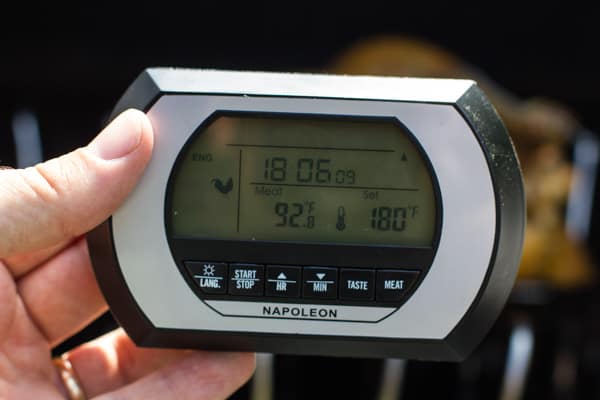 The display has many different features:
Temperature setting. Not only is there a display for the actual temperature of the meat, but there is also the ability to set the target temperature. There are many different preset temperatures and you also have the ability to customize it to any specific temperature. Hit the meat button and the display will cycle through various types of meat like beef, chicken, pork, lamb and fish – each having its own preset temperature. For beef there are also set temperatures based on whether you prefer your steak rare, medium or well done. It is really easy to operate and all you have to do is set the temperature and the unit will beep once the meat has reached that target temperature. On the back of the unit there is a switch allowing you to use either Celsius or Fahrenheit.
Timer setting. This thermometer is also equipped with a timer. On the back of the unit there is a switch allowing you to choose either temperature or timer mode. Timer mode gives you the opportunity to set how long you wish to cook the meat on the grill. Set how many hours and/or minutes up to a maximum of 23 hours and 59 minutes. When the timer reaches zero, it will beep. The timer can work alongside the thermometer giving you plenty of options.
There is also a light button to illuminate the display if cooking during evening hours.
Language – there are settings for English, French, Spanish and German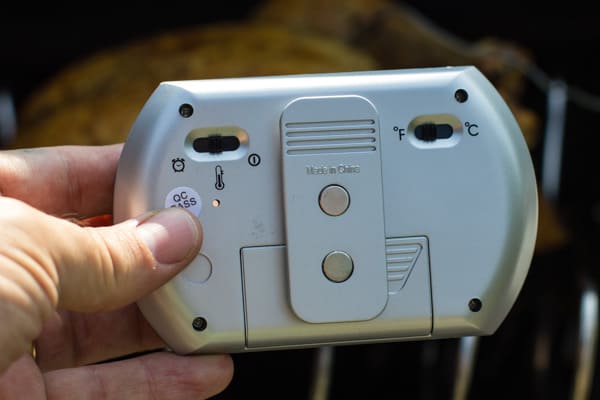 This thermometer seems to have it all. Even on the back of the display, there is a clip. The clip allows you to attach the display to your shorts or jeans to keep it right by your side. The clip can also be pulled out to turn it into a stand so the display can sit on a table. There are even 2 magnets on the clip so that the display can stick to anything metal like a BBQ, fridge, steel table, etc.
Of all the thermometers I have used, none of the others have had as many features as this one does. It is the perfect thermometer for anyone who likes to cook by the grill or smoker. Actually, it would be just as effective if used inside when cooking anything in the oven as well!
Pick up this thermometer here Napoleon 70006 Wireless Thermometer
Disclaimer: Napoleon provided me with the Wireless Thermometer. They did not pay me for this review and the views expressed above are my honest reactions after trying the product.