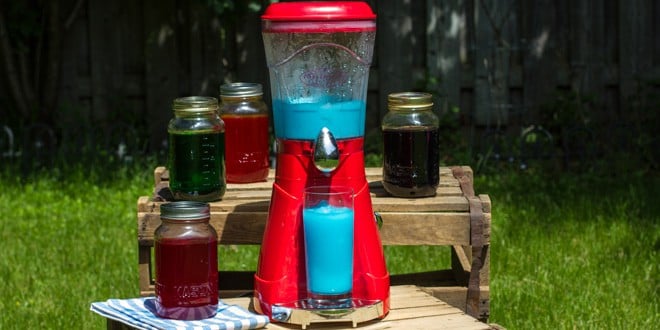 Nostalgia Electrics Margarita and Slush Maker Product Review
All throughout the summer everyone in our family looks for treats to beat the heat. We have plenty of popsicles and freezies in the freezer ready to go. We also love frozen drinks like slushies, smoothies, frappes and more. Making frozen drinks can be hard on some blenders that are not built for extended periods of crushing ice. Not only that, if you do not want to spend a lot of money, many blenders are not all that effective at crushing ice to a slushie type consistency. So, when Nostalgia Electrics offered to send me their Margarita and Slush Maker, I was eager to give it a try and see if it would take over the role of frozen drink maker for our family.
Nostalgia Electrics is a fun company. Stroll through their website and you will see so many great products. Two themes I notice when looking at their products: entertaining and retro. Many of their products are focused on entertaining. Fondue fountains, cake pop makers and electric lazy susan buffets are a few examples of some of their appliances that are perfect for parties. There are also many retro style products that are sure to bring back some good memories. Old fashioned cotton candy makers, kettle corn popcorn makers, snow cone carts, and the peanut butter makers are all throw backs to days gone by. They even have a 3 in 1 breakfast station that has an awesome retro look.
The Nostalgia Electrics Margarita and Slush Maker is built to make frozen drinks. Similar to a blender, this machine has the base unit with the motor, a large 64 ounce pitcher and a lid. The pitcher is one unit and cannot come apart like many blenders, but this is fine, as I never had an issue with cleaning it. This unit is built to crush and shave ice so it uses a different design than the traditional blender blades. The spinning metal plate has two swinging metal brackets that work to keep the ice moving while it crushes the cubes. The pitcher also has a spout to allow for easy pouring of drinks.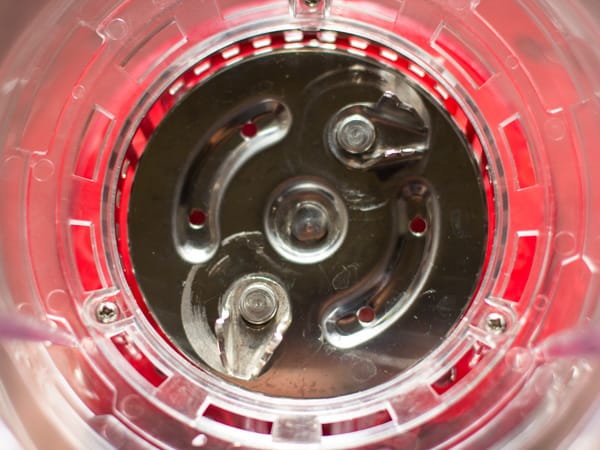 The owners manual included many different recipes for fruit smoothies, frozen alcoholic drinks and more. I tried some of the recipes in the manual and some of my own creations. Our family loves fruit smoothies as they are a great healthy treat that the kids just love. Along with those we made slushies, pina coladas and vanilla bean frappes. The machine worked great in every instance.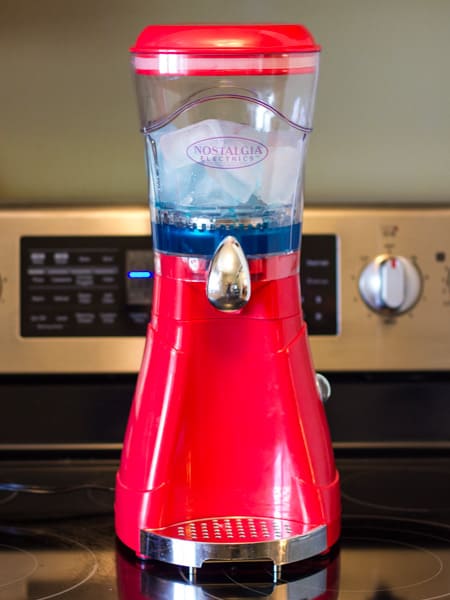 Once turned on the unit works hard and quick to crush the ice. The manual says to let it blend for about 7 minutes to make sure the ice is evenly crushed. After about 12 tries, I found that it was not necessary to wait that long. The ice seemed to be evenly crushed and smooth in about 4 minutes. I was impressed that the spinning blades never jammed or ceased even with a pitcher full of large ice cubes. Some of my past blenders have struggled breaking down ice cubes and would be known to freeze with a large cube jamming the spinning blades. Not with the Margarita and Slush Maker as it worked effectively to grind down the ice.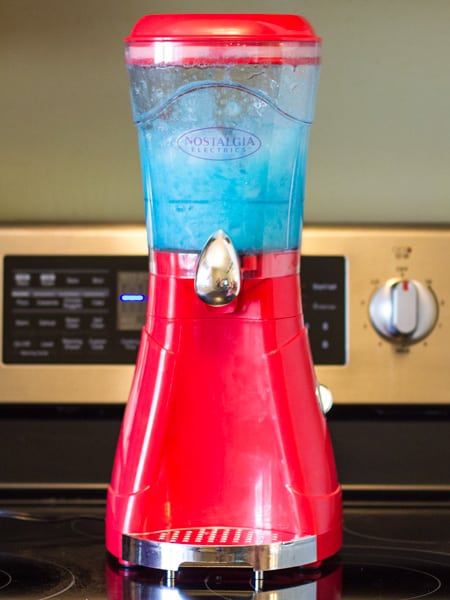 As the ice breaks down and the slush starts to get an even consistency, you can see that there is a nice cyclonic motion within the pitcher. This helps to ensure that the drink is smooth and properly blended. I made some fruit smoothies with many different types of fruit and one smoothie recipe had about 4 or 5 different types of fruit. The unit mixed it smooth just like you want in a smoothie.
One thing to note about this unit, is that the base and the pitcher are made of plastic and therefore, fairly light. As a result of this, it can move around on the counter while it is in operation. I usually keep my hand on the lid, keeping the blender in place while it is on. In the picture above, the machine was going and I wanted to get a picture of it blending. It moved around a bit while I was taking the picture. I do not think it would move so much that it could fall off the counter, but I do not think I would leave the kitchen while it is on.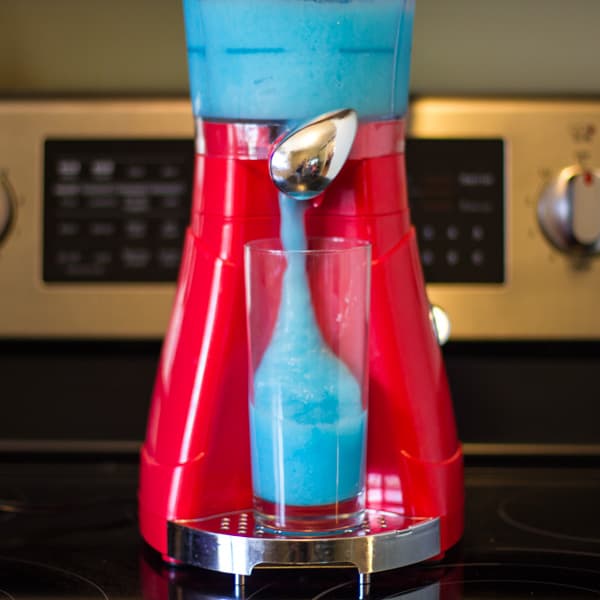 To pour out drinks, the pitcher has a spout with a valve. The manual says that the machine is to be turned on while dispensing the beverage. This actually worked really well as it poured out slushies, smoothies, frappes and other drinks that were the perfect consistency.
I really like this Margarita and Slush maker by Nostalgia Electrics. This is not an expensive unit, and it comes with a carrying case, so I think the plastic build is part of its design as being an outdoor beverage station – one that is easy to carry to a party. My main concern with this machine is that it is mostly made of plastic. I never had an issue with it during the dozen or so times I used it, but it does make me wonder about its durability and lifespan with regular use. Considering this is made for frozen beverages, which is not likely an every day treat, this machine might survive longer than I fear. It is definitely worth the price and will make a summer outdoor party a whole lot more fun!
You can by this machine at Amazon here – Nostalgia Electrics MSB-64 64-Ounce Margarita and Slush Maker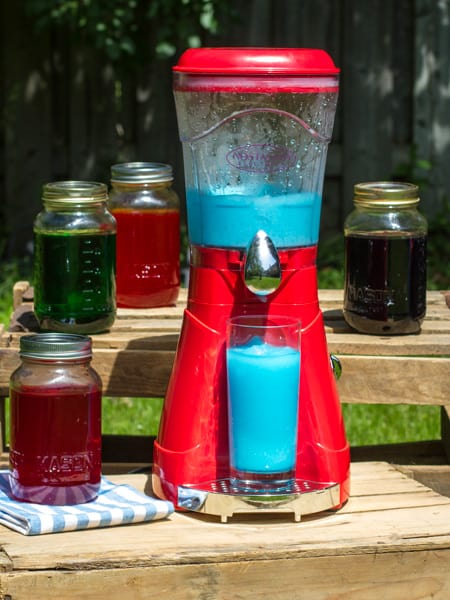 Disclaimer: Nostalgia Electrics provided me with the Margarita and Slush Maker. They did not pay me for this review and the views expressed above are my honest reactions after trying the product.