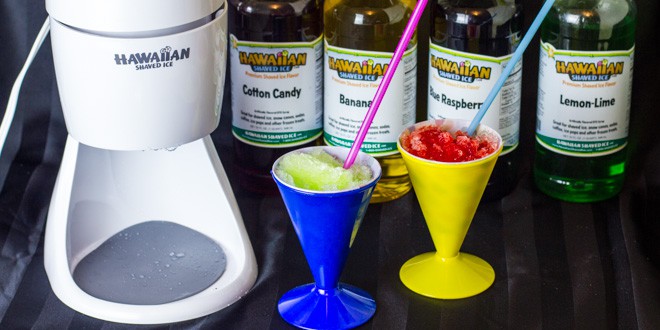 Hawaiian Shaved Ice Machine Product Review
My kids get excited whenever I receive a product to try but none had them more thrilled than when Hawaiian Shaved Ice sent me a few of their machines to try along with a collection of syrups. All kids love sno-cones and shaved ice right? There is a kid in all of us as well, and using these machines was FUN and TASTY! We received the machines just before a large family BBQ where there was close to 30 people, including a lot of kids. It was a hot day and perfect for some shaved ice. The machines got a work out and here is my impressions on one of their models. I will post reviews of the other two models in the next couple weeks.
First off, let's get a little lesson in shaved ice and sno cones. You have likely heard both names, but did you know that there is a difference in both how they are made and what they taste like?
Shaved ice is made with fine freshly shaved ice that is typically shaved off of a block of ice. The shavings of ice are so fine that it looks like snow. Some other names for this is Hawaiian shaved ice, sno-balls and shavers.
Sno cones are made by finely crushing ice cubes into small little pellets. Sno cones are crunchier than shaved ice.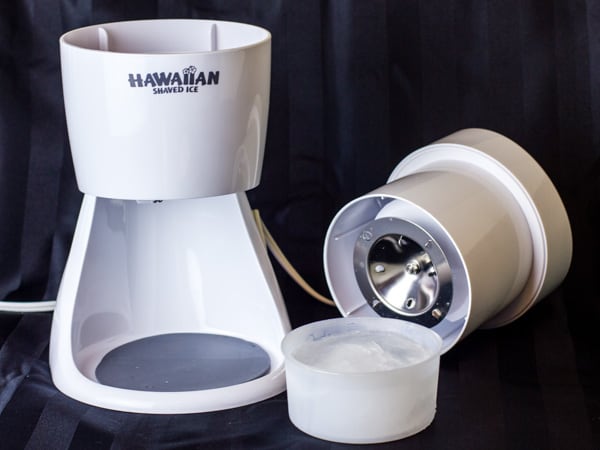 This unit is Hawaiian Shaved Ice's S900A model and can be found here. This machine takes the principle of shaving a large block of ice and does it effectively with a smaller household unit. The machine and process is actually quite simple. With the unit come 2 plastic molds that can be filled up with water to make mini ice blocks.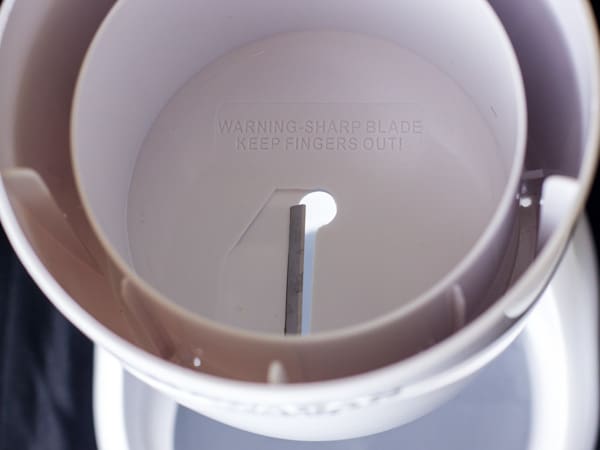 As seen above, there is a blade that the ice block rests upon. When the machine is in operation, it turns the ice block, causing the blade to remove shavings of ice. The harder you push, the larger the shavings. I found that by having steady pressure that is not too hard, will result in perfect fine shavings.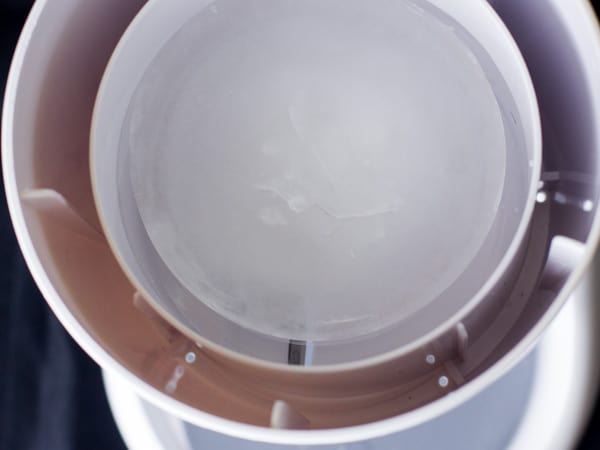 I have a lot of these ice blocks in the freezer, ready to go. It is easy to pop them out of the mold and into a bag with others. Fill the mold with water and back into the freezer to start another.
With the round block of ice in the machine, the top portion rests on the block. As the ice is shaved off, the block gets smaller, slowly lowers until it is essentially resting on the base unit. At that point the ice block is used up and the machine is ready for a second one.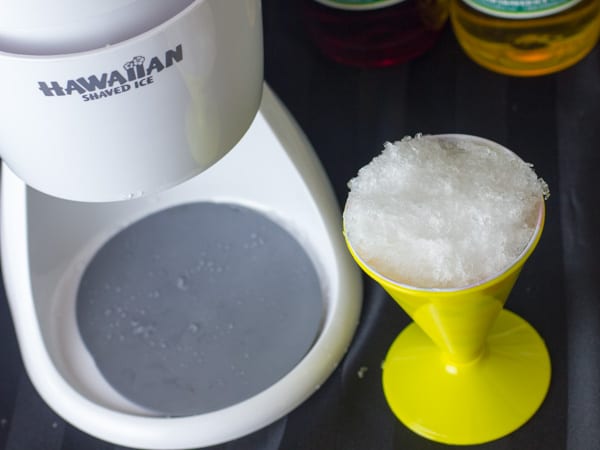 I was really impressed with both how quick and how well the machine shaved ice. This is a smaller unit and not very expensive, but it works great. The texture of the shaved ice is awesome and soaks up the syrup nicely. Each block of ice will only make about 3 cones of shaved ice, so it is helpful to have extra blocks in the freezer. I notice on the companies website that it is possible to order extra molds. That is not a bad idea. The two it comes with are fine, but if you are having a party, it may be smart to have extra molds making more blocks.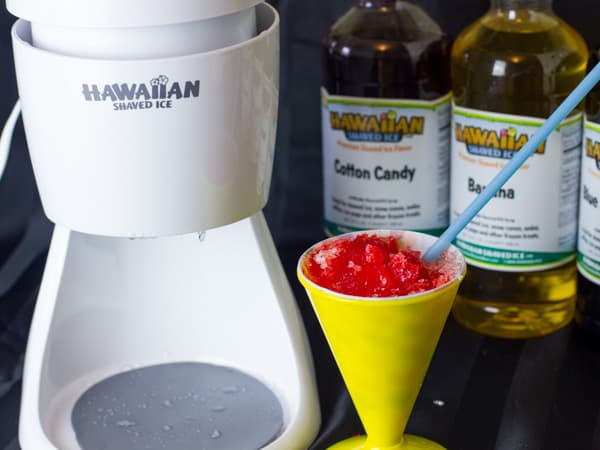 Shaved ice is fun and all, but the true happy factor comes from the syrups!! Hawaiian Shaved Ice has a crazy amount of flavors, over 90 I believe. I got to try 10 and they are great. Some of the favorite flavors were cotton candy, blue raspberry, bubble gum and grape. I personally liked pina colada and root beer. A big selection of syrups adds so much variety when making shaved ice!
Looking at the size of the machine and the low price point ($24.95), I did not expect it to be much of a work horse. I was truly wrong as this little unit just keeps going and going, and as long as you have enough ice blocks prepped, it can service a small party quite easily! I have tried many different sno cone and shaved ice machines and this is an excellent product!
You can order it online individually or part of a start pack with syrups, cups and straws. Click here to go to their online store.
Check them out on Facebook as well!
Disclaimer: Hawaiian Shaved Ice provided me with the Shaved Ice Machine. They did not pay me for this product review and the views expressed above are my honest reactions after trying the product.