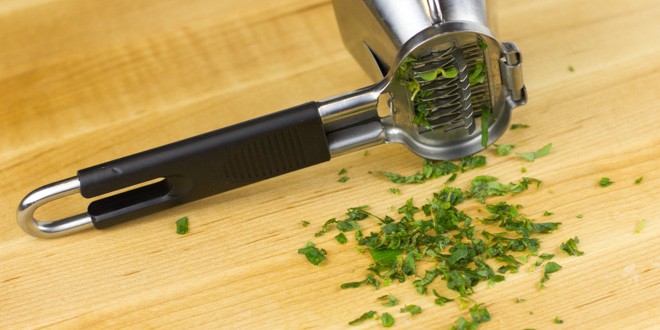 Trudeau Herb Mincer Product Review
I use herbs in my cooking almost every day. I have an herb garden and I buy herbs all the time. Trudeau offered to send me a couple of their herb kitchen tools, one being the Herb Saver which I reviewed last week and also this Herb Mincer, and I was excited to try it out.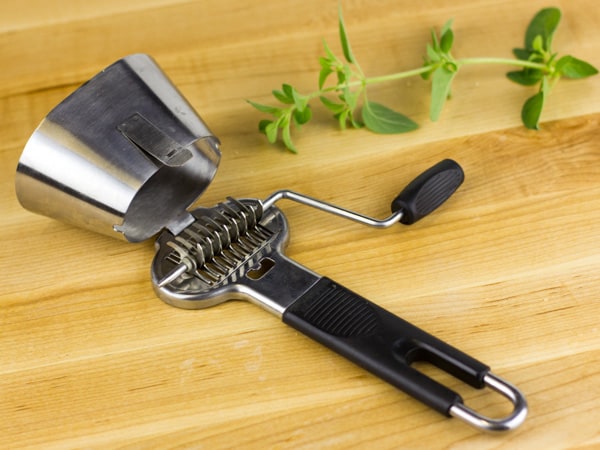 The design of the Herb Mincer is simple and it is almost completely made of steel. The cup can hold a good amount of herbs and the mincing is performed by turning a handle which moves the rotary blades at the bottom of the cup. The blades pull the herbs down, chops them up and they fall, nicely minced, out the bottom of the gadget. I found that the Herb Mincer worked really well with some herbs and not as well with others. Dry herbs worked great. But, if the herbs are wet, or there is a lot of moisture in the leaves, they can clump up while mincing and clog the slots where they fall through. Parsley, oregano and rosemary were excellent through the mincer but basil did not work well at all. I also found that if you wash the herbs, it is better to make sure they dry out before running them through the mincer. Even if the herbs do get clogged while mincing, they are not ruined or anything. A tap on a cutting board should free up most of the stuck peices.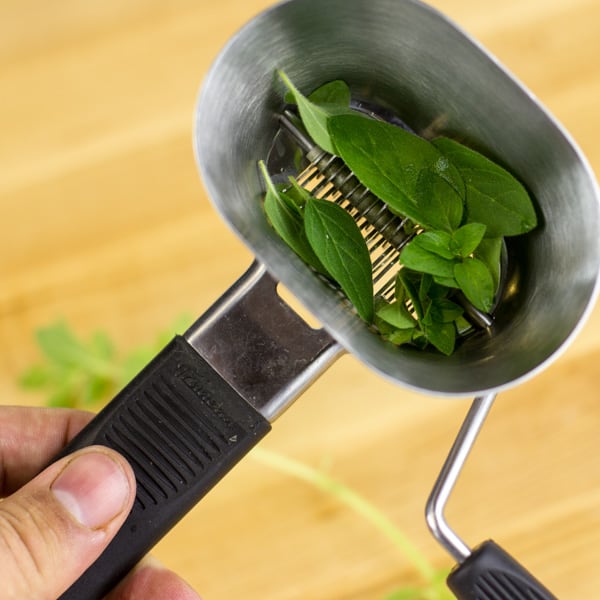 Using the mincer is way faster than chopping the herbs and you can work through a nice size bunch in a matter of seconds. I also tried using the Herb Mincer on a few Thai birds eye chili peppers. These little chilies pack a lot of heat and using the mincer allowed me to make sure that I did not get any of the heat of the peppers on my hands. It worked pretty well although it was a little harder to work though than the leaves of herbs.
The Herb Mincer is quite durable, being made mostly of steel and a latch lifts up the metal cup allowing you to remove the rotary blades for easy cleaning. There are no parts that can break in this gadget and I imagine it could last for a long long time. If you use herbs regularly in your cooking, then the Herb Mincer is a great gadget to pick up.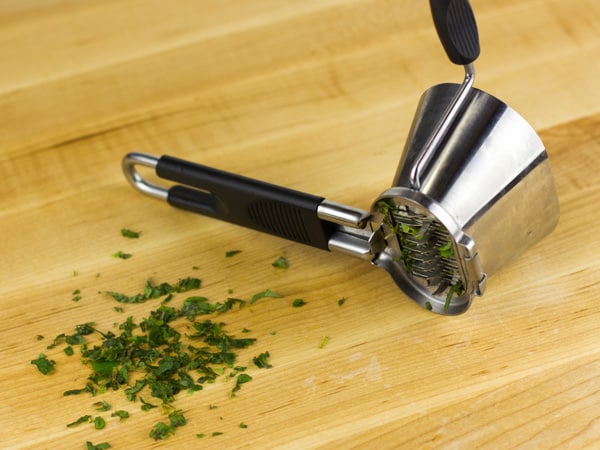 Pick up the Herb Mincer at Amazon
Disclaimer: Trudeau provided me with the Herb Mincer. They did not pay me for this gadget spotlight and the views expressed above are my honest reactions after trying the product.