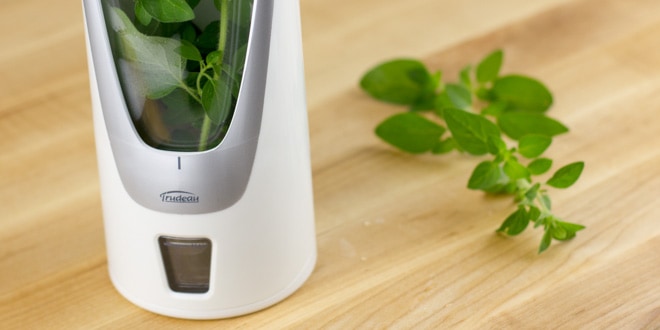 Trudeau Herb Saver Gadget Spotlight
I have an herb garden in the back yard full of oregano, rosemary, parsley and more. I love herbs as they can turn a good dish into a great dish. Having an herb garden is nice because I can go out there and clip off a few sprigs of whatever I need for the meal. During the off season months, which Ontario has plenty of, I buy fresh herbs at the grocery store. I get so frustrated when I put the unused herbs in the fridge and discover they are spoiling after just a few days. Trudeau offered to send me a couple of their herb kitchen tools, one being the Herb Saver, and I was excited to try this out. If this gadget can prolong the life of herbs in the fridge and keep them fresh longer, I am sold.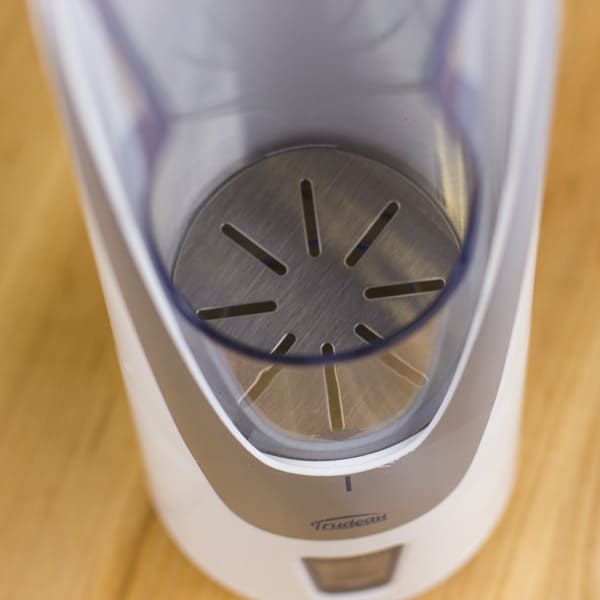 The Herb Saver allows you to store herbs in the fridge while the cut stems of the herbs rest in a water reservoir. Just like fresh cut flowers, the life of herbs is greatly prolonged when standing in water. There is a window that shows how much water is left and there is a MAX line to show just how much water is needed.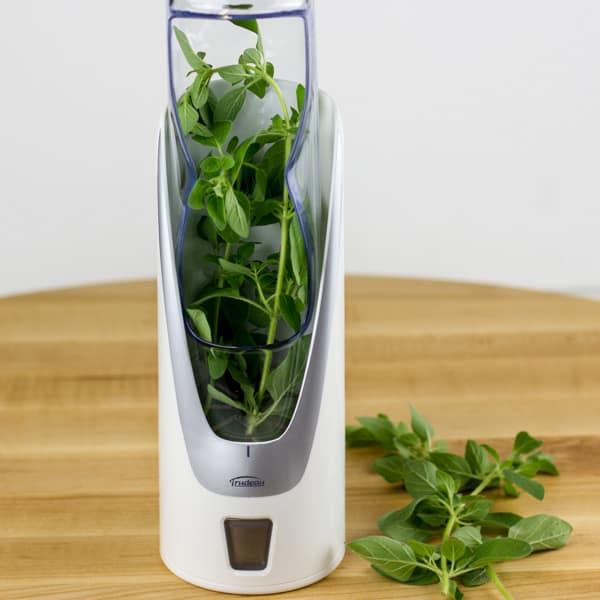 The clear plastic lid turns to provide an opening for easy access to add more herbs or take out any that you need. A quick twist closes the Herb Saver and it is ready to go back in the fridge. Not only does the Herb Saver hold herbs, but Trudeau also states that it can hold asparagus as well. I am sure it could, although it would not hold very many spears.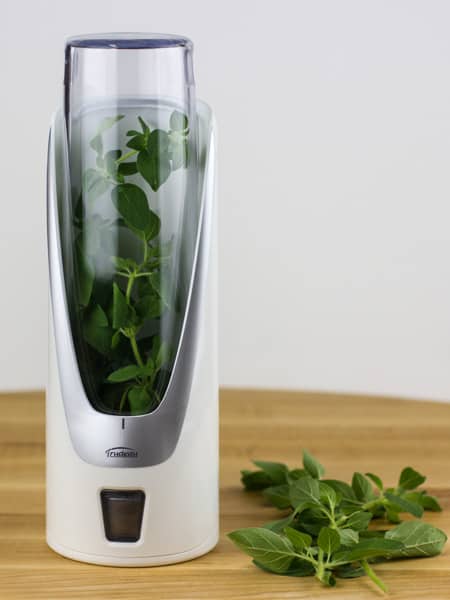 I tried the Herb Saver with many different herbs and was extremely impressed with its ability to prolong the freshness of the herbs. I cut some oregano from my garden and left it on the counter for 20 minutes or so, while I was doing other things. I came back and put it in the Herb Saver. The oregano had gone limp and was wilting from that little bit of time on the counter. After 45 minutes in the Herb Saver, the oregano was back full of life and vibrant. That really impressed me. I tested different herbs and they easily stayed fresh for 2-3 weeks, some (like parsley) stayed fresh even longer. As you can see in the picture below, it fits easily on a fridge door shelf. It is about the size of a 1 litre carton of milk. If you use a lot of herbs, this is a great product for your kitchen.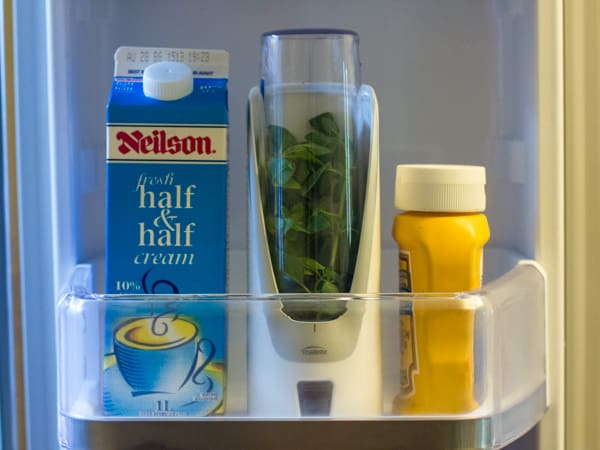 Pick up the Herb Saver at Amazon
Disclaimer: Trudeau provided me with the Herb Saver. They did not pay me for this gadget spotlight and the views expressed above are my honest reactions after trying the product.