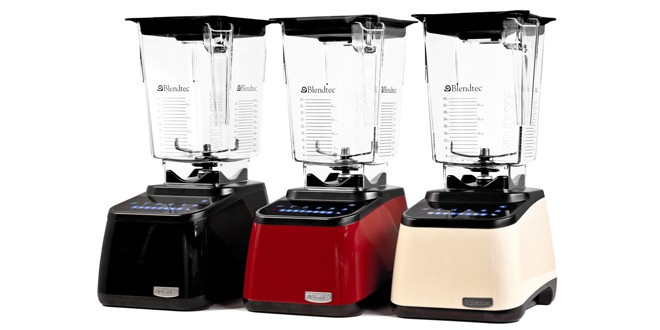 Blendtec Designer Series Blender Review
A number of years ago, I was surfing around on Youtube checking out various videos, and I came upon one video called "Will it Blend". I loved it! Will it Blend is a video series by Blendtec
, showing the power of their blender as it blends various things from golf balls, bic lighters, iPhones, glow sticks and more. These videos have a silly and humorous feel to them but they effectively show that Blendtec blenders are incredibly powerful. My kids love the videos and have watched Tom Dickson, Blendtec CEO, blend many different things! Blendtec have been making these videos for years and they truly are a great marketing strategy. I have wanted to get my hands on one of these blenders ever since I first saw one of the videos.
Well, a month or so ago, the good people of Blendtec sent me one of their Designer Series Blenders.
The Blendtec blender is extremely powerful, clocking in at 1,560 watts, and really cannot be compared to the $50 blender I retired after receiving the Blendtec Designer Series Blender
. This blender is amazing and looks totally futuristic. There are no buttons, but instead a touch screen showing a speed slider, various blend program settings and a timer. When turned off, the touch screen is black and turning it on brought up all the bright white lights of the various buttons and options. Not only does the touch screen look slick and totally high tech, but it is also very practical. It is not uncommon for blenders to have some splattering, as you make smoothies, soups and more. This flat touch screen is a snap to clean and way easier than the many old school blenders I have owned. A quick wipe with a dish cloth and the base is clean!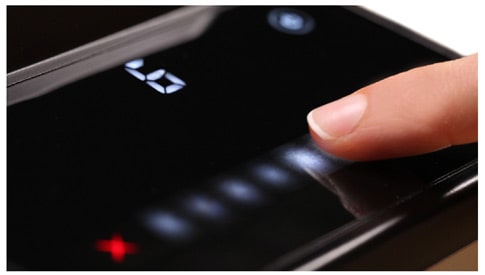 One of my favorite features on the Blendtec blender are the program settings. Do you want to make a smoothie and not know how long to blend or at what speed? Not to worry – the Blendtec Designer Series Blender has 6 preset programs based on the most common uses of the blender. Hit the smoothie program button and the blender takes care of the rest, setting the proper speeds and time needed to make the perfect smoothie!
I tried all the programs and they truly make things incredibly easy. There is even a timer display showing just much longer the blender will operate until the program is complete.

Whole Juicing
I have a great juicer and use it regularly, but I have often wanted to try whole juicing. Where traditional juicing extracts the juice from the pulp of the produce, whole juicing liquefies the fruits or vegetables. Whole juice retains all the fiber and nutrients of the fruit or vegetables. It is also less expensive to traditional juicing, as whole juicing greatly decreases the amount of fruit or vegetables needed for a glass of juice. It is better for your body, wallet and the environment!
The Blendtec blender has an incredibly strong motor allowing far more options than what a cheaper blender could ever do. One of these is whole juicing and I tried three different whole juices: carrot juice, tomato juice and mixed berry juice. I was amazed at how well the blender broke down the fruits and vegetables. The tomato juice impressed me the most because I could not taste any texture of seeds or skin while drinking the juice. The blender liquefied it all into a smooth juice. Impressive! The same was true with both the berry juice and carrot juice. Whole carrot juice has far more fiber and requires more water to thin it out, but it still tasted amazing.
Smoothies and Frappes
This is what we use the blender for most often, as we make fruit smoothies every day for the whole family. Smoothies are a great way to get your daily requirement of fruit and calcium. We also like to make sure we use fruits high in antioxidants (blueberries, strawberries, kiwi, etc.) and if you throw in some spinach or kale you have one super healthy smoothie. I remember the first time I added some spinach in a smoothie for the kids and they freaked out. Though, once they tasted the smoothie, they didn't care as the sweetness of the fruit overpowers any taste of the greens and you do not even notice they are there.
The Blendtec blender is amazing at making smoothies and I love the preset program. Put everything in the Wildside jar, place it on the base and hit the smoothie button. Now, while the blender is working, you can continue to get ready for your day or perform any other tasks you have to do. When the timer is done, the smoothie is perfect. We have made dozens of smoothies and frappes and there have NEVER been any chunks of ice or fruit. The design of the jar and the speed settings create an impressive cyclonic force, pulling everything down into the blades to be blended.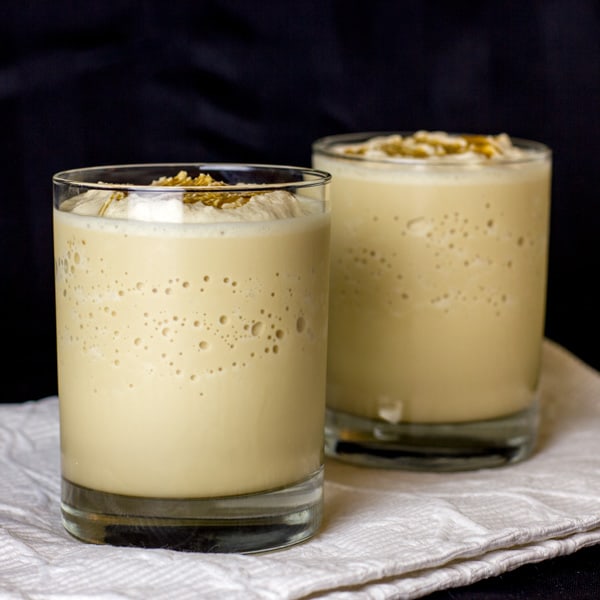 Ice Cream!
I saw this program setting and figured that there is no way the blender could truly make ice cream. I was wrong. Below you can see the photos of the blueberry ice cream I made. With only three ingredients: frozen blueberries, 10% cream and a little sugar, you can quickly make a tasty frozen treat. This recipe is found in the recipe book that came with the blender.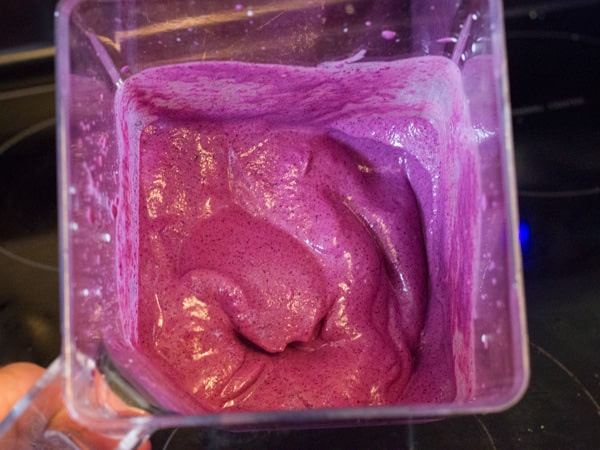 The ice cream came out smooth and creamy. It was a little on the soft side although it tasted delicious. I spooned it into a large glass bowl and placed it in the freezer for 30-60 minutes. This firmed up the ice cream so it could be scooped, as seen in the image below. I know we are going to enjoy making various kinds of ice cream with this in the future.
Peanut Butter
Regular store bought peanut butter has lots of sugar, so natural peanut butter is a much healthier alternative. Buying natural peanut butter in the grocery store is somewhat expensive, so I was eager to try making peanut butter in the Blendtec. I used the Blendtec Designer Series BlenderBlendtec Designer Series Blender
, which is a new style jar, compatible with all Blendtec blenders. The peanut butter was made in just a couple minutes and it came out creamy and delicious. All that is needed to make the peanut butter is just the nuts, although afterwards, I did try stirring in a little honey which was also tasty! We have made peanut butter a couple times and have also tried almond butter which was incredible.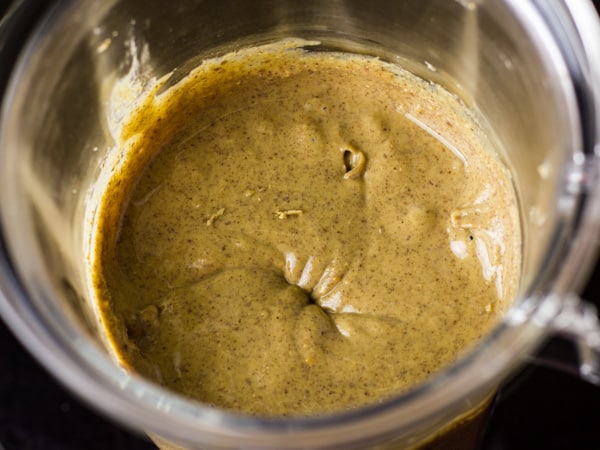 Freezer Jam
The blender can also perform many other tasks including making strawberry freezer jam. Fresh strawberries, sugar, lemon juice and pectin and you can have jars of this tasty jam ready within a few minutes. It is so fast.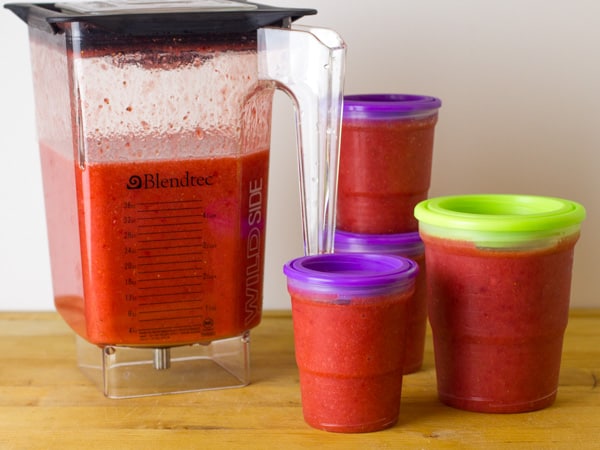 This blender is very impressive. It does carry a hefty price tag, especially if you have only ever owned cheaper blenders in the past. It may seem like the blender is too expensive, but after using it for the last couple months, I would not hesitate to purchase one in the future. I do believe it is worth the price. It has a hefty 7 year warranty, and that is significant, considering they know that people, who own a Blendtec blender, use it every day and sometimes multiple times in a day. This blender is built to last.
For more information head over to their website – Blendtec Designer Series Blender
Disclaimer: Blendtec provided me with the Blendtec Designer Series Blender
. They did not pay me for this product review and the views expressed above are my honest reactions after trying the product.