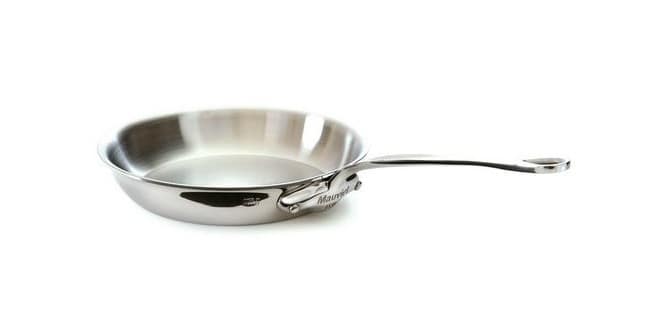 Mauviel Stainless Steel Frying Pan Product Review
Every kitchen needs a frying pan. There are many different kinds and anymore there is a move away from non-stick pans to kinds that are more traditional, like copper, cast iron and stainless steel. One company that has been making some of the highest quality stainless steel frypans is Mauviel. Founded in 1830, Mauviel is a French company established in the Western village of Villedieu−les−Poêles. Mauviel specializes in stainless steel and copper products and has a massive lineup of products. Their products have been used for decades in commercial kitchens and by famous chefs around the world. Known for quality, owning some Mauviel cookware means having it for life. Yes, they are that good!
Mauviel sent me one of their stainless steel frying pans. It is 10.2 inches in diameter and made with 5 layers of steel. The bottom is solid flat and will cook effectively on any surface. The handle is attached by rivets and available in steel, cast iron or copper. It is oven safe, dishwasher safe and has a lifetime warranty.
I have tried this frying pan many times since receiving it. This is now my 'go to' pan. It heats up quick and has nice even heat distribution. I remember years ago, I never liked stainless steel because everything seemed to stick to it. Since then, I have learned that there is a technique required, which turns any stainless steel pan into a non-stick pan.
Here are the few simple steps.
Heat up the pan on medium-low heat (around 4). Let it heat up for about 1-2 minutes. If you place your hand above the pan, you should feel the heat emanating up.

Drop a tablespoon of butter or oil. Swirl the pan around so the butter/oil covers the bottom.
Let the butter/oil cook for 30-45 seconds.
The pan is now ready and the food should not stick.
I used this technique making the omelette below and, as you can see, there were no egg pieces sticking to the pan. Making an omelette is a perfect way to test a stainless steel frying pan. This Mauviel pan was amazing. The heat distribution was even, the eggs didn't stick and the angled sides allowed me to work the omelette with my spatula. I will never cook eggs in any other pan!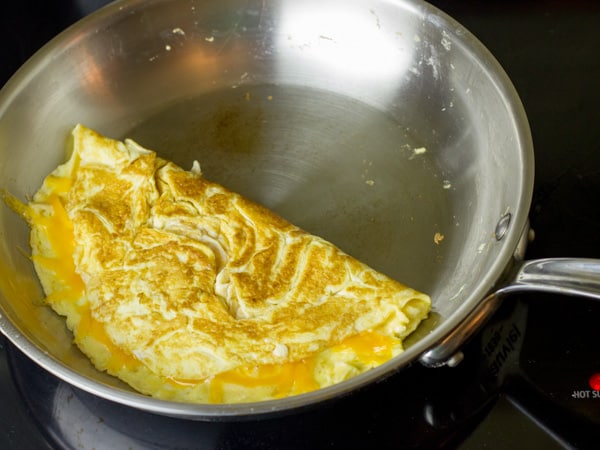 I also tried frying some pork belly in the pan. I wanted to get the pork crispy and develop some nice crackling, so I had the pan hotter than normal. This caused a little bit of pork sticking to the pan, but still, it was fine. The pork belly was awesome and the Mauviel pan worked great.
The pan is great to toast nuts because it allows you to heat it up nicely at a medium low heat and it will hold it consistently. This allows the nuts to toast slowly and evenly so they will not quickly burn.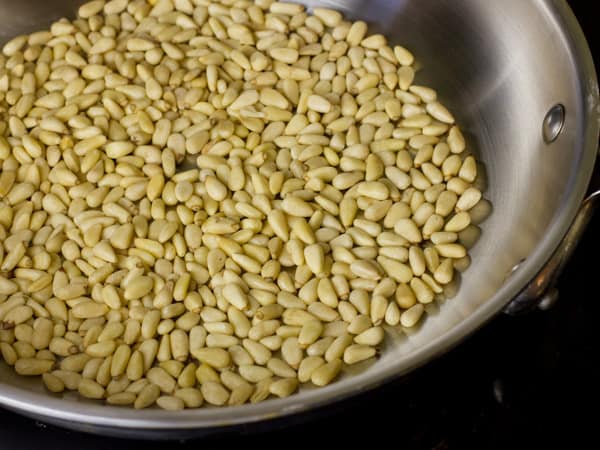 I also used the pan in many other ways (one more being pesto shrimp, as seen in the top picture). There is almost nothing negative to say about this pan. The only thing that I could say critically about this Mauviel pan is that it can be a pain to clean sometimes. But, this is the same issue with ALL stainless steel cookware. Oil can burn onto the pan, or it can develop stain marks that can be difficult to remove. If you use soap and water, you will find yourself scrubbing a long time before it comes off. Buy some Bar Keepers Friend cleaner and you will find that it can clean your stainless steel cookware in a snap. It is truly amazing.
I love my Mauviel Stainless Steel Frying Pan! The quality is amazing and the food cooks great on it. Everything I want in a pan.
You can pick up this pan at Amazon – Mauviel M'Cook 5213.26 10.2 Inch Round Frying Pan, Cast Stainless Steel Handle
Disclaimer: Mauviel provided me with the frying pan. They did not pay me for this product review and the views expressed above are my honest reactions after trying the product.