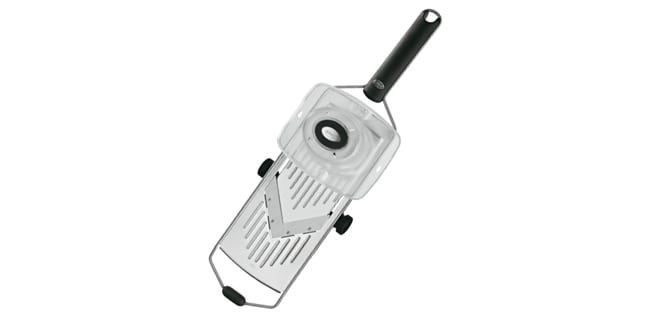 Rosle V-Slicer Product Review
I do not know why, but I have never owned either a mandoline or quality food slicer. In the past,I have only ever used a food processor or my trusty knives. That is fine, but it is unable to make thin slices of larger vegetables like potatoes, zucchini or even tomatoes. Recently, I got my hands on the Rösle Adjustable Vegetable Slicer
and wow, having one of these tools in your kitchen makes slicing vegetables so easy! The V-slicer is similar to a mandoline, as it has v-shaped blade along a metal guide. Slide the veggies across the guide and the blade slices them easily.
The blade is adjustable and a quick turn on the knob will increase or decrease the thickness of the slices. There are five settings that start at shaving thin and up to .2 of an inch. A hand guard also comes with the slicer. It has a large opening/cavity in it with a few metal spikes. This allows you to press a potato, tomato, or other vegetable onto the spikes for easy slicing. You can see the yellow squash I attached to the guard in the picture below. It worked perfectly and my hand was completely protected allowing quick motion and slicing. I love that!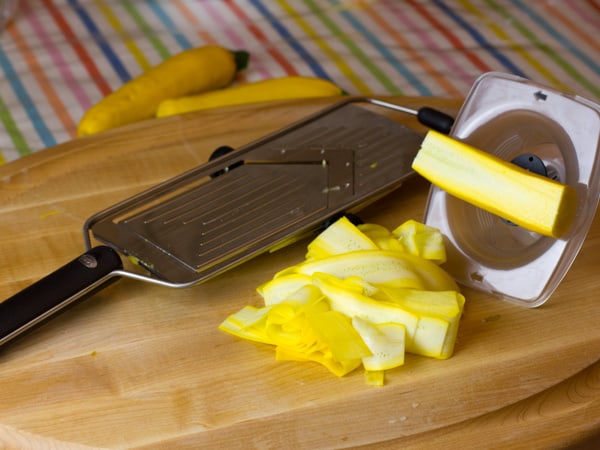 Using the V-slicer could not be any easier. Hold the handle with one hand and stand the slicer up on a bit of an angle. There is a rubber stopper on the opposite end of the slicer to the handle. This prevents the slicer from sliding around on the counter. Turn the knob to set the thickness, attach the vegetable to the guard, then slice away. It is amazing how quick slicing through a pile of vegetables is with this tool!
Putting the Rosle V-slicer through its paces, I tried it on both soft and hard vegetables. I tried it on soft tomatoes and was amazed at how thin I could slice them. The tomato glided through the slicer effortlessly and I was able to get perfect slices every single time. I also made yellow squash ribbons which is perfect for a salad, ribbon pasta or just sauteed with olive oil.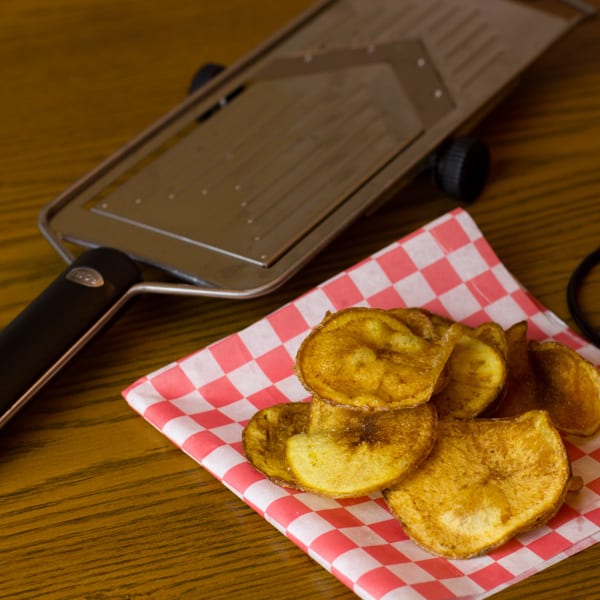 Our family loves french fries, especially thin crispy ones. It did not take long, after using the Rosle V-slicer, to determine that this is our future way to make french fries. It makes perfectly thin round slices every time – and it is crazy fast. The fries came out of the oil crispy and totally delicious. They were gobbled up as quickly as they were sliced!!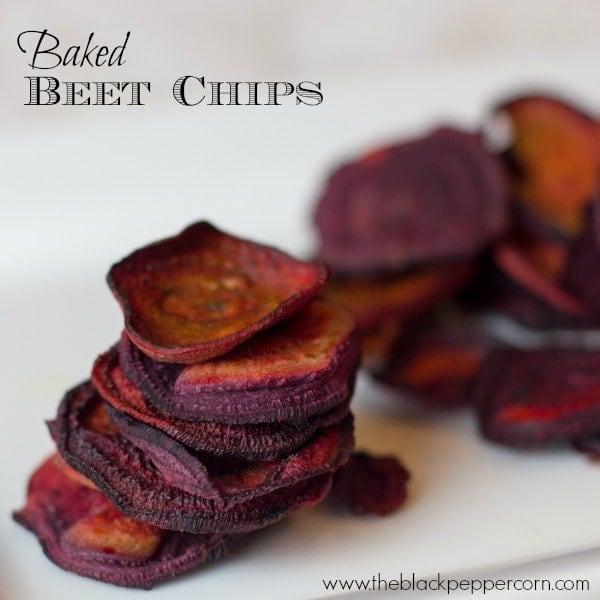 I had a bunch of fresh beets in the fridge and I was curious to see how they would slice up. Considering that beets are a hard root vegetable, I was expecting that the slicer might struggle with them a bit. Not at all – these beets sliced up thin and I made some amazing baked beet chips. The recipe for these is here: Baked Beet Chips.
The one thing I love about this V-slicer is that it is simple. There is no changing of blades or multiple parts which makes both set up and clean up a snap. I love this slicer and I cannot believe I have gone this long without using a tool like this in my kitchen.
Buy this vegetable slicer or many of the other models made by Rosle at Amazon – Rösle Adjustable Vegetable Slicer
Disclaimer: Rosle provided me with the vegetable slicer. They did not pay me for this product review and the views expressed above are my honest reactions after trying the product.