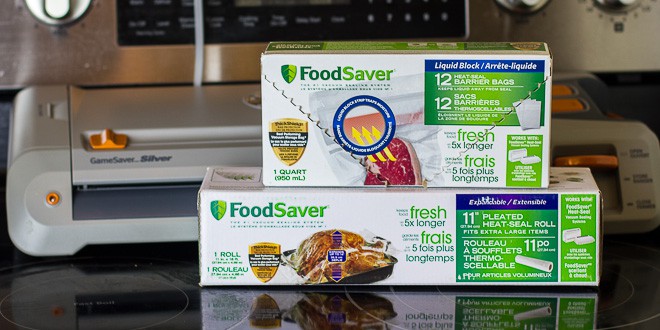 FoodSaver New Specialty Bag Product Review
I use my vacuum sealer all the time. Whether it is for sous vide cooking, preserving smoked meat or dividing club pack meat purchases for the freezer, my vacuum sealer gets a regular workout. So much so, that I keep it in the kitchen ready to be used any time I need it. FoodSaver has some great products, including both their sealers and bags . I was recently sent two packages of their new specialty bags to try out. These both address specific issues that I have found with standard bags and rolls of any brand.
The first specialty bag FoodSaver has released is the Liquid Block Heat Seal Bags. These bags have a liquid block strip that collects and absorbs moisture before it gets to the heat sealing strip.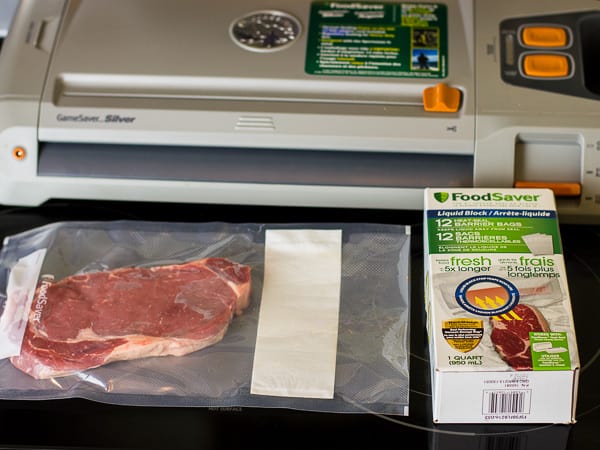 There have been different times when I have attempted to vacuum seal some meat and the moisture pulls into the heat strip spot making the sealing difficult or even weak. Having special bags like this is perfect for meat that has a fair amount of moisture. Beef or any meat soaking in a marinade will seal up perfectly in these bags.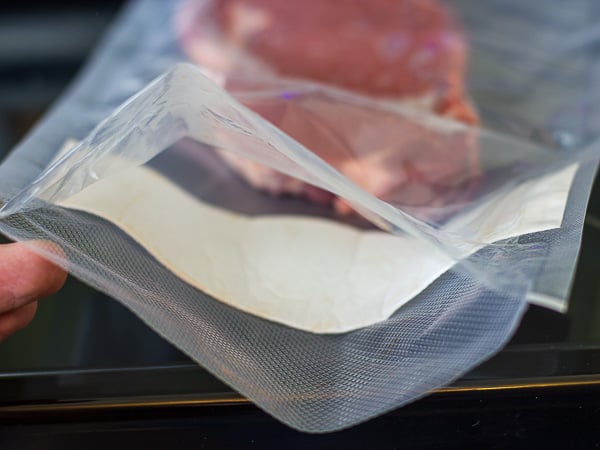 The moisture barrier covers the width of the bag and is about two inches long, which is plenty big enough to collect a lot of moisture.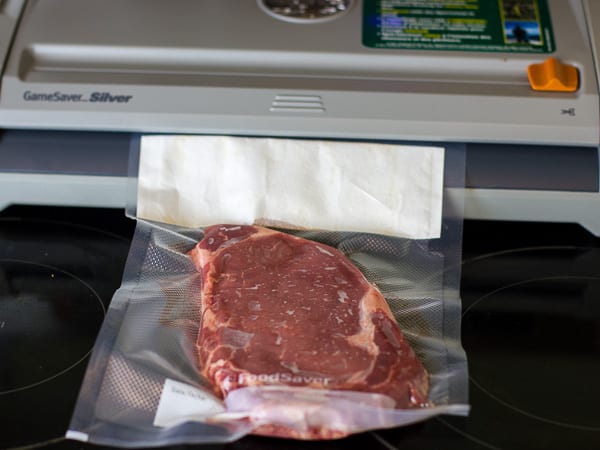 Use these Liquid Block Bags as you would any other bags. You do need to make sure the meat does not cover over the moisture strip or else it would pass by it and not be absorbed. Look in the picture below and see all the beef juices that were collected by the moisture barrier. These bags worked really well and I will definitely keep some on hand for certain occasions.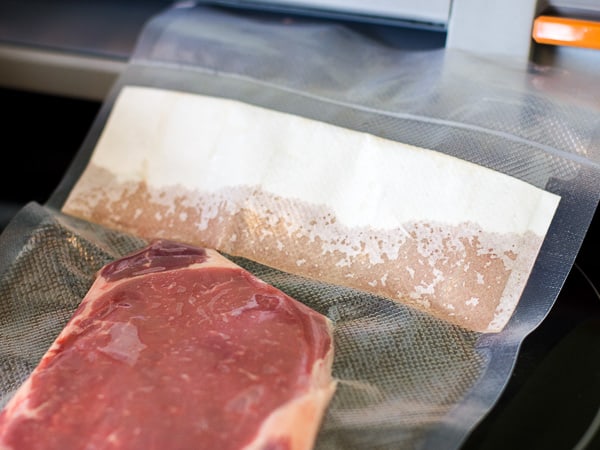 The second specialty bag I tried was the FoodSaver Expandable Heat Seal Rolls
. These come in a roll that allow you to cut them to whatever length is needed. The roll has pleated sides which can be expanded to allow the vacuum sealing of larger food. This is very clever because there have been many times that I have not been able to seal certain food because they were too large. A few months ago, I cooked a ham and wanted to vacuum seal the bone so that I could make soup in the fall season. The bone was too large for the traditional bags so I could not seal it. This expandable bag would have worked great.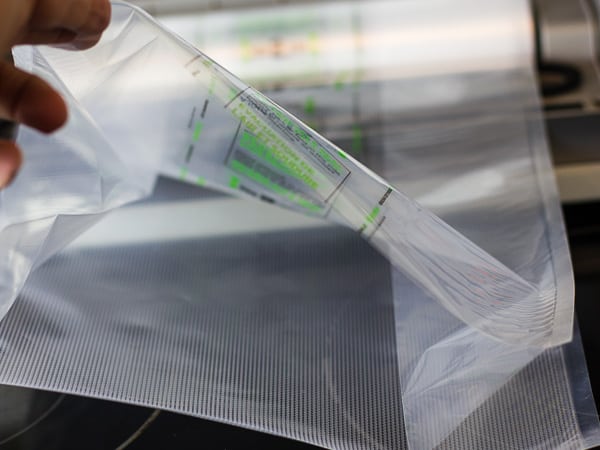 Just like regular FoodSaver rolls, it is necessary to cut them longer than the length of the food to allow for proper sealing. These need to be cut 5 inches longer than the length of the food.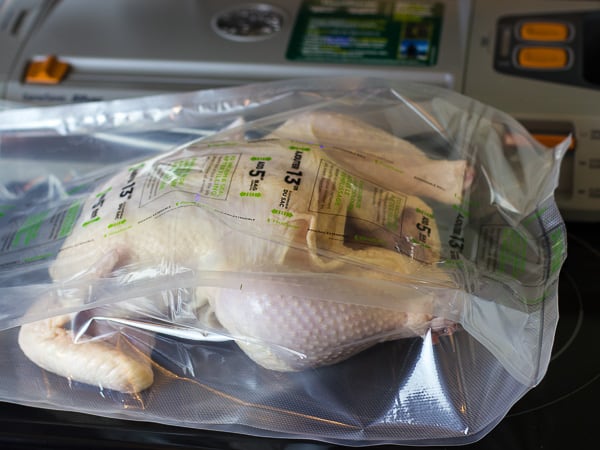 I tried out a 7 pound chicken, considering it was plenty big enough to see how well these expandable bags would work. There is no way this bird would fit in a regular sized bag or roll, but it fit easily in this expandable bag. There was plenty of room which made me think that even a turkey would likely fit without a problem.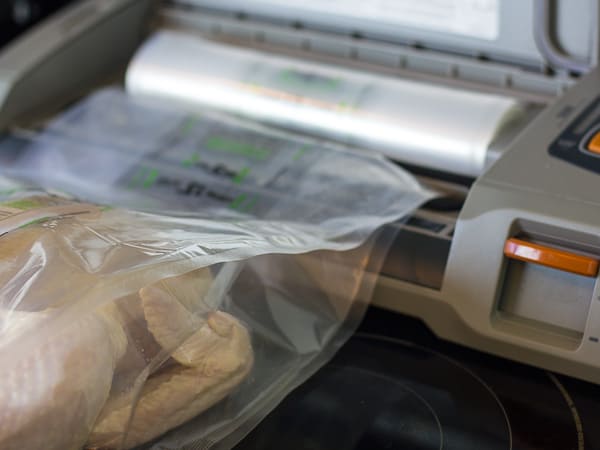 Vacuum sealing the chicken in the bag was easy. The only thing that I noticed was that it is necessary to fold the pleats down evenly so that there are no creased edges or bumps, because that would hinder a proper sealing. Other than that, it sucked the air out fine and sealed up like any other bag. There was far more air in these bags, so it took a little longer to draw all the air out. These bags are great and perfect for anyone wanting to seal larger sized foods.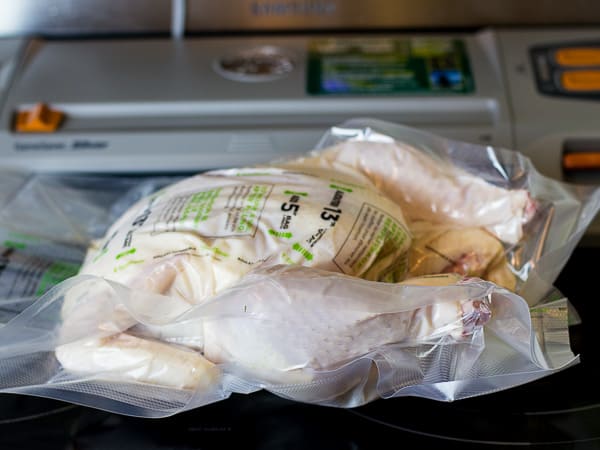 For information on FoodSaver sealing units, check out my reviews:
FoodSaver Gamesaver Vacuum Sealer Product Review
FoodSaver V3460 Vacuum Sealer Product Review
You can purchase either of these bags at Amazon: FoodSaver Expandable Heat Seal Rolls or Liquid Block Heat Seal Bags
Disclaimer: FoodSaver provided me with these spcialty bags. They did not pay me for this review and the views expressed above are my honest reactions after trying the FoodSaver product.