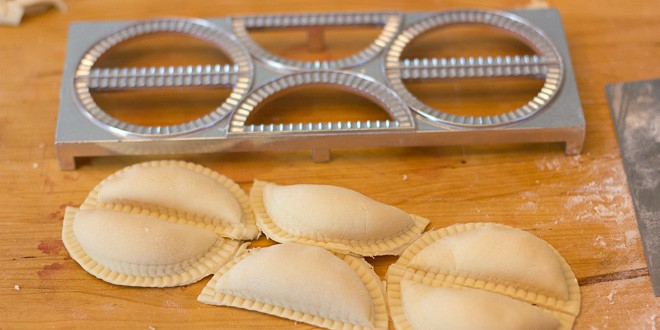 Norpro Pierogi Maker Product Review
Being of Ukrainian decent, we eat pierogies a lot. I love them and could have them any time. Stuffed with potato and cheese, sauerkraut, meat or even fruit are all fine by me, as I like any kind of pierogi. Making pierogies can be time consuming, as it is a lot of work to make pierogies for a whole family. Our family has made them for years and done it by hand, cutting the dough with a round glass, spooning in the filling and pinching the edges by hand. It is a long process but, like many meals that take time, it is a labor of love and a continuing of family tradition.
Ventures has a cool Pierogi Maker and they sent it me for a test run. I was eager to try it and see how this compares to making pierogies the old fashioned way. My mother came down this past week and I figured that this was the perfect time to give the pierogi press a try.
This mold makes six pierogies at a time and it is very simple to use. Make both the dough and filling according to your pierogi recipe. Roll out the dough so it is about 1/8 inch thick. It is maybe a bit thicker than ravioli dough would be. Lay a strip of the dough across the metal pierogi maker. Place the mold on top and gently press down to create the pockets for the filling.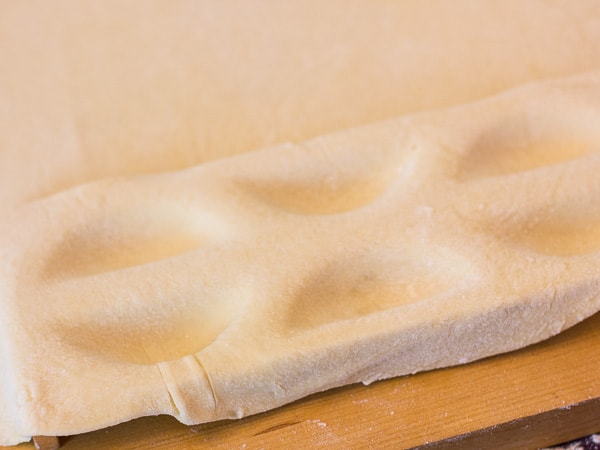 Lift off the plastic mold and there are six perfect pockets ready to be filled. We found that you had to be careful not to press the plastic mold too hard so that the dough does not get cut around the edges. Other than that, it was a snap.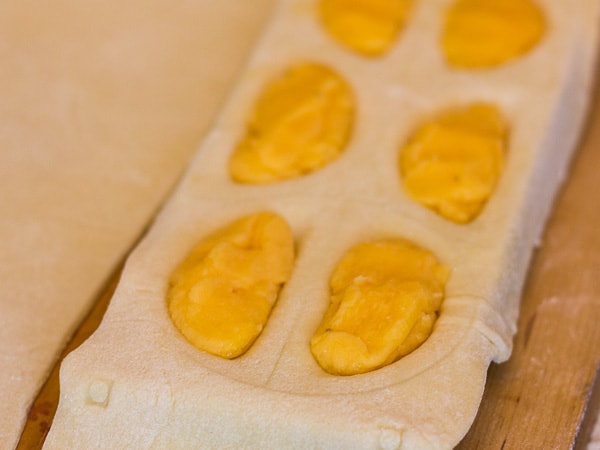 Fill the pockets with whatever filling you are going to use. Make sure that the filling is not hanging over out of the pocket. That could impact the seal and they might leak while boiling. Also, be careful not to fill the pockets too full, or they will be difficult to remove from the pierogi press. About 1 1/2 teaspoons is plenty of filling.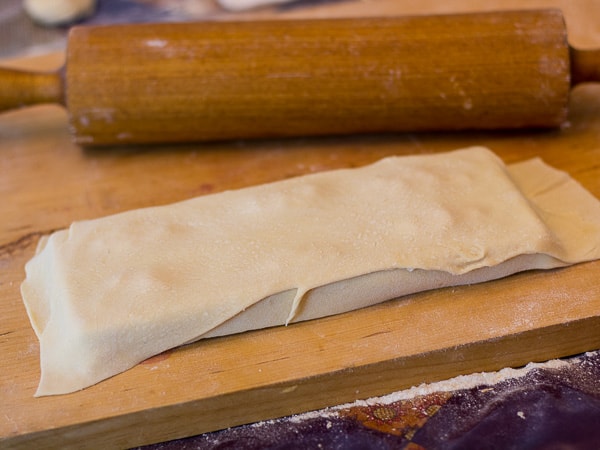 Place another strip of the pierogi dough on top of the filling. Make sure that it fully covers the pierogi press.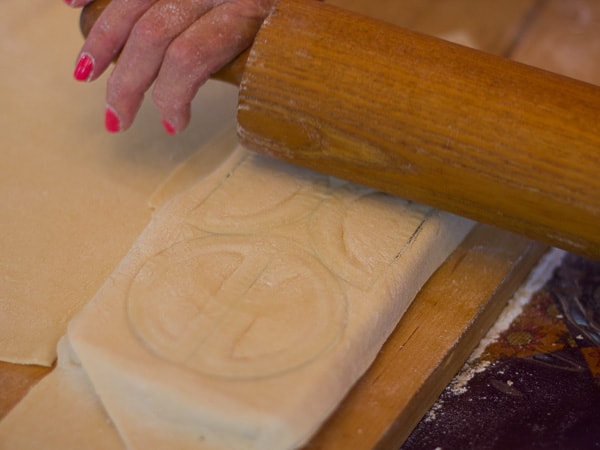 Use a rolling pin to finish making the pierogies. This creates the seal and allows them to pop out. Press very hard on the rolling pin to make sure all the ridges around each of the molds are showing. If you see the metal starting to show through then you know you have rolled enough.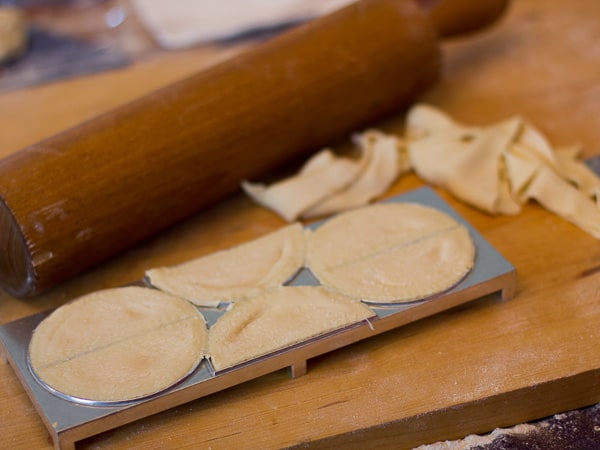 Pull away the excess dough. This can be re-rolled and used again!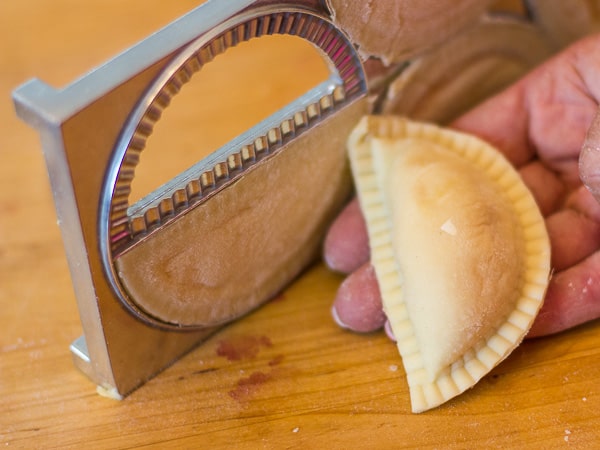 Gently pop out the pierogies. They should come out very easily. If they are overstuffed, they may need a little work to get out. They looked perfect!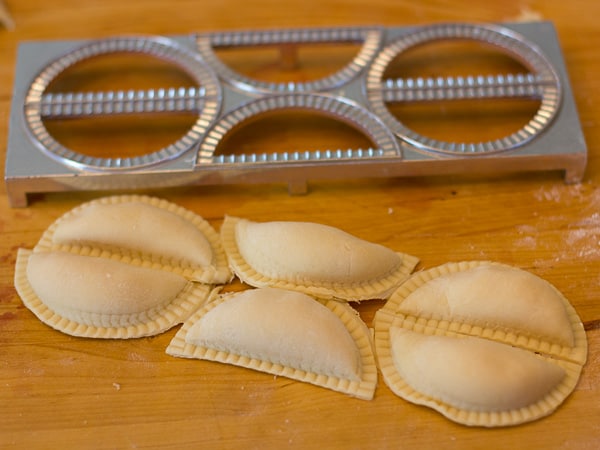 The pierogi press makes six perfect uniform pierogies. My mother, who has made pierogies for years and learned from my grandmother, said that using this pierogi press made the job of making pierogies far easier and also quicker.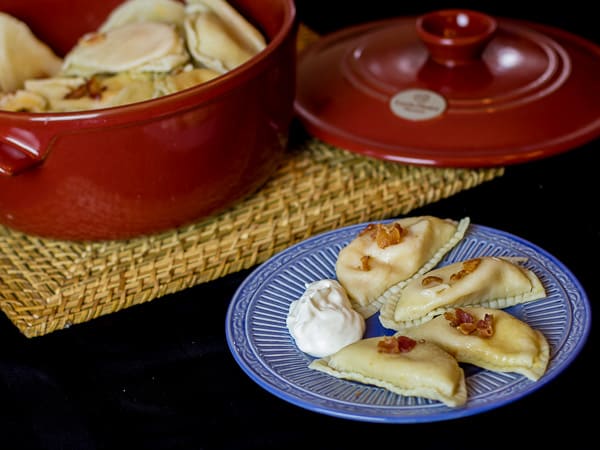 Once you are done making the pierogies, boil them as you normally would cook pierogies. I love them tossed with fried bacon and served with sour cream. Yum!
To purchase this item:
Find it at Amazon: Pierogi Maker with Plastic Press
Or email them: [email protected]
Or phone them: 1-800-663-0088
Disclaimer: Ventures provided me with the Pierogi Maker. They did not pay me for this review and the views expressed above are my honest reactions after trying the product.