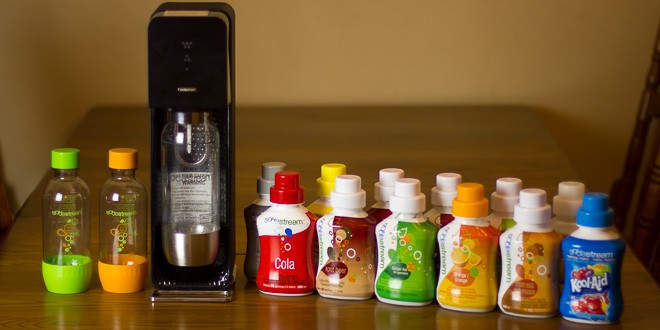 SodaStream Source Product Review
I need to make a confession…. I have a serious weakness for soda pop. At night, while we are sitting down watching a tv show, movie or sports game, I love to have a cold can of pop. I am not a one flavor pop drinker, but instead, like to have different kinds depending on the day. My favorite flavor though is probably cherry cola, but root beer, Dr. Pepper and even cream soda are up there as well. There was a flavor I had as a kid called Tahiti Treat that I used to drink a lot also. It was awesome and I wish I could still get it.
We only have one fridge in our house and do not have much space in it for a bunch of cans of pop. So, when I saw SodaStream displays at the store a year or so ago, I immediately thought that this would totally rock in our kitchen. SodaStream claims that it is able to make pop by carbonating tap water and then adding flavors. As much as I was excited about the product, I was also skeptical that it is able to make pop that tastes like, well, POP! SodaStream recently sent me their Source model and a bunch of flavors to taste. I was eager to give it a go and as they say – "set the bubbles free!"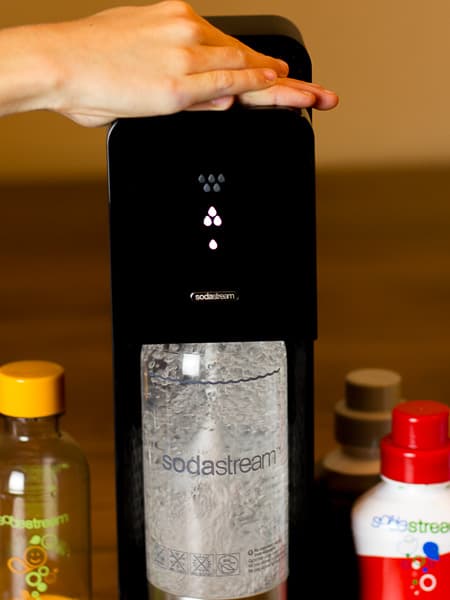 SodaStream requires special bottles to use with their carbonating machine. The starter package comes with a 1 litre bottle and others can be purchased that are either 500ml or 1 litre. Using the carbonator is simple: fill the bottle with water up to the fill line. Attach the bottle to the carbonator and press down. The bubbles shoot into the water and there is a little LED display that shows how much carbonation has gone into the water. You can stop whenever you like and I prefer to go to level 3 for a 1 litre bottle. It is closest to the carbonation of a can of pop.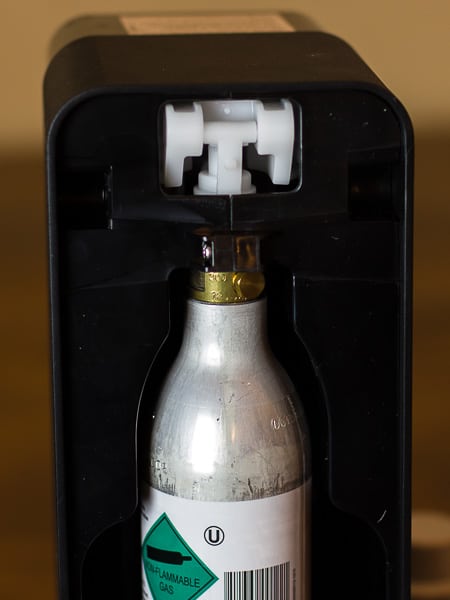 SodaStream uses special CO2 gas cylinders that easily attach at the back of the unit. One cylinder of CO2 should last around 60 litres. This is obviously dependent on how much each person carbonates a bottle of water. But, having gone through one cylinder, I would say that 60 liters is an accurate amount. Once empty, these can be returned to the store and exchanged for half the price of a new one. It is one more great way that they are trying to be 'earth friendly'.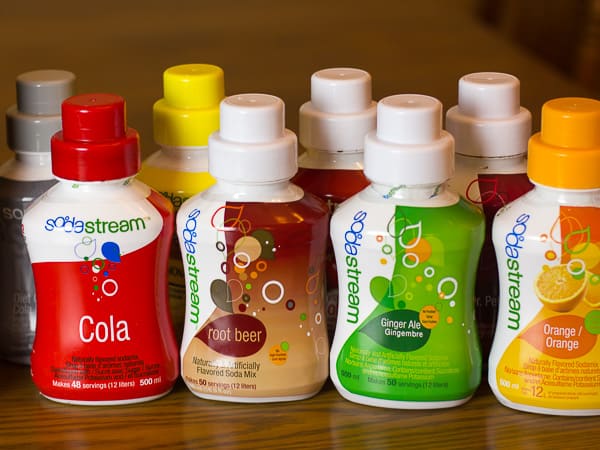 SodaStream has many different syrups, offering pretty well all the common flavors available from brand name pop companies. Along with flavors like cola, root beer, ginger ale and orange, they also have syrups of Kool Aid and Country Time Lemonade. There are some energy drink syrups and clear fruit syrup flavors as well. Diet syrups are available for some of the standard soda pop flavors.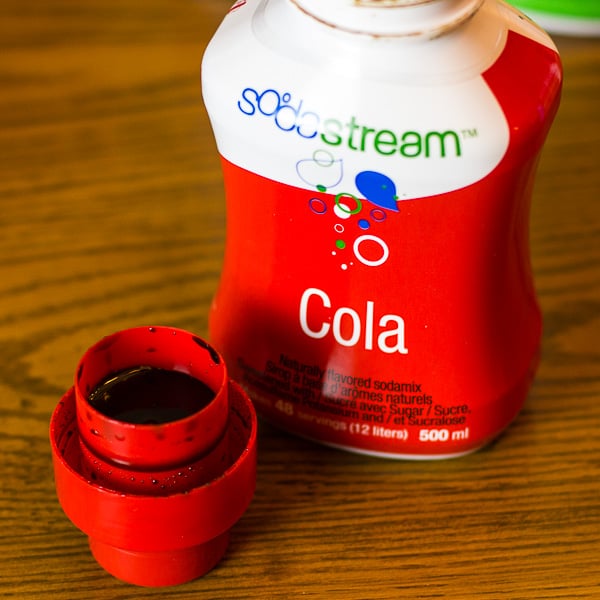 Once the water has been carbonated in the bottle, it is time to add the syrup. Measure the syrup in the cap – there are lines on the inside of the cap for 500ml and 1 litre measurements.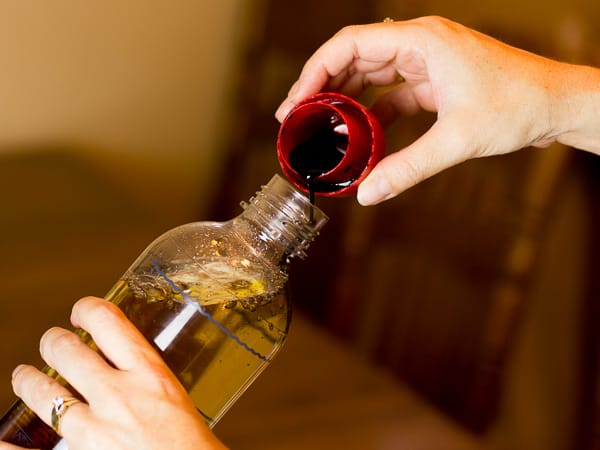 Tilt the water bottle and pour the syrup in. The manual says to tilt the bottle to prevent the pop from fizzing up. Being the curious one that I am, I tried it and, yep, they were right! Tilting the bottle is advisable!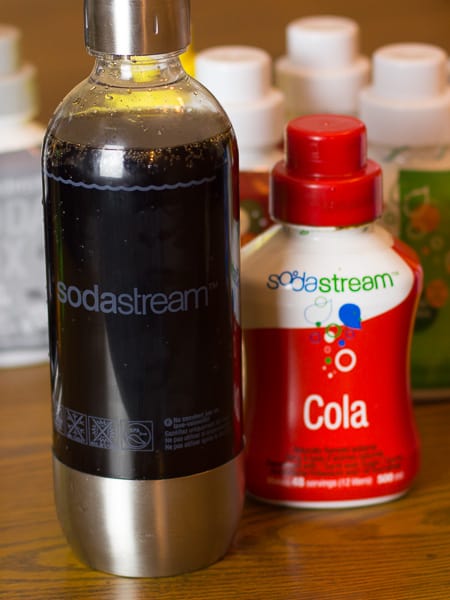 Put the lid on the bottle and gently turn the bottle around a few times to mix the syrup with the water and that is it!! Pour the pop into a glass with ice and you have some wonderful refreshing pop.
The SodaStream effectively makes pop, but the important thing is the taste. How does SodaStream pop taste? Quite good actually. Each person can control how much carbonation they want in their pop and the flavor syrups are all pretty good. Some are great – I love the cherry cola, root beer and cream soda. Some other flavors are not as great. I was not a fan of the Country Time Lemonade, but it is possible that I am just not used to my lemonade being carbonated. One flavor that actually surprised me was the Kool Aid syrups. We have the fruit punch syrup and it reminds me of Tahiti Treat that I used to drink years ago. Yeah!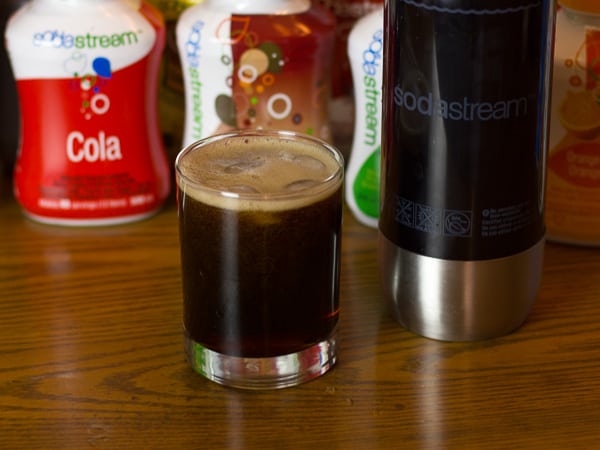 One other question that many people ask regarding the SodaStrem is the cost. How does buying and using the machine, carbonators and syrups compare to buying brand name pop? The cost of the machine is around $100 and it comes with one CO2 cylinder, a bottle and a bunch of sample syrups. To break down the cost I am going to do a little math and show the cost of making 1 litre of pop in the SodaStream. These are the common regular prices I have seen in Canada.
a CO2 cylinder refill is $18.99 which is good for 60 litres of pop. That works out to $.32 per litre.
a bottle of syrup is $6.99 which is good for 12 litres of pop. That works out to $.53 per litre
So, the cost to make a litre of pop is $.85 a litre. This obviously does not include the cost of the machine and bottle which will set you back initially around $100. For me, this cost breakdown shows that using the SodaStream is not cheaper than buying brand name bottles or cans of pop, but at the same time, it is not really more expensive. Sure, grocery stores are always having sales on a case of pop which will work out to be cheaper than this. But, on the whole, using the SodaStream is a good value. On top of that, it reduces the waste that your family produces, and is also quite convenient. I love to be able to look in the cupboard at all the flavor syrups and try something different each night. That is a whole lot better for me than having to use up a bunch of fridge space dedicated to cans of pop. I love my SodaStream!
Buy this or one of the other SodaStream models at Amazon – Sodastream SOURCE Starter Kit
Disclaimer: SodaStream provided me with the machine. They did not pay me for this product review and the views expressed above are my honest reactions after trying the product.