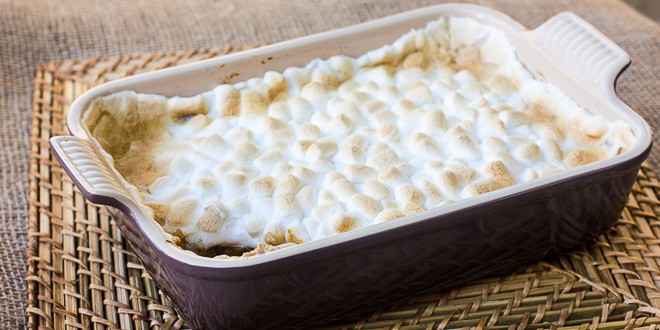 Le Creuset Heritage Collection Rectangular Dish Product Review
Le Creuset is a French cookware manufacturer that was founded in 1925. Best known for their enameled cast iron dutch ovens and casserole dishes, they also make stainless steel cookware, a line of stoneware baking dishes, dinnerware and more. Le Creuset products are available in a wide range of colours including a deep red, a vibrant yellow, an ocean like blue, an earthy brown and many more. I recently had the chance to try their rectangular stoneware dish. This is part of their Heritage Collection which is a reintroducing of some of their classic dishes and styles.
The rectangular dish comes in three sizes: 1L, 1.9L and 3L. I used the 1.9L and I quite liked the size and shape of this dish. It is smaller than some of the lasagna dishes I have and deeper than a 13×9 baking dish. The shape of the dish is 11 by 8 inches and almost 3 inches deep. I have not seen many dishes with these dimensions and I found that it worked really well. Perfect for a side dish, it is deep enough for making a small lasagna or anything you do not want baked in a shallow dish.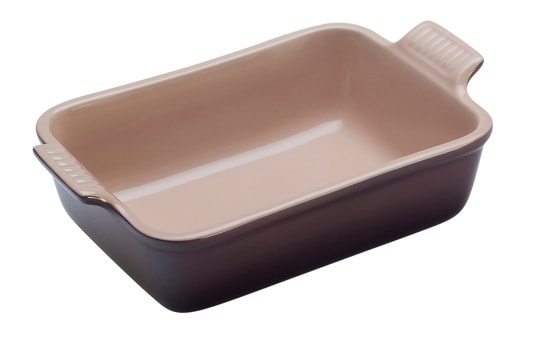 Suitable up to 500F or 260C, Le Creuset is also microwaveable, dishwasher safe and even able to go from the freezer, directly to the oven. The handles are large and angled, allowing for easy lifting in and out of the oven. Available in many colours, I have this dish in Truffle. This is one of Le Creusets new colours. It has a nice earthy look and is perfect for autumn.
I used this dish to make a Pumpkin Pie Casserole. The high sides of the dish allowed for a nice layer of pumpkin pie filling and it is topped with mini marshmallows. The nice thing about Le Creuset products is that they both functional and stylish. There is no need to transfer them to a serving dish, just bring it right from the oven to the table.
Pick up the Rectangular Dish or Le Creuset other products at Amazon – Le Creuset Rectangular Heritage Baking Dish
Disclaimer: Le Creuset provided me with the Rectangular Baking Dish. They did not pay me for this review and the views expressed above are my honest reactions after trying the product.