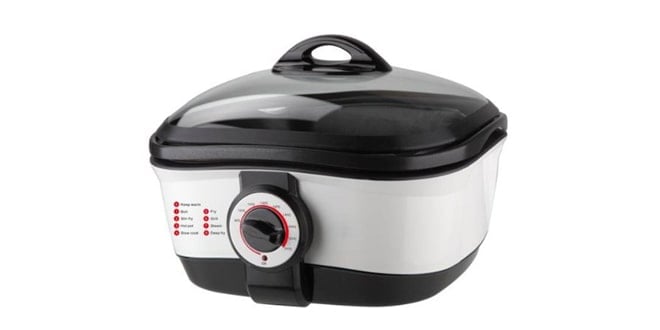 Salton 8in1 Multicooker Product Review
I have used electric frypans for years. I have always found that they are excellent for stir-fries, because they hold a lot of food and get quite hot for frying. Salton has an 8 in 1 Multicooker and I recently had the chance to try it out. This is very much like an electric frypan. It advertises the ability to perform many different cooking tasks from boiling, steaming, slow cooking, sauteing and more. There are some nice features with the multicooker including:
The controls are simple. There is a dial which is turned to set the temperature. A light indicator reveals when the temperature is reached.
The actual heating pan has a really solid non-stick coating. It is removable which is great for easy cleaning.
The glass lid has a rubberized rim. It is perfect for creating a great seal between the lid and the pan.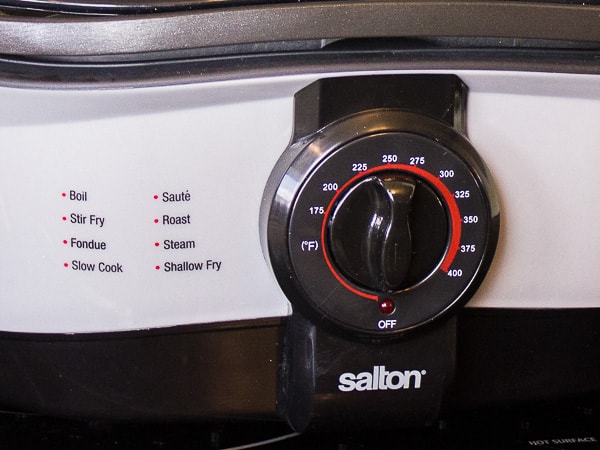 The product is built fairly well. Here are some of the specs:
Adjustable temperature control
Functions: Deep Fry, Fryer, Steamer, Boil, Stir Fry, Slow Cooker, Grill and Fondue
Aluminum die cast heating pan with non-stick coating
Built-in heat element saves energy by transferring the heat quickly and evenly
Glass cover lets you view the cooking process
Accessories included: Frying basket, Steam rack and fondue forks
Square-shaped cooking pan is removable from external base
Cooking pan is dishwasher safe
5 litre capacity; 1500 watts
5 year warranty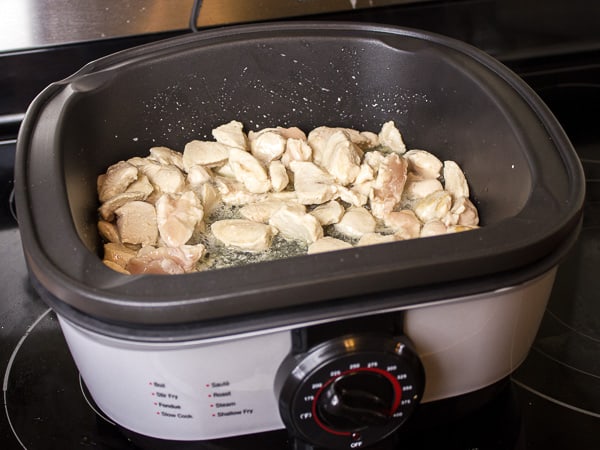 The first thing I did was saute some cubed chicken breast for a stir-fry. I added a little oil and dialed it to 400F. It got plenty hot enough for frying up the chicken. The non-stick coating worked well as the chicken did not stick at all.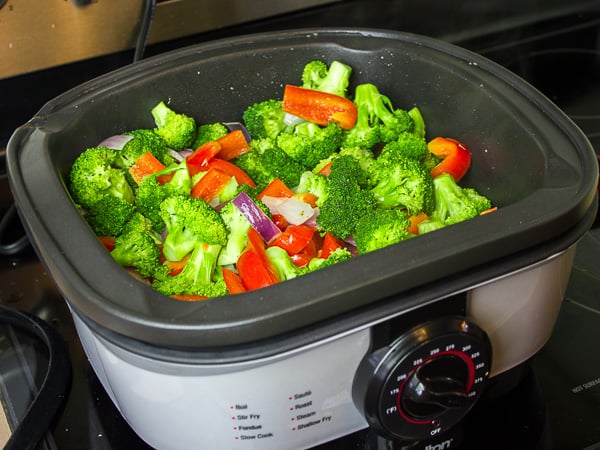 The next thing I tried was to stir fry some veggies. The broccoli, onion and peppers fried up really well. I kept the lid on and the veggies steamed as they fried.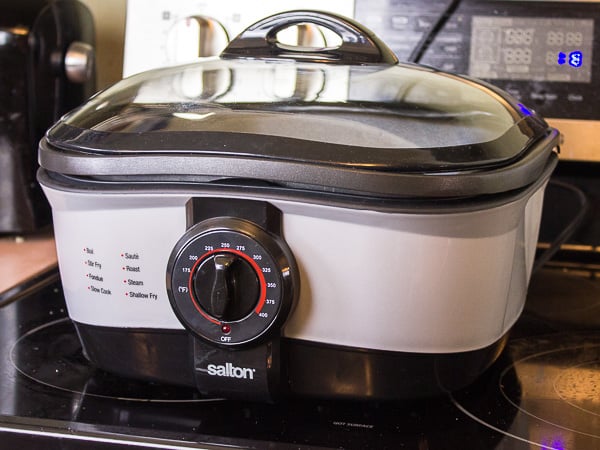 I quite enjoyed using this as an electric frypan. It worked very well. This is the way I would regularly use the multicooker as it is perfect for making stir-fries and it can hold a lot!
There were a couple aspects of the multicooker that I did not like as much. I tried it for shallow frying and found it did not work so well. It took a long time to come to a high enough temperature to fry french fries or southern fried chicken. Also, the pan is too shallow for true deep frying and, when placing the fry basket in the pan, the oil is not deep enough for frying many foods. One other feature that I found annoying was the plug – it is attached to the multicooker by magnet. It can be knocked off with a gentle bump, which can be frustrating. I have noticed this feature in a number of similar products as well.
If you are looking for an electric frypan that can also do a few more features, this is a solid choice. The price is around $100 or a little lower (I saw it on sale for $79.99), so it is very reasonable.
Pick this up at Amazon – Salton 8 in 1 Multi Cooker
It is also available at these other retailers: Kitchen Stuff Plus, Sears, Personal Edge, Centre du Rasoir, Boutik Electric and Ares Equipment.
Disclaimer: Salton provided me with the MultiCooker. They did not pay me for this product review and the views expressed above are my honest reactions after trying the product.