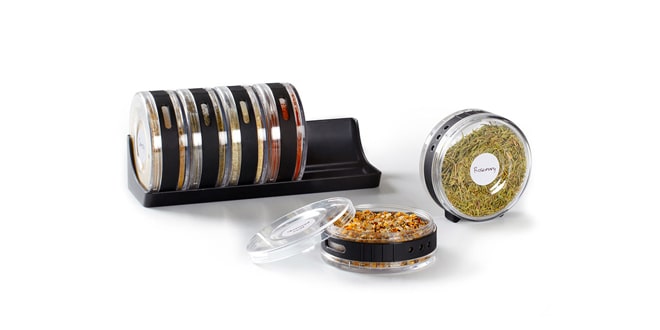 Umbra Cylindra Spice Rack Gadget Spotlight
I have way too many spices. The cupboard above my stove is packed with spices including everything from turmeric, garam masala, Asian five spice, allspice, chipotle powder, whole cardamom, ground cardamom and more. Some spices get used far more frequently than others. I like to have a handful of spices next to the stove for easy access and the new Cylindra Spice Rack by Umbra is perfect.
This rack holds six spice containers. They are round and actually look a lot like a petri dish. Each container holds about 1/3 cup of spice. They are made of plastic, are dishwasher safe and BPA free. They look great and match a bunch of other kitchen products by Umbra.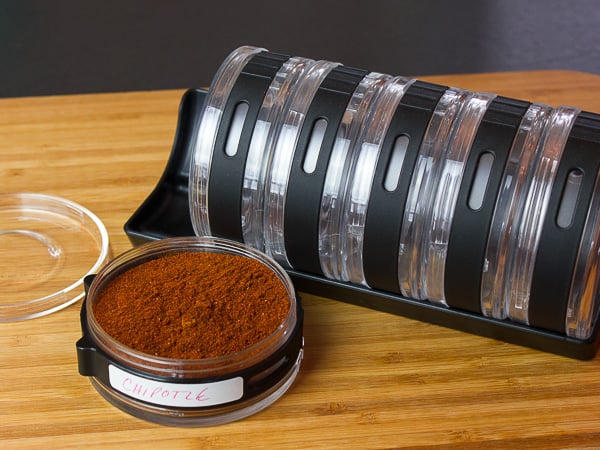 Along the side of the spice container is a black dial. Turn it to reveal the openings. There are two openings: one has small holes and is for sprinkling spices and the other is larger, for measuring a larger amount of the spice. The six containers rest on a rack, which can be used as a stand and just left on the counter. It can also be used to mount the spices on the wall.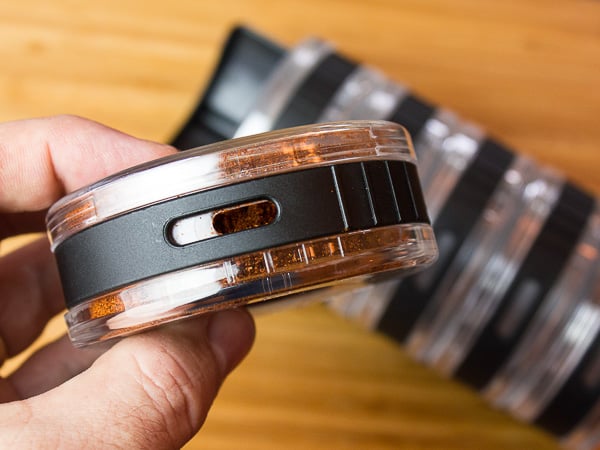 I love the look of these spice containers. Totally funky, they have found a home next to my stove. I am probably going to mount them on the wall. I might purchase one or two more and have them stacked on the wall.
Pick this up at Amazon – Umbra Cylindra Spice Rack
Disclaimer: Umbra provided me with the spice rack. They did not pay me for this product review and the views expressed above are my honest reactions after trying the product.