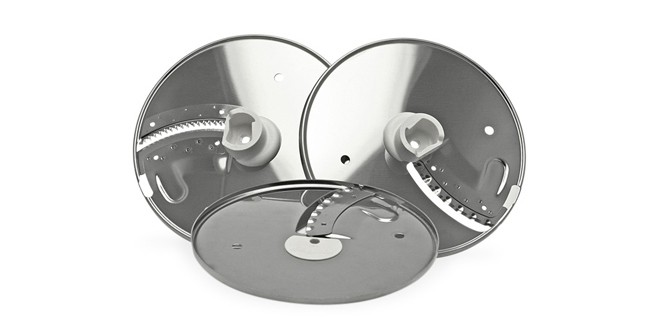 Magimix by Robot-Coupe Creative Discs Kit Product Review
The Magimix by Robot-Coupe food processor is one of the most important tools in my kitchen. I use it all the time for so many different tasks. Jobs like kneading bread, grating cheese, whipping cream and mixing up some curry paste can all be done in the food processor. Magimix by Robot-Coupe food processors are built to last for years and so they do cost more than many other machines. Personally, I think they are worth every penny and these appliances are an investment in your kitchen.
I love any opportunity to expand the features and use of this food processor and Magimix by Robot-Coupe has a number of different attachments to do just that. A few weeks ago, I reviewed the Juice Extractor and SmoothieMix Attachment. It worked really well at turning the food processor into a juicer.
Another attachment set is called the Creative Discs Kit and it adds three more slicing discs to the food processor arsenal. There are four main discs that come with the machine and they are the standard slicing and grating options. The Creative Discs Kit comes with a disk for wavy slices and two discs for different julienne slices.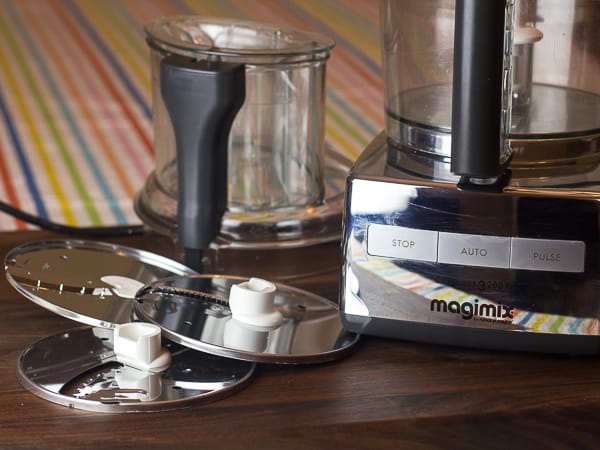 The kit comes with just the three discs.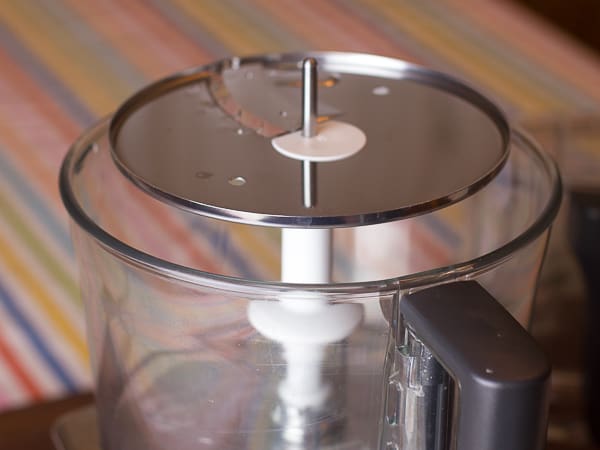 The discs slide onto the food processor just like the original discs. Super simple!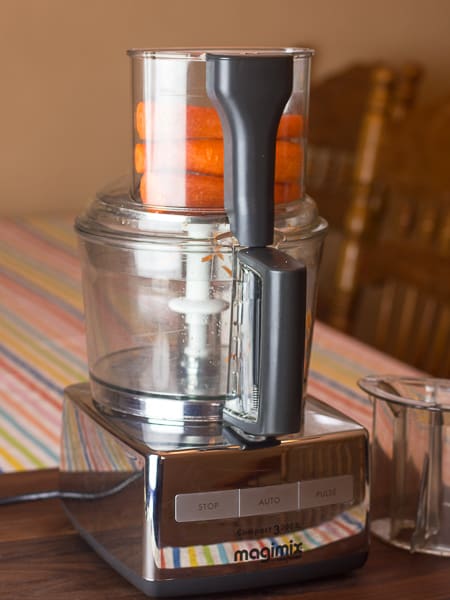 The Magimix by Robot-Coupe food processor has a super wide mouth that allows fairly large items to be inserted. In the picture above, I have laid carrots horizontally in the mouth of the machine. This is perfect for julienning vegetables.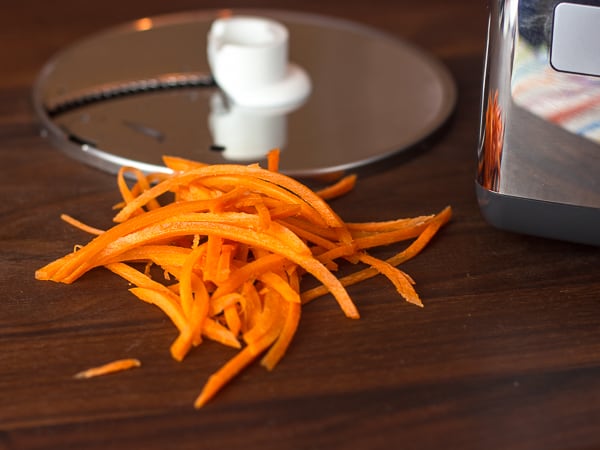 One of the discs create matchstick sized julienne slices. Running the carrots through was a breeze and I LOVED how they came out. As seen in the picture above, the carrots are cut evenly and are the perfect matchstick shape. Using the food processor is way faster than cutting them by hand.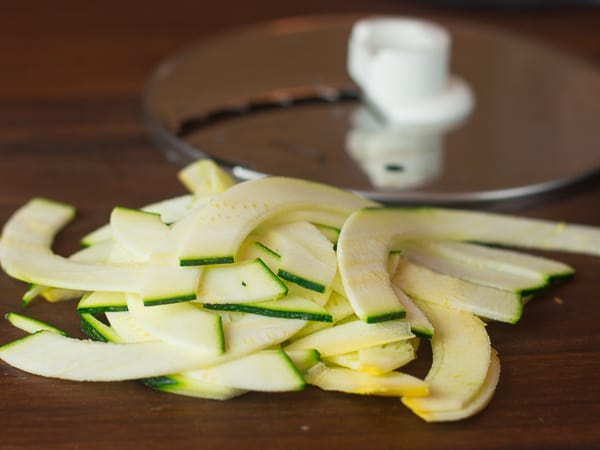 The second julienne disc creates wider shaped slices. It still creates a thin slice, but it is wider than the traditional julienne. This is similar to what a mandolin slicer can do and it is good for ham, cabbage and other vegetables. I used it on zucchini and yellow squash and was really happy with the way they sliced. One thing that happens with the food processor is that, as it turns, it creates slices that are curved. The 'C' shaped slices can be seen in the picture above. This may be a concern for people who prefer the straighter slices that a mandolin can do.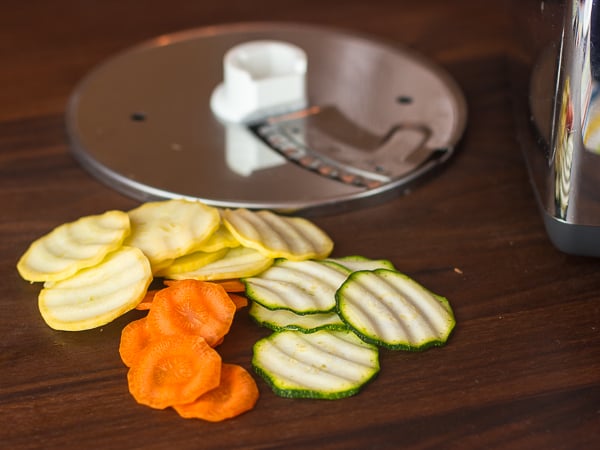 The final disc creates wavy slices which can add a colorful presentation to any dish. I used it on carrots, zucchini and yellow squash and was very happy with how they came out. They looked great, were thin and cut very evenly. I know that will use this disc often.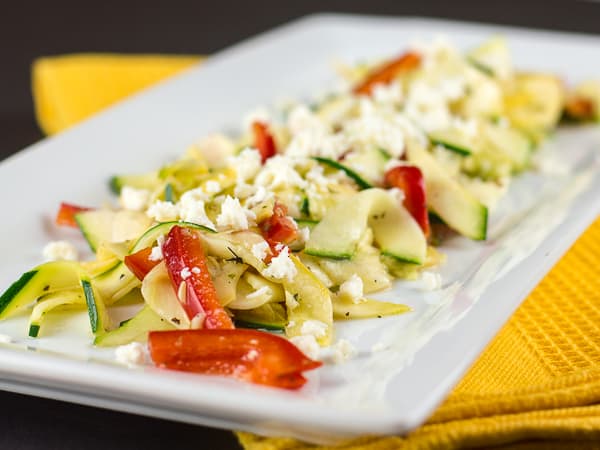 The wider sliced julienne disc is great for preparing vegetables for a salad or slaw. Above is a salad that I made with the julienned zucchini and yellow squash. It was delicious and very quick to make since the food processor did all the cutting!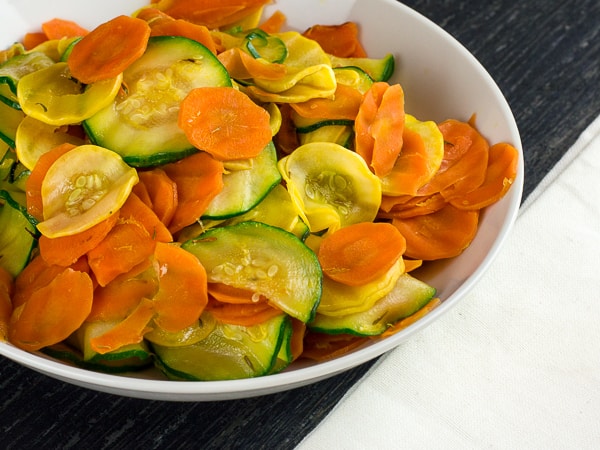 The wavy slice disc can provide so many options. In the picture above, I sauteed the wavy sliced veggies with some thyme and lemon zest for a fresh summery side dish.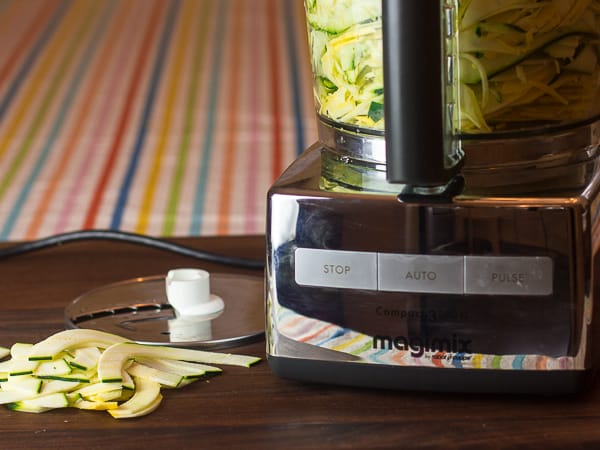 In summary, this is an excellent attachment. Each disc functions very well and makes the Magimix by Robot-Coupe Food Processor even more versatile. I love being able to slice vegetables and other foods in different ways to enhance the presentation of a meal.
Buy the Magimix by Robot-Coupe Creative Discs Kit online at Williams Sonoma.
Disclaimer: Magimix by Robot-Coupe provided me with the Creative Discs Kit. They did not pay me for this review and the views expressed above are my honest reactions after trying the produc