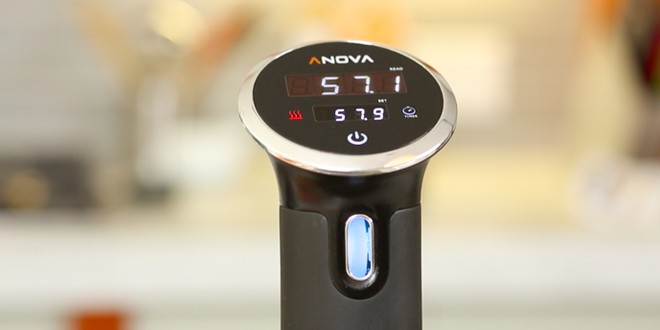 New Anova Sous Vide Machine on Kickstarter
It seems that there are constantly new sous vide machines coming out on the market. Personally, I love this, because I am a believer in the results of sous vide cooking. It did not take long for me to be convinced, as my first bite of a sous vide steak revealed just how amazing it is. This cooking technique results in tender and juicy meat every time! There were many different sous vide machines that hit the market in 2013 and one of those was by Anova. The Anova sous vide immersion circulator has had a solid impact in the market this past year, especially since it had the lowest price point compared to all the other units. I had some issues with the design, but for the price, it is a great choice. I have performed a comparison study of the many sous vide machines on the market and that can be found here.
Now, the makers of Anova, have announced their newest model, the Anova Precision Cooker. They launched a Kickstarter campaign and within just a couple days, they have already surpassed 700% of their target. Having raised over $700,000 in just two days, it is clear that people are wanting to bring sous vide cooking into their home kitchens.
This new model has some new features, most notably, the ability to control the temperature and other settings using an iPhone (Android is apparently coming as well).
Shipment of these new units is scheduled for October 2014!