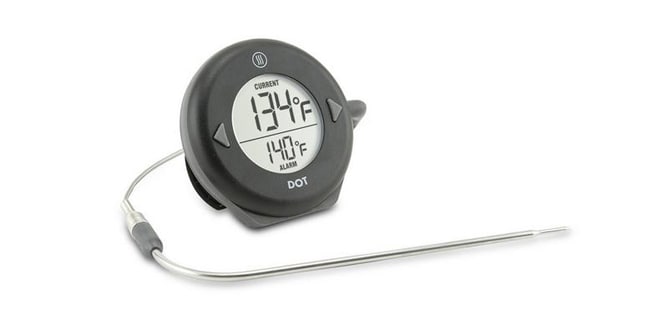 Thermoworks DOT Giveaway!
I have always believed that a digital thermometer is one of the most important tools for the kitchen. Thermometers are great to monitor the temperature of a roast in the oven, a chicken on the grill or for making hard candy on the stovetop.
I have used many different brands of thermometers and, by far, my favorite are from ThermoWorks. They have a number of different types of thermometers including the ThermaPen, ChefAlarm, ThermoPop, and TimeStick
One of the newest products from ThermoWorks is the DOT. The DOT is a probe style digital thermometer that is ideal for monitoring food in an oven, on the grill, or in a smoker. With the probe and long cable, the DOT can keep track of the temperature while the door of the oven is closed.
The DOT is a digital thermometer that is all about simplicity as there are only a couple buttons. Just insert the probe into the food, press the up or down arrows to set the target temperature and that is it. Once the food reaches the target temperature, the DOT beeps so you know it is ready.
This giveaway is open to U.S. and Canada residents only. Sorry to anyone who lives elsewhere. Make sure you use rafflecopter widget below to enter – just follow the instructions on the widget to enter (there are options for more than one entry as well!)