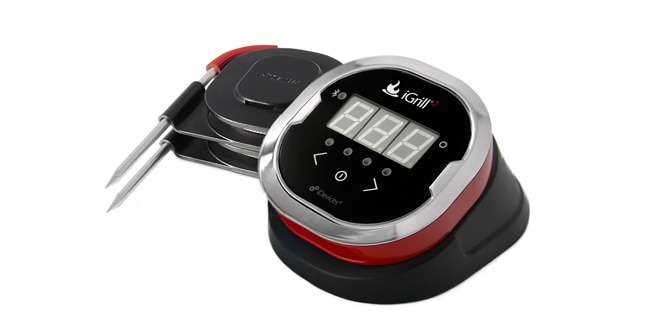 iGrill2 Digital Thermometer Product Review
I have countless gadgets and accessories for my grill. Some of them are handy, while many are gimmicky and rarely get used. I only have a few accessories that I feel are essential for any grilling enthusiast. One of those is a digital thermometer. A good digital thermometer takes the guess work out of grilling steaks and large cuts of meat. It is ideal for BBQing whole chickens, pork roasts, beef brisket and so much more. iDevices has a number of different thermometers that are made for grilling and indoor cooking.
The iGrill2 is a digital thermometer that is not your everyday simple gadget. Oh no, this thermometer has the capability of managing 4 temperature probes and keeping track of the temperature of each with a simple press of a button. On top of that, this bad boy is bluetooth enabled allowing you to connect it to your mobile device, which requires installation of a free app.
Features (as found on the iDevices website):
Specifications
Length: 3.75 in (95.2 mm)
Width: 3.25 in (82.5 mm)
Height: 2.5 in (63.5 mm)
Weight of device: 6.1 oz (172 grams)
Weight of probe and wrap: 1.2 oz (35 grams)
48" Probe cord
2 AA Batteries (Included)
Connections
Bluetooth Smart (4.0)
150′ Bluetooth Range (45 meters)
Compatible with iPad Mini, iPad 3 and newer, iPhone 4s and newer, iPod touch 5th gen and newer
Connect multiple iGrills to one smart device
Requires iOS 7 or newer
Compatible with many Android phones equipped with Bluetooth 4.0 and running 4.3 or later.
App Features
Preset and Custom Temp. Alarms
Min/Max Temp. Alarms
Simultaneously Monitor up to 4 Probes
Customizable Probe Views
Timers
Partner Recipes
Graphing and Exporting
Social Sharing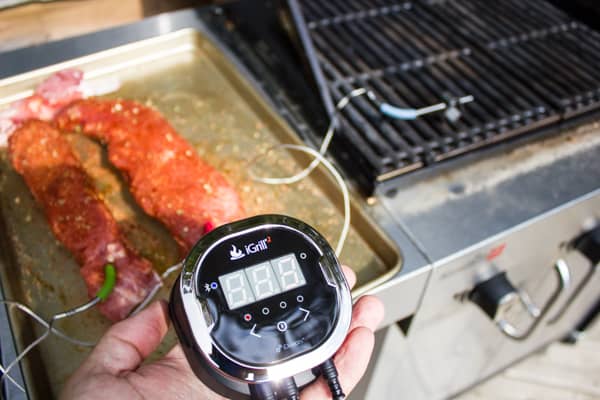 The iGrill2 has simple controls. There is a power button and directional arrows which control which of the probe temperatures is being displayed. With the bluetooth technology, the iGrill2 can connect to an iPhone, other iOS device or an Android device with the app installed. There are many more controls and options on the actual app than just monitoring temperature.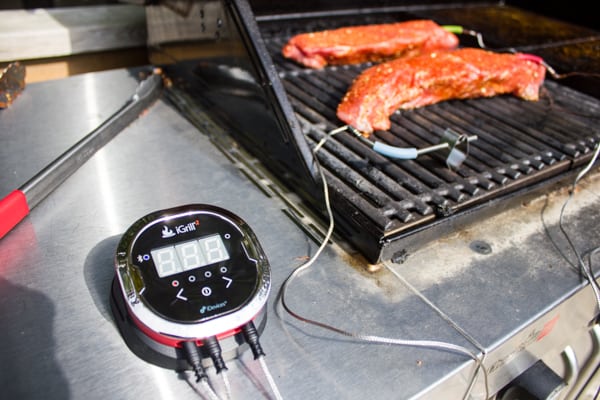 The iGrill2 can have up to 4 different probes plugged in. The base unit is magnetic and can rest on the side grill shelf.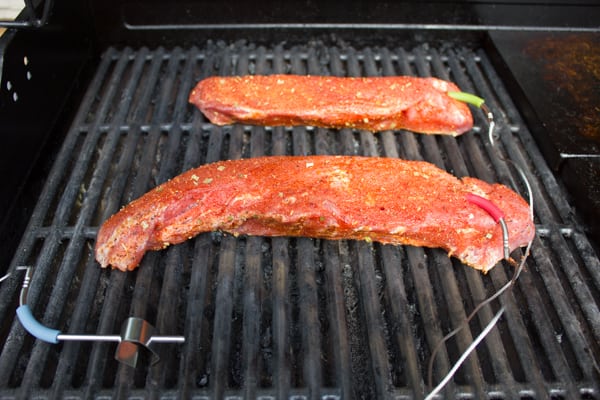 In the picture above, I have plugged in two standard probes which are inserted into spice rubbed pork tenderloins. The third is an ambient probe that monitors the air temperature of the grill, while the lid is closed.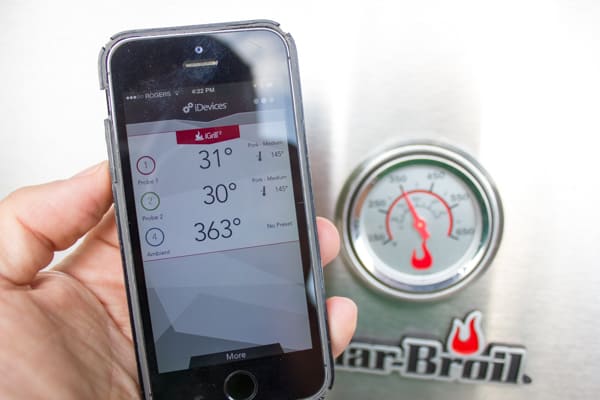 I loaded up the iDevices app and pressed the power button on the iGrill2. Automatically, they were able to find each other and the app showed the temperature reading of the probes. If you look on the screen above, you will see on the iPhone app, it says Probe 1, 2 and 4. This app can monitor up to 4 temperature probes at once. You have the ability to change the colour of the circle surrounding the probe number to match the colour on the actual probe. It is also possible to change the name of each probe.
The app is easy to navigate and there is lots of information available on it – far more than any regular digital thermometer can provide. For each probe there is a graph monitoring the change in temperature.
It is possible to set a target temperature for the meat. The iDevices app comes with many preset temperatures for steak (rare, medium, well, etc.), fish, pork, chicken and more. It is also possible to make custom temperature settings. For pork, I set the temperature to 145F.
One thing I was pleased to see, as visible in the picture above, is that the ambient probe showed a temperature reading that matched the actual grill lid thermometer.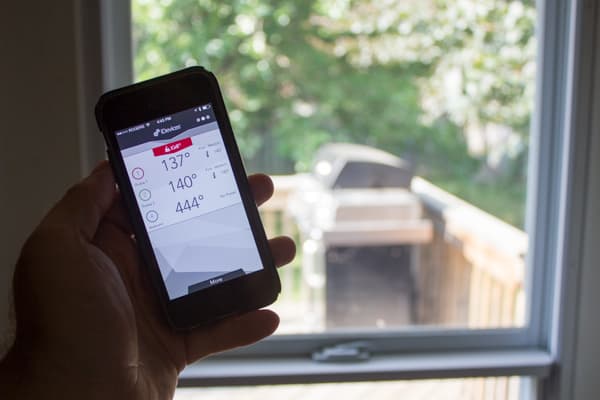 Since the app is connected via bluetooth, I was able to monitor the temperature from inside the house.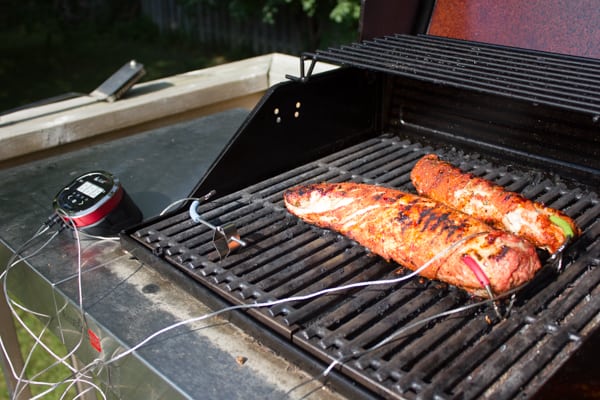 Midway through, I flipped the pork roasts, so they would cook evenly on both sides.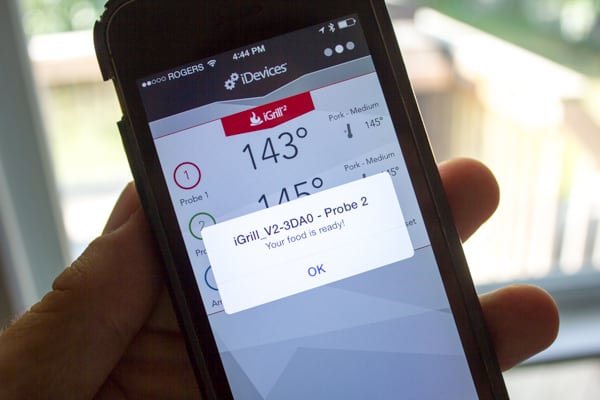 Once one of the temperature probes reached the target temperature, the iPhone beeped and stated that the food is ready.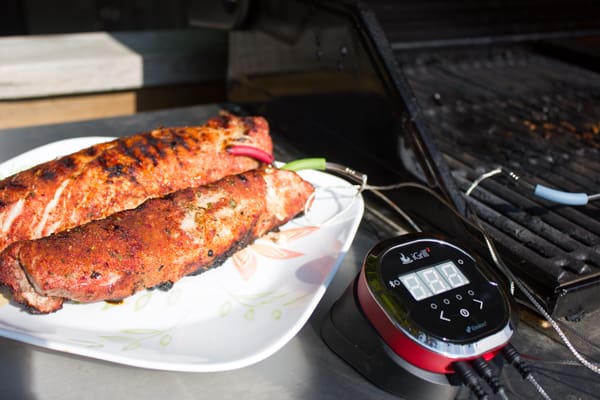 The iGrill2 is an excellent product. Being able to monitor 4 different pieces of meat is a really nice feature and definitely something I would take advantage of. It allows 4 steaks to be cooked to different levels of doneness. Also, pork roasts or chicken breasts of different sizes to each be monitored. The ability to use one of the inputs for an ambient probe is also a great addition.
Pick up the iGrill2 on their website.
Disclaimer: iDevices provided me with the iGrill2. They did not pay me for this review and the views expressed above are my honest reactions after trying the product.