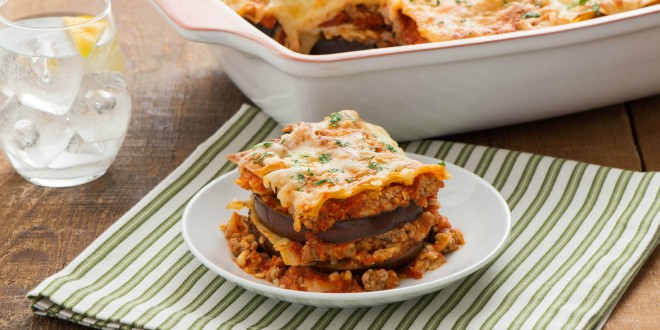 Veal and Eggplant Gluten Free Lasagne
We love pasta in our house. It gets cooked multiple times in a week and during these cooler fall days, I especially love baked pasta. The warmth from a baked pasta meal is the perfect comfort food for a cold day.
There is no one in our family with gluten issues, so we have never had the need to purchase pasta that is gluten free. I have tried different brands in the past and was not impressed. With each brand, I noticed taste and texture differences compared to traditional pasta and each kind seemed to be quite inferior. Now that was until I tried the Catelli Gluten Free pasta line. This new line of pasta has been very well received and they won the 2015 Best New Product. This is the closest that gluten free pasta has come to the taste and texture of traditional pasta. We love it in our house and here is an awesome lasagna recipe that uses the gluten free noodles.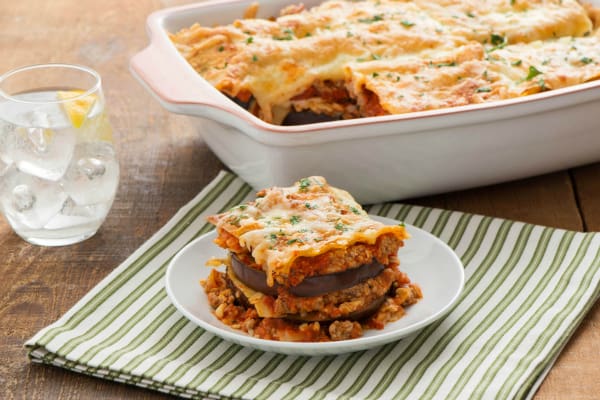 Veal and Eggplant Gluten Free Lasagne
Classic lasagne gets a flavourful new twist with roasted red peppers, along with smoked paprika complimenting the eggplant. Pair with a Spanish or Italian red wine for fuss-free entertaining.
Preparation Time: 15 minutes
Cook Time: 60 minutes
Servings: 8
Ingredients:
2 eggplants (about 2 lb/1 kg)
2 tbsp (30 mL) olive oil
1/4 tsp (1 mL) each salt and freshly ground pepper
12 Catelli® Gluten Free Lasagne noodles
4 cups (1 L) shredded mozzarella cheese
1/4 cup (60 mL) grated Parmesan cheese
1/4 cup (60 mL) chopped fresh parsley
Red Pepper Tomato Sauce:
2 roasted red peppers, peeled and chopped
3 cups (750 mL) tomato sauce
1 1/2 lb (750 g) ground veal
1/4 tsp (1 mL) each salt and freshly ground pepper
1 tbsp (15 mL) olive oil
3/4 tsp (4 mL) smoked paprika
Directions:
Red Pepper Tomato Sauce: In food processor, purée red peppers with 1/2 cup (125 mL) warm water; add tomato sauce and purée until smooth.
Season veal with salt and pepper. In large skillet, heat oil over medium heat; sauté veal for 6 to 8 minutes or until browned. Strain to remove fat; return veal to skillet. Add smoked paprika and tomato mixture; cook for 3 to 5 minutes.
Lasagne: Cut eggplants into 1/4-inch (5 mm) thick rounds. Brush both sides with olive oil; sprinkle with salt and pepper. Place on baking sheet; broil for 3 or 4 minutes per side or until browned.
Spread 1 cup (250 mL) of Red Pepper Tomato Sauce in bottom of greased 13- x 9-inch (3.5 L) baking dish. Place 4 pieces of uncooked noodles over top. Spread with 1 1/2 cups (375 mL) of sauce; place half of the eggplant slices over top. Sprinkle with one-third of the cheese; repeat layers once. Top with remaining noodles, sauce and cheese.
Cover with foil; bake in 375°F (190°C) oven for 30 minutes. Remove foil; bake, uncovered, for 10 minutes longer. Sprinkle with parsley. Let stand for 10 minutes.