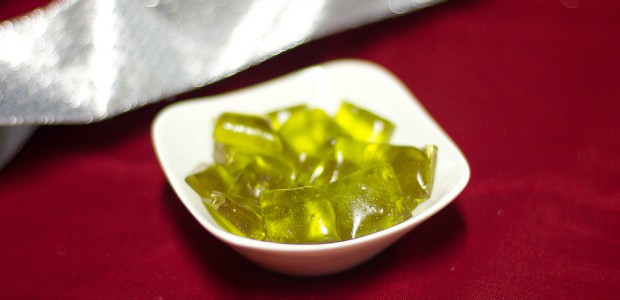 Making hard rock candy is surprisingly easier than you might think. The most important part of making hard candy is having a good candy thermometer. To ensure the candy will be hard, it needs to reach 300F and I like to have the kind of Candy thermometer that can attach to the side of a saucepan, which allows me to monitor the temperature as it cooks. Getting to 300F can take a while as all the water has to evaporate and then the sugars have to cook to the hard crack stage of 300F.
The candies are so addictive. The almond extract in them gives them the flavour of cotton candy. This recipe is sourced from Taste of Home.

Print
Prep Time: 5 minutes
Cook Time: 30 minutes
Total Time: 35 minutes
Servings: 90
Ingredients
2 tbsp margarine
2 cups white sugar
1 cup water
3/4 cup clear corn syrup (lily white)
5-10 drops of food colouring (green, red, or any other)
1 1/2 tsp almond extract
1/4 cup powdered/icing sugar
Instructions
Use the margarine to grease a 13x9 cake pan. Set aside.

Attach a candy thermometer to a small saucepan and add the sugar, water, corn syrup and food colouring. Cook on medium heat. Stir until the sugar is dissolved. Once the sugar is dissolved, stop stirring, and let the mixture cook on a low rolling boil.

Wait until the candy thermometer reaches 300F, the hard crack stage. This can take up to 30 minutes and sometimes longer Remove from the heat and stir in the almond extract.

Pour the liquid into the cake pan. Score it into 1 inch squares. Continue to do this as the handy hardens. Work fast as the candy hardens quickly.

After the candy has cooled, break it along the scored lines into 1 inch candies.

Toss with powdered sugar, if desired.