Bradley Smoker Carving Kit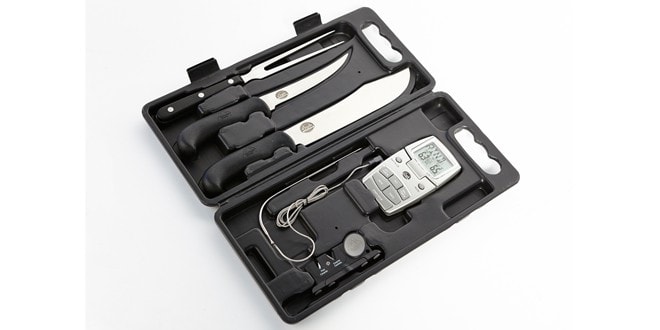 I love accessories for my smokers and grills and the new Bradley Smoker Carving Kit is one of my new favourites. This kit comes with an 8″ butcher knife, 5.5″ boning knife, carving fork, 2 stage sharpening tool and digital thermometer.
Each of these tools are something that I regularly use and are a smart collection of accessories. Every smoker needs a good set of blades. The butcher knife is perfect for slicing big cuts of meat and breaking down a whole chicken. The boning knife is excellent for smaller pieces of meat and works wonderfully well for seafood.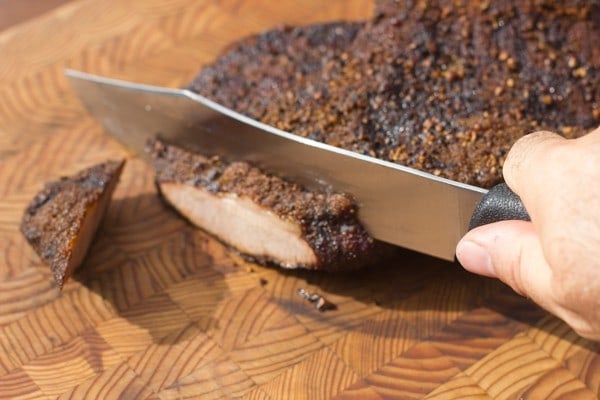 The butcher knife is perfect for slicing brisket! The large blade is curved for easy carving and I was quite impressed with the sharpness of the edge of the blade. It sliced the brisket with ease with very little effort.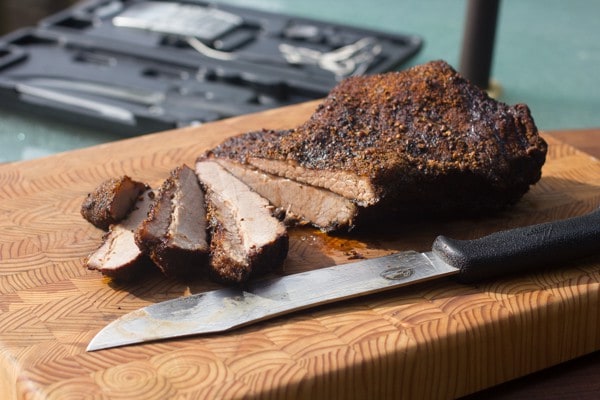 The handle of both the blades and fork are quite comfortable and the rubberized material provide a nice grip. Also, since the grip is a rubberized material, it can handle the elements of outdoor use. Whether it is the heat from the sun or even some rain, these knives should be able to handle it all.
Along with the two blades and fork, there is also a sharpening tool to ensure that the blades are sharp. I have not had the chance to sharpen the blades, as they were both still quite sharp at the time of this review, but I did try the sharpener on the sharp blades and they were easy to glide the knives through the sharpening slot. It is nice to have this in the kit as well.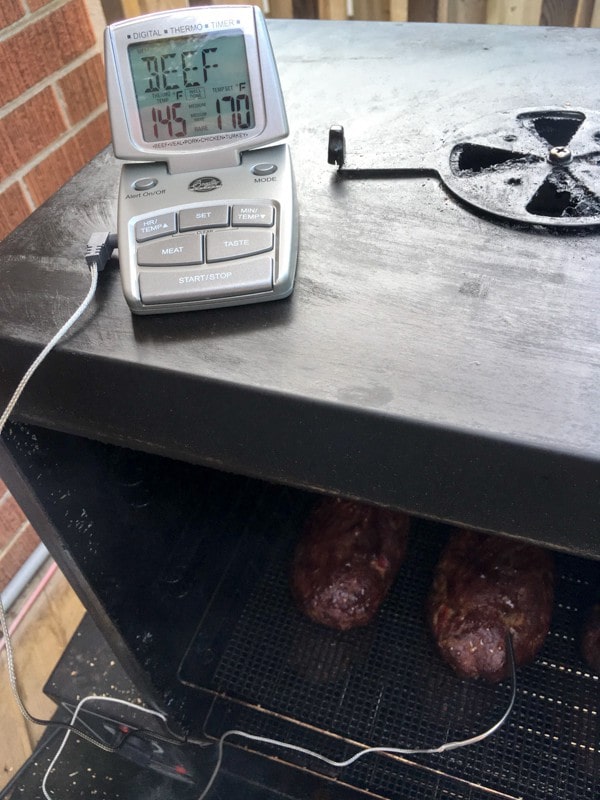 The carving kit does not just come with a knife set, but there is also a digital thermometer. Any smoking enthusiast knows that one of the most important tools for BBQ is a digital thermometer. Knowing the internal temperature is key to knowing when that Pork butt is ready to be pulled or the chicken is ready to be served. The thermometer included with this kit has a long cord so the probe can be inserted in the meat, with the door closed and the display either on the top of the smoker or stuck to the side using the magnet on its base. There are also many preset temperature options for beef, chicken, pork and more with an alarm that will go off once the temperature is reached. This is a great addition to this kit.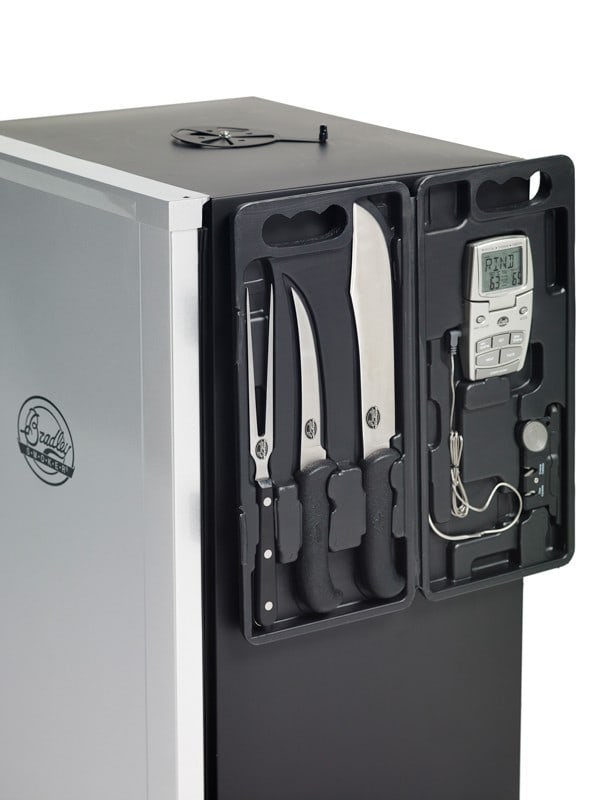 The case for the carving kit is completely weatherproof and there are magnets on the back of the case so that it can be stuck to the side of the smoker when not in use.
The Bradley Smoker Carving Kit is excellent for any smoking or grilling enthusiast.
This kit can be purchased here.
Disclaimer: Bradley Smokers provided me with the Carving Kit. They did not pay me for this review and the views expressed above are my honest reactions after trying the product.