Foodbuzz 24×24: Finally a Night Out! Dinner Party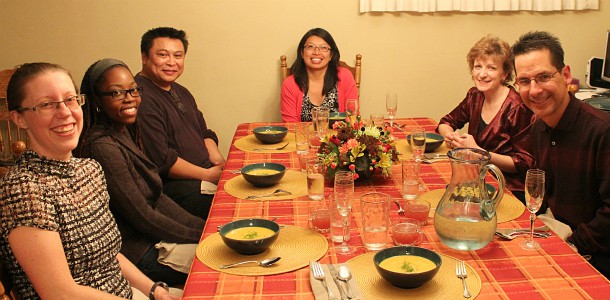 Janna and I have three wonderful kids. They are 8, 6 and 4 and are full of energy, like any kids that age. It seems that each year that they age our lives get busier. It is hockey season now and every Saturday from now until the end of March (!!!) we will be at the arena from 8am to 2pm for their three games; and on top of that there are Sunday afternoon practices. Besides hockey, there is cross country, piano lessons and practicing, homework…. you get the picture. If you are a parent, you are likely saying, uh huh, that is life as a parent. It is and I wouldn't trade it in a million years. One thing that Janna and I rarely do is go out on a date night. I suppose we should probably try to do that more often, but with the cost of a babysitter, dinner, movie, etc., we feel that the money could be better used in other places. It seems like we are always buying new shoes, socks, jeans because they wear through them so fast! So family money goes elsewhere and not for mom and dad to go out. It doesn't bother us at all. On Sunday night, we will often order take out and watch a movie at home. It is a little time just for us and it is special and a fraction of the cost.
So, when Foodbuzz were accepting applications for October's 24×24 posts, I figured that I had a great theme. Janna and I have gotten to know some wonderful parents at our kids school and they have developed into great friends. I thought, what if the dinner party theme was 'Finally a Night Out!' and it was for parents who don't get out much (I had to use that phrase somewhere!). Everybody got babysitters (thanks to our brother and sister-in-law who took our kids for an over night sleepover – WooHoo!!). It was a great night filled with great conversation, uncontrollable laughter and tasty food.
Here is the menu for the Finally a Night Out! Dinner Party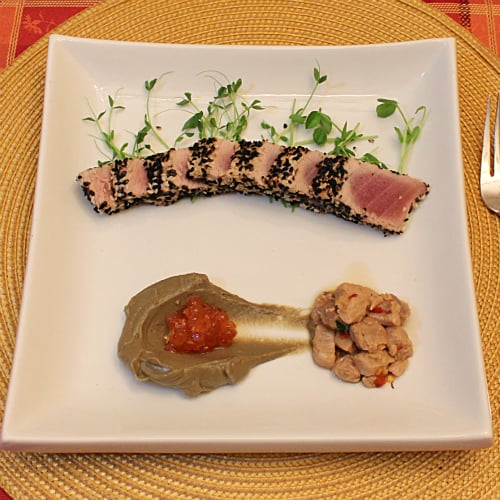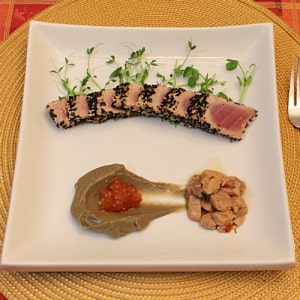 Appetizer
Tuna Plate
Pan Seared Tuna with a black and white sesame crust
Tuna in a soy, lime and ginger marinade
Avocado wasabi puree
Salmon Roe
recipe found here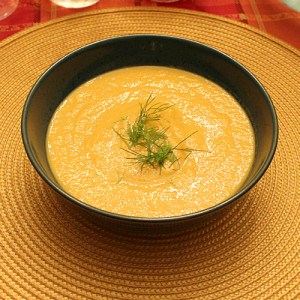 Soup
Carrot and Fennel Soup
The carrots, fennel, onions and garlic are roasted for an hour then they are blended with chicken and broth and milk. It creates a soup is perfect for the fall season!!
Recipe found here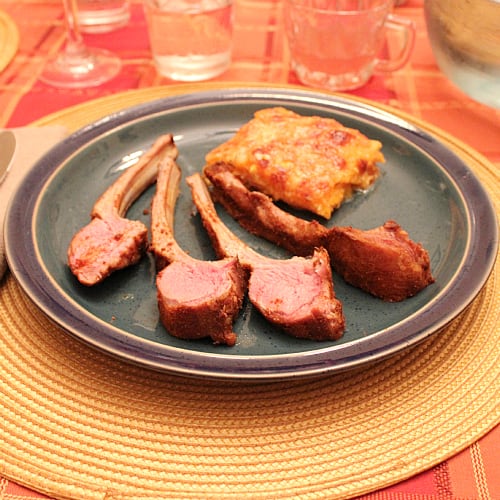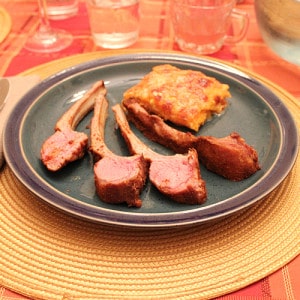 Main Course
Moroccan Crusted Rack of Lamb
Roasted lamb with a great mix of Moroccan spices of paprika, cumin, coriander, cinnamon, cloves, ginger, nutmeg and more!
Sweet Potato and Butternut Squash Gratin
A twist on classic scalloped potatoes, this dish was a surprise hit and the Gruyere cheese baked in it enhanced the flavour.
recipe found here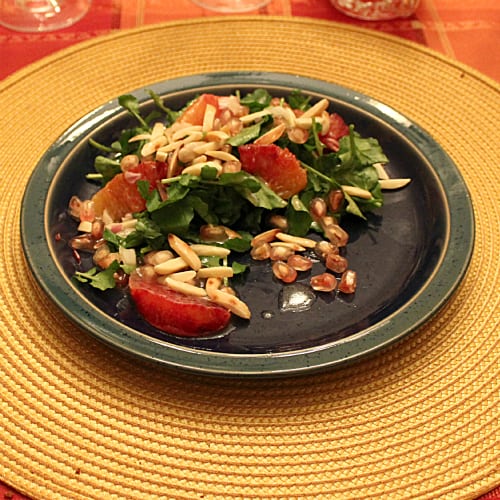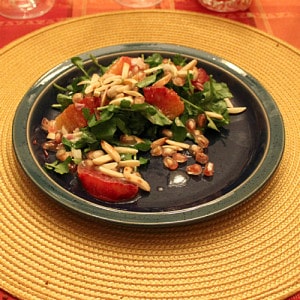 Salad
Watercress Salad with White Pomegranate, Blood Oranges and Slivered Almonds
A bright fresh salad that has a perfect combination of sweet and tart with a tasty crunch of almonds!
Recipe found here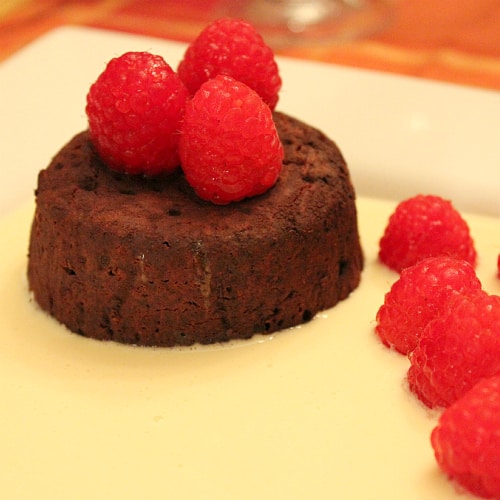 Dessert
Chocolate Fondant with Vanilla Anglaise and Raspberry Garnish
A perfectly cooked chocolate fondant has a brownie like texture on the outside with a gooey middle.
The vanilla anglaise was a wonderful cream sauce that enhanced the fondant and the raspberries gave a tartness to the dish
recipe found here
It was a wonderful night. We all had a great time as you can see by the pictures below.
Even though we talked a lot about our kids and the wonderful school that we are all blessed with we also talked about life, church, interesting weddings and other things.
Janna was the hostess with the mostess. She did a great job getting the place ready for a dinner party. I was in the kitchen a bunch preparing and plating, but I was able to enjoy my time around the table a lot as well.
Here is a pic of the plating process and our wonderful centrepiece! Thanks to our guests for coming and for the gifts they brought and thanks to Foodbuzz for giving us the go ahead. Go check out Foodbuzz, it's a great site for foodies to gather and share recipes!