Magimix by Robot-Coupe Juice Extractor and SmoothieMix Attachment Product Review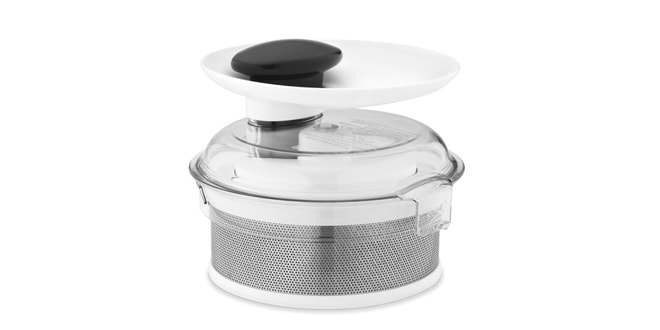 The Magimix by Robot-Coupe Food Processor is by far my favorite processor. Here is my review of the 3200XL 12 cup food processor. The machine is such high quality and built to last a long time! I use mine all the time and it is easily one of the most important tools in my kitchen. It is great for making curry pastes, grating cheese, slicing vegetables and so much more.
To make the machine even more versatile, Magimix by Robot-Coupe has a number of different attachments that can be purchased. Each of these allow the food processor to do additional kitchen tasks, and in some cases, actually turn it into a different small appliance! These attachments are available for the 3200XL, 4200XL and 5200XL models.
One of the accessories that can be purchased is the Juice Extractor and SmoothieMix Attachment. This allows you to make nutritious juices, smoothies, and even coulis. All the parts of this accessory is dishwasher safe.
Juice/Smoothie Kit includes:
1 extractor
1 funnel
1 paddle
1 lid for the food processor bowl
1 pusher
To test out the machine, I first tried to make some carrot apple juice. This is the kind of juice I make all the time with a stand alone juicer that I own. I was interested to see how this attachment would work in comparison with a machine dedicated to making juice. Below are a lot of pictures showing how to add the extractor basket and make juice. Click on any picture to enlarge the photo and reveal the slideshow.
The juicing went very well. It juiced both the carrots and apples effectively and the drink was both tasty and had absolutely NO pulp. I was impressed. The only real problem is that this attachment does not release the pulp, so it stays in the extraction basket. This causes a problem when making a lot of juice and would require stopping the machine to remove some pulp midway through. This is not a huge issue, but it is important to be aware of it. Other than that, it functions as well as any juicer I have tried.
Next I tried the smoothie function. This is done by adding the paddle to the extraction basket, which pushes some of he pulp through the strainer mesh.
This worked really well and I will use this much more often to make coulis. I actually prefer the texture of the coulis from this machine over any other small appliance I have used.
In summary, this is an excellent attachment. It functions very well and makes the Magimix by Robot-Coupe Food Processor even more versatile. Far cheaper than a good quality juicer, this accessory has great value!
Buy the Magimix by Robot-Coupe Juice Extractor and SmoothieMix Attachment online at Williams Sonoma.
Disclaimer: Magimix by Robot-Coupe provided me with the Juice Extractor and SmoothieMix Attachment. They did not pay me for this review and the views expressed above are my honest reactions after trying the produc