Smoked Salmon Cheese Spread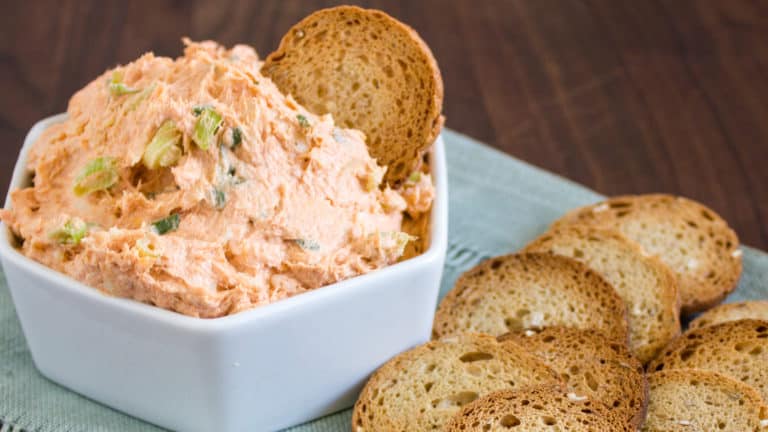 Cheese spreads are a perfect appetizer for so many occasions. They are great for holiday gatherings, tailgate parties and so much more. One of the things I love about them is that when I am planning food for a party, cheese spreads can be made ahead and kept in the fridge until ready to serve.
I love spreading the cheese dip on a cracker, melba toast, pita chip or scooping like a dip with bread sticks, tortilla chips. For this cheese spread, I was inspired from the New York deli classic of a bagel with lox and cream cheese. I often smoke salmon and, while smoked salmon is great to eat just the way it is, I also love adding some to various dishes. Smoked salmon has such a rich and unique taste, that it can really enhance the flavour profile of a dish. This cheese spread is outstanding just like a toasted bagel with lox and cream cheese.
Very simple to make, this cheese spread can be prepared in a matter of minutes. Simply add all the ingredients to a bowl, except the green onions, and mash with a fork. Stir in the green onions and the spread is ready to be served with some bagel chips – that is it!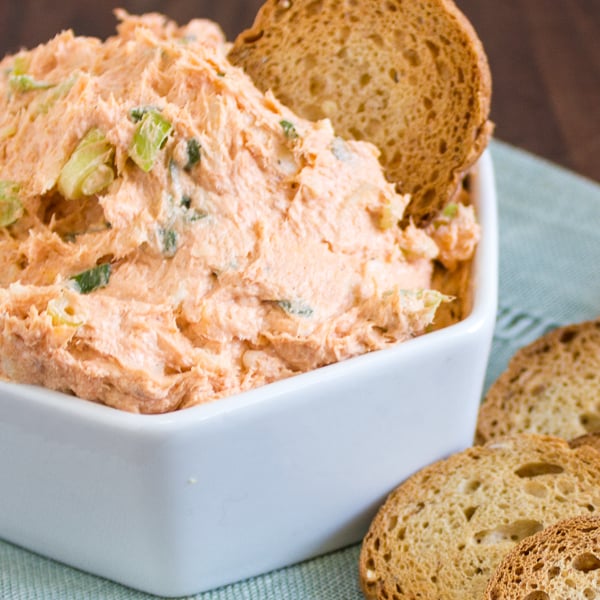 There are so many different ways to make cheese spread. Generally cream cheese is used as the base and I like to add some grated cheese, usually one with a bit of zip like sharp cheddar, swiss or parmesan.
Along with the cheese, some other ingredients are added to provide texture and flavour. The smoked salmon gives this spread a wonderful smokey flavour. There are so many other things that could be used from roasted red peppers, diced ham, cubed chicken, pineapple and so much more.
In this spread I also added some sliced green onions. This not only gives added texture but also some zing in each bite. There are all kinds of other ingredients like capers, minced pickles, olives and so much more that work very well in a cheese spread.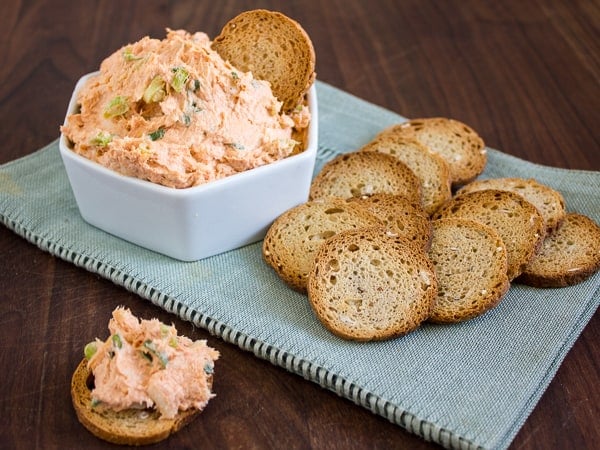 While you can use store-bought smoked salmon, trout or other fish in this recipe, I smoke the fish myself. If you have a smoker and want to smoke your own fish for this recipe, here are some great recipes for smoked fish:
Smoked Salmon Cheese Spread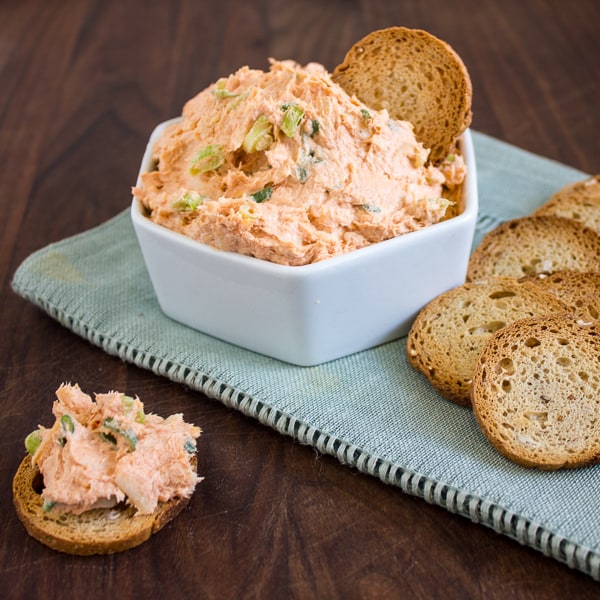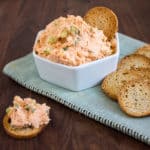 Print
This easy to prepare smoked salmon dip or spread recipe uses cream cheese, cheddar cheese, sliced green onions and spices. Great on crackers, pita chips and more.
Servings: 8 people
Ingredients
8 oz cream cheese
2/3 cup smoked salmon or trout, crumbled
1/4 tsp salt
1/4 tsp garlic powder
1/2 tsp paprika
1/8 tsp cayenne pepper
1 cup grated cheddar cheese
4 green onions thinly sliced
Instructions
In a medium sized bowl, mash the cream cheese with a fork or potato masher. Add the smoked salmon, salt, garlic powder, paprika, cayenne pepper and grated cheddar and continue to mash until well incorporated.

Stir in the sliced green onions. Spoon into a serving bowl.

Serve with crackers.
Nutrition
Per serving:
Calories: 177kcalCarbohydrates: 1gProtein: 8gFat: 15gSaturated Fat: 8gCholesterol: 46mgSodium: 252mgSugar: 1g