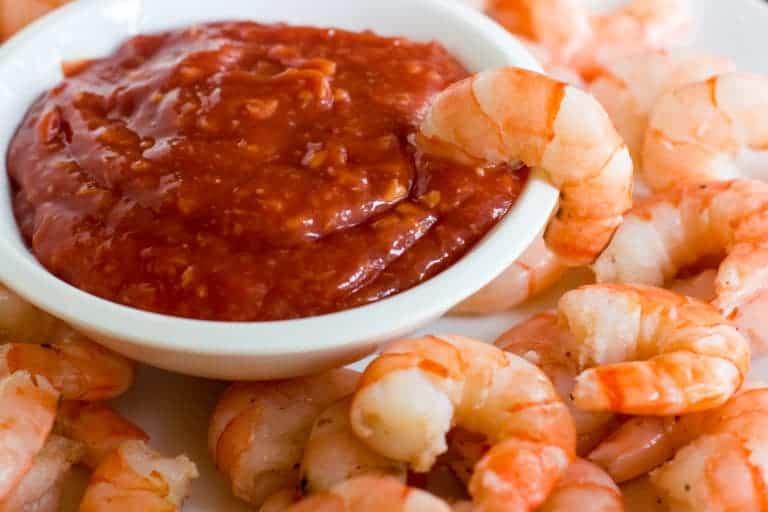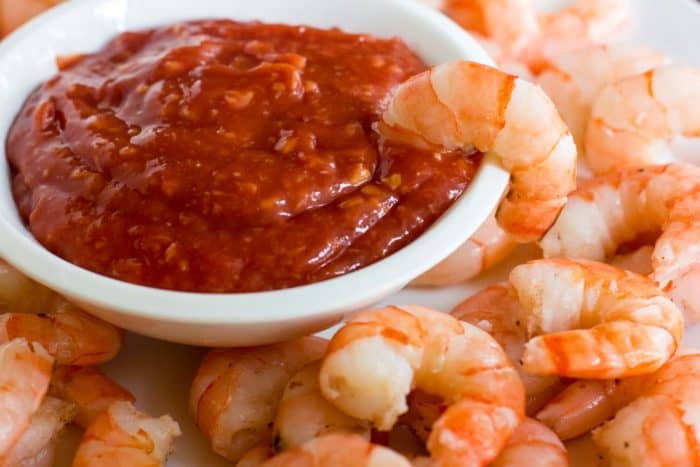 Shrimp cocktail sauce is one of those amazing sauces that just perfect. I don't know who first thought of this sauce and created, but I want to say a big THANK YOU!
This seafood sauce is the ideal dipping condiment for shrimp cocktail. I remember as a kid, always wanting to order shrimp cocktail, anytime we would go out to a restaurant. They were always pricy, but those big plump shrimp resting on the edge of the cup full of sauce – man that was one great appetizer.
As a kid, it seemed so fancy and so high class!
Well, I have never stopped loving shrimp or this amazing cocktail sauce! I often have a jar of it either in the fridge or the pantry. But, there is no need to buy the sauce because it is very easy to make and you likely have all the ingredients already in your kitchen!
For instructions to make peel and eat shrimp that is perfect for this cocktail sauce, check out this recipe – Peel and Eat Shrimp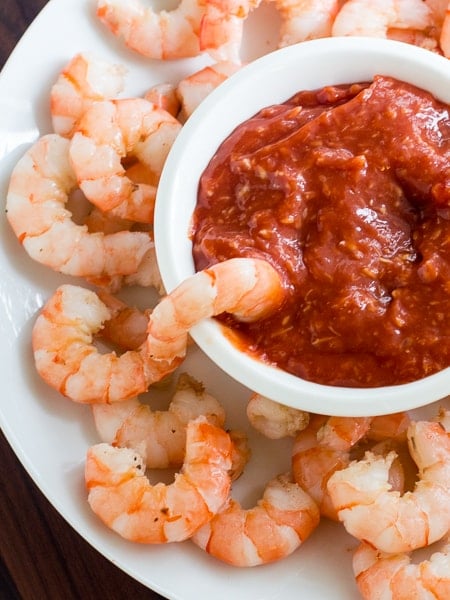 Lately, I have been making my own homemade cocktail sauce for the shrimp and my family have been preferring it to the store-bought versions.
This sauce can be made in just a few minutes and all that is required is to whisk all the ingredients until they are well combined and the sauce is smooth in consistency.
It can't get any easier than that, right??
If you are looking for cocktail sauce at the supermarket, sometimes you may come across regular and hot/zesty versions. The main difference between these two is the amount of horseradish.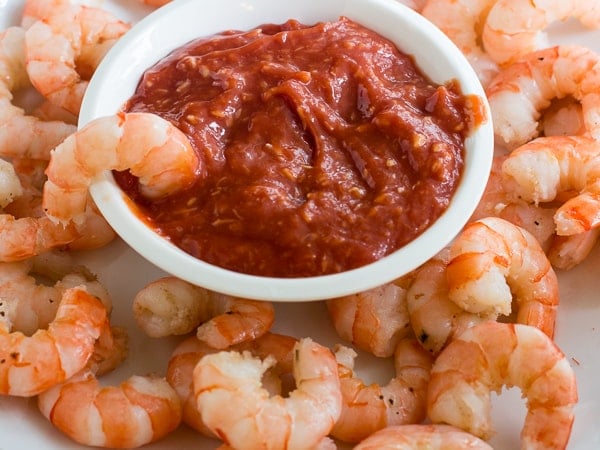 The beautiful thing about making your own cocktail sauce is that you can adjust the ingredients to match your taste preference. Use this recipe as a guide and tweak it to the way that you like it.
If you like it on the zesty side, add a little more horseradish. If you prefer a milder sauce, decrease it. If you like lots of tang, add more lemon juice.
I like mine with lots of zip, so I add a little extra horseradish. YUM!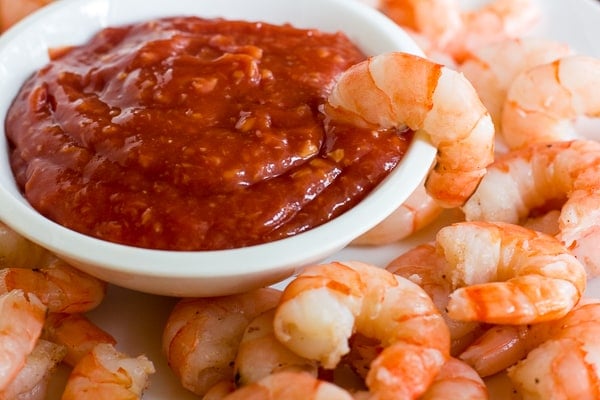 I boil my own shrimp because I prefer the texture and taste of freshly boiled shrimp. But, you can purchase a bag of frozen shrimp, that has already been deveined, cooked and are ready to eat. Just thaw and serve them with this sauce.
It is such a simple appetizer!
If you are going to boil your own shrimp, make sure the raw shrimp is fresh or thawed. I don't throw them in the water frozen. I like to boil them with the shell on and peel them once cooked. If they are deveined or butterflied, that is fine, just make sure they are not completely peeled prior to boiling.
Bring water, and any spices you want, to a boil in a big pot. Throw in the shrimp and once they are pink and float to the top they are done.
Once the shrimp float to the top of the boiling water, use a metal strainer to remove the cooked shrimp. Chill the shrimp in the fridge of toss them in a large bowl full of ice cubes.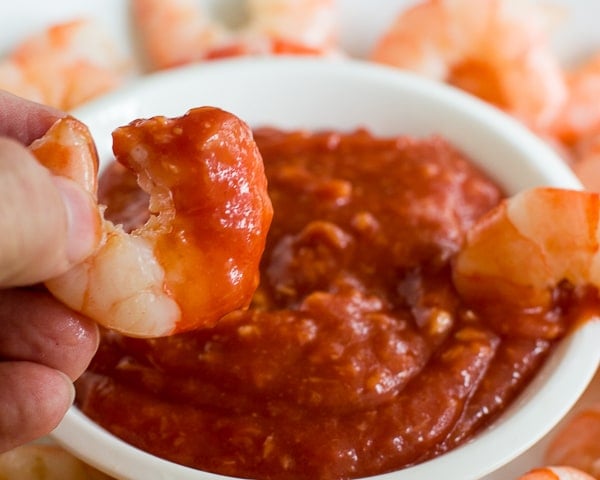 I find the amount of sauce that this recipe yields is enough for about 2 pounds of shrimp. Some lemon wedges go well with the shrimp and cocktail sauce.
Most times, I serve the shrimp with the peel still on and we do 'peel and eat' shrimp. Sometimes, and as shown in these photos, I peel all the shrimp ahead of time. This is nice when you are serving the shrimp at a party or event.
Shrimp Cocktail Sauce Recipe - Easy Classic Seafood Sauce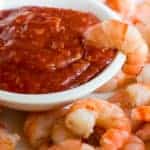 Print
How to make cocktail sauce for shrimp with this easy recipe. Homemade and copycat to the Heinz seafood cocktail sauce. Ketchup, horseradish and lemon for dipping.
Servings: 12 tablespoons
Ingredients
1/2 cup ketchup
2 tbsp horseradish (more or less to taste)
1 tbsp lemon juice
1 tsp hot sauce
1 tsp Worcestershire sauce
Instructions
Whisk all the ingredients together until well mixed.

Serve with cooked shrimp.
Nutrition
Per serving:
Calories: 13kcalCarbohydrates: 3gProtein: 1gFat: 1gSaturated Fat: 1gSodium: 116mgFiber: 1gSugar: 2g