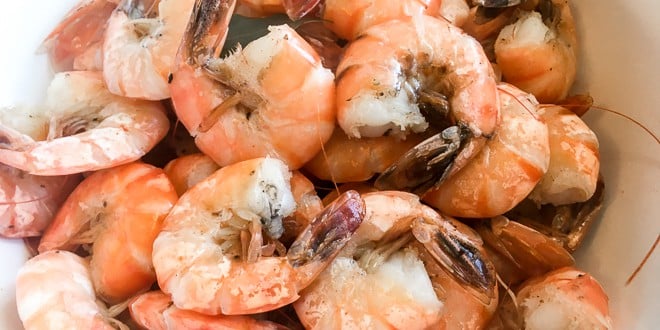 Shrimp boil is one amazing dinner. While a full low country shrimp boil has way more than just shrimp, including potatoes, corn, sausage all as part of the boil, I often boil a pot of just peel and eat shrimp. It is perfect to go alongside a meal and it is also great as an appetizer for a party or just a snack while watching a game of football.
I remember when my kids were younger, they were hesitant to eat shrimp. Actually, they would not eat anything that came out of the water.
Over the years, they started eating shrimp and now have developed a huge love for peel and eat shrimp. So much so, that I need to cook more shrimp now if I want to get any!
I have prepared and cooked shrimp many different ways, but by far, peel and eat shrimp is the most popular!
If you want to try any of my other shrimp recipes, check out these.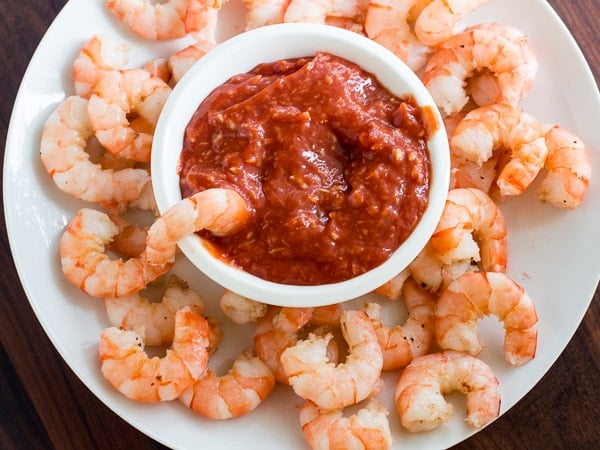 Even though you can buy bags of frozen shrimp that has already been cooked, I far prefer boiling my own.
Cooked shrimp that has been frozen seems to take in lots of water and I find the texture to be too soft for eating cold peel and eat shrimp. I do not mind these packages of shrimp if I am tossing the shrimp in a soup like gumbo or in pasta, but for eating cold, no thanks. I want to boil my own shrimp.
Frozen or Fresh Shrimp?
I buy my shrimp raw and they are either still frozen or already thawed. While there are some places where I live that I can get fresh (and sometimes even live shrimp), usually it is frozen. This is ok, because frozen shrimp can still result in a peel and eat shrimp that tastes great and has a very good texture.
If you buy frozen shrimp, make sure it thaws first before boiling. Thawing should not take long and you can speed it up by sticking the shrimp in a colander under cold running water. Will thaw in no time!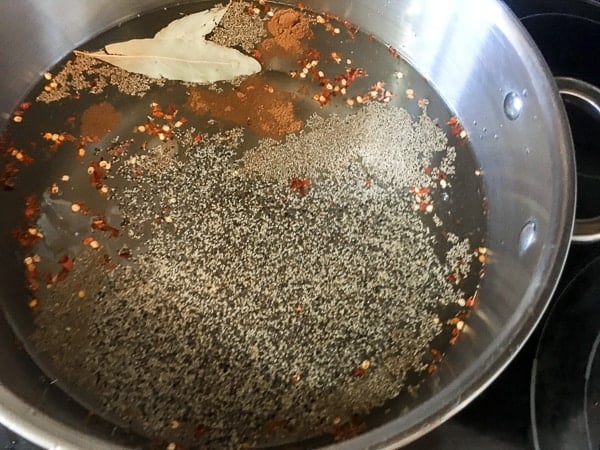 Add some Seasoning to the Boil!
Over the years, making pot after pot of shrimp boil, I have used all sorts of different spice mixes. Old Bay Seasoning, Zatarain's Shrimp Boil and Slap Ya Mama Shrimp Boil are all great and provide a wonderful flavour for peel and eat shrimp.
Unfortunately, it can be difficult to find some of those seasonings up here in Canada. Therefore, I have ended up making my own seasoning blend for shrimp boil, and since I always have a fully stocked spice cupboard, there has never been a shortage of spices to go into the pot.
I throw in lots of different spices including bay leaves, salt, coarse black pepper, dried chili flakes, celery seed and more. I also toss in a few garlic cloves as well.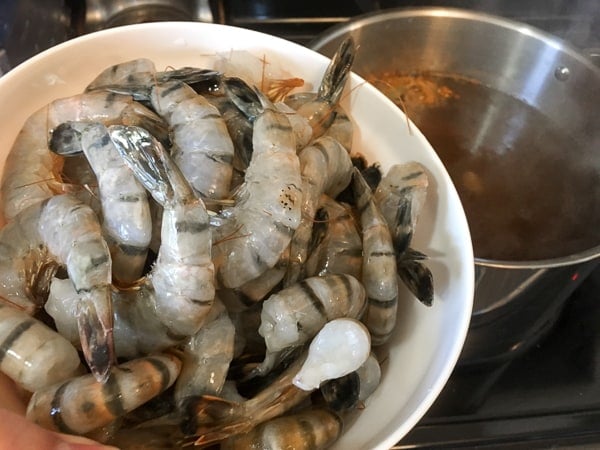 Bring a large pot of water with all the seasonings to a boil. Let it have a rolling boil for a few minutes as this allows the seasoning to infuse into the water .
This works with all sorts of shrimp. Gulf shrimp, black tiger shrimp, white shrimp, rock shrimp and others all work great. It is fine if the shrimp still has the head on, or if the head has been removed and the shrimp deveined.
There are so many different ways to buy shrimp, and they all work just fine for boiling.
Personally, I prefer to use shrimp that has the head removed but the shell still on. Sometimes I buy the kind where the shell is split and the shrimp deveined. These work very well and are super simple to remove the shell once cooked.
Every once in a while, I get some live shrimp and wow those are the best!!
If you are using frozen shrimp, make sure that they are fully thawed before throwing them into the boiling water.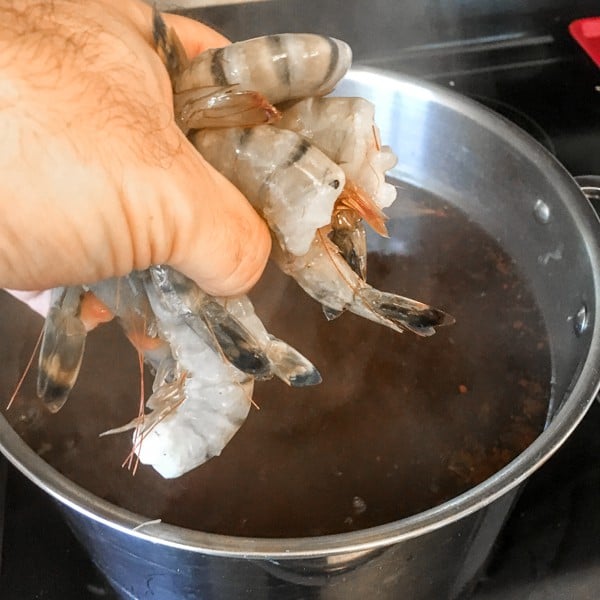 How Long to Boil Shrimp?
I dump the shrimp by hand. Since the water is boiling pretty heavily, and I don't want a big splash of boiling water, I find that placing a handful of shrimp into the pot works best.
Don't delay though, because cooking shrimp does not take long at all.
I just keep grabbing a handful and gently placing them in the water until all the shrimp is in the pot.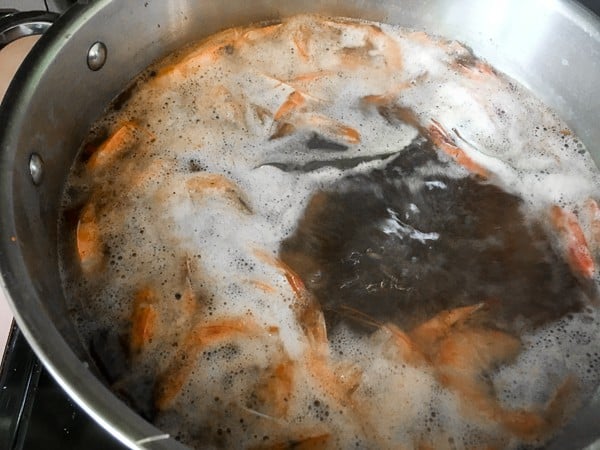 Within just a few minutes, some of the shrimp will turn pink and float to the top. That is the indicator the shrimp is cooked.
A floating shrimp that is pink on all sides is done and ready to be removed from the pot.
Stand by the stove because it does not take long at all!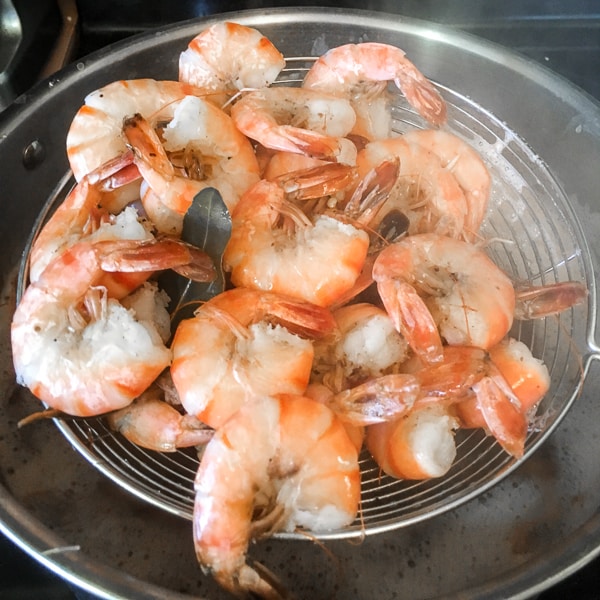 I use a metal strainer to scoop out the shrimp that has come to the top.
Keep scooping out the floating shrimp until all the shrimp is out of the pot.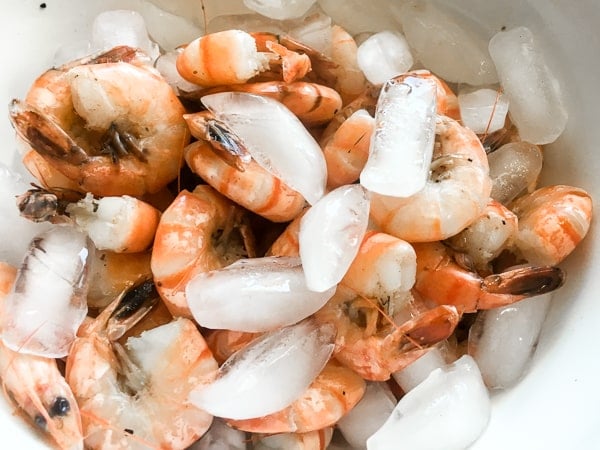 We love to eat our shrimp cold, so I toss them in a bowl with ice cubes and place them in the fridge.
The ice cubes chills the shrimp more quickly than just using the fridge. Personally, I find that the rapid chilling of the shrimp gives them a superior texture.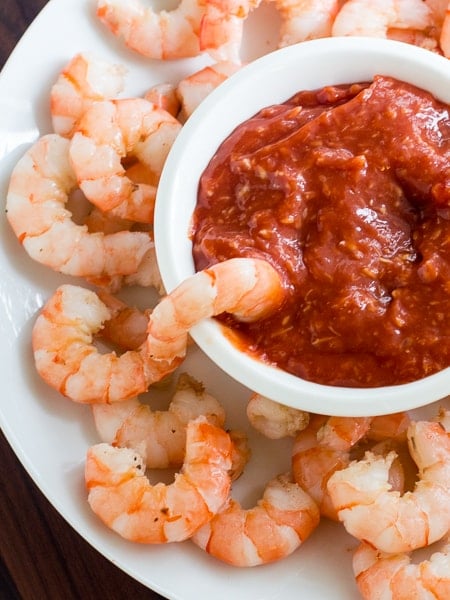 Since I love my peel and eat shrimp cold, my favourite dipping sauce is cocktail sauce. It is simple but the flavour works so well to compliment the taste of the peel and eat shrimp.
For a recipe of cocktail sauce check out this – Shrimp Cocktail Sauce
Peel and Eat Shrimp Recipe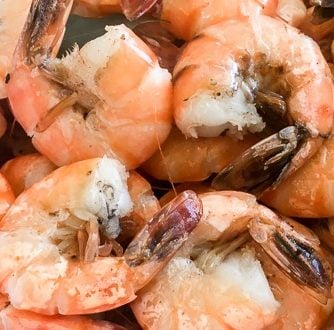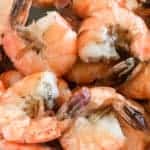 Print
How to boil shrimp recipe with a spice blend similar to Old Bay seasoning. Boiled shrimp is easy to make with instructions for how long to boil shrimp.
Servings: 4 people
Ingredients
2 pounds shrimp , still in shell
4 cloves garlic
3 bay leaves
2 tbsp salt
1 tbsp coarse ground black pepper
2 tsp celery seed
2 tsp dried chili flakes
2 tsp mustard seeds
1 tsp thyme
1/2 tsp cinnamon
Instructions
Fill a large pot with water. Add garlic cloves and all other seasonings.

Bring water to a rolling boil and let it boil for 5 minutes.

Drop shrimp in the boiling water.

Once the shrimp turns pink and floats to the top it is cooked and ready to be removed from the pot.

Use a metal strainer to remove the floating shrimp and transfer to a bowl.

Once all the shrimp is cooked and removed from the water, you can serve them hot, or chill them to serve cold.
Nutrition
Per serving:
Calories: 248kcalCarbohydrates: 4gProtein: 47gFat: 4gSaturated Fat: 1gCholesterol: 572mgSodium: 5269mgFiber: 1gSugar: 1g