How to Smoke Rainbow Trout with a Wet Brine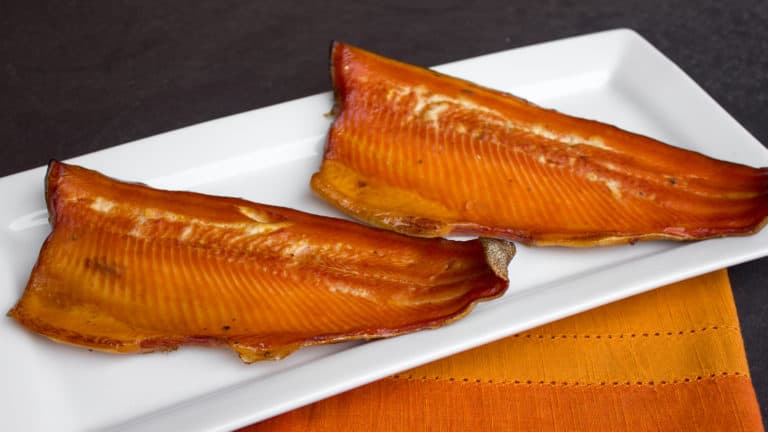 I smoke lots of fish.
Salmon, trout, catfish, tilapia… I smoke all these and more.
But, if I was forced to choose only one kind of fish to smoke, I would have to choose rainbow trout.
Trout is quite similar to salmon. Just by looking at a trout, the colour of the fish and shape of the fillet makes it look like a small salmon. Steelhead trout, is a larger trout and could almost be mistaken for a mini salmon. Rainbow trout is smaller, but still quite similar. Even the flavour of a rainbow trout is close to salmon. I find rainbow trout to be a richer and brighter flavour. It is so good!
Smoking is, by far, my favourite way to cook trout. I love the smokey flavour that penetrates the fish. To prepare the fish for smoking, I brine the trout first in a sweet and salty brine. This gives the trout a sweet, salty and smoky taste in every bite. Trust me when I say that this recipe for smoked trout is addictive!
Brining the fish can either be done with a dry or wet brine. Both can result in a great tasting smoked trout. In this recipe, I use a wet brine.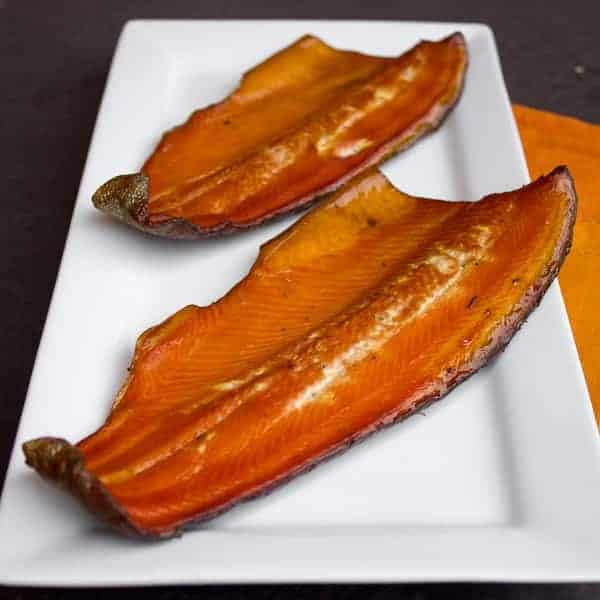 A brine is a process of treating meat with a salt-based solution. Brining adds flavour and moisture to the finished product. While a basic wet brine is simply water and salt, there are lots of other ingredients you can use in a brine to create a delicious smoked fish.
What is in a wet brine?
Liquid – while a wet brine is usually made with water, juice, beer or other liquids can also be used. You want to ensure that there is enough liquid to have the fish fully immersed in the brine.
Salt – salt is critical to the brining process. The salt helps to keep the fish moist and it also adds flavour and impacts the texture of the fish.
Sugar – sugar adds a sweetness to the smoked fish. Depending on the type of fish, you may want to add more or less sugar. Salmon and trout are fish that I like a little sweeter than tilapia or catfish.
Seasonings – here is where you can really enhance the flavour profile of the finished smoked fish. These seasonings can include fresh herbs, spices, oils, vinegars, juices or other ingredients.
How long to brine?
Once you have made the brine, dump the trout in the brine, cover the container and place in the fridge. I like to brine the rainbow trout for 8 hours. I find that this amount of time allows the fish to be fully penetrated by the brine and it evenly flavours every part of the fish.
Rinse after brine?
It is very important to give the trout a really good rinse. Put it under running cold water to wash away any excess salt off the surface of the fish. If you neglect to rinse the trout, you may find that the finished smoked fish is too salty. There is not much
Let it dry?
Once the fish has been rinsed, I like to let it dry for an hour or so. Drying forms a pellicle on the surface of the trout which helps the smoke penetrate the fish. I place it in a cool dry place for an hour. If you want you can have a fan blow on the fish which dries it more quickly.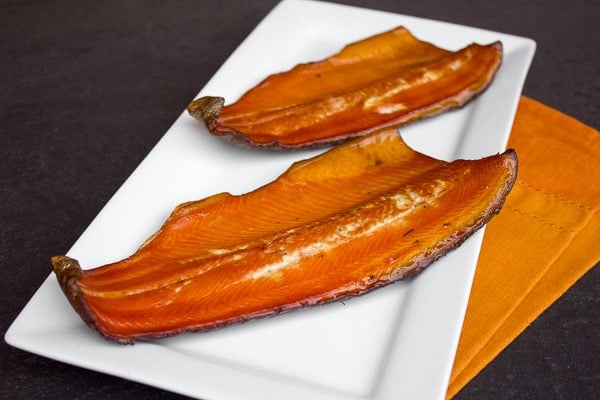 What type of wood should we use to smoke?
After the trout has been, brined, rinsed and allowed to dry for a bit, it is ready to go in the smoker. The choice of wood is more important for smoking fish than possibly any other type of meat to smoke. Since fish is such a light and delicate flavour, it is important to choose a wood that will compliment and not overpower the fish.
Personally, I use alder wood almost exclusively for smoking trout and salmon. Even other fish like tilapia and catfish are great smoked with alder wood. Fruit wood like apple and cherry are on the milder side and can work for smoking fish. I tend to avoid stronger woods like hickory, oak and mesquite.
What temperature to smoke and for how long?
For this trout recipe with a wet brine, I set the smoker for 180F. Once it has come to temperature, I put the trout in the smoker and smoke until the internal temperature of the fish reaches 145F. Since every smoker is different. the time it takes to reach that internal temperature will vary. I find that it usually takes 3-4 hours to come to 145F.
Once the trout is finished smoking, you can eat them right away. The smoked fish is also amazing served as an appetizer right out of the fridge!
Other smoked fish recipes!
Smoked Rainbow Trout with a Wet Brine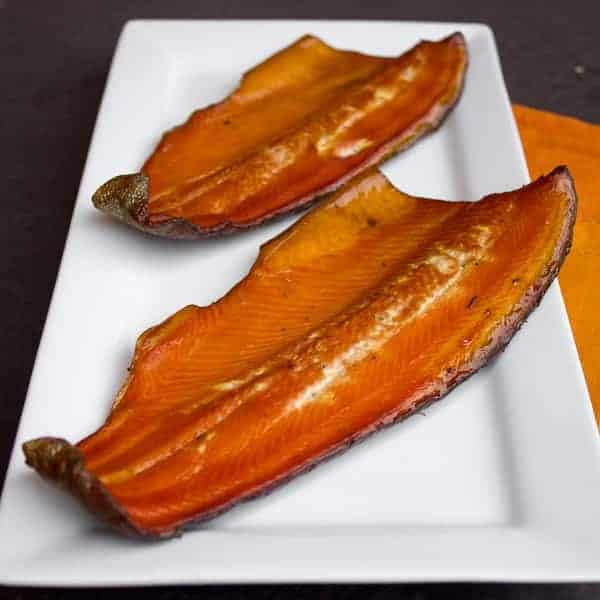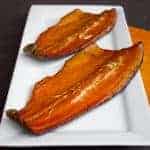 Print
Wood smoked rainbow trout that has been marinated in a sweet wet brine. Simple instructions and recipe for how to smoke a rainbow trout.
Servings: 4 people
Ingredients
2 rainbow trout fillets boned
8 cups water
1/3 cup coarse kosher salt
1/2 cup white sugar
2 tbsp soy sauce
1 tbsp sriracha sauce
4 garlic cloves , minced
1 tbsp fresh ground black pepper
1 tbsp paprika
1 tsp thyme
Instructions
Mix together the water with all the salt, sugar and spices until the salt and sugar are dissolved.

In a place the fish, skin side down, in a dish and pour in the brine. Flip the fish a couple times and cover the dish with plastic wrap. Place in the fridge and let the fish marinate for 8-10 hours.

Rinse the fish thoroughly and lay on smoker rack. Place the trout in a cool dry place for 1 hour to allow a pellicle to form on the outside of the fish. A fan can be used to speed up the process.

Set the smoker to 180F using wood Maple, Alder or other mild wood chips.

Smoke the fish for around 3-4 hours or until the internal temperature of the fish reaches 145F.