Tangerine Hoisin Smoked Tilapia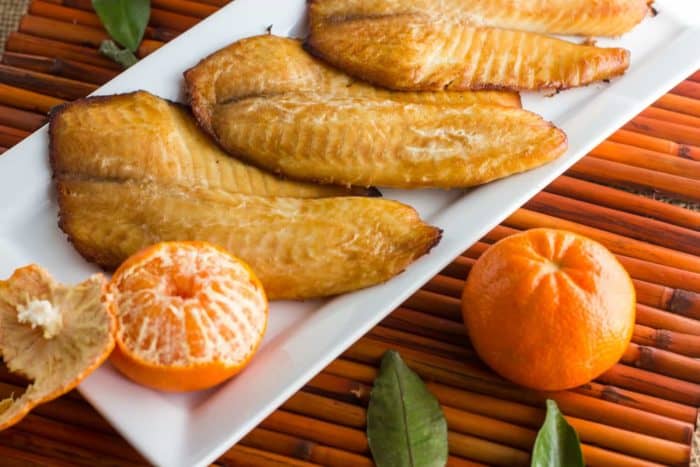 Smoked fish is one of those treats that I so enjoy. I remember years ago, when I was a kid, my dad would have some smoked fish in the fridge. I loved sneaking into the kitchen, opening the fridge and grabbing a bit of smoked fish. So good!
Since I have taken up smoking, fish is always on my 'to smoke' list. While smoked salmon and trout are by far my favourites, I do also love the taste of smoked catfish and tilapia.
When it comes to smoking tilapia, I have gotten creative, using all sorts of different marinades. Tilapia is such a mild fish, that it benefits from a marinade that is full of flavour. The marinade I used here is quite simple, using just a few ingredients. The tangerine juice provides a really nice citrus flavour and the hoisin sauce adds a sweetness as well as a deep Asian flavour. Sriracha is mixed in to give the marinade a little heat.
I let the fish marinate for a couple hours in the fridge. I found that to be plenty of time to infuse the flavour of the marinade into the fish.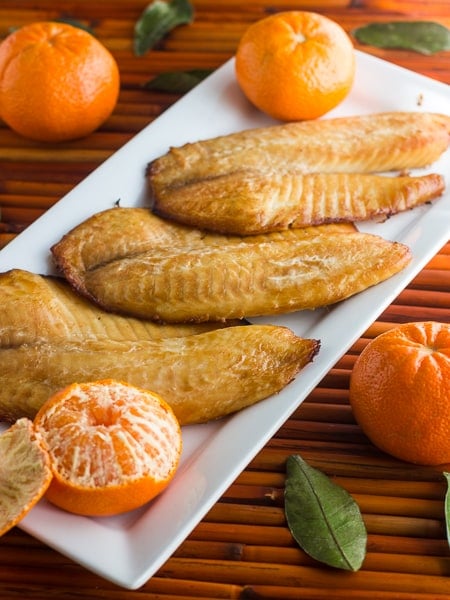 Once marinated, I throw them in the smoker. I set the smoker for 275F, as I like a higher temperature for cooking fish like tilapia and catfish. Smoking longer at a lower temp, like I often do for trout and salmon, can dry out a white fish like tilapia. Therefore, a temperature of 275F smokes the fish more quickly and keeps it moist.
Regarding wood choice, I love using alder or fruit woods for fish. Alder is an excellent wood to use when smoking fish, as its mild smoke is perfect. Apple and cherry are two of my favourite woods to smoke with and they both work great with tilapia.
I smoke the fish until they reach an internal temperature of 145F. This takes around 2 hours. Use a digital thermometer and stick it in the fat part of the fish as that will be the last part to come to 145F. Once it reaches that target temperature, remove it from the smoker and serve.
Delicious!!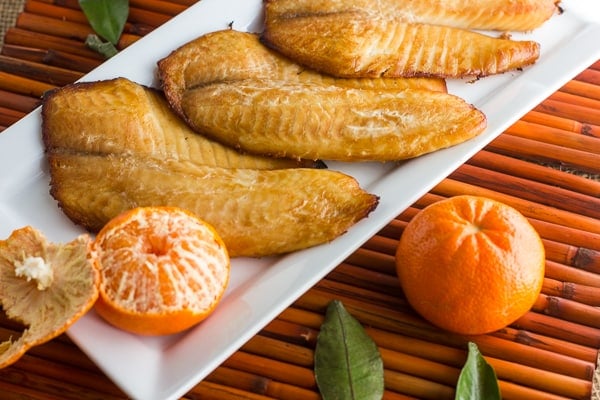 If you enjoy cooking with fish, then you might want to try out some different recipes.
Here are some other recipes for smoking fish!
If you are looking for some recipes to grill fish, here are a few.
Tangerine and Hoisin Smoked Tilapia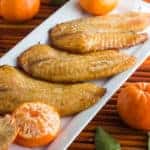 Print
Smoked white fish that has a sweet and citrusy flavour from the marinade. Smoked in an electric smoker like a Bradley, but can be smoked in a pellet or other.
Servings: 4 fillets
Ingredients
4 tilapia fillets
1 cup tangerine juice (orange juice also works fine)
1/2 cup hoisin sauce
1 tbsp Sriracha sauce
2 tsp salt
Instructions
Make the marinade by mixing together the tangerine juice, hoisin sauce, sriracha and salt until hoisin is dissolved and well blended.

In a large bowl, cover the tilapia fillets in the marinade. Turn the fish to they are completely coated. Cover with plastic wrap and place in the fridge for about 2 hours.

Set the smoker to 275F using wood of choice (alder, apple, cherry).

Remove the tilapica fillets from the marinade and place them on a smoker rack and put the rack in the smoker. Smoke the fish until they reach an internal temperature of 145F, about 2 hours.
Nutrition
Per serving:
Calories: 266kcalCarbohydrates: 21gProtein: 36gFat: 4gSaturated Fat: 1gCholesterol: 86mgSodium: 1893mgFiber: 1gSugar: 16g