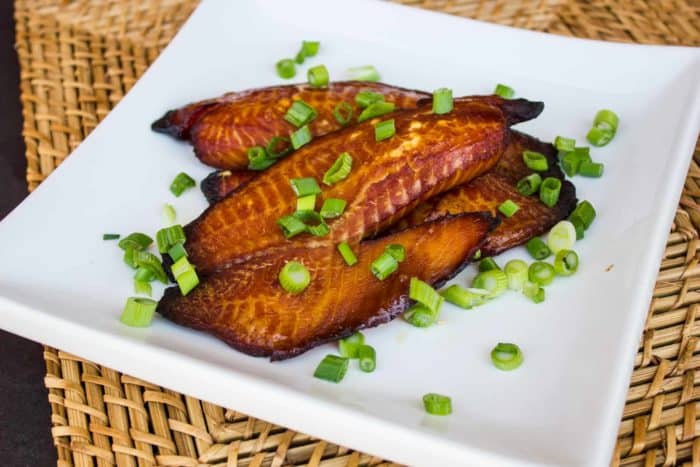 Smoked fish is so wonderful. It is easy to prepare, and the fish tastes amazing. I love to smoke all sorts of fish, including salmon, trout catfish and more. One of my more common types of fish to smoke is tilapia, as a quick scan of my recipes will prove.
I have come to love smoking tilapia. It is a very mild fish and works great smoked with a nice rub or marinade. I have used many different types of seasonings and marinades with the fish and I find that I prefer ones that have a sweet tang on the tilapia. This teriyaki marinade is delicious and I have used it over the years for smoking fish, grilling shrimp and chicken.
The marinade could not be simpler, and with only three ingredients, it can be made in a minute. I like to let the fish swim in the marinade for a couple hours in the fridge. This will heighten the flavours of the marinade in the fish.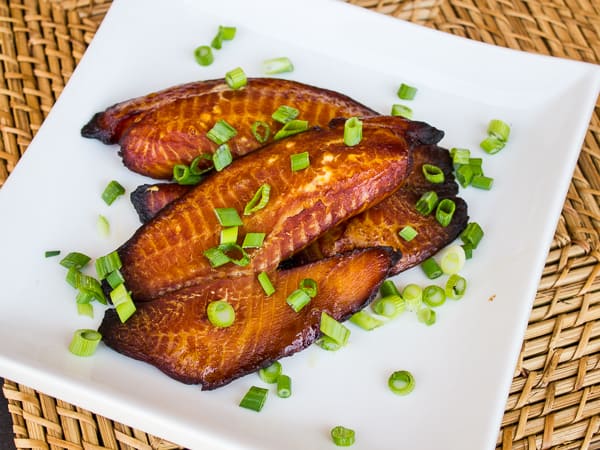 Once marinated, I throw the fish in the smoker. I set the smoker for 275F, as I like a higher temperature for cooking fish like tilapia and catfish. Smoking longer at a lower temp, like I often do for trout and salmon, can dry out a white fish like tilapia. Therefore, a temperature of 275F smokes the fish more quickly and keeps it moist.
Regarding wood choice, I love using alder or fruit woods for fish. Alder is an excellent wood to use when smoking fish, as its mild smoke is perfect. Apple is my favourite wood to smoke with, and it works great with tilapia.
I smoke the fish until they reach an internal temperature of 145F. This takes around 2 hours. Use a digital thermometer and stick it in the fat part of the fish as that will be the last part to come to 145F. Once it reaches that target temperature, remove it from the smoker and serve.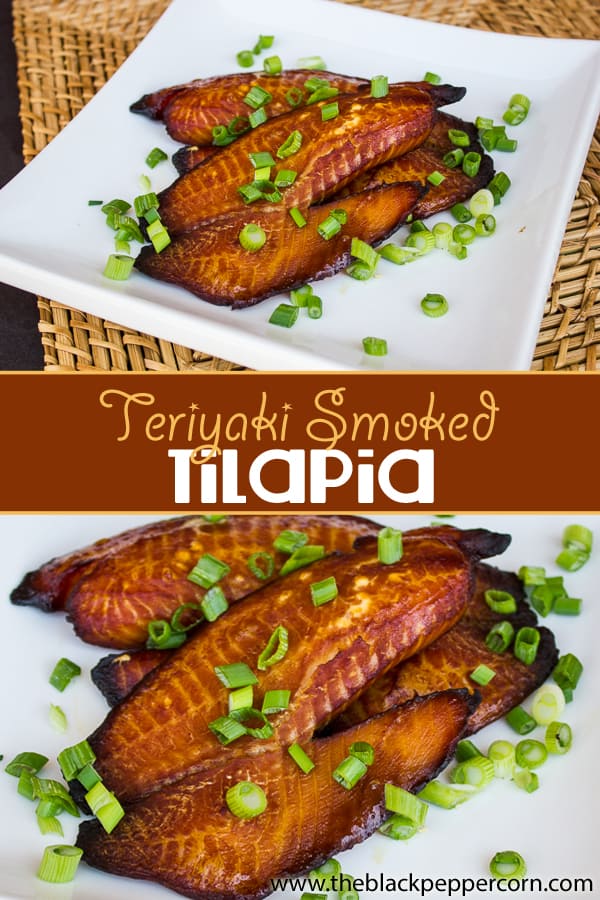 Here are some other recipes for smoking tilapia!
If you are looking for some recipes to grill fish, here are a few.
Teriyaki Smoked Tilapia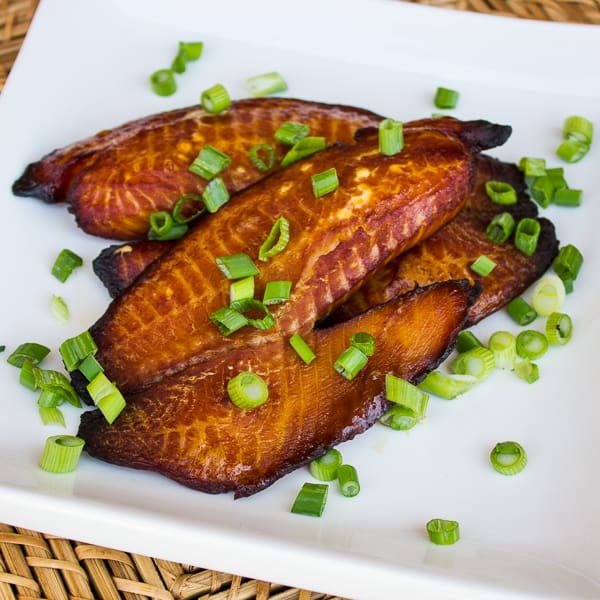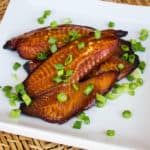 Print
How to smoke tilapia white fish fillet with a sweet and tangy marinade made with teriyaki sauce, honey and sriracha.
Servings: 4 people
Ingredients
1 cup teriyaki sauce
2/3 cup honey
1 tbsp sriracha sauce
4 tilapia fillets
Instructions
Make the marinade by mixing together the teriyaki sauce, honey and sriracha until honey is dissolved and well blended.

In a large bowl, cover the tilapia fillets in the marinade. Turn the fish to they are completely coated. Cover with plastic wrap and place in the fridge for about 2 hours.

Set the smoker to 275F using wood of choice (alder, maple, peach and apple are great choices).

Remove the tilapica fillets from the marinade and place them on a smoker rack and put the rack in the smoker. Smoke the fish until they reach an internal temperature of 145F, about 2 hours.

If desired, sprinkle with green onions.
Nutrition
Per serving:
Calories: 399kcalCarbohydrates: 58gProtein: 39gFat: 3gSaturated Fat: 1gCholesterol: 85mgSodium: 2936mgFiber: 1gSugar: 57g