These instructions for how to grill flank steak is so easy and great for a summer BBQ. Perfect for fajitas, as a topping for pizza, or even thrown in a salad!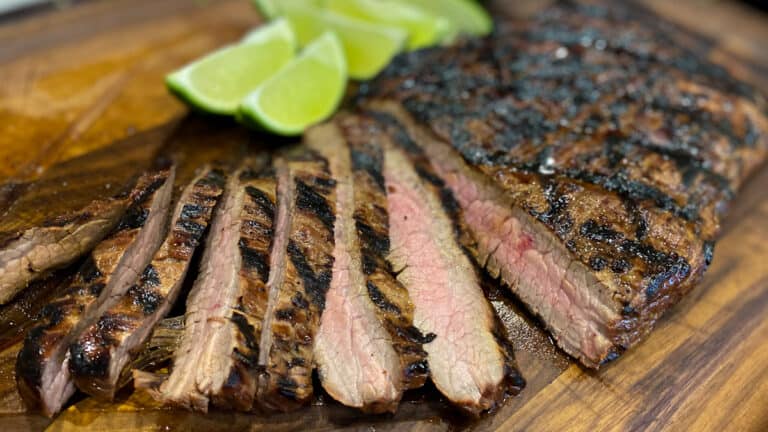 I love cooking a nice steak on the grill. It is such a 'summer' thing to do, and grilled flank steak is easily my favourite. This super juicy steak is so tender when sliced thinly across the grain.
Flank steak is probably one of the most versatile steaks. It is delicious sliced and served the classic way with steak, potatoes and vegetables. But, slices of this amazing cut of beef, are also great for wraps, fajitas, topped on a salad and even for pasta or pizza.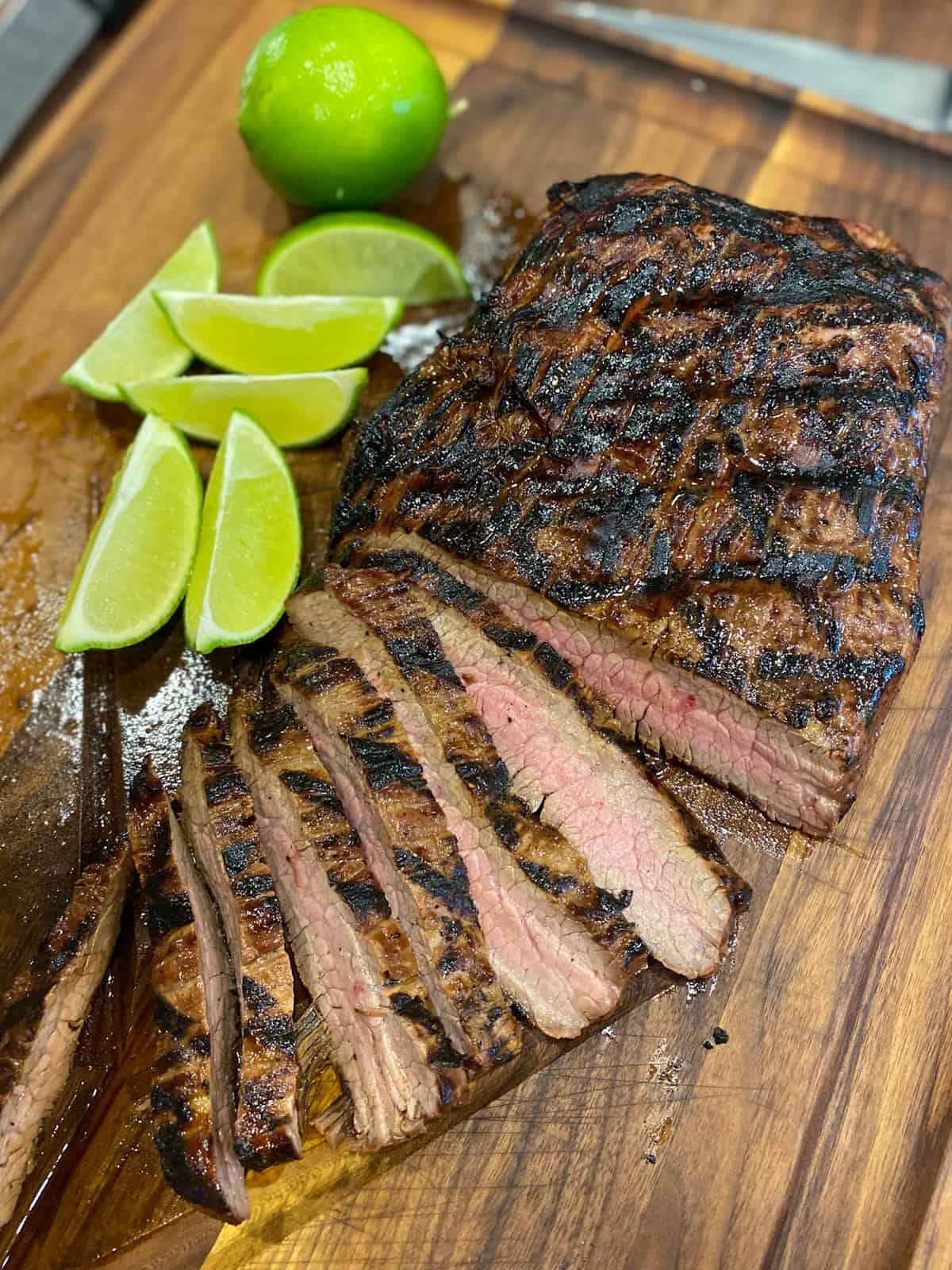 Over the years, flank steak has really grown more popular in my family, and now it is easily our favourite steak. This is also a great choice to serve when guests are over for dinner or other gatherings.
I will typically grill up a couple flank steaks, slice them up, and serve them right on the cutting board with some lime wedges. It is so great that people can grab however much they want. The steak is amazing served alongside these Grilled Pesto Shrimp Skewers!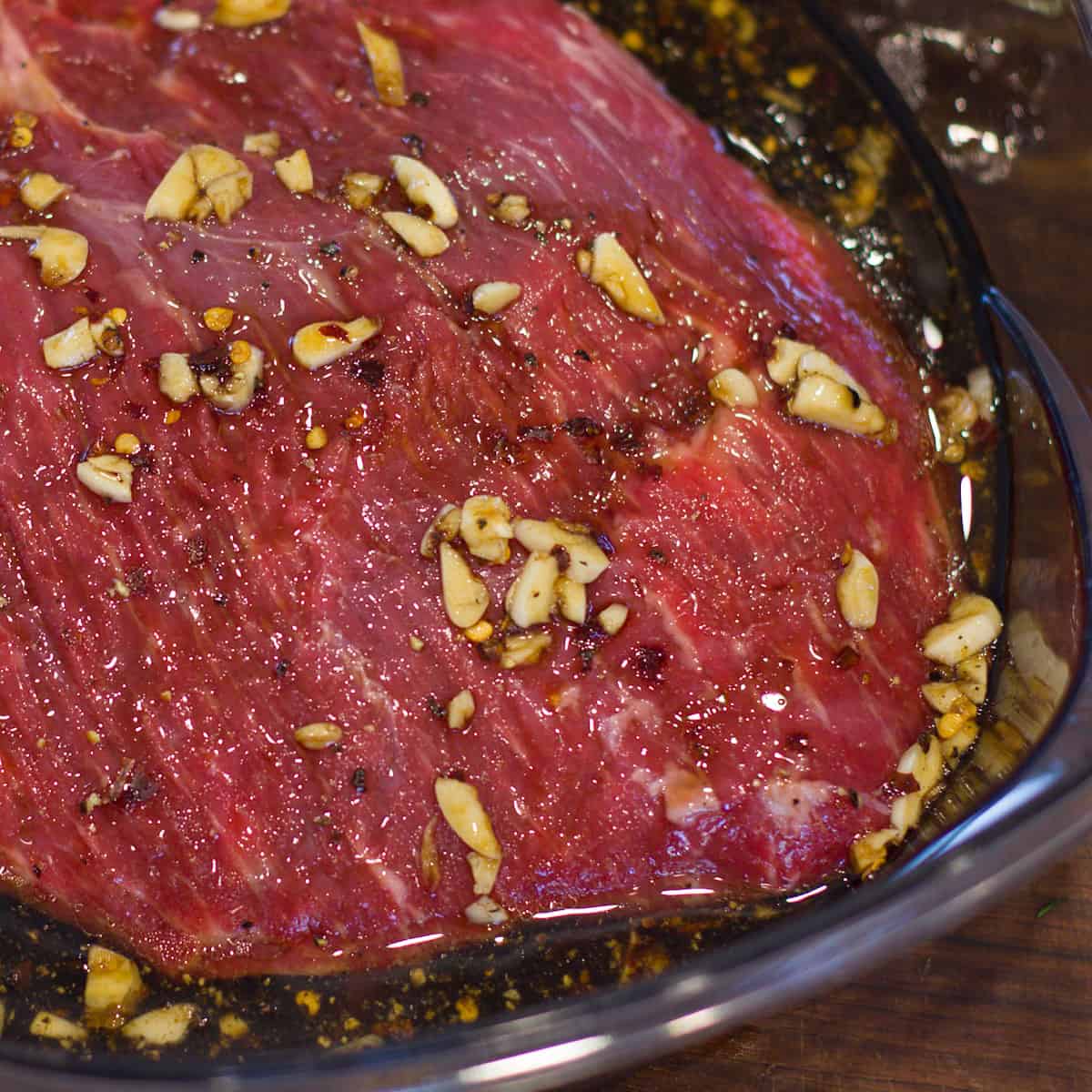 A Simple Marinade for Steak
Letting the flank steak marinate for a couple of hours prior to going on the grill will really enhance the flavour of the meat. The marinade that I like to use is very simple to throw together and uses ingredients that I regularly have on hand.
oil
soy sauce
Worcestershire sauce
lime juice
minced garlic
dried chili pepper flakes
coarse ground black pepper
Place the flank steak in a shallow bowl and pour in the marinade. Flip the meat so that it is coated all over. Use some plastic wrap to cover the bowl and place it in the fridge for a minimum of 2 hours. If desired, you can even let the meat marinate in the fridge overnight.
If you prefer to use a rub for steak, then check out this simple Steak Rub! Also, if you are planning to make steak fajitas, this Fajita Seasoning Spice is a great rub for the steak. If using a rub instead of the marinade, I generally apply the seasoning right before the steak goes on the grill.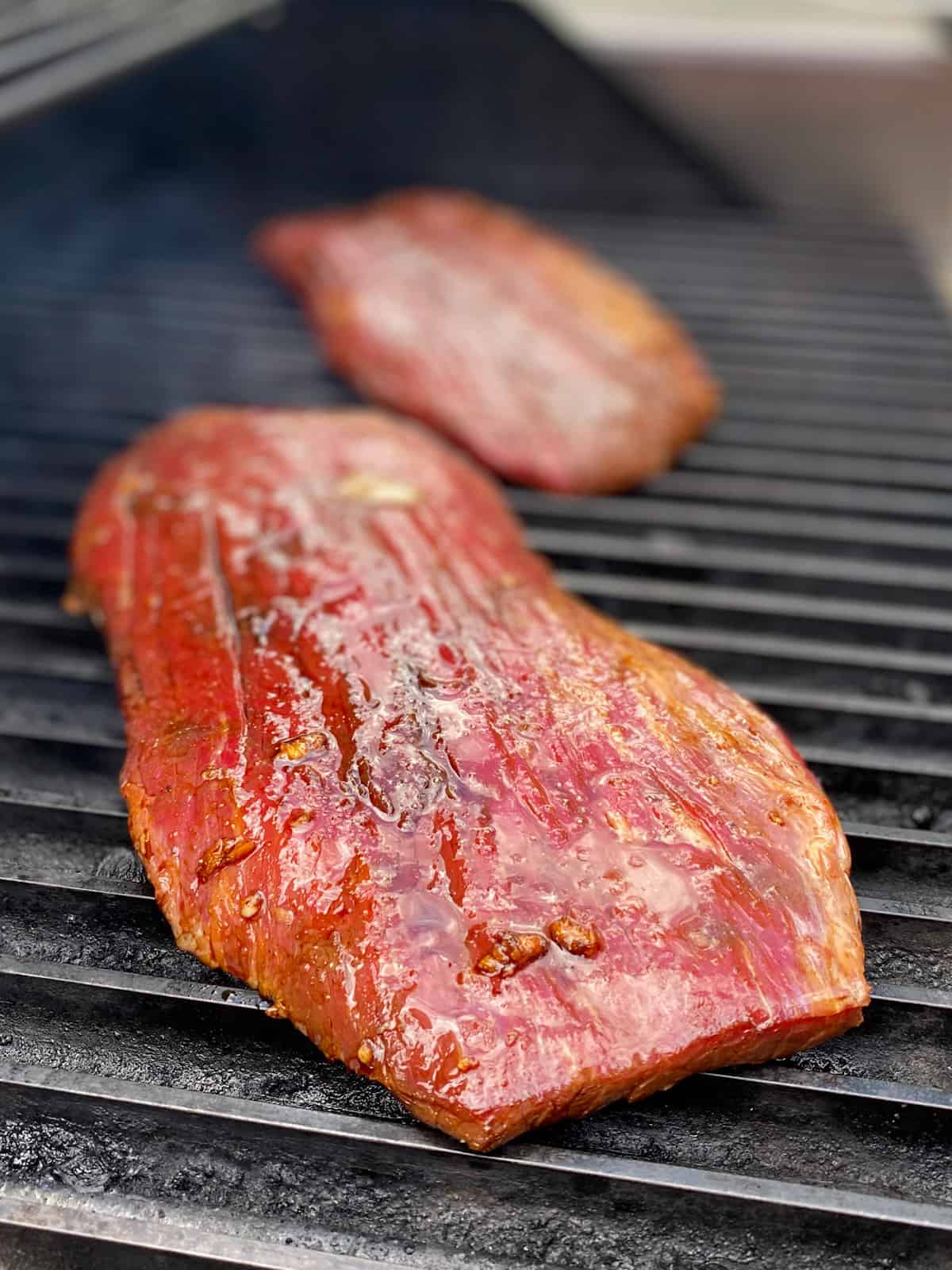 Make Sure the Grill is Hot!
Preheat the grill so that it is nice and hot. Keep the lid closed and the temperature of the grill should be around 500F.
Place the flank steaks on the grill and you will hear a nice sizzle. Let them cook on the grill for about 3 minutes and then turn them 45 degrees. This will provide the cross sear marks on the steaks. Once they have cooked another 3 minutes, flip the flank steaks over to cook on the other side.
I do not close the lid when I am grilling flank steaks. Since the grill is set to high heat and the meat is not very thick, closing the lid is not necessary.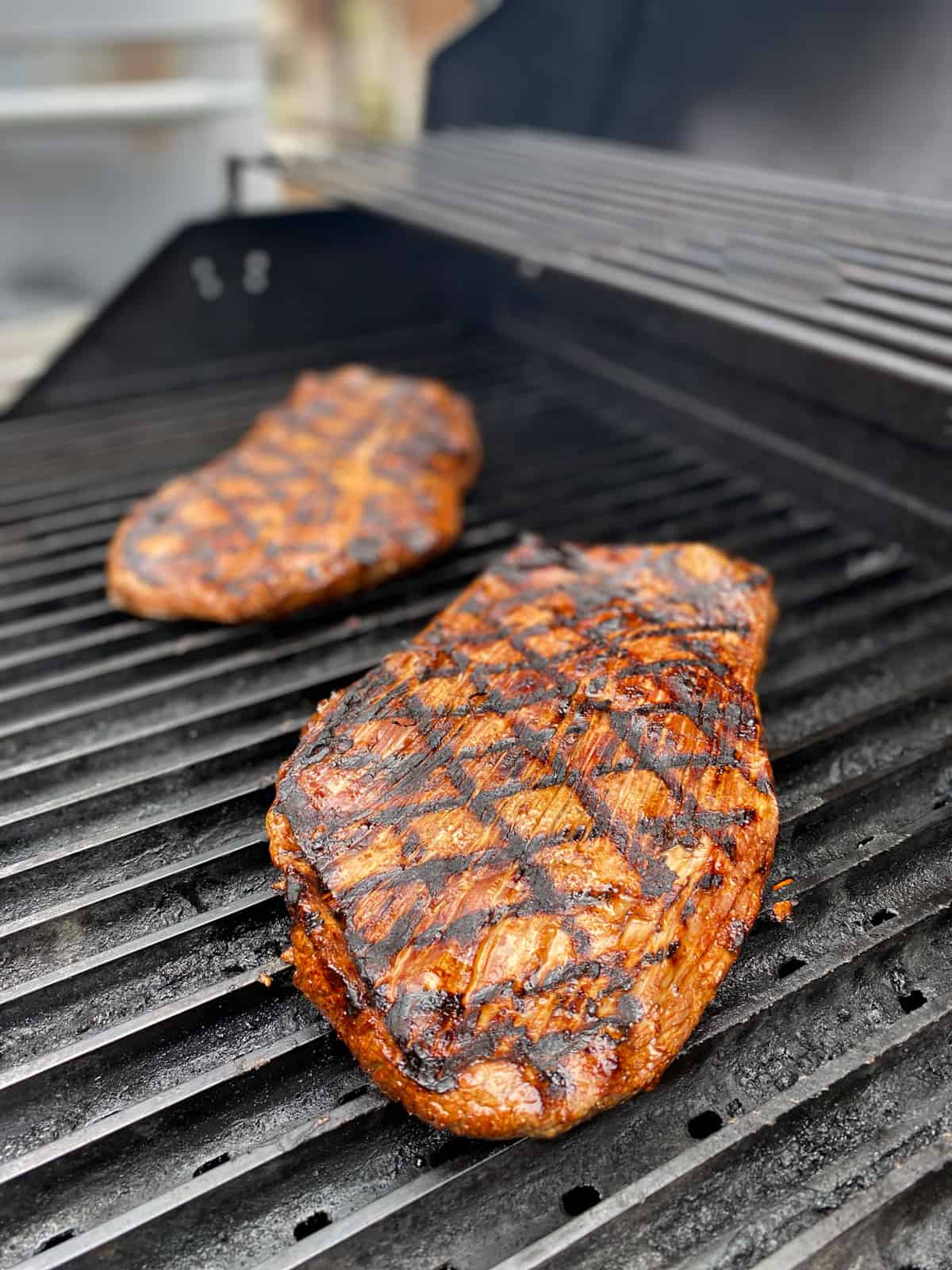 Repeat the grilling on this side of the steak as well – cook for 3 minutes and then turn 45 degrees. Cook for about 3 more minutes, or until it reaches the desired level of doneness. I aim for the flank steak to be somewhere between rare and medium rare. The pictures below of the sliced steak are closer to a medium rare.
Rare – 125F
Medium rare – 130F
Medium – 135F
Flank steaks that you buy will have different thicknesses. Some may seem bulky and thick, while others seem more flat and thin. The difference in thickness can definitely affect how long they take to grill. A digital thermometer is a great way to ensure that the steak is grilled perfectly every time.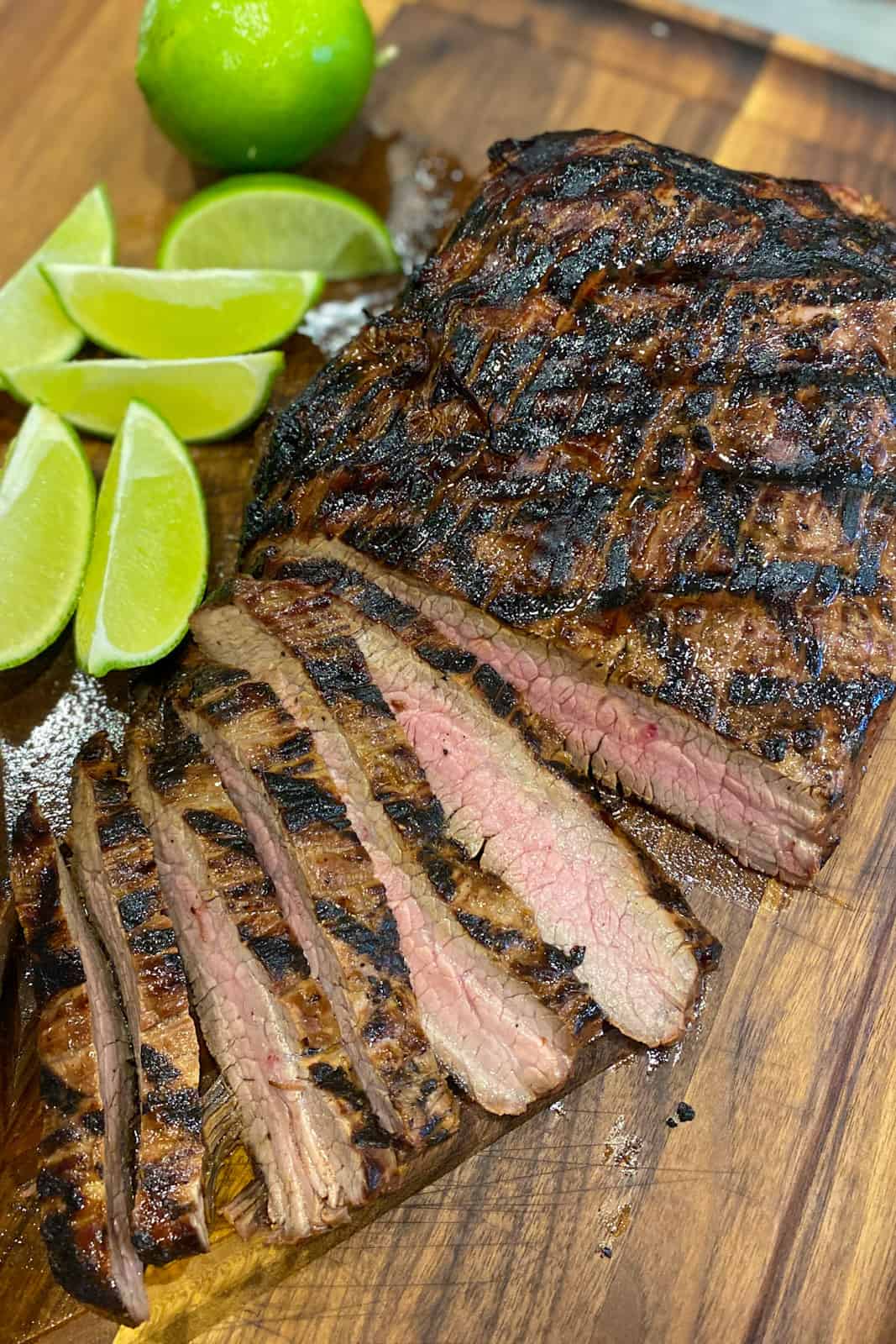 Let the steak rest for 5 minutes before slicing. Cut the flank steak, with a sharp knife, across the grain into thin slices.
Sliced flank steak is amazing served with a wedge of lime. The combination of steak and fresh lime is so incredible.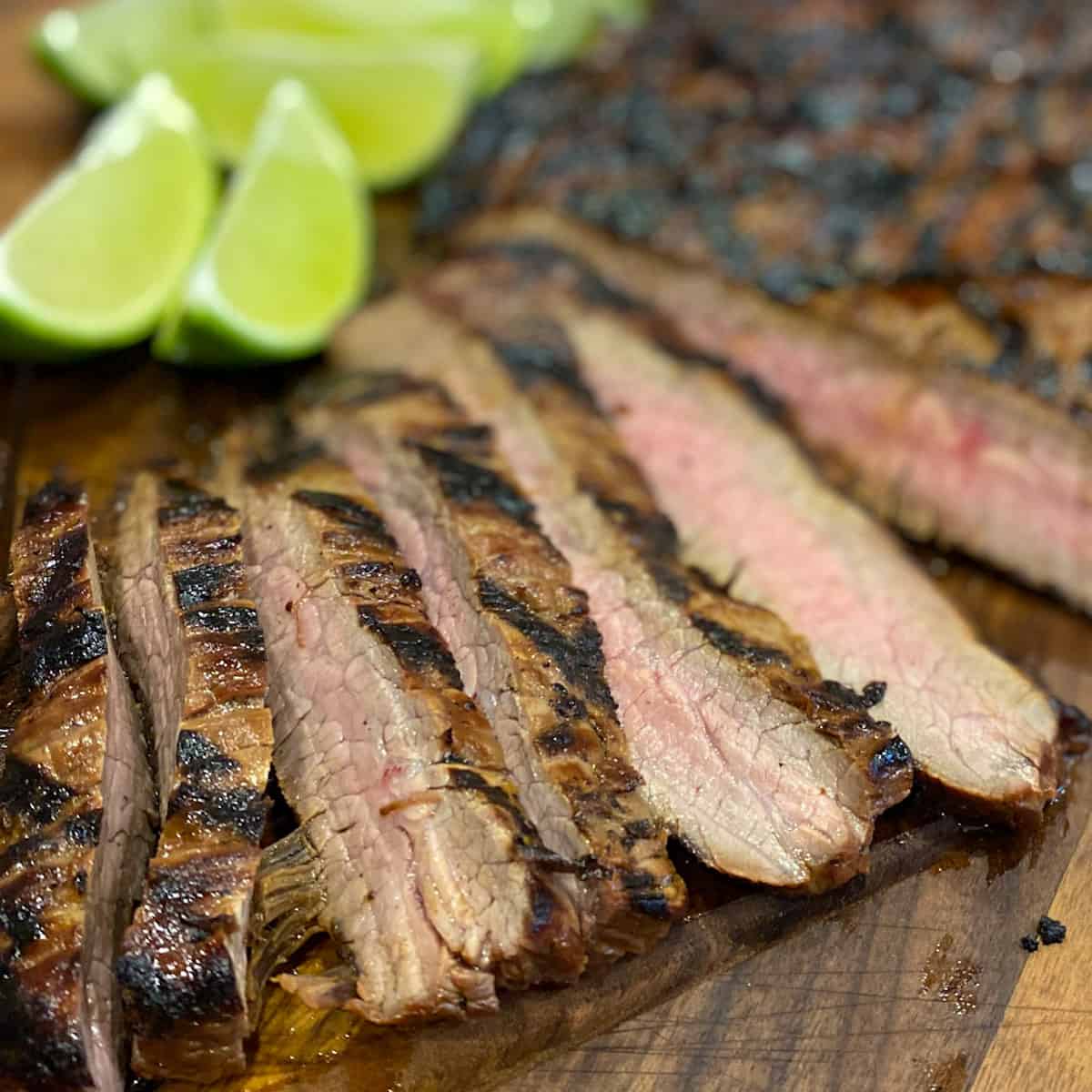 If you are looking for some recipes that go very well alongside this Grilled Flank Steak, then check these out!
While I love grilled flank steak, and it is my preferred way to cook this cut of beef, You can also cook it in the kitchen. Check out this link for instructions for How to Cook a Flank Steak on the Stove.
Grilled Flank Steak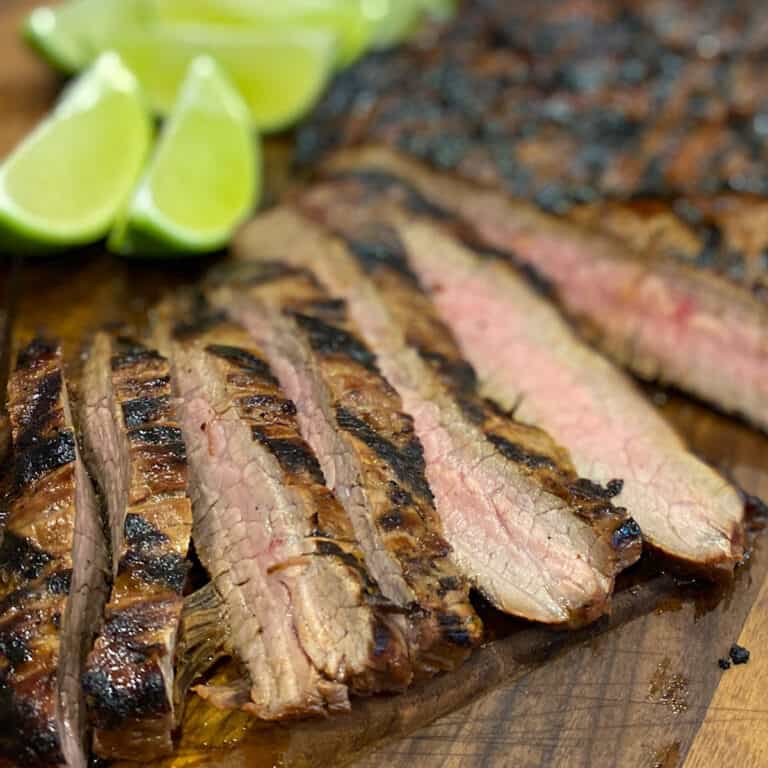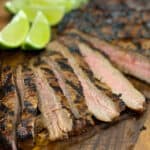 Print
Instructions for how to cook a flank steak on a gas grill. A super simple recipe that is great for a summer BBQ.
Servings: 6
Ingredients
1.5 pound flank steak
3 tbsp oil
1 tbsp soy sauce
1 tbsp lime juice
1/2 tbsp Worcestershire sauce
4 cloves garlic , minced
1/2 tsp dried chili flakes
1/2 tsp salt
1 tsp fresh ground black pepper
lime wedges , optional
Instructions
Make the marinade by mixing together the oil, soy sauce, Worcestershire sauce, lime juice, garlic, chili flakes, salt and pepper together. Place the flank steak in a shallow dish and pour the marinade all over the meat. Flip the steak so that it is evenly coated. Cover the dish with plastic wrap and place in the fridge to marinate for a minumum of 2 hours.

Heat the grill over high heat so that the temperture is around 500F.

Slowly lay the flank steak on grill and cook with the lid open.

Let the steak cook for about 3 minutes. Turn the steak 45 degrees and cook for 3 more minutes.

Flip the flank steak and cook for 3 minutes. Turn it 45 degrees again and grill for 3 more minutes, or until it reaches your preferred doneness (125F for rare - 130F for medium rare - 135F for medium).

Take the flank steak off the grill and let rest for 5 minutes before slicing. Carve the steak into thin slices against the grain.

Serve with lime wedges.
Nutrition
Per serving:
Calories: 225kcalCarbohydrates: 2gProtein: 25gFat: 13gSaturated Fat: 3gCholesterol: 68mgSodium: 245mgFiber: 1gSugar: 1g