How to Cook the Perfect Flank Steak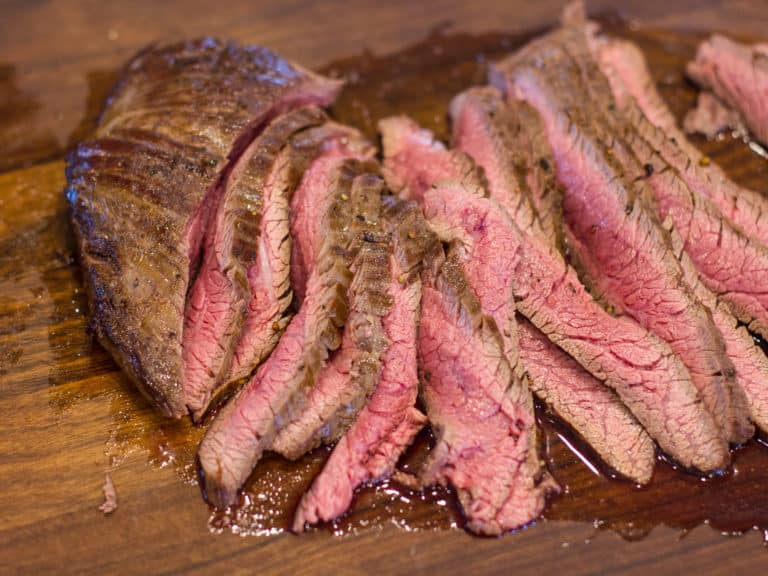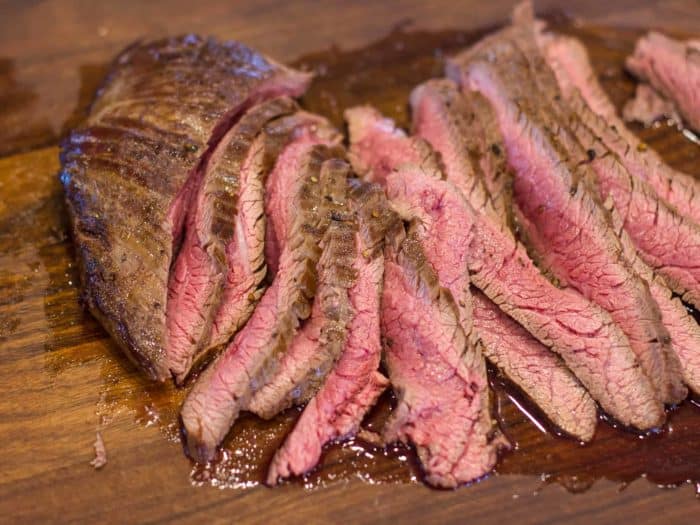 Flank steak is an outstanding cut of beef. It has an excellent balance between being both economical and also resulting in a tender juicy steak. On top of that, flank steak is incredibly versatile and really good sliced up and used in fajitas, panini, salad, and so much more.
In the summer, flank steak is often cooked on the grill, but pan searing it on the stovetop in the kitchen is another great way to prepare the steak. Pan seared flank steak tastes amazing, so don't fear that you will lose flavour if it is not grilled. It tastes just as good!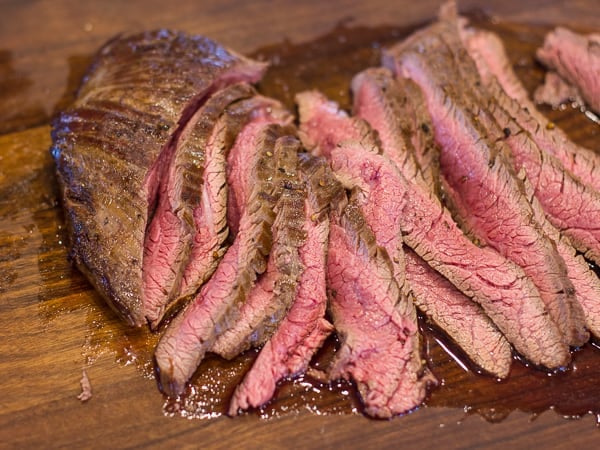 Flank steaks are a very flat cut of beef and depending on the cut you get, some are long while others seem to be almost round in shape. They very in weight, but generally are around 1-2 pounds.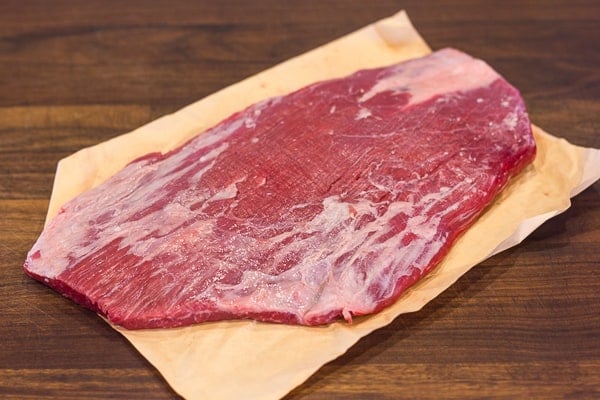 Trim the steak of any excess fat on the outside of the meat. Flank steak is generally quite a lean cut of beef but sometimes it is sold with a bit of fat on the outside or a thin membrane. These can be mostly trimmed and removed.
Let the steak rest on the counter for 10 minutes. This helps bring the meat closer to room temperature before it is cooked. The benefit of this is that it allows for a more even finished cook and a steak that is pink from edge to edge when sliced.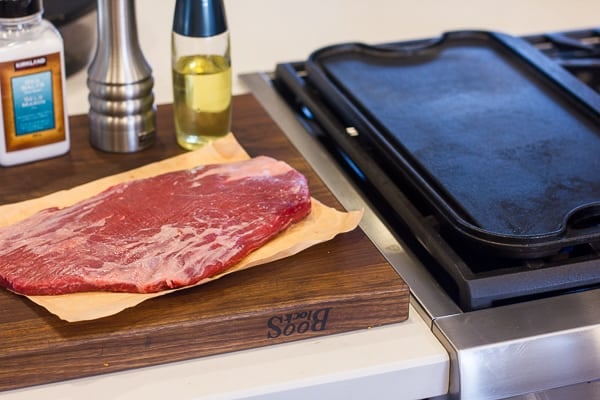 While the flank steak is resting, heat up the skillet or griddle. I use a cast iron griddle which is excellent for long flank steaks. Round skillets will also work, but make sure that whatever flank steak you get fits in the skillet. If the steak is too long, you can cut it in half and pan sear it one piece at a time.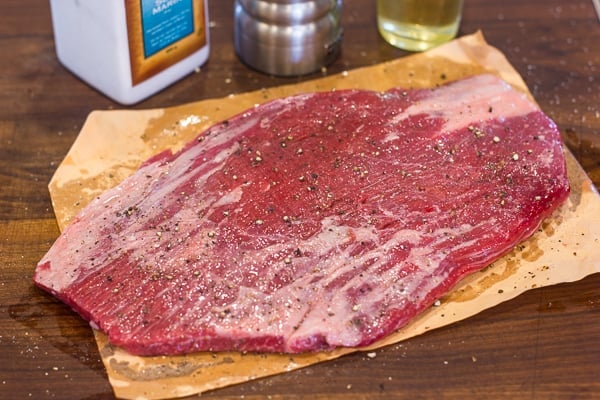 While you can marinate the steak with so many different kinds of marinades, I often find myself simply pan searing it with oil, salt and pepper. Just rub both sides with the oil and sprinkle with salt and pepper. It is super easy and highlights the beefy flavour of the steak.
For marinades, there are all sorts of different types you can use. Get creative and try different types. If marinating, place the steak in a bowl and cover with plastic wrap. Place in the fridge for 2-3 hours to let the marinade penetrate into the meat.
A standard marinade of oil, Worcestershire sauce, soy sauce, honey, garlic and dried chilies is excellent.
You can also make an Asian marinade using sesame oil, soy sauce, rice vinegar and sriracha sauce.
A Greek marinade with olive oil, red wine vinegar, garlic, oregano and black pepper is excellent on flank steak.
Use a Mexican type marinade or rub with chili powder, cumin, and lime for amazing steak fajitas.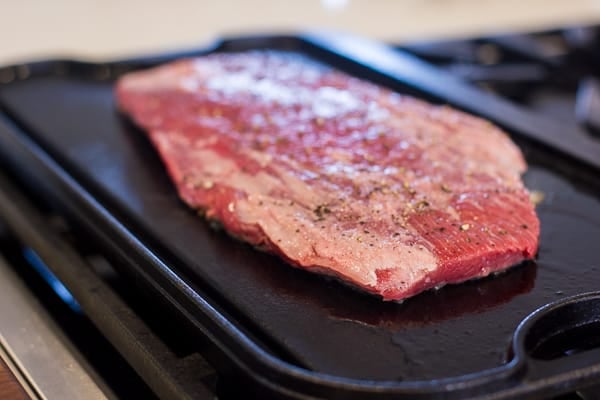 Make sure the skillet or griddle is hot before putting on the steak. You want to get a good sear on the meat so the pan needs to be hot. Hover your hand a couple inches over the skillet or griddle to test the heat so that you know it is nice and hot.
Slowly lower the steak on the hot pan. I find that lowering it slowly helps to generate a nice sear on the surface of the steak.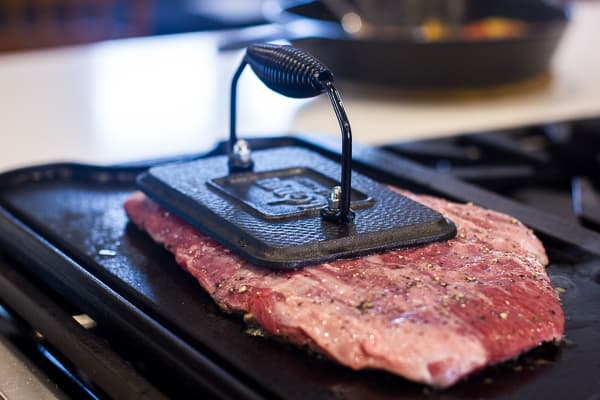 Sometimes, flank steaks will curl or raise while it is cooking. I often find that the middle of the steak will rise up preventing the middle from searing and cooking. You can use a metal spatula to press the middle down to keep it cooking evenly. You can also use a cast iron steak weight or panini press weight (as seen in the image above). Resting that in the middle of the steak will keep it nice and flat.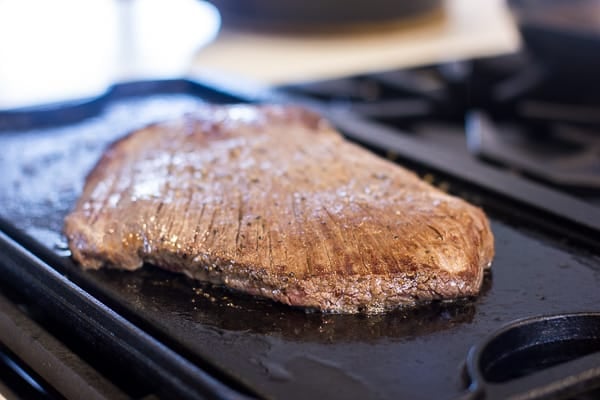 After 3-4 minutes, flip the steak over. You should see a nice brown sear on the cooked side of the flank steak. Cook for another 3-4 minutes or until the steak reaches your desired internal temperature. I like flank steak to be somewhere between rare and medium rare.
Rare – 125F
Medium rare – 130F
Medium – 135F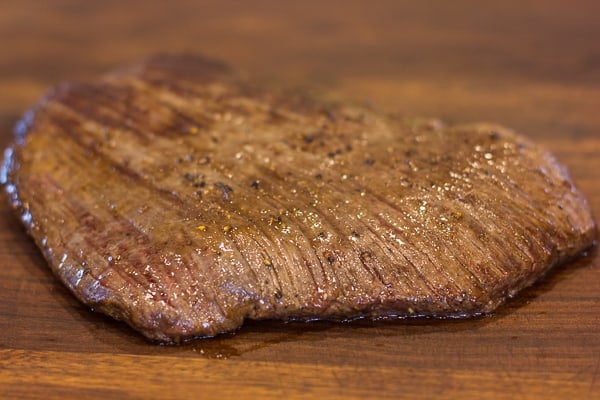 Once the steak reaches the desired internal temperature, take it off the heat and let it rest for 5 minutes. Resting allows the juices to draw back into the steak so that when carving you will get a super juicy steak. If you slice it right away, you will find that lots of steak juice will pour out of the meat.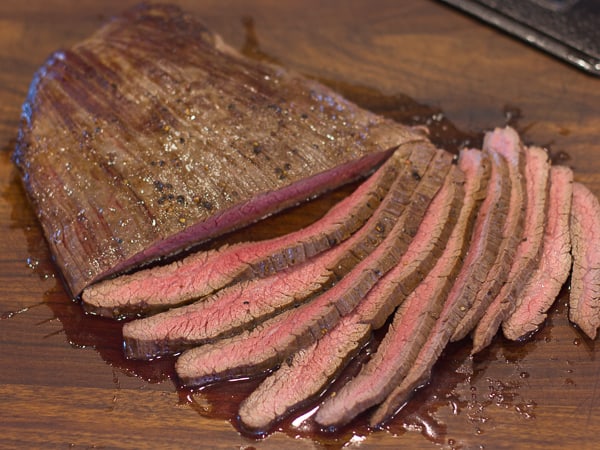 It is important to slice flank steak across the grain. If you were to cut it with the grain, the meat would be tough and stringy. Cutting the steak in thin strips against the grain will result in tender melt in your mouth deliciousness!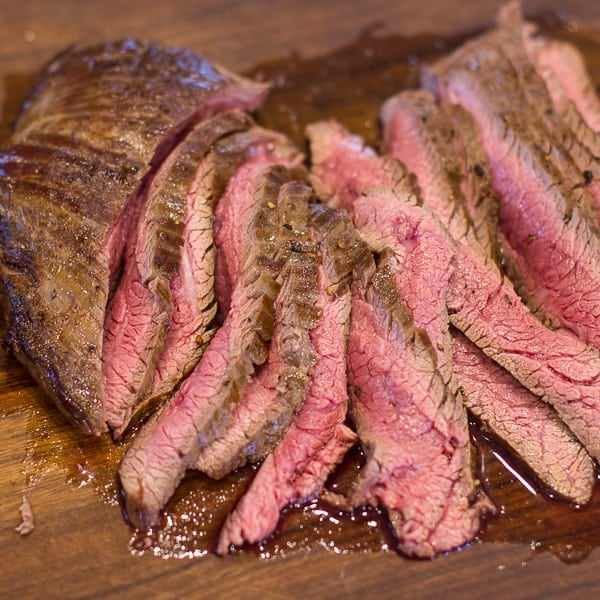 Sliced flank steak is good for so many things. While it is great to just eat straight up, flank steak is outstanding for fajitas or steak tacos. Slices of the steak are perfect as part of a panini or a lettuce wrap.
Flank steak slices are also excellent as part of a salad or on a flatbread like this recipe: Grilled Flank Steak, Watercress and Blackberry Flatbread.
How to Cook the Perfect Flank Steak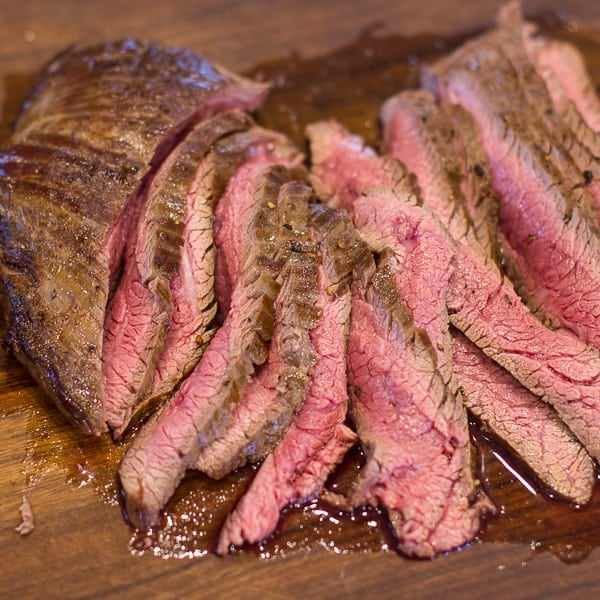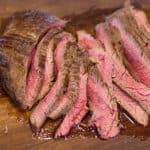 Print
Instructions for how to pan sear the ultimate flank steak. Whether you marinate or use a simple seasoning this recipe for cooking flank steak on the stove is super easy.
Servings: 3 people
Ingredients
1.5 pound flank steak
3 tbsp oil
1 1/2 tsp salt
1 tsp fresh ground black pepper
Instructions
Rub the flank steak on both sides with oil and season with salt and pepper. Let the steak rest on the counter at room temperature for 10 minutes.

Heat skillet or griddle on medium heat. Hover your hand over the skillet or grill a couple of inches to ensure that it is nice and hot.

Slowly lay the flank steak on skillet or griddle. Let it cook for about 3-4 minutes. Flip the flank steak and cook for another 3-4 minutes or until it reaches your preferred doneness (125F for rare - 130F for medium rare - 135F for medium).

Take the flank steak off the skillet and let rest for 5 minutes before slicing. Carve the steak into thin slices against the grain.

Serve.
Nutrition
Per serving:
Calories: 436kcalProtein: 48gFat: 25gSaturated Fat: 5gCholesterol: 136mgSodium: 1283mg