How to Cook a Top Sirloin Beef Roast
A simple no-fail recipe for cooking a top sirloin beef roast in the oven. It is tender, juicy and perfectly seasoned.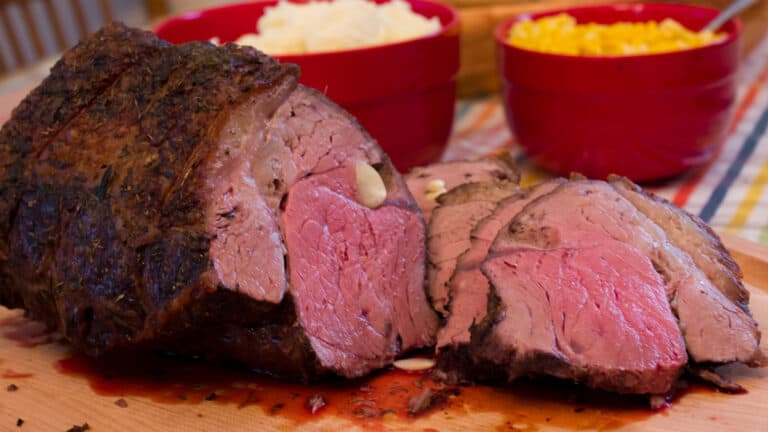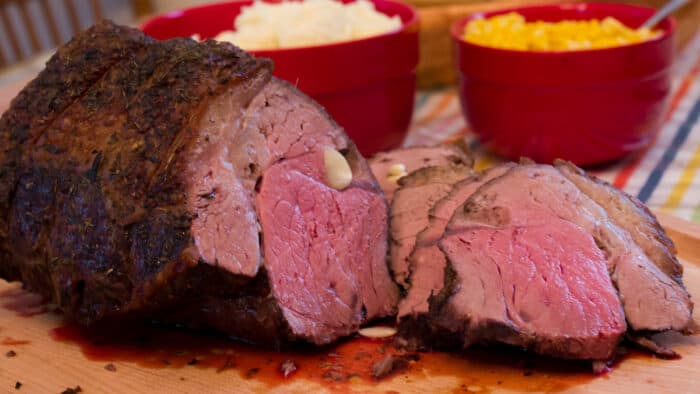 I love a good roast beef. Top sirloin is one of the medium to higher priced roasts. There are definitely some cheaper roasts (eye of round and chuck roasts) and more expensive roasts (tenderloin and prime rib), but the top sirloin is a great middle of the road choice. It does not break the bank and it is still a nice and tender cut of beef.
But, like any roast, it is important to know how to cook it properly. An overcooked top sirloin roast is one majorly depressing meal. It can be tough and dry. But, it does not need to be that way and the top sirloin prepared and cooked properly is juicy, tender and delicious.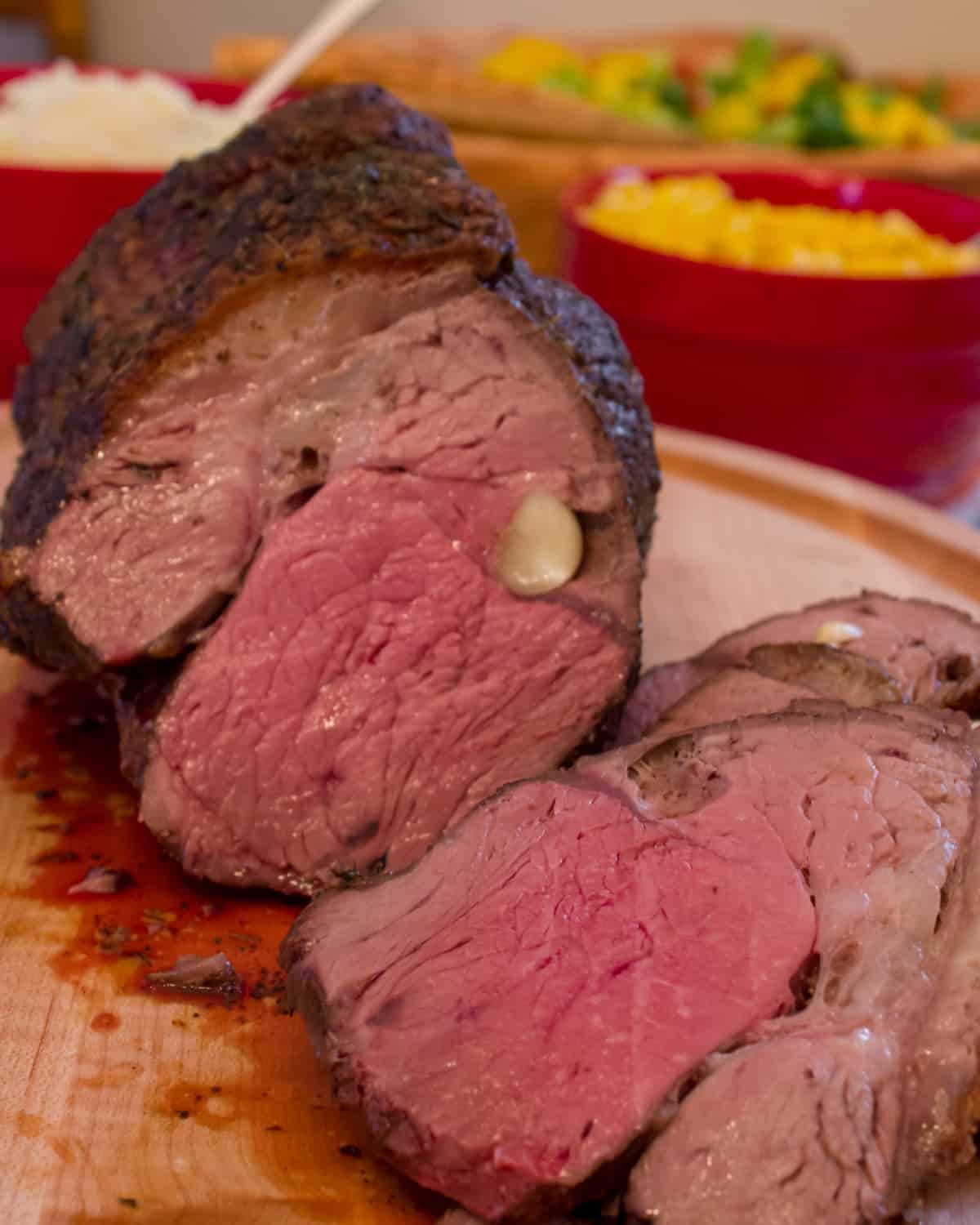 Top sirloin roasts come in various sizes and I find that I prefer the roast to be 5-6 pounds in size. The following recipe is based on 5-6 pound roast, but you could definitely use either larger or smaller cuts. But, be aware that the cooking times will vary if a different sized roast is prepared.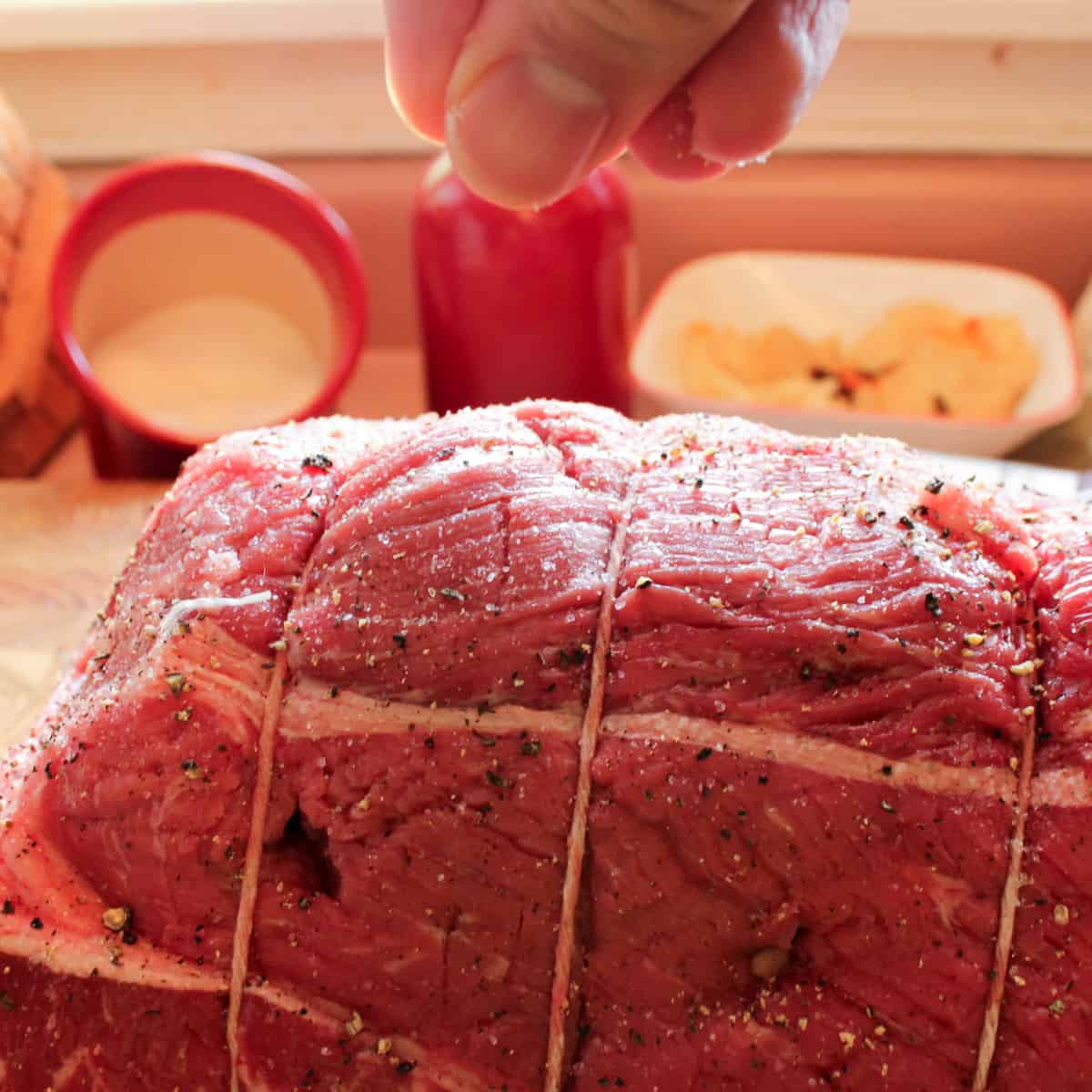 Ingredients That You Need
It is very simple to cook a top sirloin roast. The seasoning used is a simple blend of salt, pepper, herbs and garlic. Feel free to mix it up with different spices.
Top sirloin beef roast – this recipe is based on a 5-6 pound roast
5-7 garlic cloves
2 tbsp sea salt
1 tbsp fresh cracked black pepper
1 tsp thyme
1 tsp oregano
Garlic Cloves Add Flavour To The Roast!
I love to stick a few garlic cloves in the roast. It adds a nice flavour right through all the meat. Simply, use a paring knife to spear into the roast about 1 1/2 to 2 inches. You can use whole cloves, or cut them in halves or slivers. Press the garlic clove or sliver into each of the slots in the meat. For a 5-6 pound top sirloin roast, I use 5-7 garlic cloves.
How To Season A Top Sirloin Roast Beef?
Sprinkle the seasoning all over the roast. Sea salt, cracked black pepper, thyme and oregano, all blend to give the perfect seasoning for the roast.
Once seasoned all over, the roast is ready to go in the oven.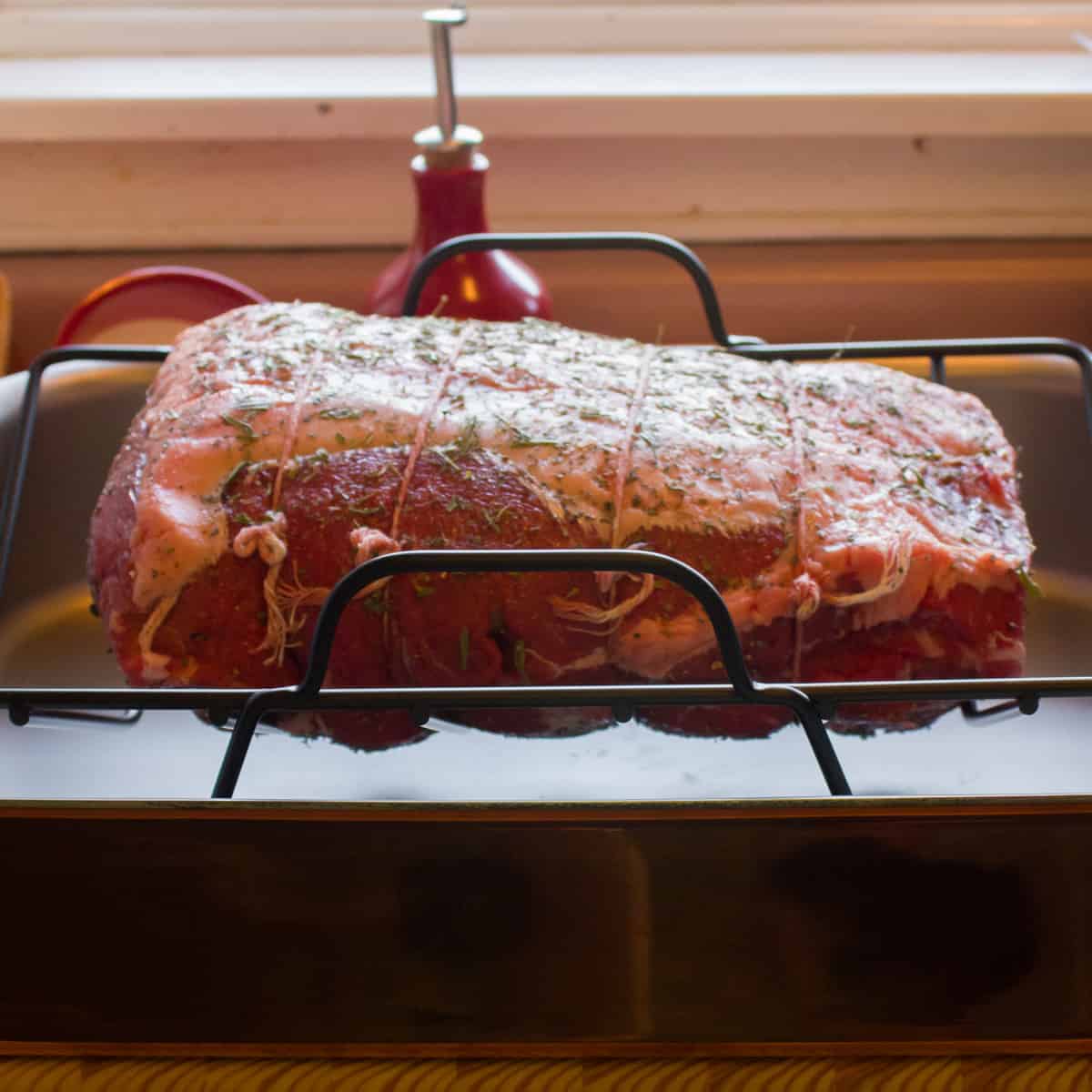 If the roast is not tied up, using some butcher twine helps to hold the roast together during the cooking.
Make sure to lay the beef roast in the roasting pan with the fat side up. Keeping the fat on the top helps to ensure a moist and juicy roast.
Cooking The Roast At Two Stage Temperatures
Cooking the top sirloin roast is simple. First, put the roast in a 450F preheated oven. Cook it, uncovered for 15 minutes at 450F.
Then, without opening the oven door, turn the heat down to 325F. Now, cook the roast until the internal temperature of the meat is 135F. This results in a medium rare roast. I actually pull it out just before it reaches 135F – usually once it hits 133F.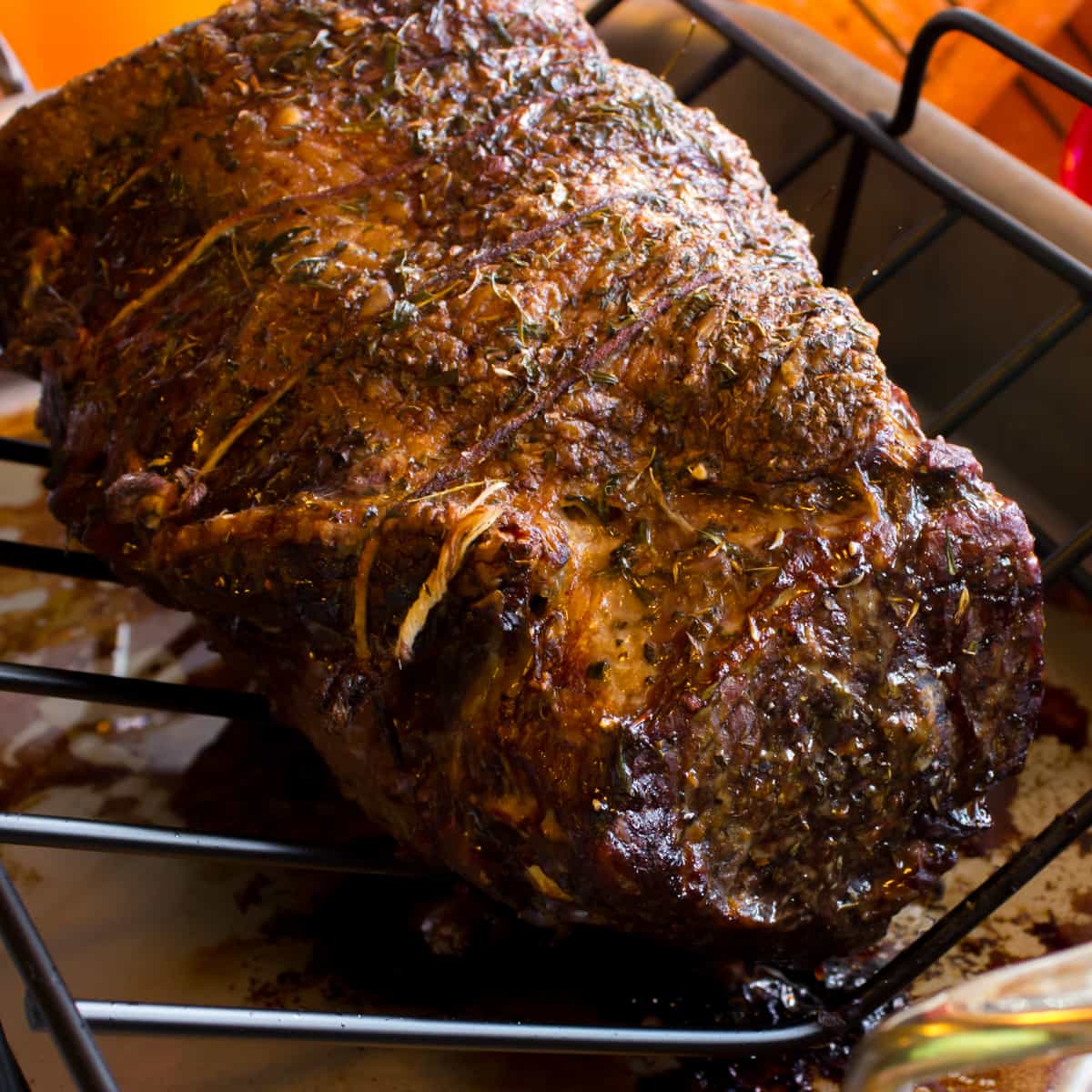 How Long To Cook A Top Sirloin Roast?
For a 5-6 pound roast I find the total cooking time is around 3 hours. But, every oven is different and roasts vary in weight and shape, so instead of cooking for a certain length of time, it is much better to use a food thermometer to monitor what the actual temperature is inside the roast.
Cover the roast with aluminum foil and let it rest on the counter for 10-15 minutes.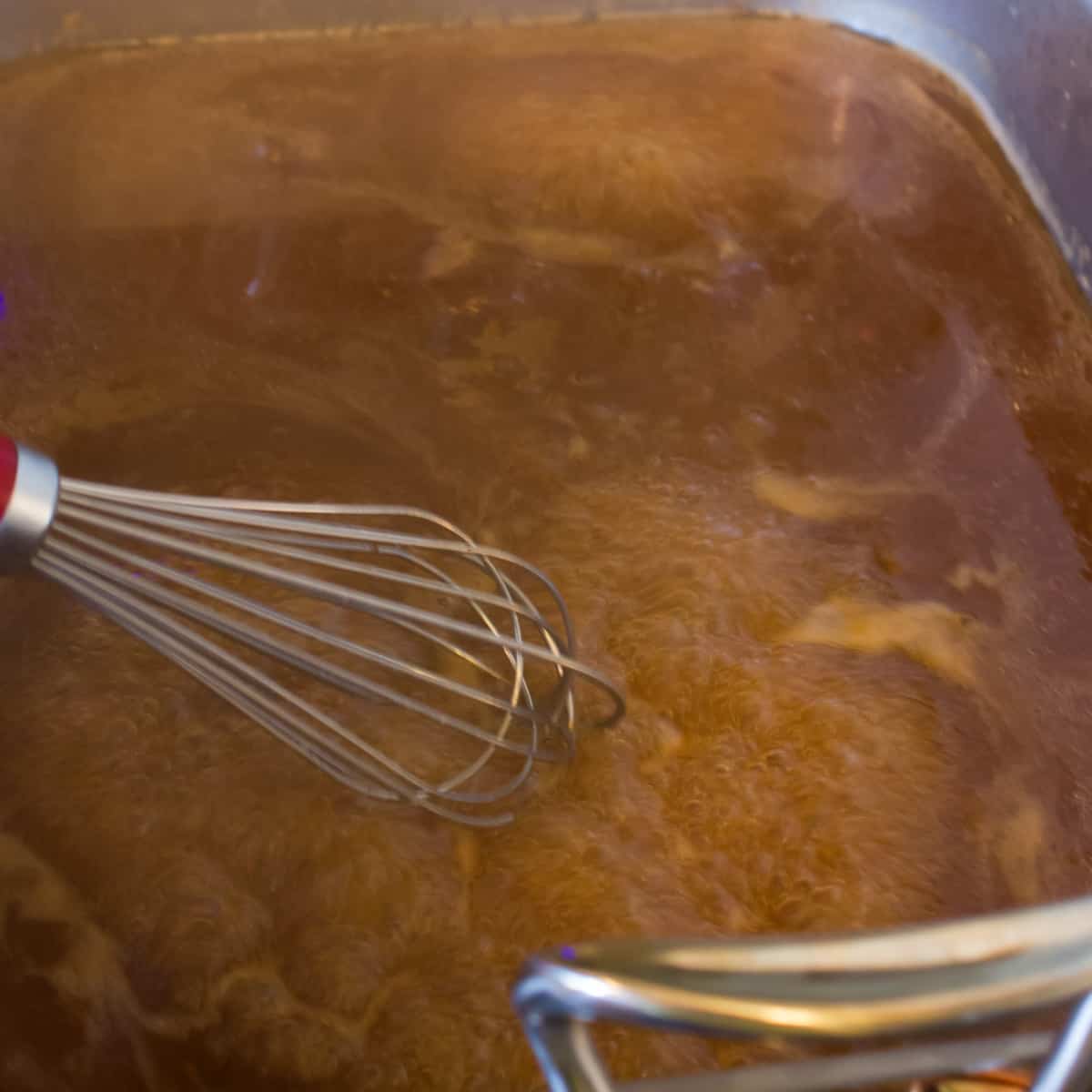 How To Make Beef Gravy?
At the bottom of the roasting pan there is a lot of beef grease and buildup. This is perfect for making gravy. If your roasting pan can go on stovetop, this is the perfect way to make gravy.
Place the roasting pan on the stovetop element and turn on to medium heat. Add 1 1/2 cups of water and use a whisk to deglaze the bottom of the pan. Once it is boiling, whisk in 1 1/2 tbsp corn starch.
Continue to whisk the gravy until it is thickened. Remove from the heat and strain it into a gravy boat.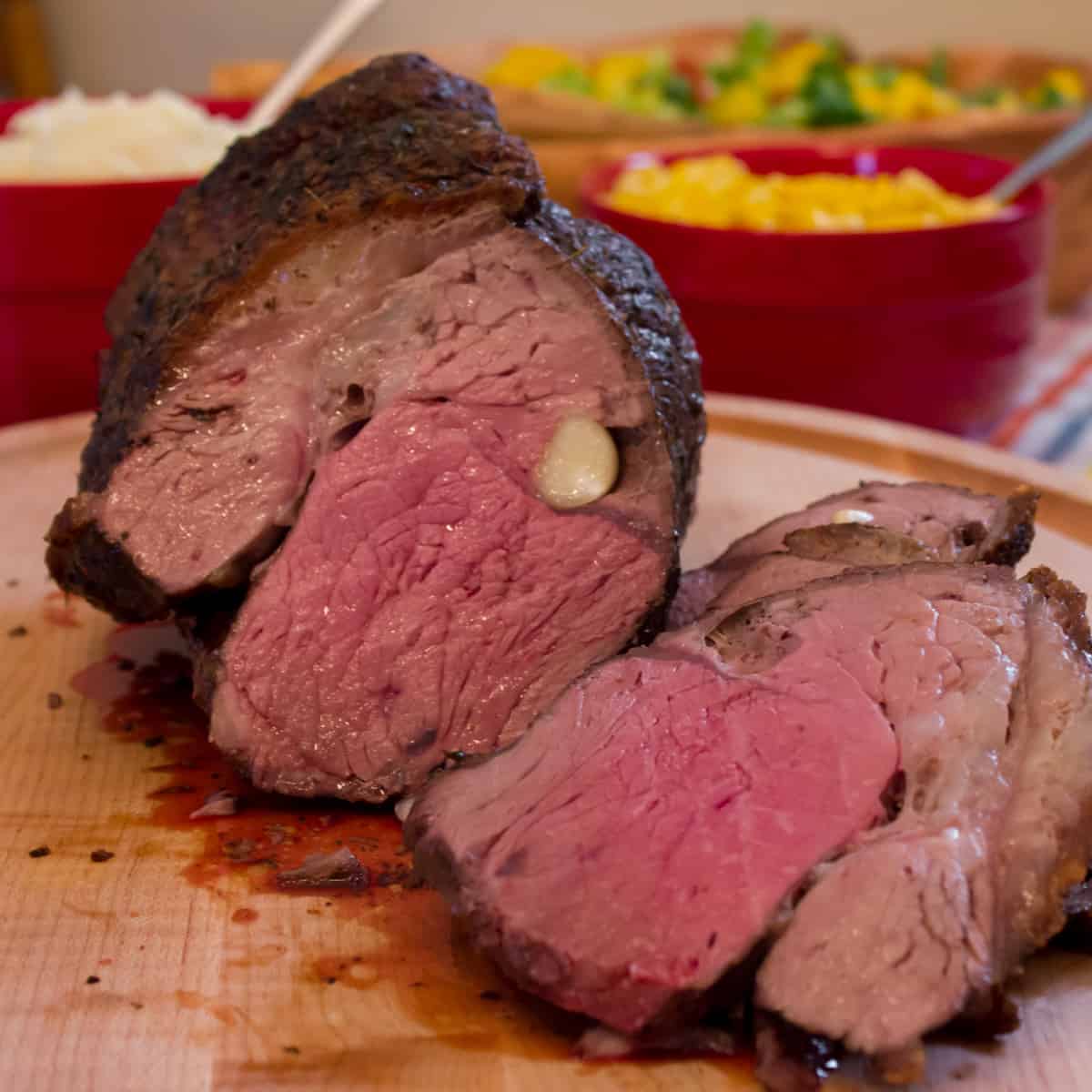 Letting the roast rest for 10-15 minutes, pulls the juices back into the roast and results in juicy tender meat. Use a nice long craving knife to slice up the roast.
There are many different cuts of beef and the top sirloin roast is one of my favourites. It is not the most expensive, but it is still very tender and juicy.
Not only is a top sirloin an excellent roast to cook in the oven, but it is also awesome to smoke. I have detailed instructions for smoking a top sirloin roast that can be found here Smoked Top Sirloin Roast Beef.
How to Cook a Top Sirloin Roast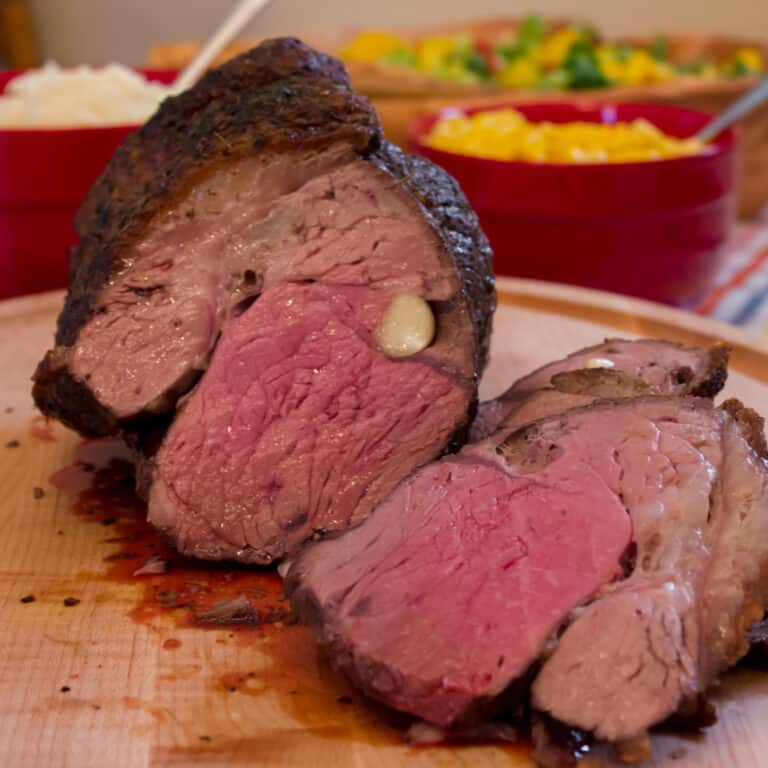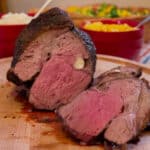 Print
Simple instructions to make the perfect roast from a beef top sirloin roast. No fail recipe and detailed directions.
Servings: 8
Ingredients
5 pound top sirloin roast
5 cloves garlic
2 tbsp salt , table or sea salt
1 tbsp black pepper , freshly cracked
1 tsp thyme
1 tsp oregano
Instructions
Trim meat of any excess fat.

If the top sirloin roast did not come tied up, use kitchen twine to tie the roast up nice and tight.

The garlic cloves can be cut in half, in slivers or left whole. Use a paring knife to poke a one inch slot in the roast. Stick in a piece of garlic. Do this all around the roast with the remaining garlic.

Sprinkle the roast with the salt, pepper, thyme and oregano.

Place the roast in a roasting pan with a rack.

Preheat the oven to 450F. Place the roast in the oven and cook for 15 minutes.

Turn the heat down to 325F and cook to desired doneness. The internal temperature of a medium rare roast beef is 135F and should take around 3 hours of total cooking time.
Nutrition
Per serving:
Calories: 351kcalCarbohydrates: 1gProtein: 61gFat: 10gSaturated Fat: 3gCholesterol: 156mgSodium: 1909mgFiber: 0.4gSugar: 0.03g
Note: This recipe was originally posted in 2014 but updated in 2022 with new information