Tender Well Done Roast Beef and Vegetables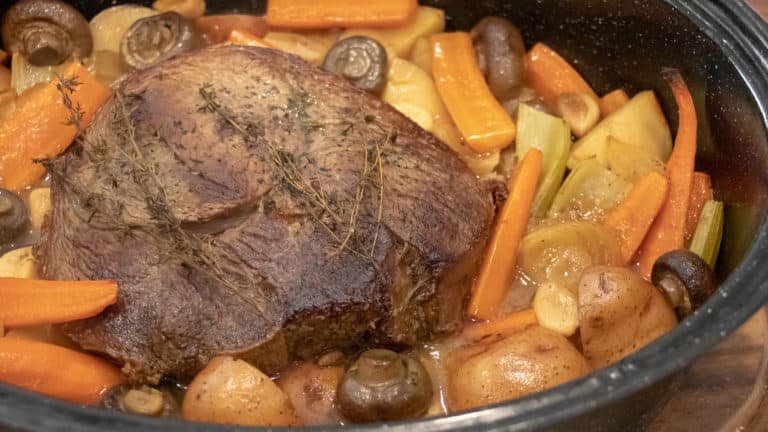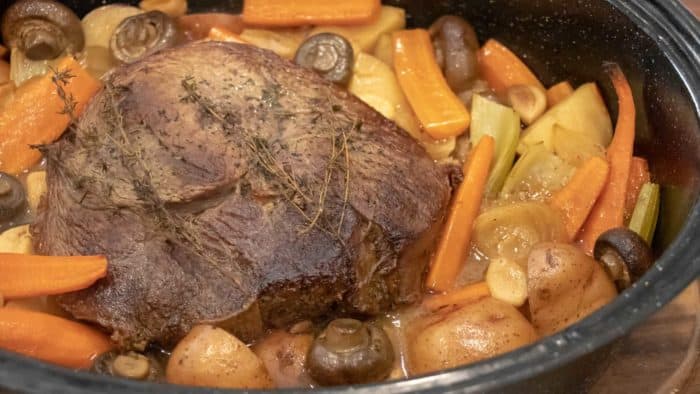 The way people like their roast beef cooked can create a lot of debate. While some people, myself included, prefer a roast beef that is medium rare, there are others who prefer roast beef to be well done. Some do not want to see any pink in the meat at all. Unfortunately there are many people who have experienced a well done beef roast that is so dry and tough, it seems like you are actually chewing on shoe leather.
It does not need to be that way!
The truth is that a well done roast beef does not need to be dry and tough. It is possible to have a beef roast cooked through so that it is well done, but that it is still moist, and it is so tender that it actually almost falls apart. Even though I prefer my beef roast to be medium rare, I do really enjoy it when cooked like the recipe below.
This recipe slowly cooks the beef roast so that, while it is well done, it has been swimming in a beef broth. Doing this has both kept the roast moist and also tenderized the meat.
Along with the beef, I fill the roasting pan with all sorts of different vegetables. For many in the family, these are just as popular as the beef itself. Doing this allows you to create a full dinner in one large roasting pan.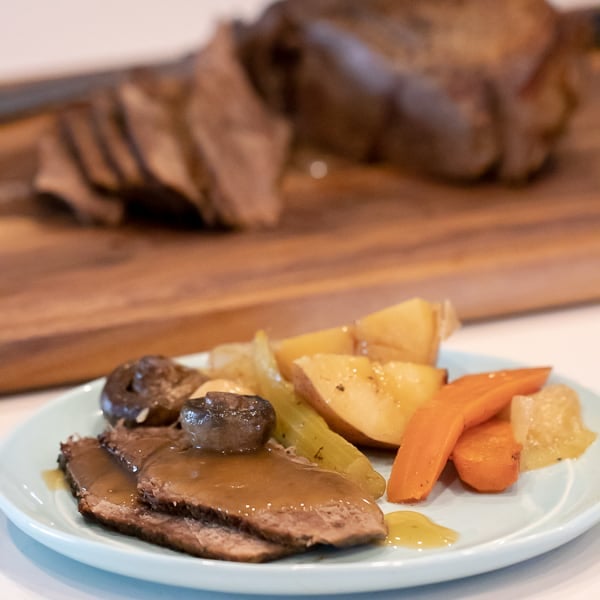 I use the oven to cook my beef roast and vegetables in this recipe. But, it is also possible to cook them in the Instant Pot pressure cooker or even a slow cooker. Here is my recipe for making a beef roast in the Instant Pot: Pressure Cooker Pot Roast.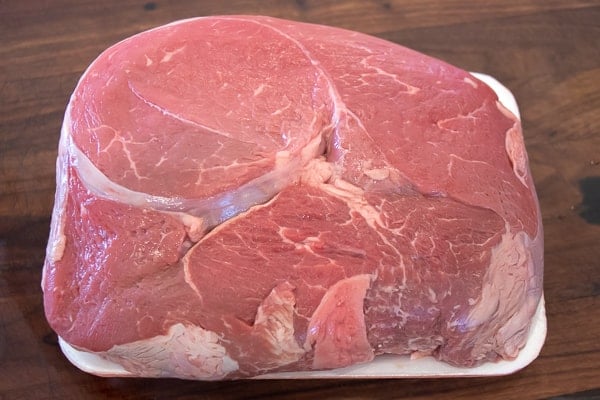 I picked up a sirloin tip roast that was about 4 pounds in size. For this recipe, you could use a boneless roast that is 3-5 pounds in size. I like using sirloin tip roast for this recipe because it is an economical cut of beef. Boneless chuck roast is another excellent cut for this recipe.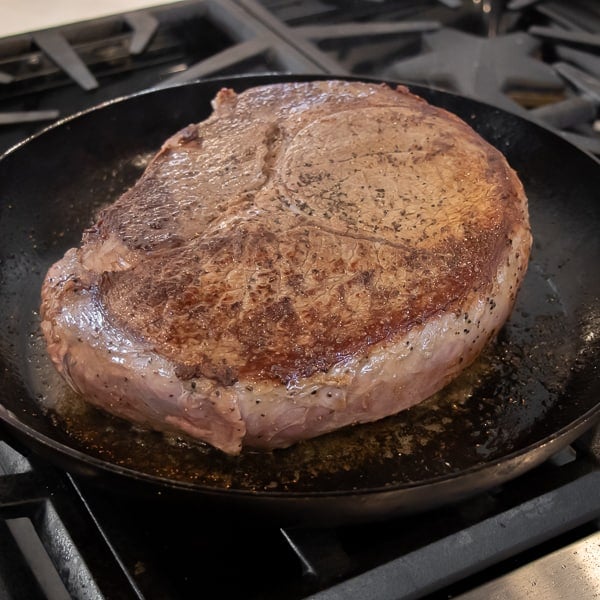 Before you put the beef roast in the roasting pan, you will want to sear it first. Searing browns the outside of the meat which enhances the flavour of the finished roast.
To sear, heat the oil in a skillet over medium high heat. Season the roast with salt and pepper. Place the roast in the skillet and sear for about 60-90 seconds per side.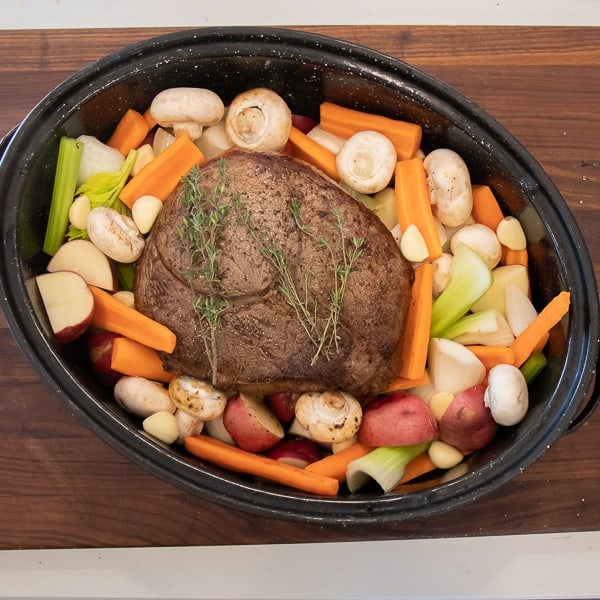 After the beef roast has been seared, it is ready to place in a roasting pan. I use a large roasting pan that I have owned for more than 2 decades. This thing is totally old school and I love it.
My favourite thing about this roasting pan is its size. A large pan like this provides enough room to surround the beef with vegetables. Roasted veggies cooked this way is just amazing. I like to use many different types of vegetables including, potatoes, carrots, celery, mushrooms, and onions.
Oh, and garlic! Lots and lots of whole garlic cloves!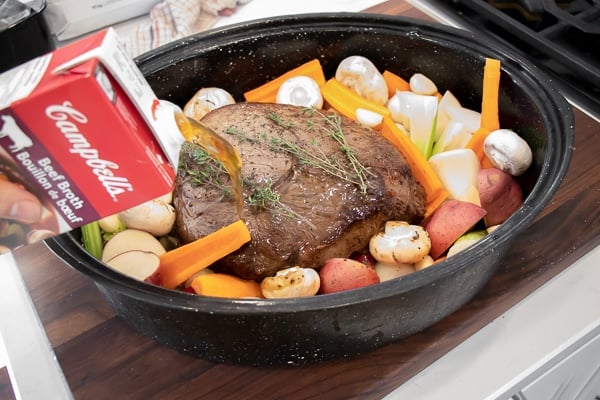 Place a few sprigs of fresh thyme on top of the roast and pour in the beef broth. Using this amount of broth helps to keep the beef roast moist and tender. It also soaks up into the veggies during the roasting for some fabulous flavour.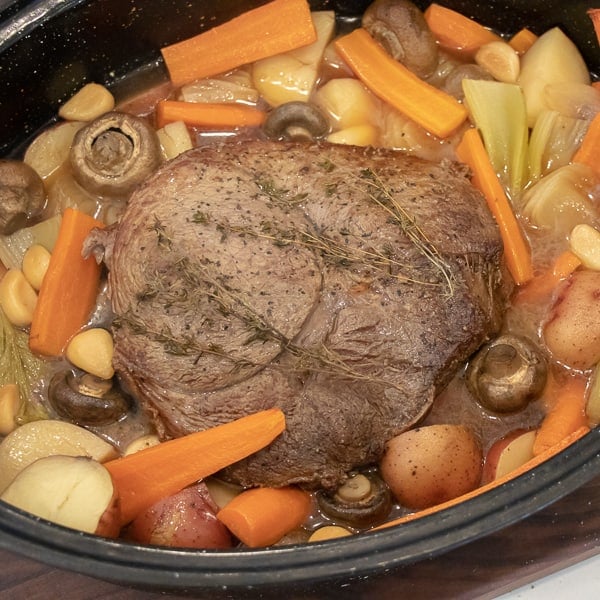 Cover the roasting pan with the lid and place in a 350F oven for 3 hours. If you have a larger roast, you may want to cook it a little longer.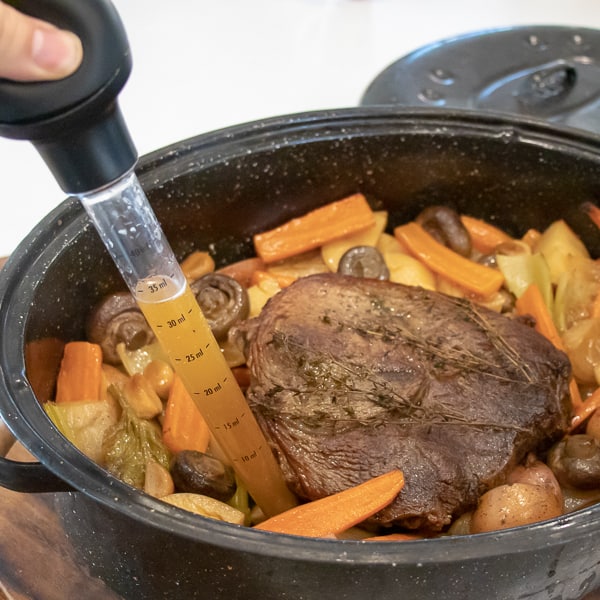 Using a baster, draw out all the broth. This will make an outstanding gravy!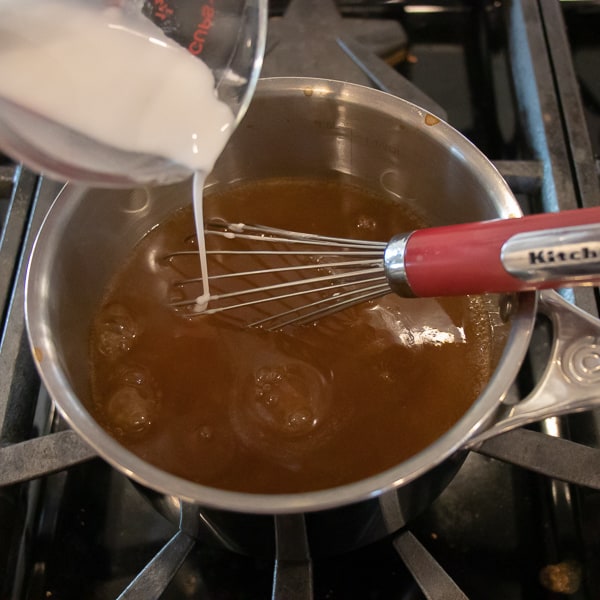 I was able to get around 500ml of broth which is enough to make a very nice gravy. Heat the broth in a saucepan over medium heat.
While the broth is coming to a light boil, you can make the slurry. The corn starch in the slurry is what thickens the broth and turns it into a gravy. In a separate dish, whisk together the water and corn starch until dissolved. Once the broth has come to a boil, slowly pour in the slurry, whisking constantly.
Lower the heat and let the gravy simmer for a few minutes until it thickens.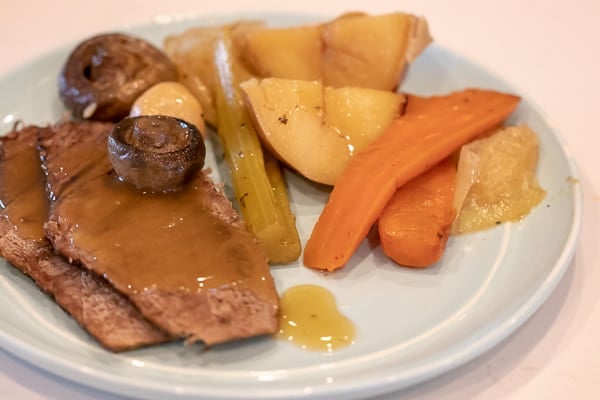 Let the roast rest for about five minutes before slicing. Serve on a plate with a few slices of the beef, a bunch of the roasted vegetables. Ladle some gravy on top and you have a delicious meal!
Tender Well Done Roast Beef with Vegetables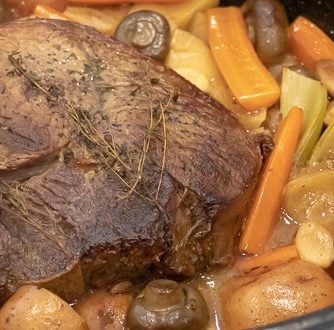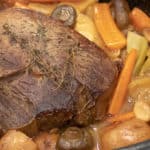 Print
Easy recipe and instructions for how to cook a sirloin tip roast in the oven so that it is well done but also tender, juicy and delicious. Vegetables include carrots, potatoes, onions, mushrooms, celery and garlic.
Servings: 8
Ingredients
3-5 pound beef roast , sirloin tip, chuck or other roast
3 tbsp oil
2 tsp salt
1 tsp black pepper
2 onions , peeled and quartered
5-6 medium red potatoes , quartered
5 medium carrots , peeled and quartered
3 stalks celery , quartered
8 medium mushrooms
8 cloves garlic
4 cups beef broth
3-4 sprigs fresh thyme
3 tbsp corn starch
5 tbsp water
Instructions
Preheat oven to 350F.

Trim the roast of any loose or excess fat. Season all sides with salt and pepper.

Heat oil in a skillet over medium high heat. Place the beef roast in the skillet and sear for 60-90 seconds per side.

Once seared, place in the middle of a large roasting pan. Surround the beef with all the chopped up veggies.

Place the sprigs of thyme on the beef roast, and pour in the beef broth. If desired, sprinkle a little extra salt and pepper all over the vegetables.

Cover the roasting pan with the lid and place in the oven. Cook for 3-4 hours.

Using a baster, draw out the broth from the roasting pan and fill into a saucepan. Bring the broth to a boil over medium heat. Make a slurry by whisking together the corn starch and water. Slowly pour the slurry into the broth, whisking constantly. Lower the heat to a simmer and continue to stir until the gravy thickens.

Let the roast rest for 5 minutes before carving. Slice into thin strips. Serve on a plate with some of the roasted veggies and ladle a little gravy on top.
Nutrition
Per serving:
Calories: 606kcalCarbohydrates: 32gProtein: 49gFat: 32gSaturated Fat: 12gCholesterol: 156mgSodium: 1277mgFiber: 4gSugar: 5g