Boneless Artisan Ham with Brown Sugar Glaze
This baked boneless ham has a sweet caramelised glaze made with brown sugar and mustard. Super easy to make, this is a great weekday meal option!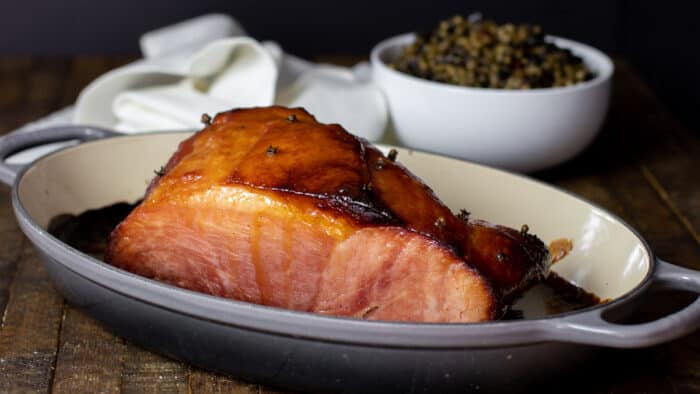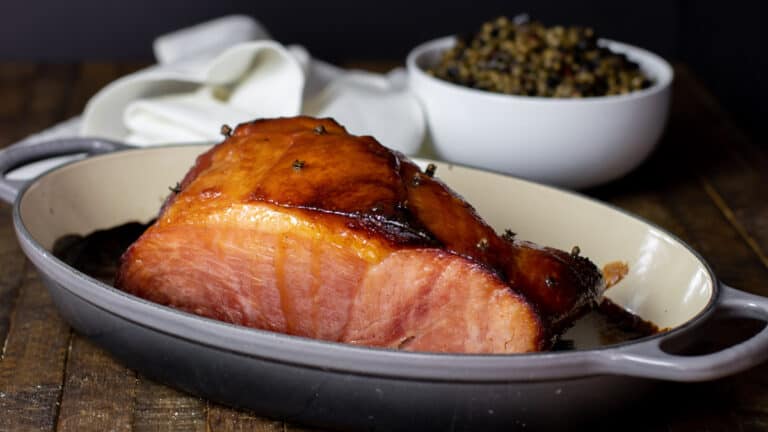 One of my favourite things to cook is this baked boneless artisan ham with brown sugar and mustard glaze. It is delicious, easy make and goes with so many different side dishes. A 3 pound ham is perfect for a family, and even ones that have hungry teenagers. Ham is usually an economical cut of meat, which is also a big plus.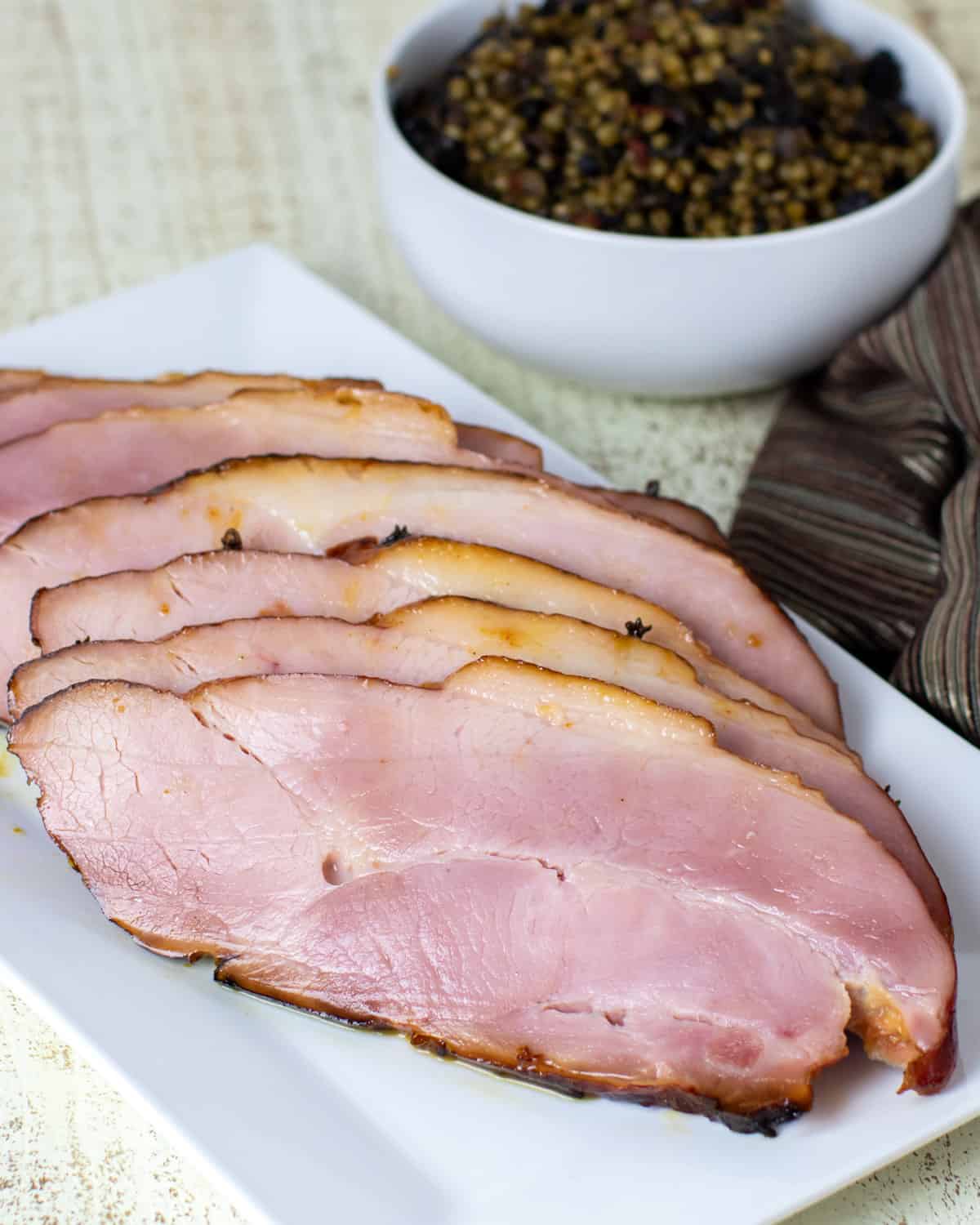 What Makes This Baked Boneless Ham So Good?
There are many different reasons that I love this ham to much.
Simple to make! This ham can be prepped with the glaze and placed in the oven in about 5 minutes.
Great for any time – This ham is perfect for a weeknight meal, fancy enough to serve at a dinner party with guests, or even a holiday dinner.
Oh my word the glaze! The glaze is sweet and super delicious. Also, it uses ingredients you likely already have in your kitchen.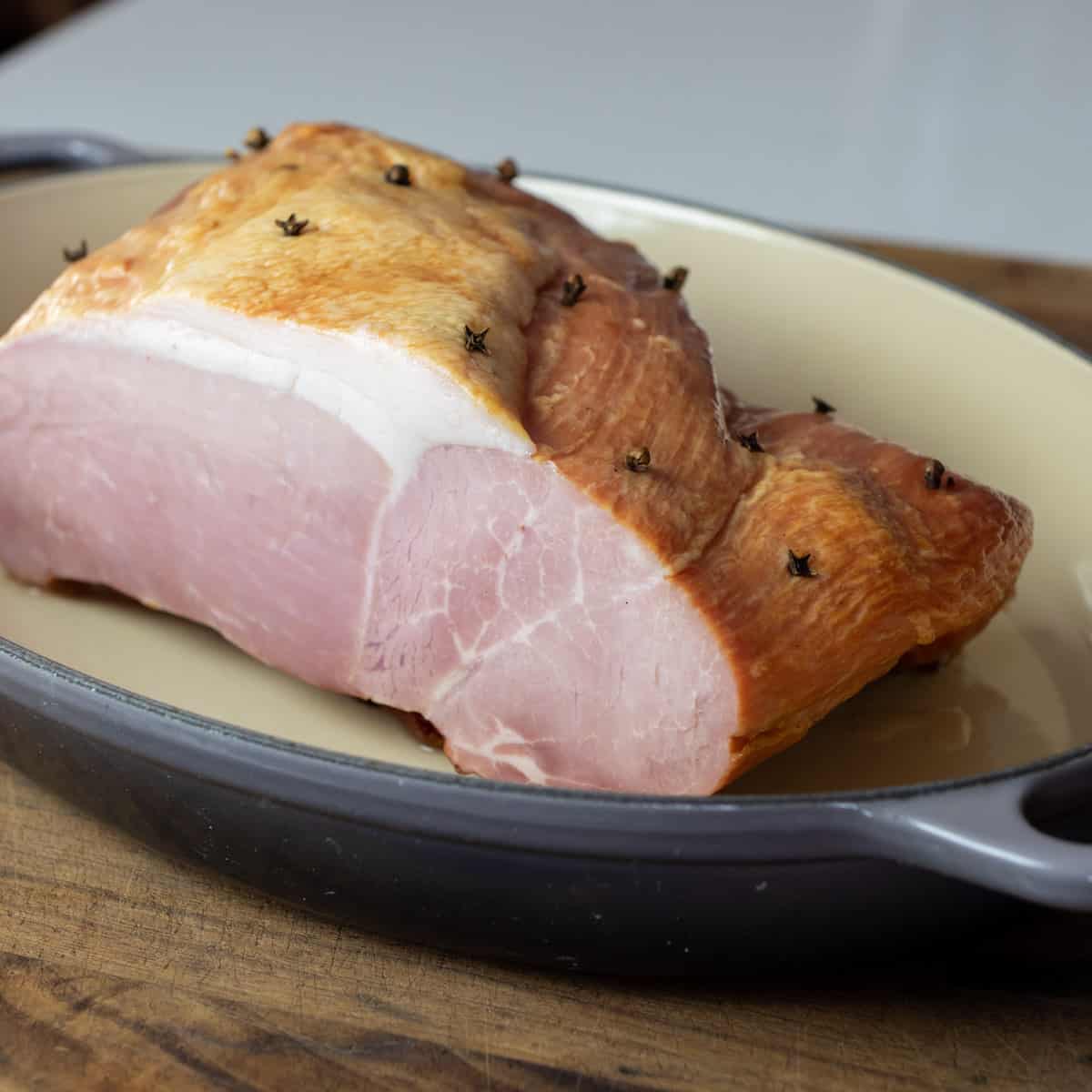 Ingredients You Will Need
boneless ham – I like to get an artisan ham that is about 3 pounds in size
whole cloves
brown sugar
mustard
honey
vinegar
salt
cayenne pepper
cinnamon
Expert Tip! Some boneless hams that you can purchase at your local supermarket are formed 'football' shaped hams. Also called toupie, these hams will work great with this recipe, but would likely require a longer time to bake in the oven since they are often thicker. This type of ham is not the kind I typically buy and not what you will see in these photos. This ham is an artisan single muscle half moon ham. It is tender and delicious and simple to bake with this sweet glaze.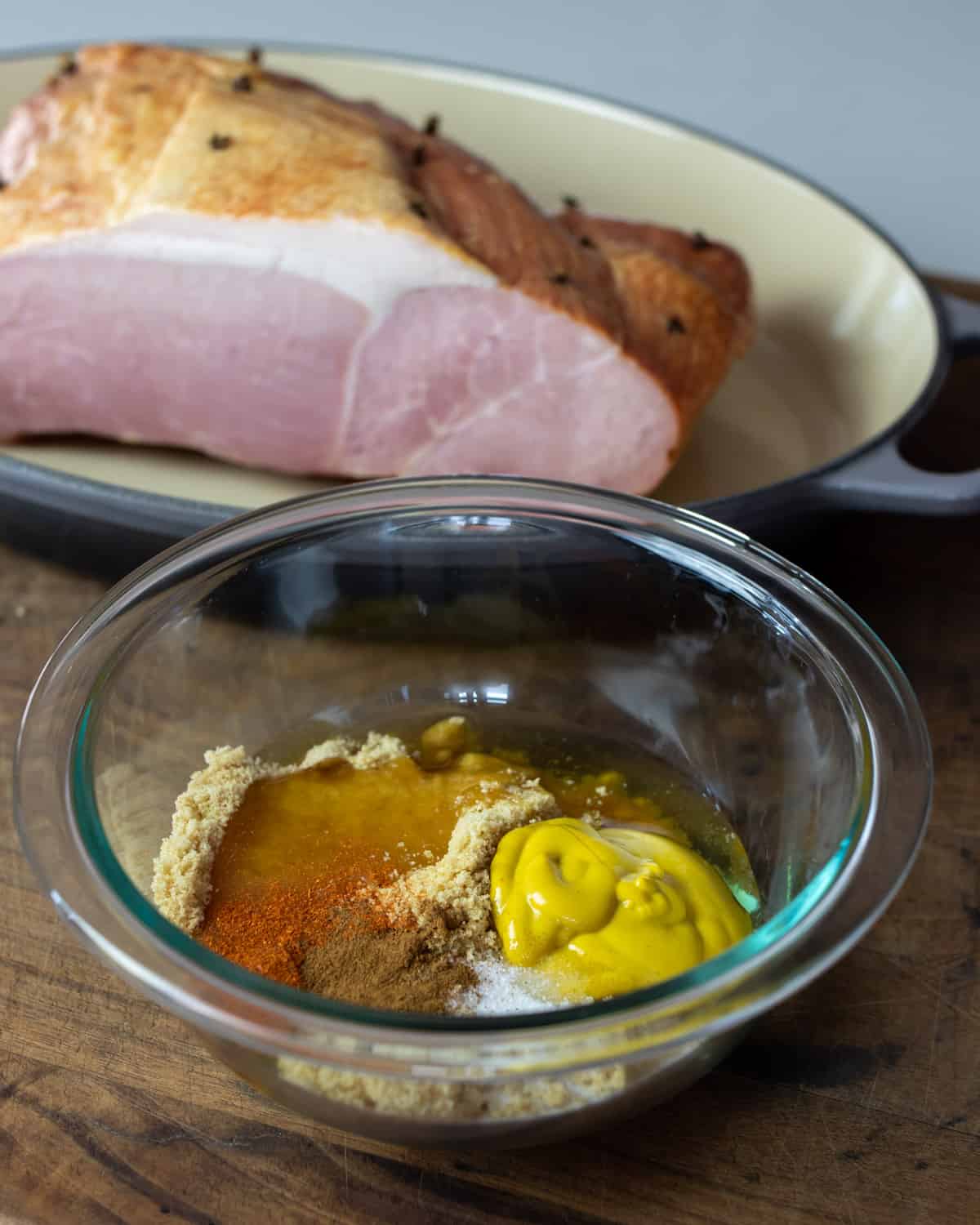 How To Make Brown Sugar Glaze For Ham
A nice glaze for ham will elevate it by a great margin. The sweet spiced coating is caramelised on the outside of the ham during baking. It is delicious and people often grab the end piece because there is so much flavour on that part of the ham.
There are many different flavours you can use for as a glaze. I love the standard brown sugar and mustard because that sweet tang goes so well with ham. Feel free to mix it up with other ingredients for some unique flavour options. Here are a few ideas you could try: maple syrup, orange juice (blood oranges are great with ham!), Thai sweet chili sauce, Sriracha, and more!
Expert Tip! Prior to making the glaze, stick all the whole cloves into the ham. Stick them about halfway, so that just the bulb part of the clove is showing. I use somewhere around 12-16 cloves for a 3 pound ham.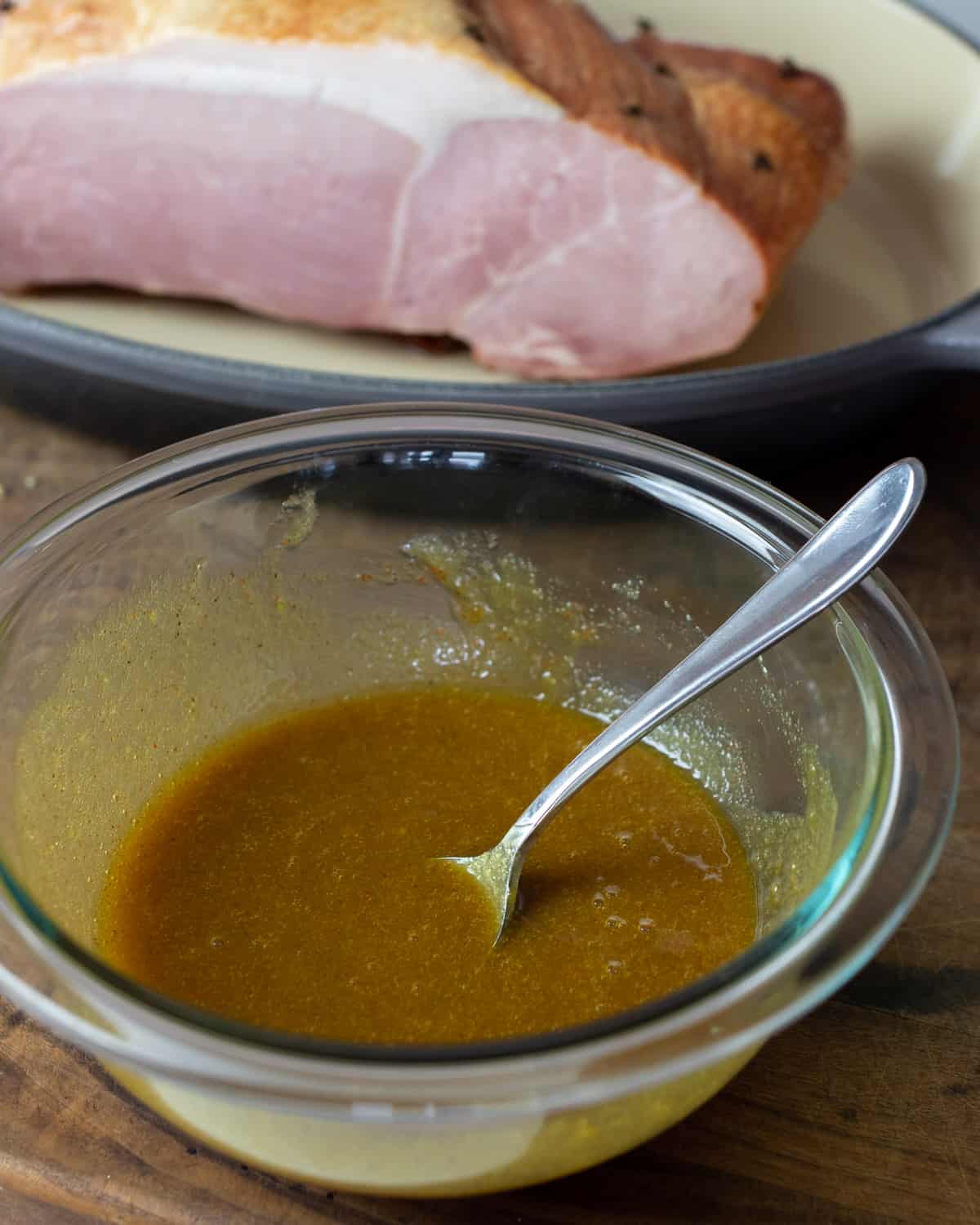 To make the glaze, add the brown sugar, honey, mustard, salt, cinnamon and cayenne pepper to a bowl. Mix with a spoon or whisk so that everything is combined together and the brown sugar is fairly well dissolved into the mustard and honey.
Expert Tip! The little bit of cayenne is included to give this glaze a very slight zing. Don't worry, it should not be hot or very spicy at all. Feel free to omit it if you prefer. But, if you do like spicy food, you could also add some more cayenne to give the glaze a little more heat.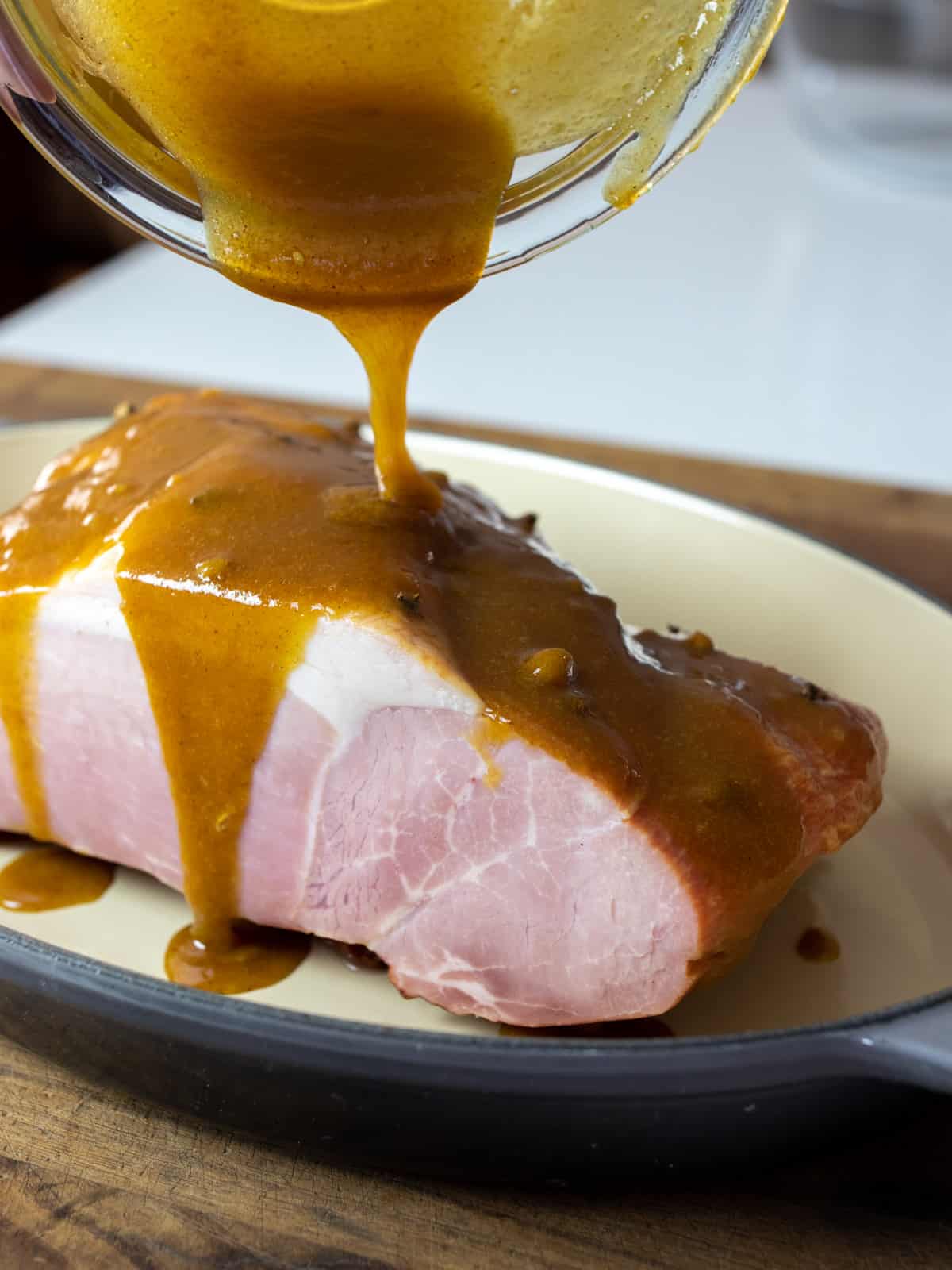 Coat The Ham In The Glaze
Once mixed, pour the glaze all over the ham. If needed, take a pastry brush or BBQ brush to coat the ham all over in the glaze. Make sure to get some in every nook and cranny of the cut of meat. This glaze is sweet goodness and provides so much flavour to the ham. You will want to make sure every bit of the meat is covered.
Expert Tip! If you love baked ham with pineapple, you can easily add some to this recipe. Take a 3-5 pineapple rings and place them on the top of the ham. Use toothpicks to hold the rings in place during baking.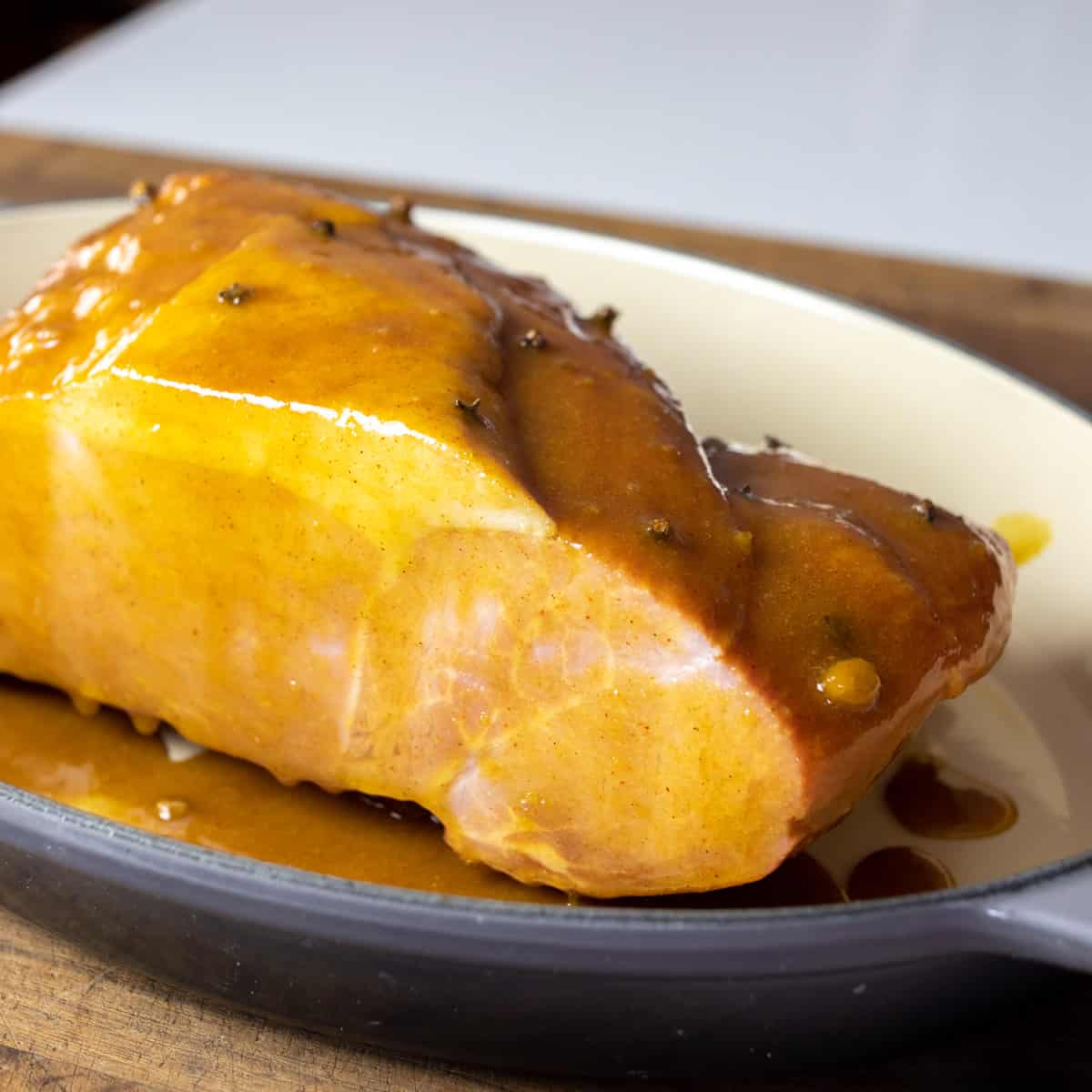 How Long To Bake A Boneless Ham
Baking a boneless ham is super simple. Once the glaze is coated all over the meat, it is ready to go in the oven. I bake it uncovered the whole time as that will caramelise the glaze onto the surface of the ham. Preheat the oven to 325F and place the ham in the oven. Bake the boneless ham for 20 minutes per pound, or until the internal temperature of the ham reaches 145F when tested with a digital thermometer.
Expert Tip! The cooking time for a ham will vary depending on both the size and shape of the ham. This is a 3 pound boneless artisan style ham with more of a flat shape so it cooked a little quicker than larger football shaped hams.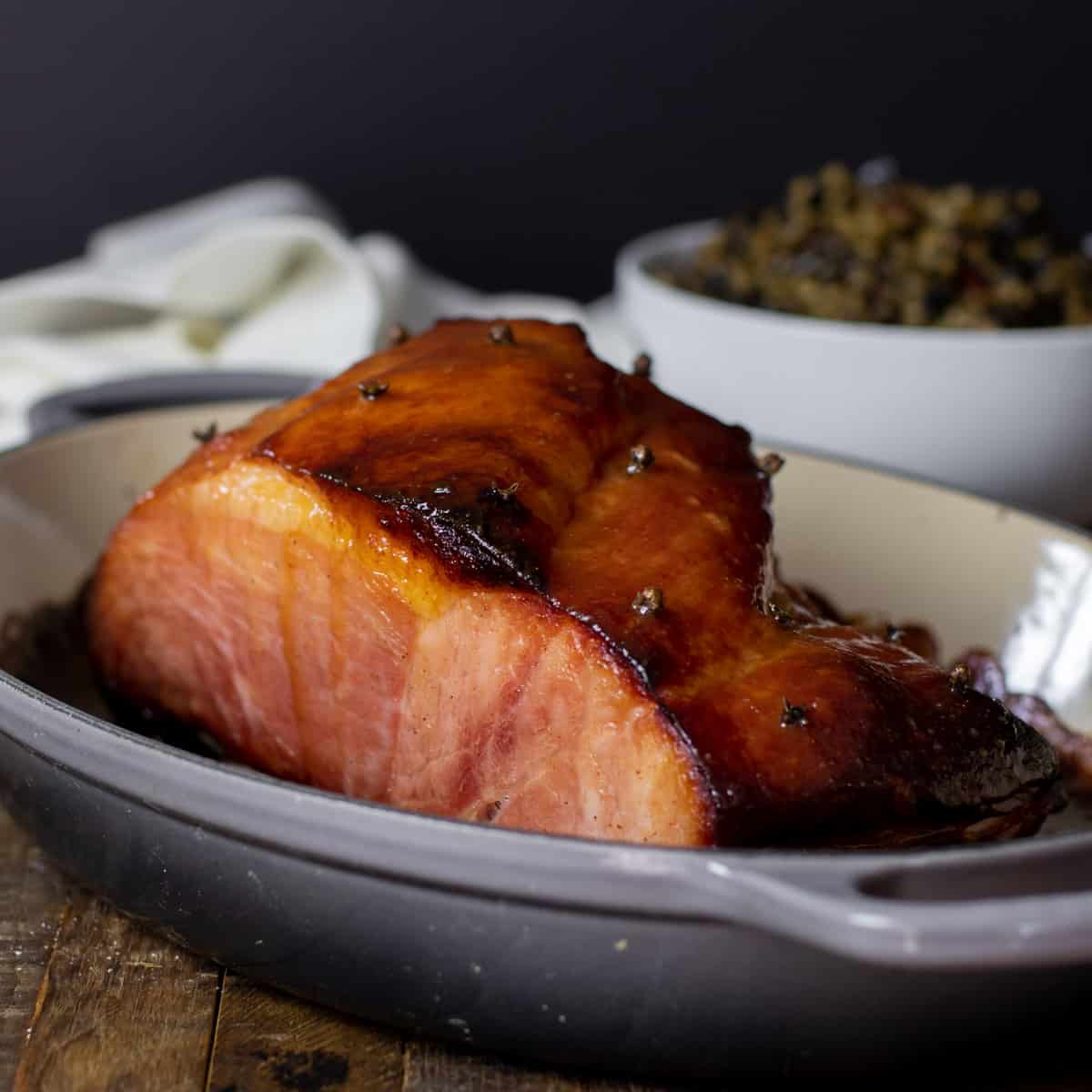 Let The Ham Rest
Once the ham has reached the target internal temperature it is ready to come out of the oven. Let it rest for about 5 minutes prior to slicing. Use a long carving knife to cut the ham into slices of your desired thickness. Serve with scalloped potatoes, roasted fingerling potatoes or candied carrots.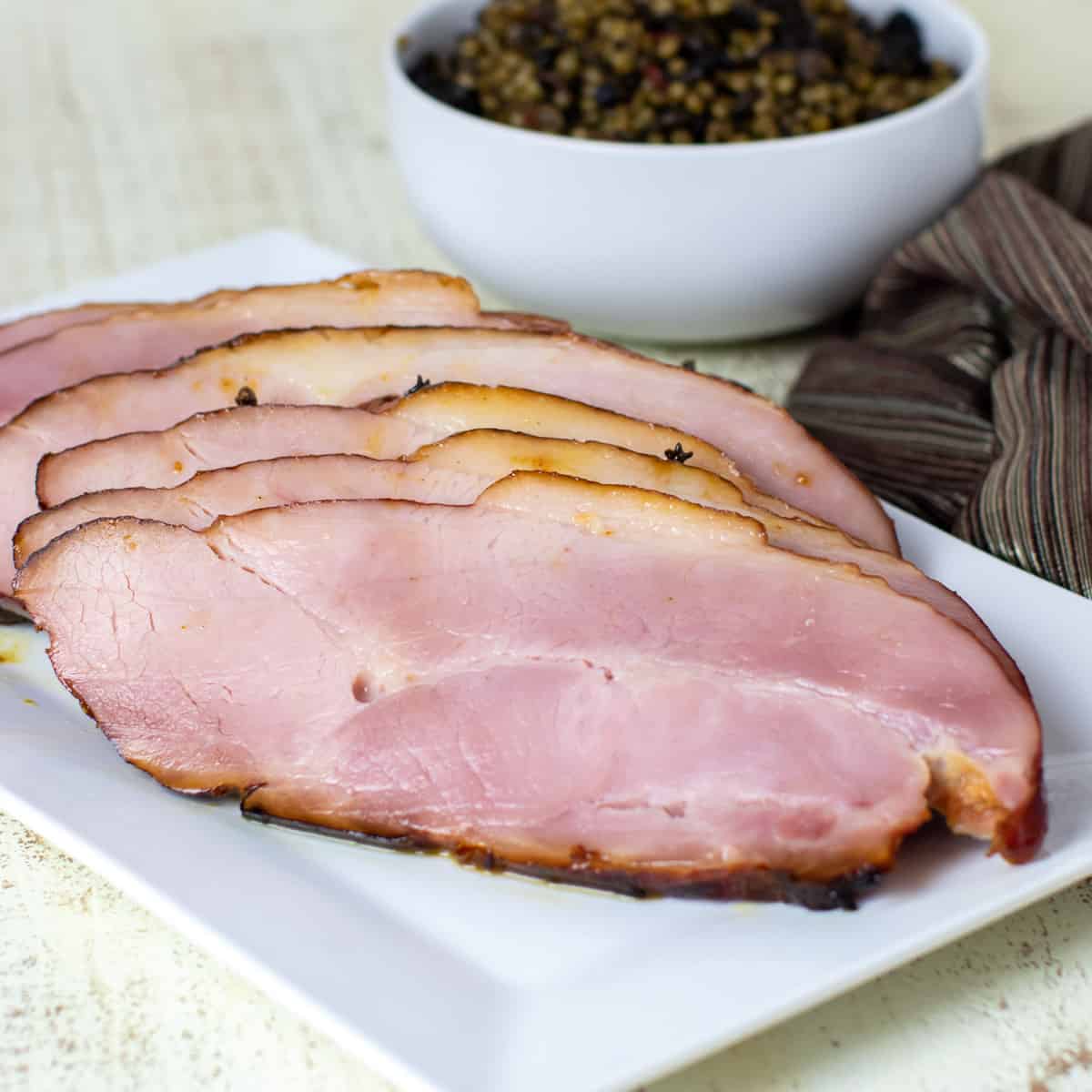 Other Ham Recipes!
If you are looking for more ham dishes, then check out these recipe idea.
Baked Boneless Ham with a Brown Sugar and Mustard Glaze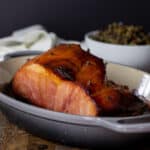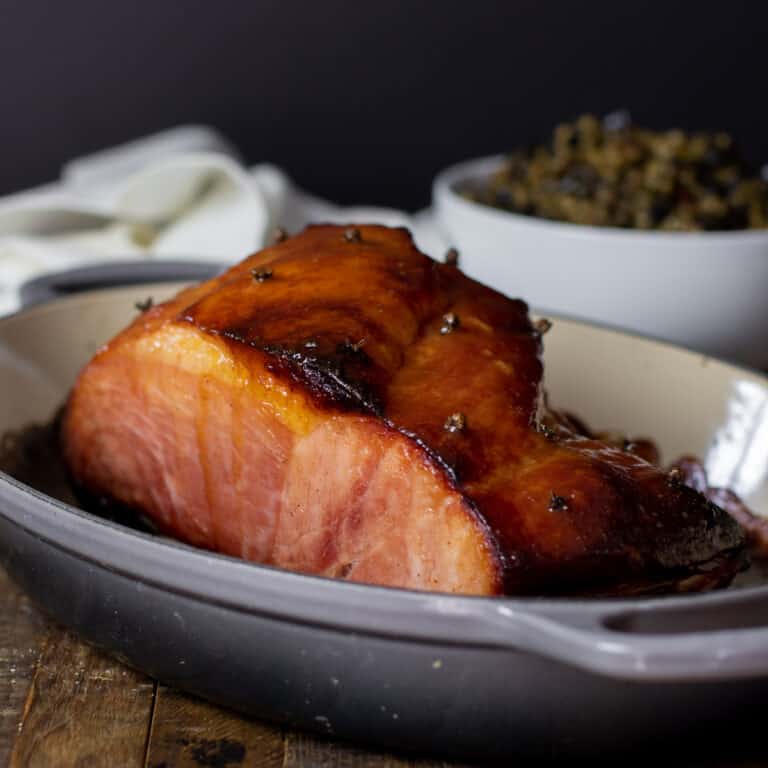 Print
Simple instructions for how to bake a boneless artisan ham in the oven with a brown sugar and mustard glaze recipe.
Servings: 12
Ingredients
3 pound boneless ham
15 whole cloves
Glaze Ingredients
2/3 cup brown sugar
1/3 cup honey
3 tbsp mustard , yellow or dijon
2 tbsp vinegar
1 tsp cinnamon
1 tsp salt
1/2 tsp cayenne pepper
Instructions
Preheat the oven to 325F

Place the ham in a baking dish and stick the whole cloves into the skin of the ham about 1 to 2 inches apart from each other.

Make the glaze by adding the brown sugar, honey, mustard, vinegar, cinnamon, salt and cayenne into a glass mixing bowl. Mix with a spoon or whisk until well combined and the brown sugar is fairly well dissolved.

Pour the glaze all over the ham. Use a BBQ or pastry brush, if needed, to make sure the ham is coated all over with the glaze.

Place the ham in the oven and bake for 20 minutes per pound, or until the internal temperature of the centre of the ham reaches 145F.

Take the ham out of the oven and let it rest 5 minutes before slicing.
Nutrition
Per serving:
Calories: 355kcalCarbohydrates: 20gProtein: 25gFat: 19gSaturated Fat: 7gCholesterol: 70mgSodium: 1586mgFiber: 0.4gSugar: 20g