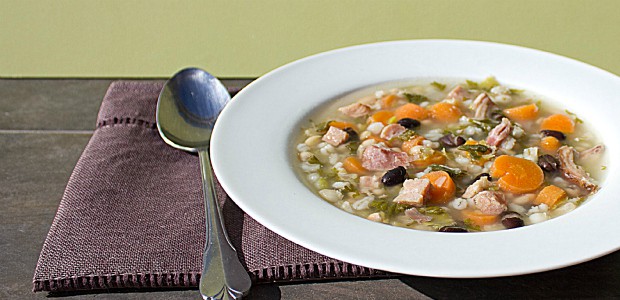 April in Ontario has been much colder than March and today, in particular, was windy and cold. The warm stretch we experienced throughout a couple of weeks in March caused me to get all geared up for spring and summer.
I was not the only one as there were people in our neighborhood that started spring cleaning and gardening far earlier than normal.
It has been difficult to know how to dress the kids for school. A few weeks ago they walked to school in shorts and this week they have been bundled up in winter coats and gloves. We were hoping to be able to get the winter coats and boots put away by now, but the weather is causing us to hold out a little bit longer.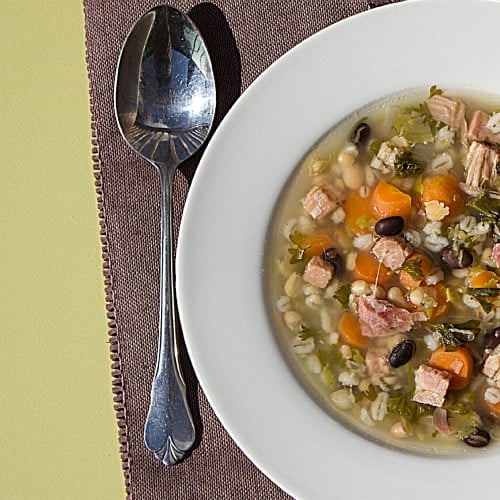 The cold wind today makes it the perfect weather for soup. I went down to the pantry to find out the supplies I had on hand to make a nice hearty bowl of soup.
Since Easter is over, I had lot of leftover ham in the fridge. I always make sure that I buy ham with a bone because it makes incredible soup. Ham and beans are a classic combination for soup and this recipe includes barley and split peas to make it extra hearty.
The split peas are great because they break down during the cooking and become a thickening agent for the broth. If there weather for you has been a cool and windy, I encourage you to whip up a pot of this ham and bean soup. It will warm you right up!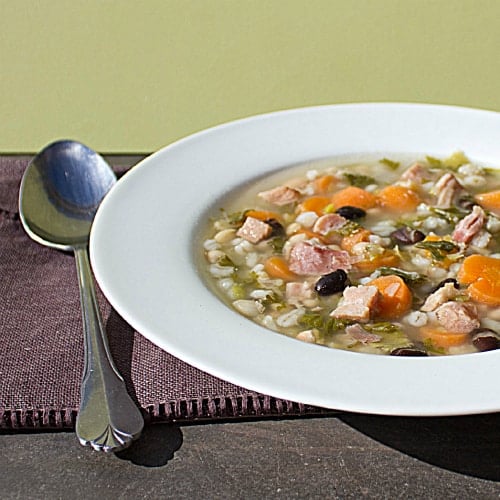 Ham and Bean Soup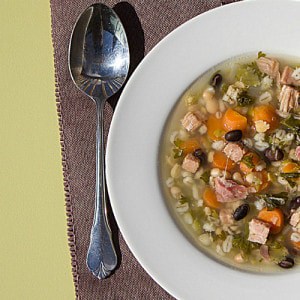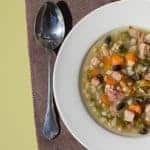 Print
Perfect soup for leftover ham with a ham bone. White beans, black beans, split peas, barley, carrots and onions are in the soup. Easy to make in a crockpot.
Servings: 8
Ingredients
water
Ham bone
3 garlic cloves , whole
3 bay leaves
1 onion , diced
1 1/2 cup diced carrots
2 cups diced ham
1 can white beans , drained
1 can black beans , drained
1/2 cup green split peas
1/2 cup pearl barley
1/3 cup fresh parsley , chopped
salt and pepper to taste
Instructions
n a large soup pot place the ham bone, bay leaves, garlic cloves and enough water to cover the bone (at least 20 cups). Bring to a boil and let it cook on a low rolling boil for 2 hours to create a nice broth. Some of the water will evaporate and there will probably be around 15 cups left. Remove the ham bone, garlic cloves and bay leaves from the pot and enough broth so that there is only 10 cups of broth left in the pot. Keep the remaining broth on hand in case it is needed to add to the soup (sometimes the barley and split peas absorb a lot of the broth and adding a bit more may be necessary).

Add the carrots, onions, ham, white beans, black beans, split peas, and barley to the 10 cups of broth in the pot and bring it to a boil. Lower the heat so it is at a low rolling boil and cook for45-60 minutes. The split peas and barley will soak up a lot of the broth and get larger. During this cooking time, add more broth if it looks like too much is getting absorbed.

Add the chopped parsley, salt and pepper and remove from the heat.

Serve hot.
Notes
Crockpot directions – At step 2, add all the ingredients to a crockpot and set on low for 5-6 hours. 15 minutes before the end of the cooking time, stir in the chopped parsley and salt and pepper.