Crock Pot Smoked Turkey Lentil Soup
This is the perfect soup for a cold winter day! We have made this lentil soup countless times over many years and it is always a favourite.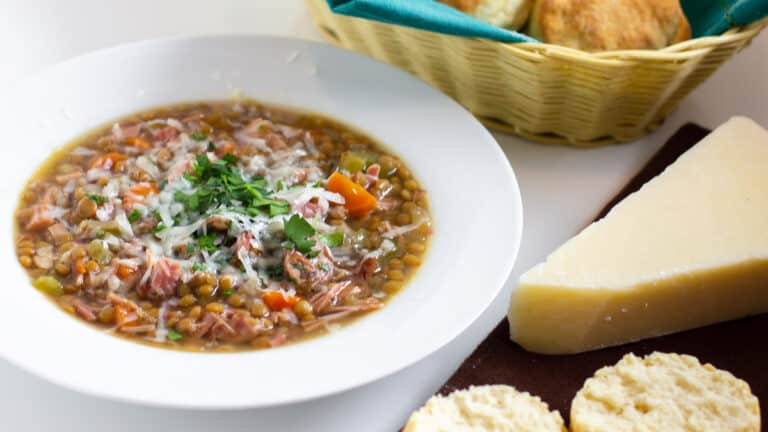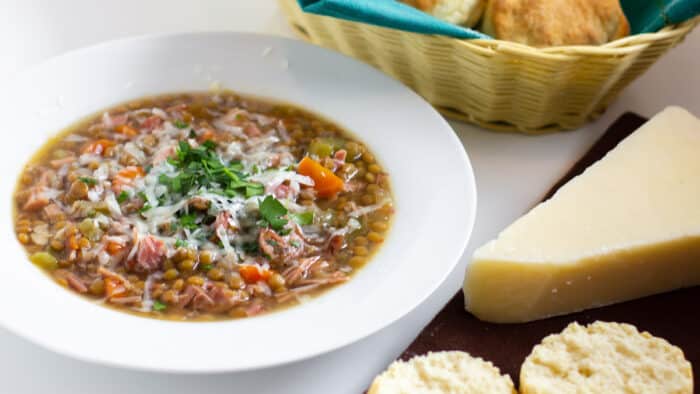 Once the weather gets cold I find that I shift to cooking more hearty comfort food. There is not much that can warm you up better than a hot bowl of soup. This recipe for crock pot lentil soup is perfect after work or school on a cold winter day.
A slow cooker is ideal for soup. Add the ingredients to the slow cooker in the morning, then cover with the lid, set it to cook and walk away. That is it! Once dinner time comes around, there is a big batch of soup ready. All the ingredients have come together to make a rich and flavourful soup.
Lentil soup is one of those soups that I forget how much I like. It is so hearty and full of flavor. For anyone who says that soup is not a meal, have them try a bowl of lentil soup. This is no consommé!!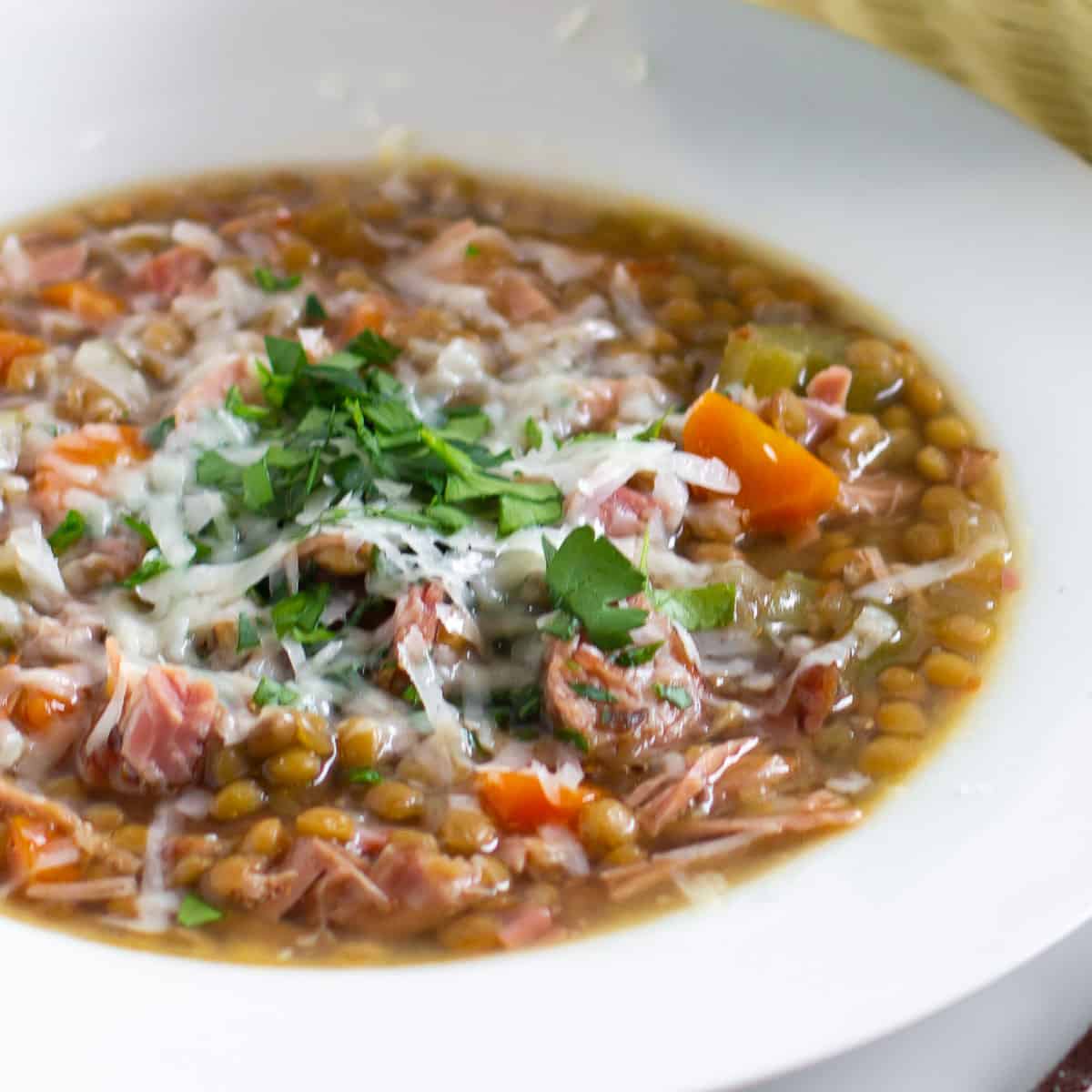 To make this soup I used a smoked turkey thigh. These and smoked turkey drumsticks are available at most grocery stores. If you have never bought them, I encourage you to give them a try. They are a great alternative to ham and can be substituted in pretty much any recipe that calls for ham. The smoked turkey thigh creates a wonderfully rich and smokey soup broth and there is a LOT of meat for those who like a meaty soup.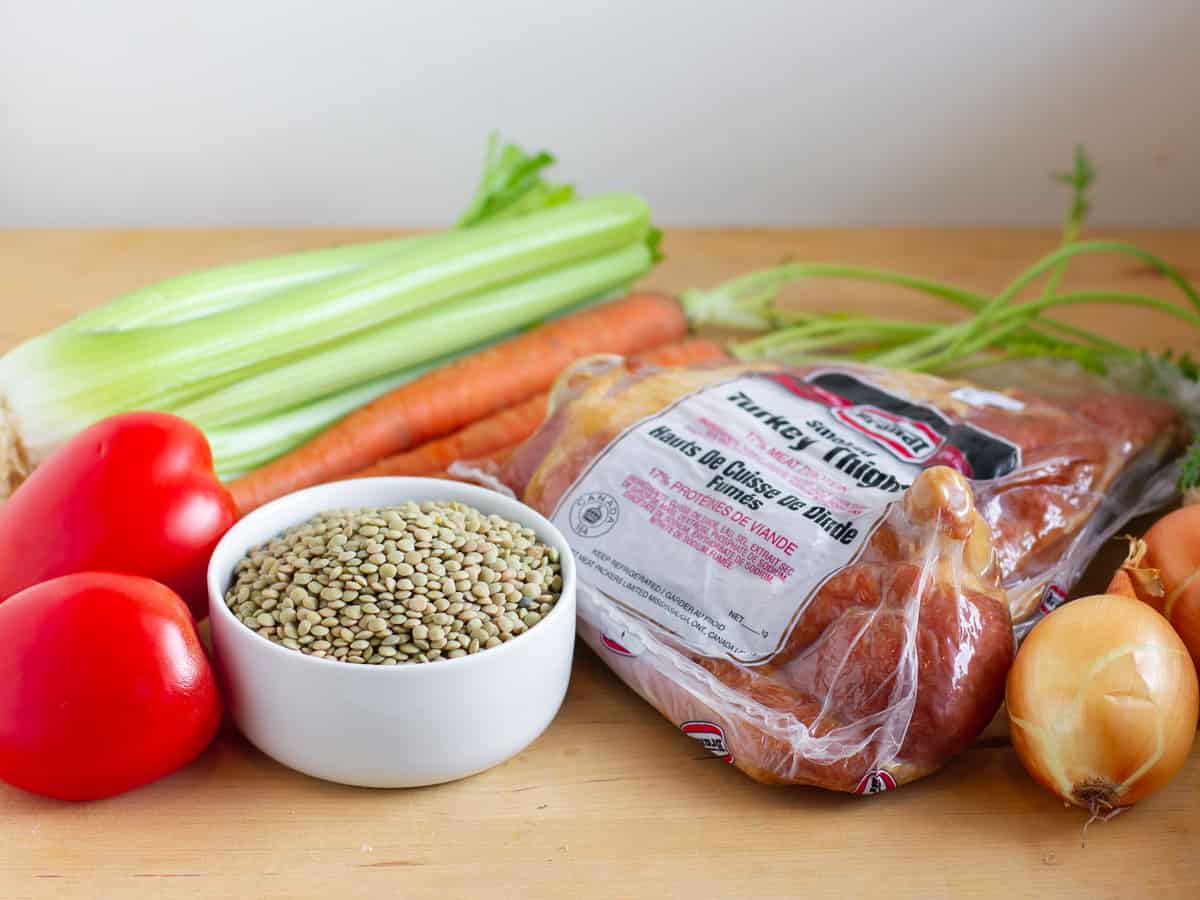 What kind of lentils to use
While the smokiness of the meat really does impact the flavour of the soup, the other key ingredient are the lentils. Lentils are in the legume family and are known for being small and fairly flat. They are delicious, and ideal for soups, curries and many more dishes.
For this soup, I use dry whole green lentils. There are many different kinds of lentils you will find in your local supermarket. Some are whole while others split. There are also different colours including, green, brown, red, black, yellow and more.
Whole lentils work very well in this soup because they hold together and do not dissolve into the broth like a split lentil would.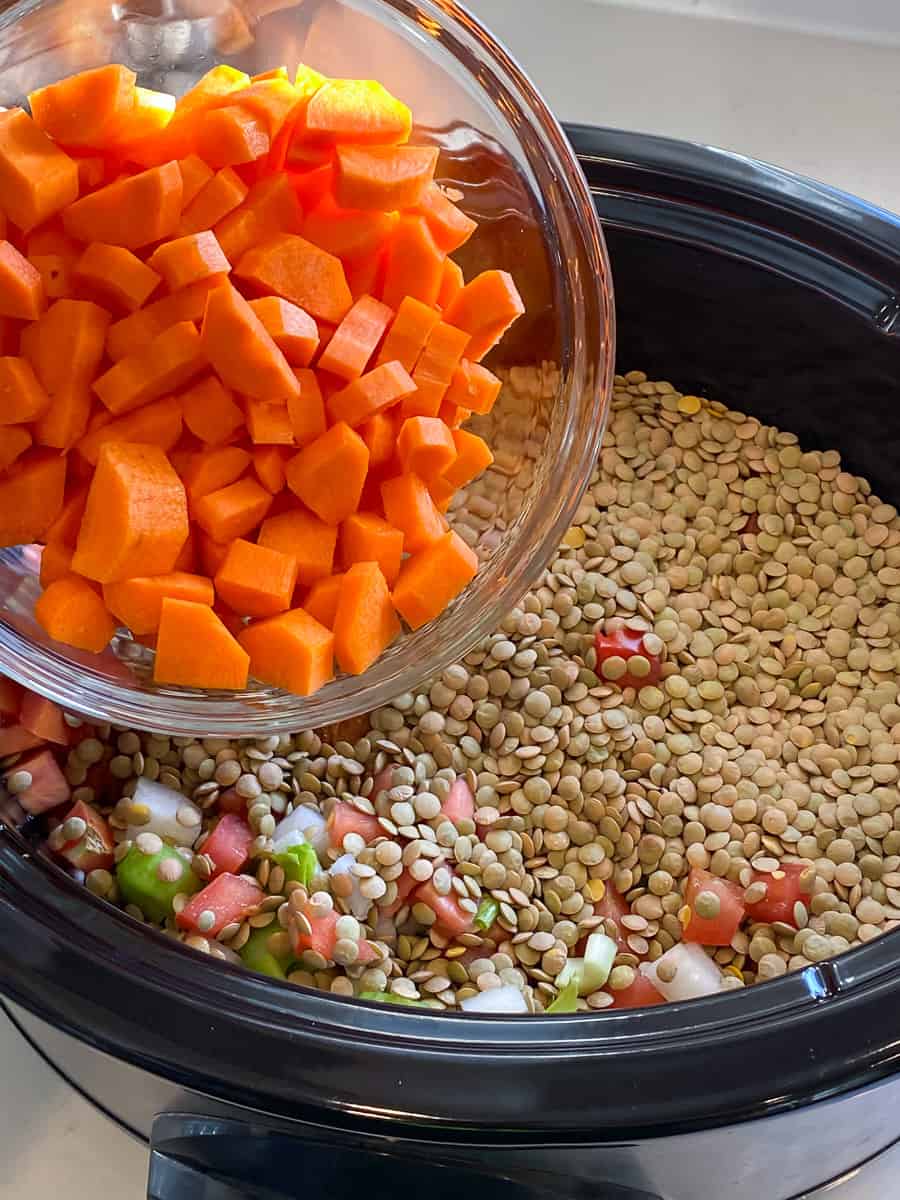 Along with the meat and lentils, this soup is also full of vegetables. Fresh carrots, celery, plum tomatoes and onions are all chopped and added to the slow cooker. Every single spoonful will be packed with flavours. If you are interested in hearty soup, then this is the recipe for you!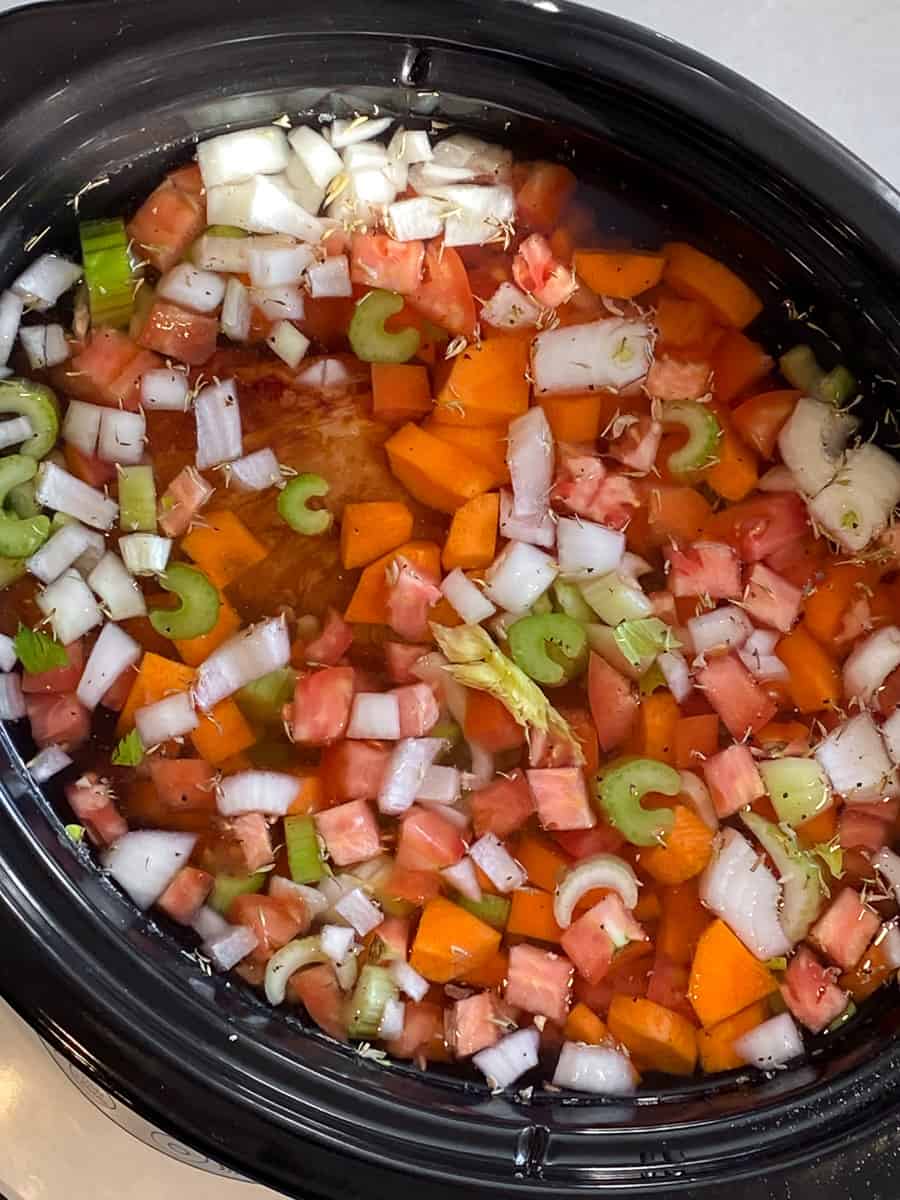 How long in the slow cooker?
Once you have added all the ingredients and poured in the water it is time to start the Crock Pot. Cover with the lid and set the slow cooker to cook on high for 6 hours. During this time the soup will simmer and cook. The aroma in the kitchen will be incredible!
With one hour left, take the smoked turkey thigh out of the slow cooker. Let it cool slightly so that you can handle it. Remove the skin and cut the meat off the bowl. Dice the turkey meat into small chunks and dump back into the slow cooker. Stir it around, put the lid back on and let cook for the final hour.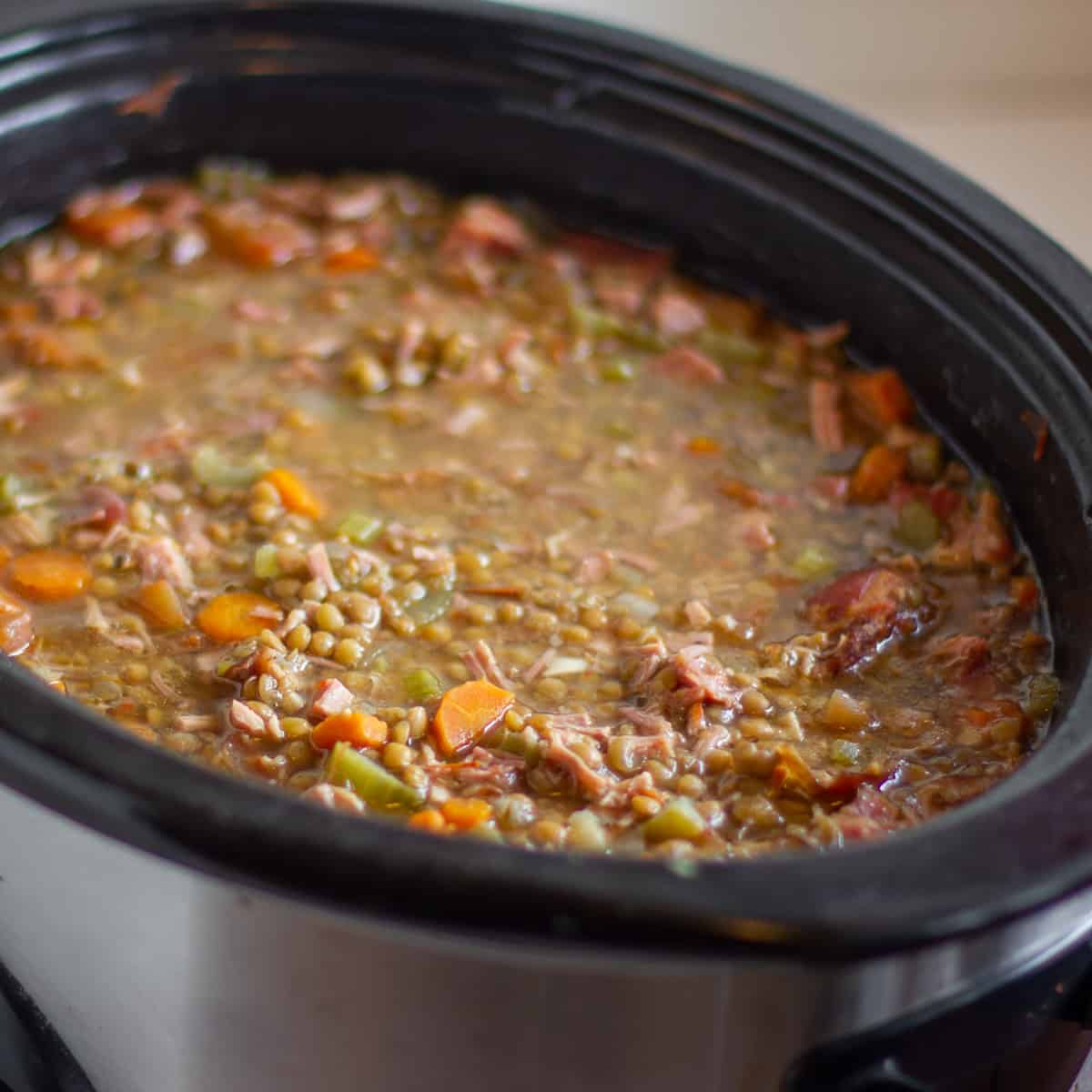 Does it need any more water?
After you stir the chopped meat back in with the soup, you will have a chance to see the thickness of the broth. If it seems like the lentils have absorbed most of the broth, you can add some more water to thin the broth slightly. Do this to your preference. We like a hearty broth, so I usually do not need to add any more water at this point in the cooking time.
Once it is done, you can ladle a spoonful of soup into a bowl. Garnish it with some grated pecorino romano cheese and chopped fresh parsley. You might think that you do not need to worry about these, but I encourage you not to skip the garnish. The cheese and fresh herb really does enhance the taste of each spoonful.
I serve this crock pot lentil soup with some fresh baked Buttermilk Biscuits. Dipping the biscuit in the hearty broth is so good!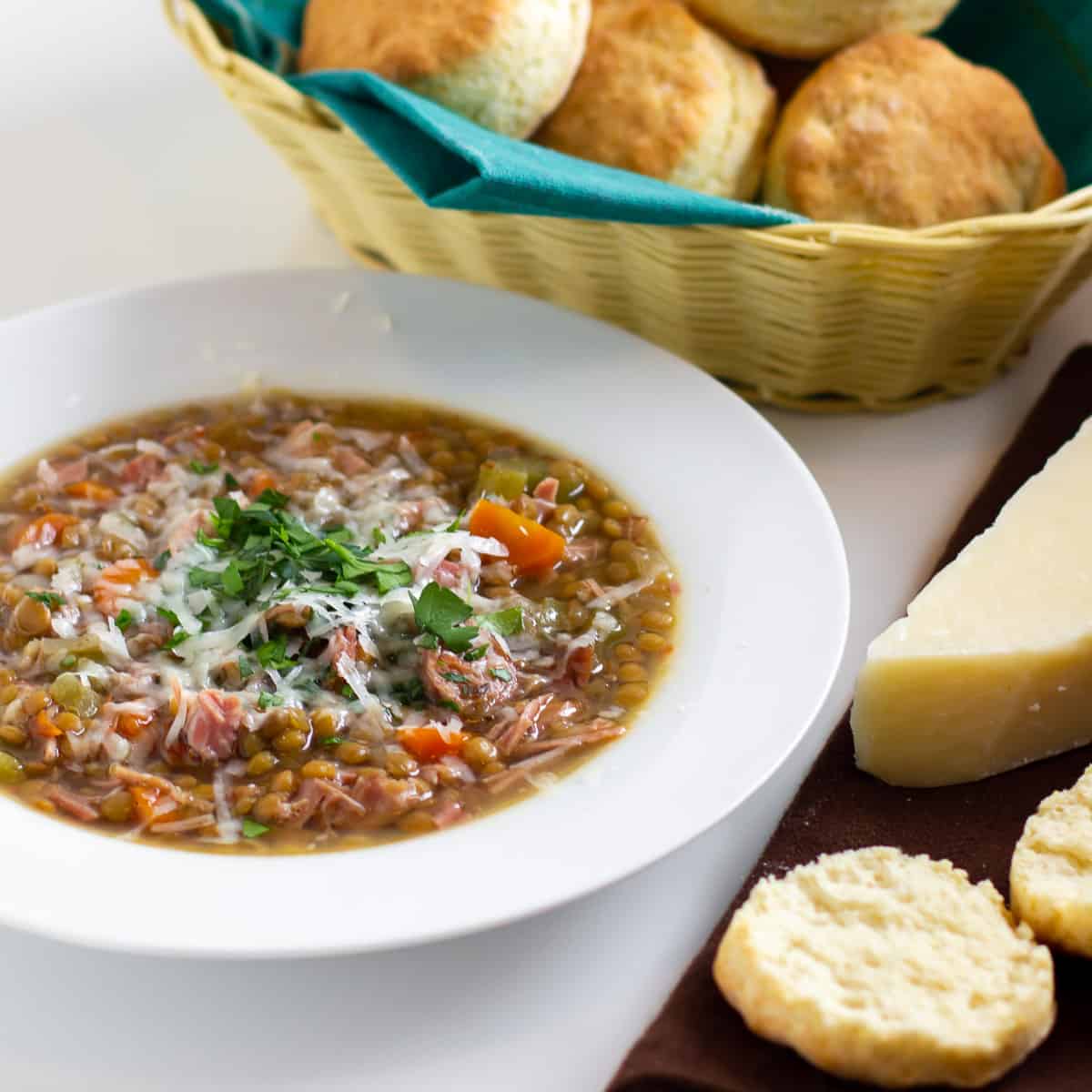 Other Slow Cooker Recipes
The slow cooker is ideal for soup and during the cold months of winter, I find myself making them more and more frequently. Here are some other great recipes using the crock pot.
Crockpot Smoked Turkey Lentil Soup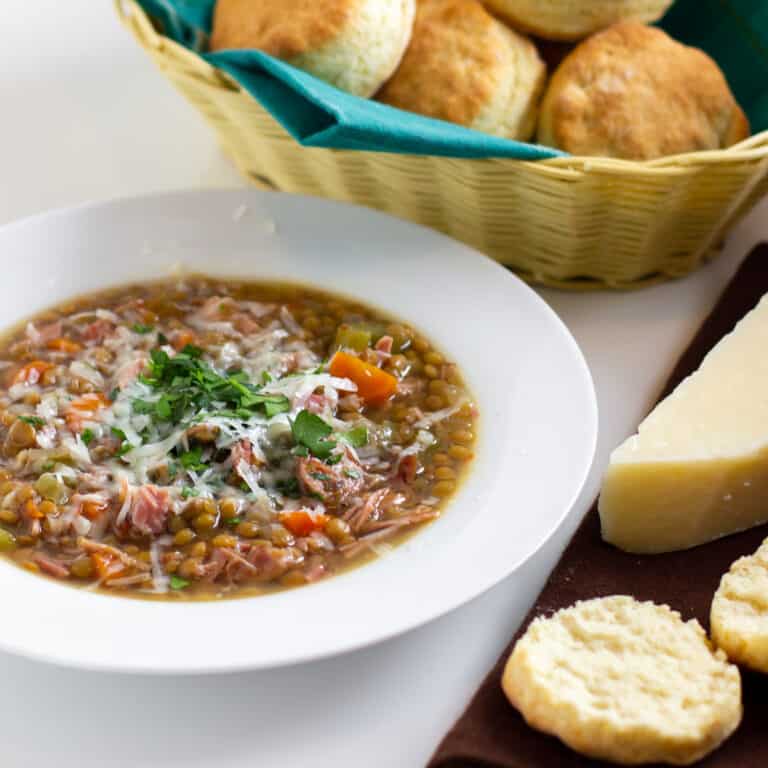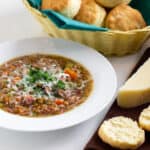 Print
Hearty soup made with smoked turkey, lentils, carrots and more. Perfect comfort food for a cold fall or winter day!
Servings: 8
Ingredients
1 smoked turkey thigh
8 cups chicken broth , or water
3 cups dry lentils
1 1/2 cups celery , diced
1 1/2 cups carrots , peeled and diced
1 medium onion , diced
3 plum tomatoes , diced
4 cloves garlic , minced
1 tsp salt
1/2 tsp ground black pepper
1/2 tsp thyme
1/2 cup grated pecorino romano
1/3 cup fresh parsley , chopped
Instructions
Add all ingredients (except grated pecorino romano and fresh parsley) into a slow cooker. Set to high and cook for 6 hours.

With one hour left in the cooking time, remove the turkey thigh. Let it cool slightly, so it is not too hot to handle. Remove the skin and cut up the meat into small cubes. Stir the meat back into the soup and cook for the remaining time.

Ladle the soup into a bowl and garnish with grated pecorino romano and fresh parsley.
Notes
Instead of smoked turkey thighs, you could also use smoked turkey drumsticks or smoked pork hocks.
If the broth seems too thick and the lentils have absorbed most of the liquid, you can add a little more water.
Nutrition
Per serving:
Calories: 405kcalCarbohydrates: 50gProtein: 33gFat: 8gSaturated Fat: 3gCholesterol: 42mgSodium: 1513mgFiber: 24gSugar: 4g