Greek Marinade for Grilled Chicken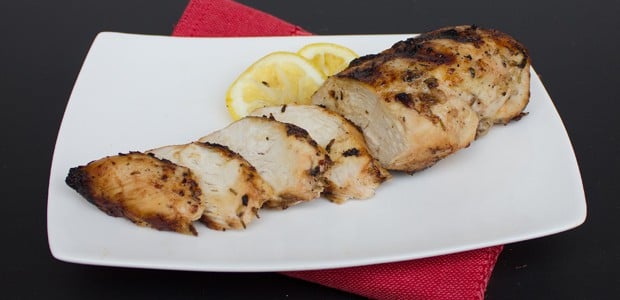 It was day 2 for the kid's Kilometre Club prior to school and the weather was miserable. The temperature was right at the freezing point and it was windy with a mix of light snow and rain. There was a big turnout and all the kids were great troopers as they kept on running. My three were happy with their performance and I was a proud dad. It is nice to know that the rest of the week is supposed to have much nicer weather.
Grilling chicken is a classic summertime tradition for us and I am always on the lookout for a new marinade or spice rub for chicken. This Greek marinade for chicken is just incredible and a perfect for grilling chicken breasts as well as for souvlaki.
Here are a few other marinades and rubs that work really well with chicken: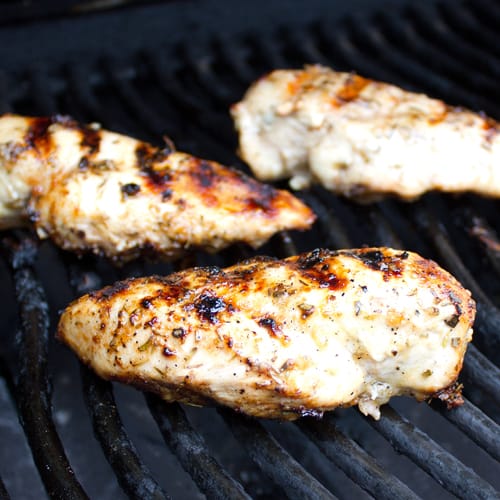 Today's recipe was made alongside the Lemon Roasted Potatoes I shared yesterday. The marinade for the chicken is full of Greek flavours that I use when making Greek salad and souvlaki.
If you are looking for a few other Greek recipes, check out some of these:
There is a wonderful combination of garlic and herbs in the marinade that comes through clearly with each bite. The red wine vinegar, lemon juice and salt work together in the marinade to tenderize and brine the chicken. I use this marinade for chicken mostly but it works great with pork and lamb. Souvlaki anyone???
If you want to make souvlaki with this, simply cut the chicken breast into cubes and let them marinate for a good hour. Then, put the chicken cubes on wood BBQ skewers. Great served with Greek pita bread.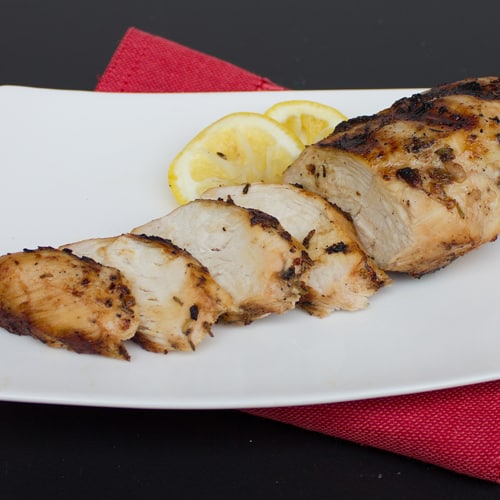 Greek Marinade for Grilled Chicken

Print
Chicken marinade with olive oil, garlic, oregano, thyme, lemon juice and red wine vinegar. Perfect for grilling or for souvlaki. Great with pork or lamb also.
Servings: 4
Ingredients
4 boneless skinless chicken breasts
1/3 cup olive oil
1/4 cup red wine vinegar
juice of 1 lemon
4 garlic cloves , minced
1 tbsp oregano
2 tsp thyme
1 tsp salt
1 tsp ground black pepper
Instructions
Mix all the ingredients, minus the chicken breast in a bowl. Place the chicken breasts in a dish and pour the marinade over them, turning them in the marinade to ensure that they are completely coated. Cover the dish with a lid or plastic wrap and place in the fridge for at least an hour.

Place the chicken on a hot grill and cook, turning once, until the meat has an internal temperature of 165F. Grilling boneless skinless chicken breast takes about 15-20 minutes, but can vary depending on the size and thickness of the meat. Remove from the grill and let the chicken breast rest for a few minutes before serving to allow the juices to draw back into the centre of the meat.
Nutrition
Per serving:
Calories: 290kcal