Smoked Leg of Lamb – Boneless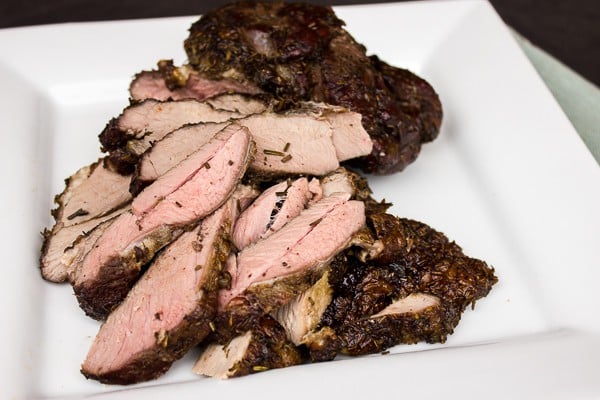 Smoked lamb leg is one delicious meat and could not be easier with this recipe. While it is possible to smoke a whole leg of lamb with the bone in, I find that smoking it boneless is far superior. Not only does it take less time smoking leg without the bone, I also do not notice much difference in flavour.
You can purchase a leg of lamb that is already removed from the bone and tied up into a roast, or a butcher can be paid to do it. If desired, you can also take up the task and bone the leg of lamb yourself. If you do that, make sure to tie it up into a football shaped roast with kitchen twine.
There are many different spice blends that work with lamb, and in this recipe I used a Greek style spice rub. This seasoning uses garlic, oregano, thyme, salt and pepper. Make sure to rub the lamb all over to ensure it is well seasoned.
Another spice rub that works very well is this one: Moroccan Spice Rub
For smoking, I usually smoke lamb with apple, but have also used hickory, oak and pecan. Each of those have resulted in a delicious smoked lamb.
Set the smoker for 250F. I find that this temperature is perfect to create a tasty rubbed crust on the outside on the lamb and also keeps the meat moist and juicy.
Like beef, people have different preferences for doneness of lamb. While some people prefer a rare to medium rare lamb, others favour a more well done cut of meat. I cooked it to an internal temperature of 145F and then removed it from the smoker. I let the leg of lamb rest for 5 minutes before slicing it. This resulted in a meat that was still pink in the middle.
I was impressed by the smoky flavour that was well balanced with the seasoning. The meat was tender and moist.
Smoked Leg of Lamb Recipe - Boneless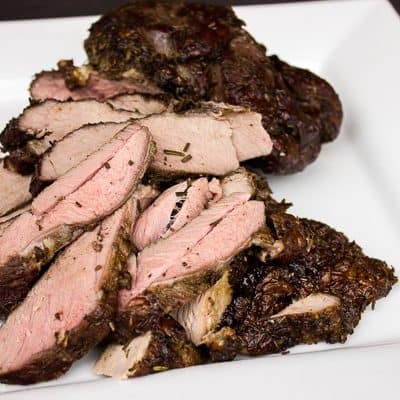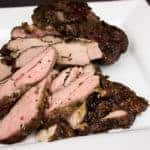 Print
How to smoke a boneless leg of lamb with these simple instructions and delicious Greek style herb and garlic rub. Smoked in a Bradley Electric Smoker, but any smoker would work.
Servings: 6
Ingredients
1 boneless leg of lamb , about 2 to 2 1/2 pounds in weight
4 garlic cloves , minced
2 tbsp salt
1 tbsp fresh ground black pepper
2 tbsp oregano
1 tsp thyme
2 tbsp olive oil
Instructions
Trim the meat of any excess fat and try to keep the meat an even thickness as this helps to ensure even cooking and smoking throughout. If necessary, use kitchen twine to tie up the lamb so that is bunched together to form a nice roast.

Mix together the garlic, oil and spices and rub all over the lamb. Place lamb on a dish and cover with plastic wrap. Place in the fridge for at least an hour to marinate.

Place the lamb on a smoker rack

Set the smoker to 250F using wood chips of choice. Apple, oak and hickory are great choices.

Smoke the lamb for around 3-4 hours or until the internal temperature of the meat reaches about 145F, which is a nice medium rare. Some people prefer their lamb more rare while other like it more well done, so monitor the temperature and remove at desired doneness.
Nutrition
Per serving:
Calories: 356kcalCarbohydrates: 3gProtein: 49gFat: 16gSaturated Fat: 5gCholesterol: 152mgSodium: 2474mgFiber: 1gSugar: 1g