Smoked Turkey Legs with Jerk Seasoning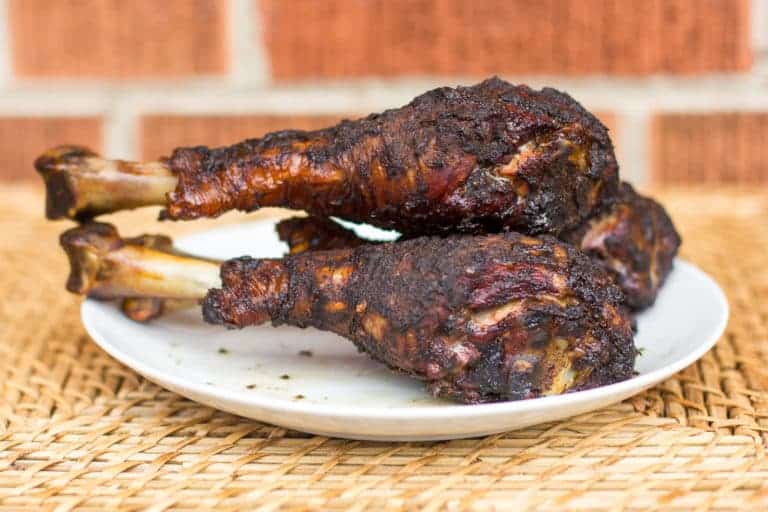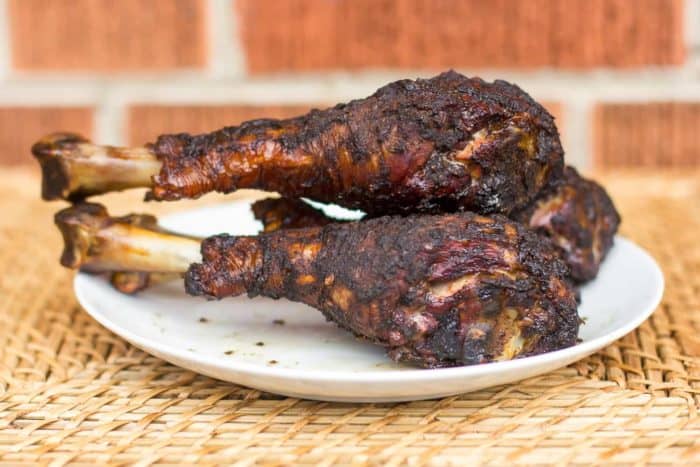 Smoked turkey leg drumsticks is one of the few smoked meats I would purchase for years prior to actually owning a smoker. Local grocery stores would sell smoked turkey drumsticks or thighs and they are amazing for making soup. In fact, I have a recipe on my site for soup using smoked turkey leg – Crockpot Smoked Turkey Lentil Soup
I have owned a smoker now for over 10 years, and turkey legs is one of those meats I smoke all the time. Often, if I have a rack free, I will throw a few turkey drumsticks or thighs on the rack and into the smoker.
Even though they taste amazing right out of the smoker, I don't usually plan for them to be eaten right away or for dinner. Instead, I throw them in the freezer for some time when I want to make soup, stew or some other dish that works well with smoked turkey. I use my vacuum sealer to package the turkey legs in bags so they can stay stored in the freezer for a good length of time.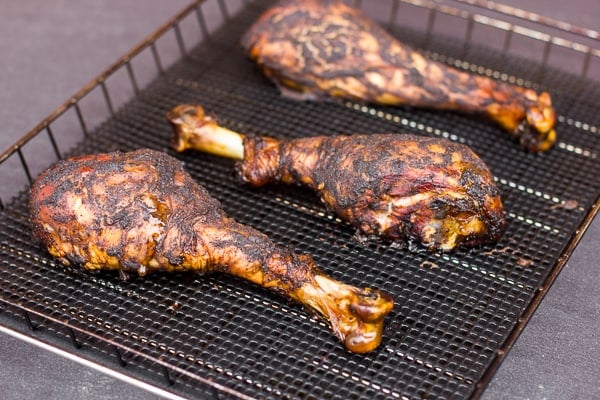 Anytime I see a big turkey leg that has been smoked it reminds me of The Flintstones and enjoying some caveman food!
These smoked turkey legs were rubbed down with a jerk marinade that I prepared. Jerk seasoning goes just perfectly with smoked meat and I absolutely love smoked chicken with jerk seasoning. This is the first time I had smoked some turkey with a jerk marinade, but it will not be my last!
While it is possible to purchase a jar of jerk marinade/paste, I like to make my own. I throw all the ingredients in a food processor or blender and pulse until the texture is a smooth paste.
Rub the paste all over the turkey leg. They can then go directly in the smoker, or you can let them marinate in the fridge for a few hours.
Smoked turkey legs can be rubbed down with so many different types of rubs or marinades. While I used a jerk marinade, you could also use some of these rubs.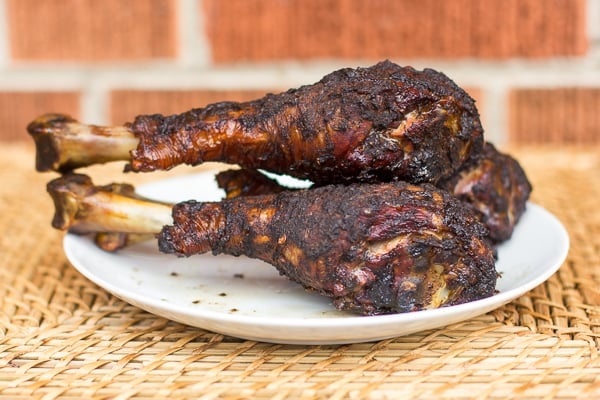 Smoking the turkey legs is very easy.
I set the smoker to a temperature of 275F and usually use the same type of wood as I do for chicken. Apple wood is my first choice for chicken and turkey. Hickory, cherry, pecan are all great wood selections for smoking turkey legs as well.
Once the smoker has hit 275F, place the turkey legs in the smoker.
I smoke until they reach an internal temperature of around 180F or a bit higher. This usually takes a good 3 hours or so and the skin of the turkey leg will be nicely browned and pulled away from the bone of the drumstick.
Smoked Turkey Leg Drumsticks with Jerk Seasoning
Print
How to smoke turkey leg drumsticks recipe with jerk marinade. Great for electric, pellet, or lump charcoal smokers. Easy directions.
Servings: 4 people
Ingredients
4 green onions , including green part
2 garlic cloves
1/2 inch piece ginger , peeled
1 scotch bonnet peppers , with seeds
1 1/2 tbsp oil
1 tbsp soy sauce
juice of 1 lime
1 tbsp brown sugar
1 tsp ground black pepper
1 tsp allspice
1/2 tsp cinnamon
1/4 tsp nutmeg
1/2 tsp salt
4 turkey leg drumsticks
Instructions
Blend together the first 13 ingredients until smooth

Spread the jerk marinade mixture all over the turkey legs and place them on the smoker rack.

Set the smoker to 275F using wood of choice.

Place the turkey legs in the smoker and cook until the internal temperature reaches 180F, about 3 hours.