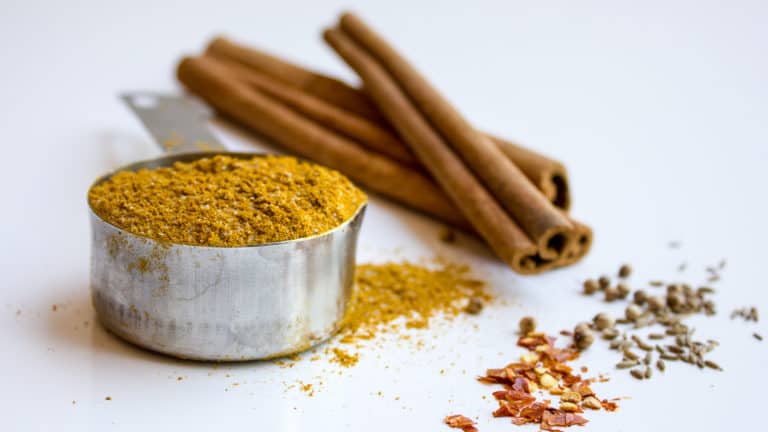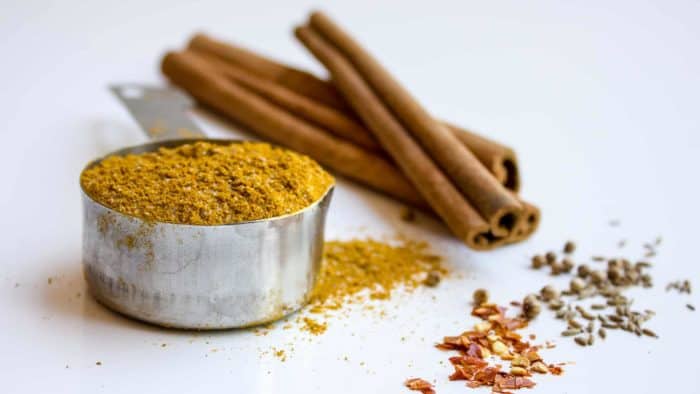 The weather was beautiful yesterday and I made sure I got in front of the grill to make and cook with the rub for day 5 of Rub Week. The week is almost over and by the end of it there will be an outstanding collection of rubs. I am making sure I prepare enough of each rub so I have a small mason jar of each. Then, whenever I cook on the grill, I can ask everyone what rub they want and can prepare each one to their preference.
Here is what we have so far:
Day 1 – Island Spice Rub – I love this for fish and shrimp!
Day 2 – Sweet and Smokey Chipotle Rub – ideal for pork and chicken.
Day 3 – Lemon Pepper Steak Rub – a perfect type of rub for grilling steaks.
Day 4 – Cafe Mocha Rub – an excellent rub for beef.
Update:
Day 6 – Ragin' Cajun Rub – this classic cajun seasoning is really good with shrimp, but great on fish, chicken, pork chops and more.
Day 7 – Asian Five Spice Rub – an exotic spice blend that is great on chicken and pork
Today we are going international. The rub I have for you now is an Indian curry spice blend. I make curry all the time and I usually toast the seeds and then grind them up. My pantry is filled with seeds of fennel, cumin, coriander, mustard, fenugreek, cardamom pods, whole cloves, black peppercorns, cinnamon sticks and more. I love the aroma of the toasted seeds.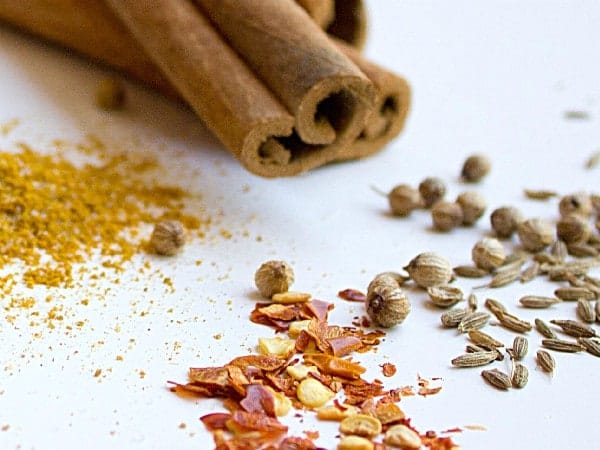 Sometimes though, I want to make a curry spice quickly. This recipe is a simple bare bones recipe for a nice curry blend on those day you are in a hurry. The small amount of sugar in this rub helps to caramelize the rub on the meat during grilling process.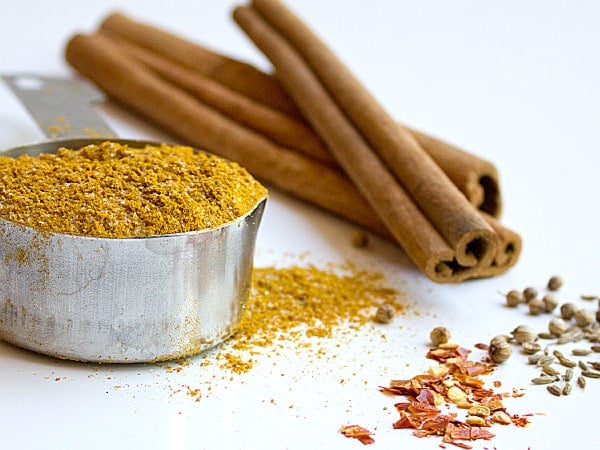 If you want to turn this rub into a marinade, just add a little bit of oil, lime juice and chopped fresh cilantro!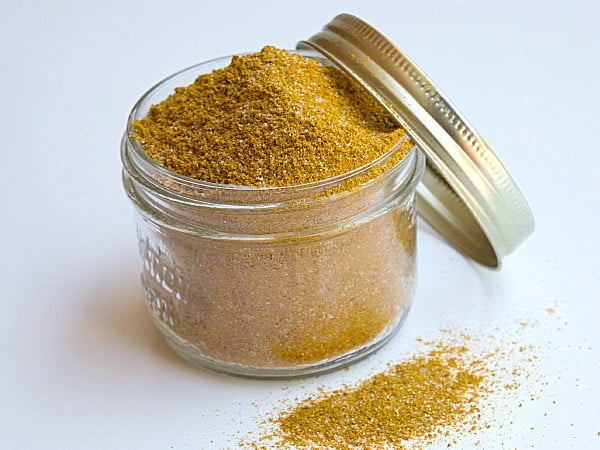 Seal the rub in a mason jar and it will stay fresh through the summer months.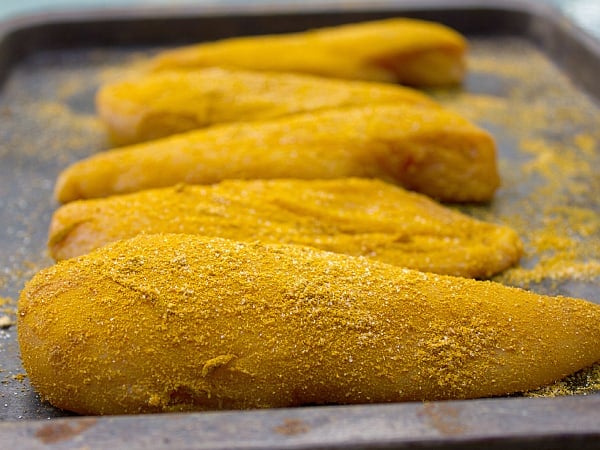 This rub is great on chicken and pork. Slice it up, put it in a wrap with fresh veggies and a little bit of raita or plain yogurt and you have an outstanding curry wrap that is light and healthy! I have also tried dusting this rub on shrimp and then grilling them and it tasted spectacular.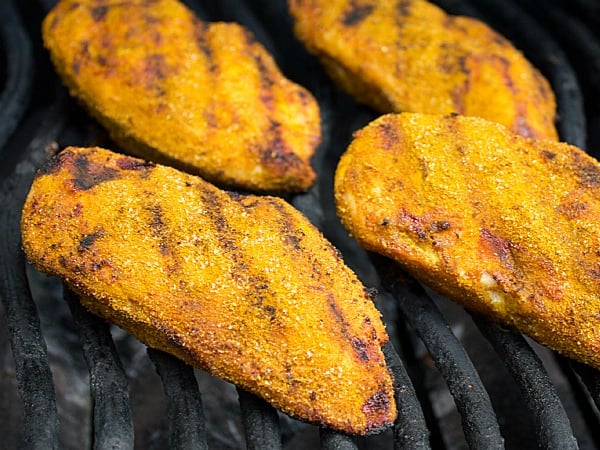 Curry Powder Spice Rub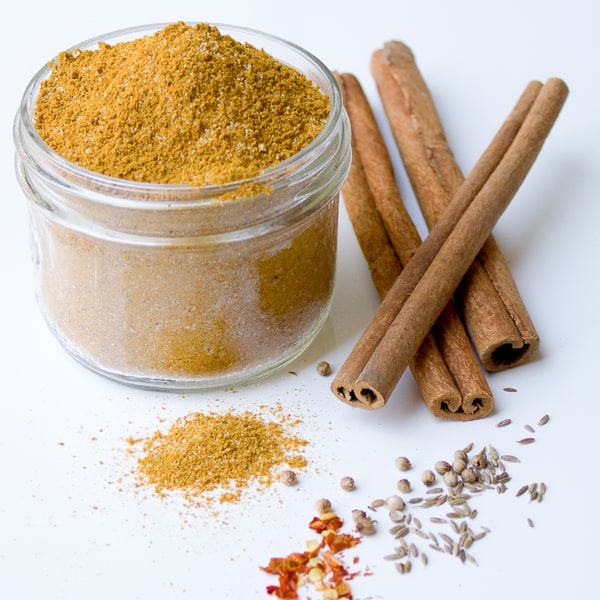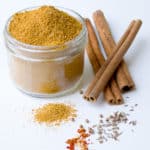 Print
Spice rub for grilling chicken or pork that has a blend of curry spices including cumin, coriander, turmeric, garlic, ginger, cinnamon, cayenne and more
Servings: 1 cup
Ingredients
2 tbsp ground cumin
2 tbsp ground coriander
2 tbsp turmeric
2 tsp garlic powder
1 tsp ginger
1 tsp cayenne pepper
1 tsp cinnamon
2 tsp salt
2 tbsp white sugar
Instructions
Mix ingredients together and store in an airtight container like a mason jar.

Use on shrimp, chicken, pork or other meats.