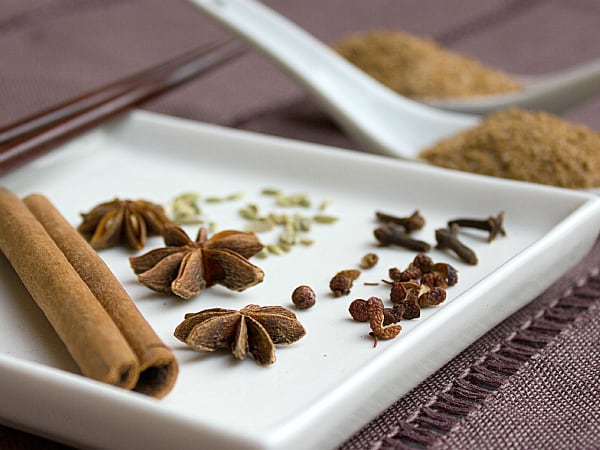 It is the final day of rub week. There is a wide range of spice blends in these seven rubs. From the exotic to classic American, from the spicy to the mild, there is a rub here for everyone and a rub for any mood!
Here are the rubs we have so far:
Day 1 – Island Spice Rub – a dry jerk style rub that is great on fish, chicken, pork and more!
Day 2 – Sweet and Smokey Chipotle Rub – dredge some pork chops in this sweet and spicy seasoning. Amazing!
Day 3 – Lemon Pepper Steak Rub – an excellent seasoning for striploin or ribeye steaks.
Day 4 – Cafe Mocha Rub – this rub is perfect for beef. Try it on beef tenderloin.
Day 5 – Curry in a Hurry Rub – a sweet curry seasoning that is ideal on chicken.
Day 6 – Ragin' Cajun Rub – this classic cajun seasoning is really good with shrimp, but great on fish, chicken, pork chops and more.
The rub today is built around a spice blend popular in China. It is called five spice because it is built around five spices that each have a strong flavour. Star anise, whole cloves, cinnamon, fennel seed and Sichuan peppercorn are the ingredients in this classic Chinese spice blend. Some of these spices are common to North American cooking, while others are new.
Asian five spice blend is regularly sold in Asian grocery stores and I often buy it premixed. It is also possible to buy each ingredient separately. If you do not have an Asian store nearby, this blend may be available at a specialty store or can be purchased online.
A few other ingredients are added to the Asian five spice to round out the rub. Garlic and ginger, common to Chinese cooking, adds further depth and mellows the bold flavour of the five spice. Salt and sugar are also added to round out the rub for grilling. I used turbinado sugar in this rub which is also known as cane sugar or raw sugar.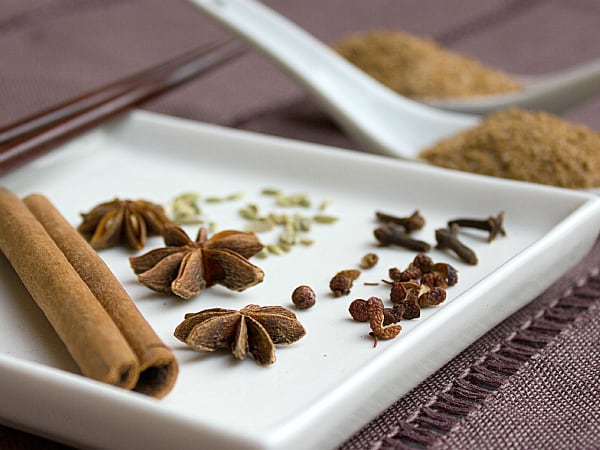 Above are the five ingredients of Asian five spice – cinnamon, fennel seeds, star anise, Sichuan peppercorns and whole cloves.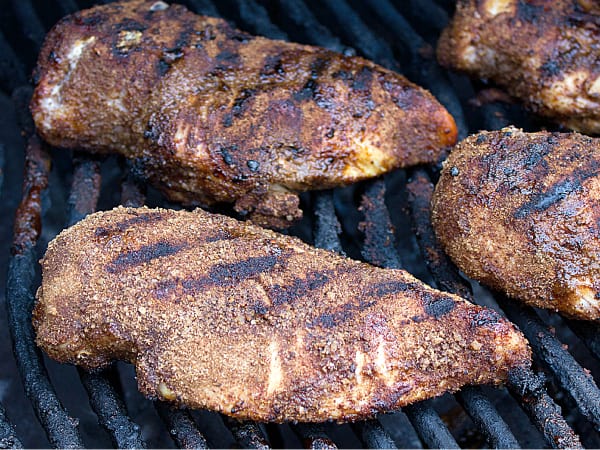 A great dish to make with Asian Five Spice Rub is a banh mi. A banh mi is a Vietnamese sandwich made with a crusty bun and filled with meat and veggies. Grill some chicken breast rubbed with the Asian Five Spice. Slice it up and put it on a bun with lettuce, tomatoes, pickled daikon and carrots. Spread some mayo on it with sriracha sauce and you have a killer sandwich.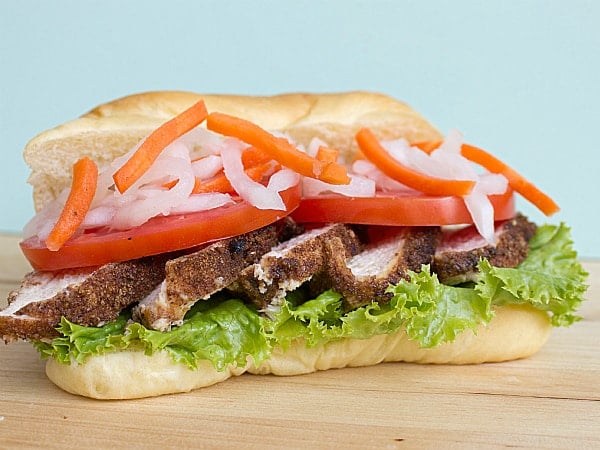 Asian Five Spice Rub - Chinese recipe, blend of ingredients
Print
Asian five spice recipe - cinnamon, whole cloves, star anise, fennel seeds and sichuan peppercorn. great for grilled chicken, pork. use it on bahn mi vietnamese sandwiches
Servings: 1 cup
Ingredients
1 tbsp ground star anise
1 tbsp ground cinnamon
1 tbsp ground Sichuan peppercorn
1 tbsp ground fennel seeds
1 tbsp ground whole cloves
2 tbsp garlic powder
1 tbsp ground ginger
1 1/2 tbsp salt
4 tbsp turbinado sugar
Instructions
Mix ingredients together and store in an airtight container like a mason jar.

Use on shrimp, chicken, pork or other meats.