Smoked Bacon Wrapped Chicken Drumsticks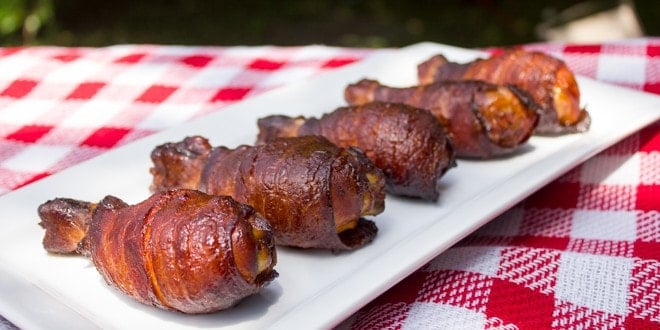 While I use my smoker throughout the winter, I just love it when the warm weather comes and the snow melts. Once spring arrives, I get my smokers going all the time.
There are many different meats and other things that I like to smoke, from ribs, to fish, chicken and so much more. Some recipes require a bunch of prep and others are quick to get ready to throw in the smoker.
This recipe is super fast to prepare and it is amazing. Marinating the drumsticks in the hot sauce gives them some nice heat and smoking them wrapped in bacon adds incredible flavour. These will be gobbled up fast, so make sure that you make lots!!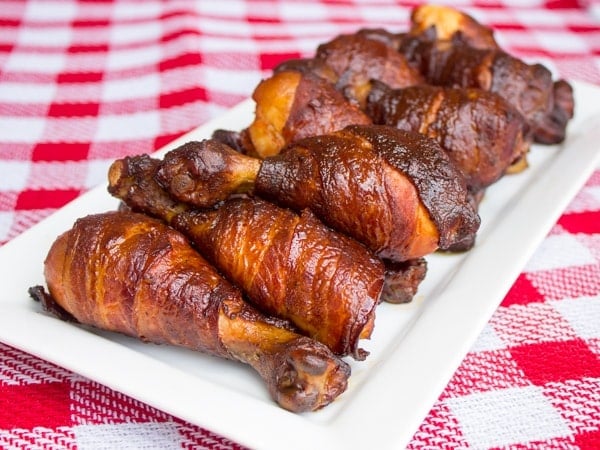 Smoked Bacon Wrapped Chicken Drumsticks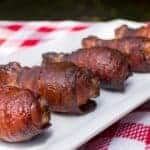 Print
Fun way to make smoked chicken drumsticks with this delicious recipe. Wrapped in bacon with and cleaned to resemble a lollipop this are the perfect tailgate food!
Servings: 12 drumsticks
Ingredients
1/2 cup hot sauce
12 chicken drumsticks , skinless
12 bacon slices
Instructions
In a large bowl, toss chicken drumsticks in the hot sauce. Cover with plastic wrap and place in the fridge to marinate for 2-4 hours

Wrap each drumstick with a slice of bacon and place on a smoker rack.

Start up the smoker, using wood of choice and bring up to a temperature of 275F.

Place the chicken drumsticks in the smoker and cook until the internal temperature reaches 165F, about 3 hours.