Smoked Chicken Breast Stuffed with Cheese and Chorizo
These smoked chicken breasts are packed with so much flavour and the stuffing is incredible. Wrap the chicken with some bacon before they go into the smoker to really take this to the next level!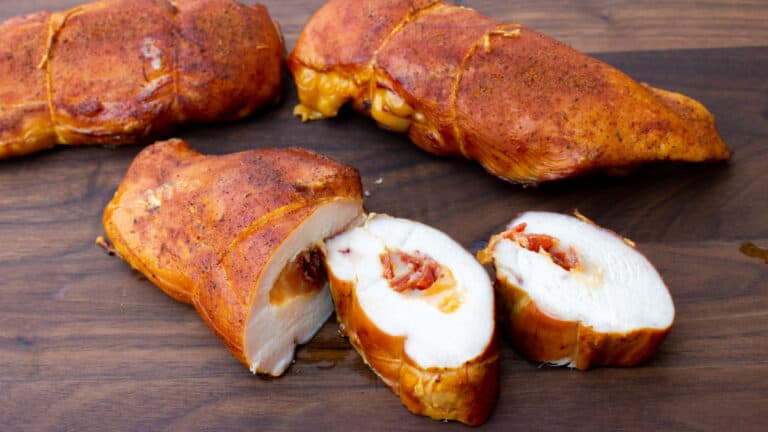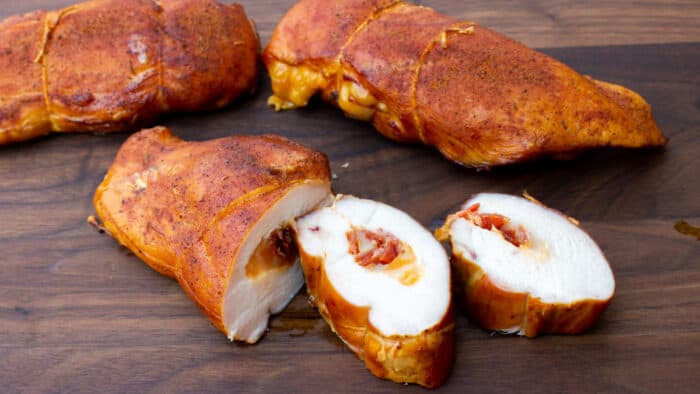 Finally!
The winter seemed to last forever and it is finally starting to warm up. I was waiting for some spring weather so that I could get the Bradley Smoker going. I have so many recipes ready to test out and I wasn't sure which one to try first. I decided to go with a stuffed chicken breast and it did not disappoint.
Chicken breasts are really nice smoked, and I find that stuffing them helps to ensure that they are moist on the inside. There are many different stuffings that work, but this chorizo and cheese is quite possibly my favorite.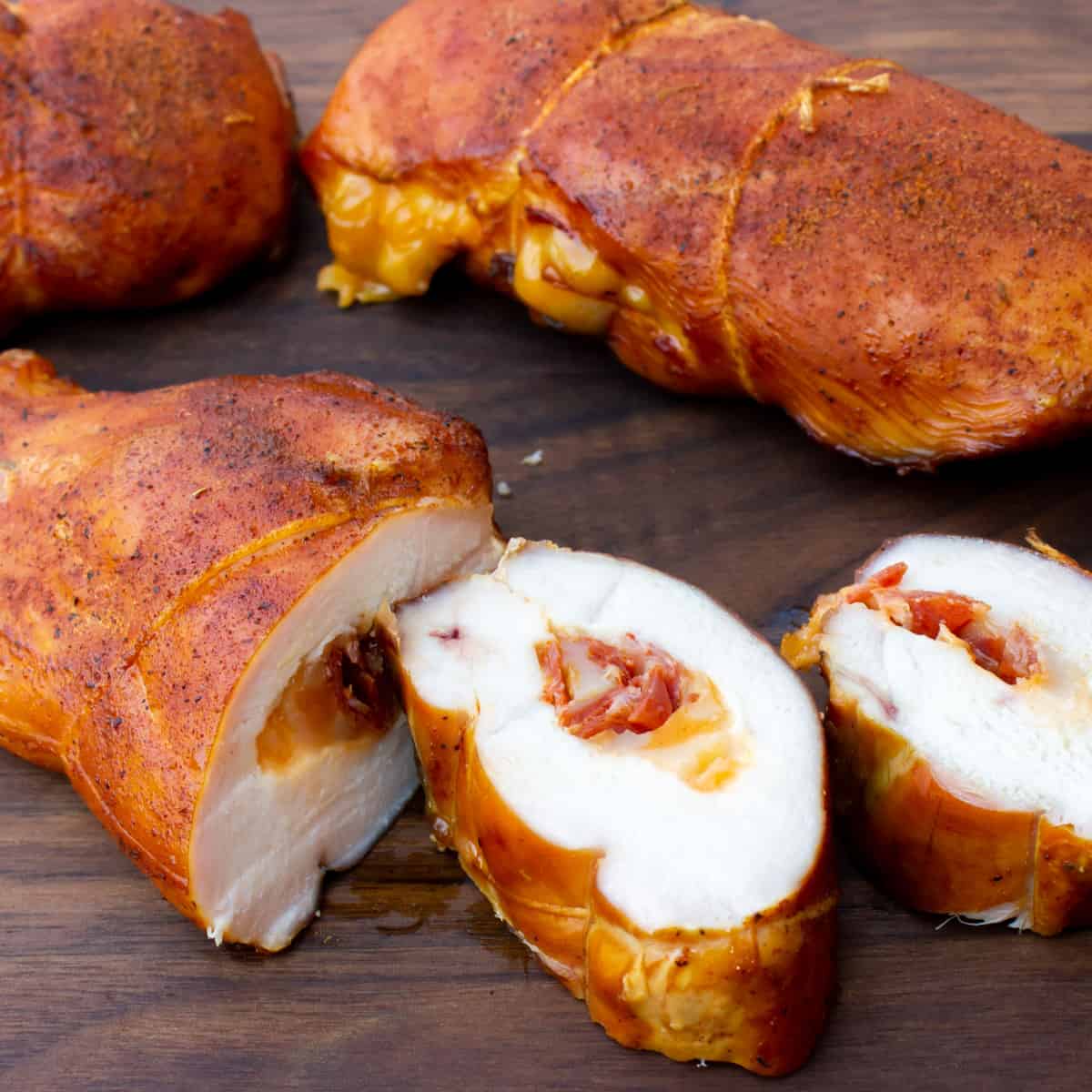 Ingredient Notes
Chicken Breast – boneless and skinless
Cheese – I like to use either cheddar cheese or Monterey jack. You could also use a combination of both kinds of cheeses..
Spanish Chorizo – This recipe used Spanish chorizo which is cured, similar to salami. It does not need to be cooked in advance, so just make sure it is diced. It is possible to use Mexican chorizo, but make sure that it has been browned/cooked and then cooled before stuffing into the chicken.
BBQ Rub – I like to use my rub recipe that I tend to use for many different meats that I smoke.
What about some BACON? Try wrapping the chicken breasts in bacon just before they go into the smoker. Bacon works really well for this dish and is a nice addition to the chicken.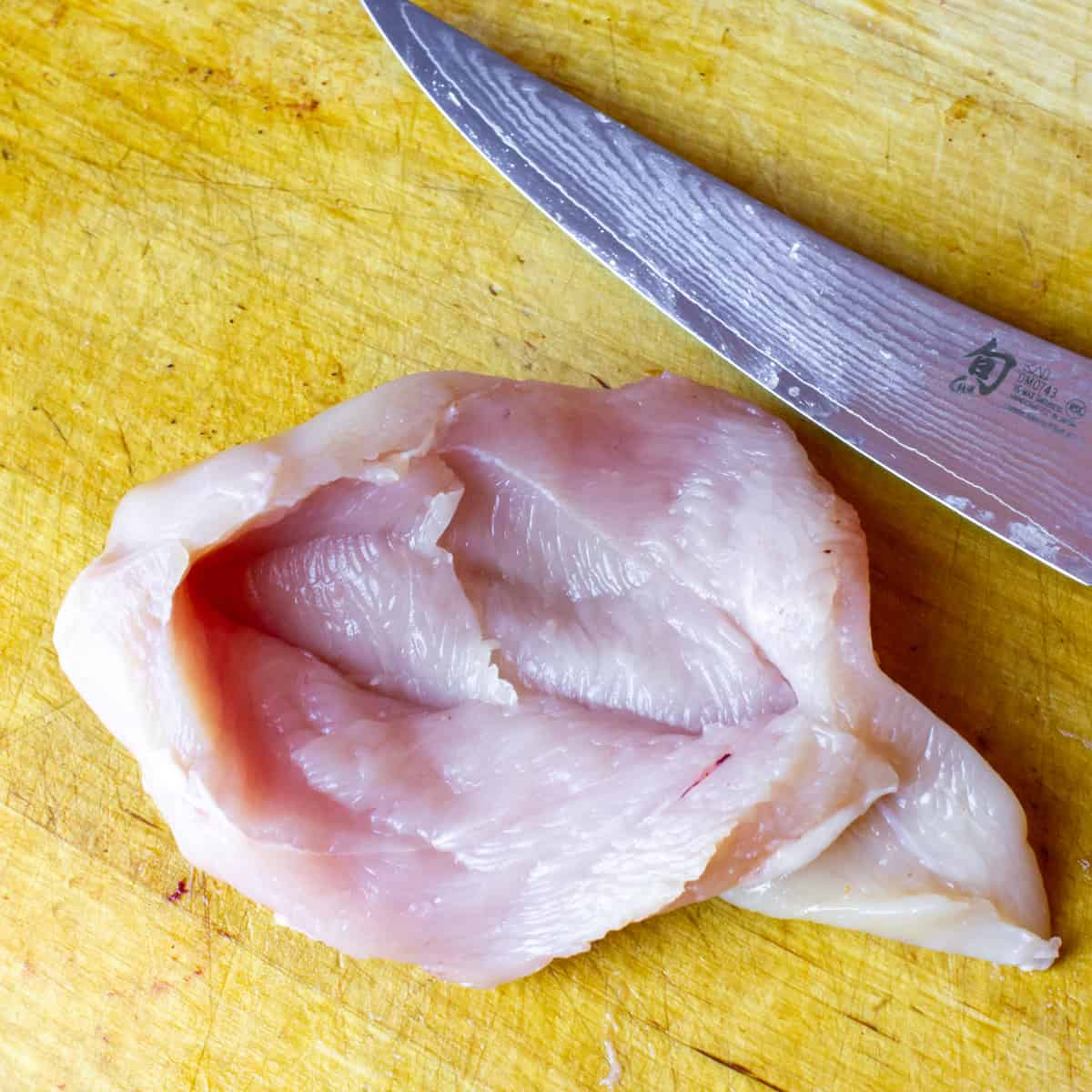 How To Slice A Chicken Breast Pocket
Make sure to use a sharp knife when slicing the chicken to make the pocket. Try to get as big a pocket in the chicken as possible but make sure you do not cut through the other side. I suppose it is not the end of the world, but the more openings there are, the greater chance that cheese will ooze out.
How To Stuff A Chicken Breast
Add a bunch of the diced chorizo and grated cheese. Press the filling deep into the cut open pocket of the chicken. Add enough of the stuffing to completely fill the hole.
Expert Tip – while we love filling made with chorizo and cheese, we also love stuffing smoked chicken with many other types of fillings. Get creative and try your own combo. Leave a comment and share what stuffing you have used!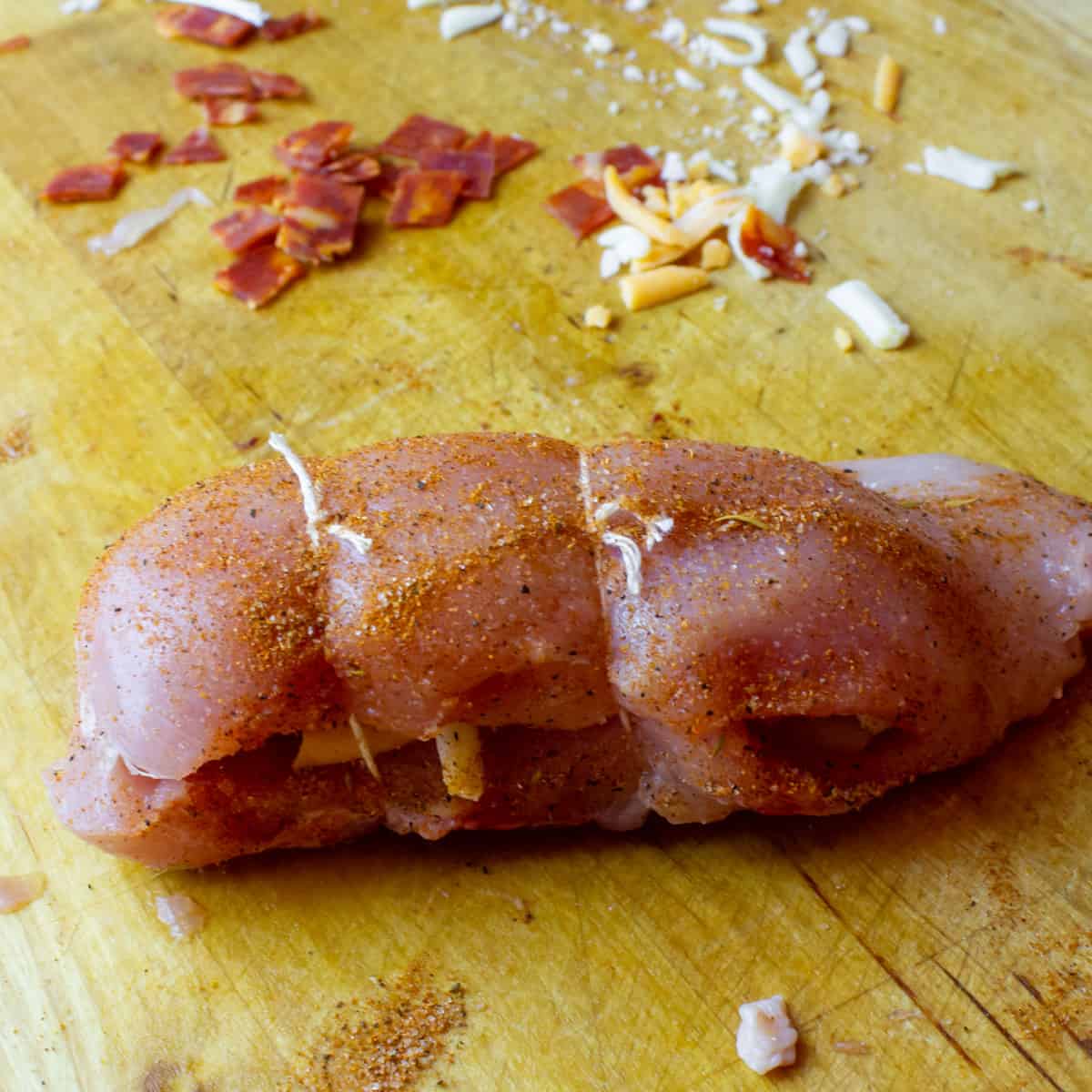 Make Sure To Tie Up The Chicken
Rub the chicken with your favorite BBQ rub. I tied them up with kitchen twine to make sure the stuffing stayed in the chicken. It is also possible to wrap them with bacon as well.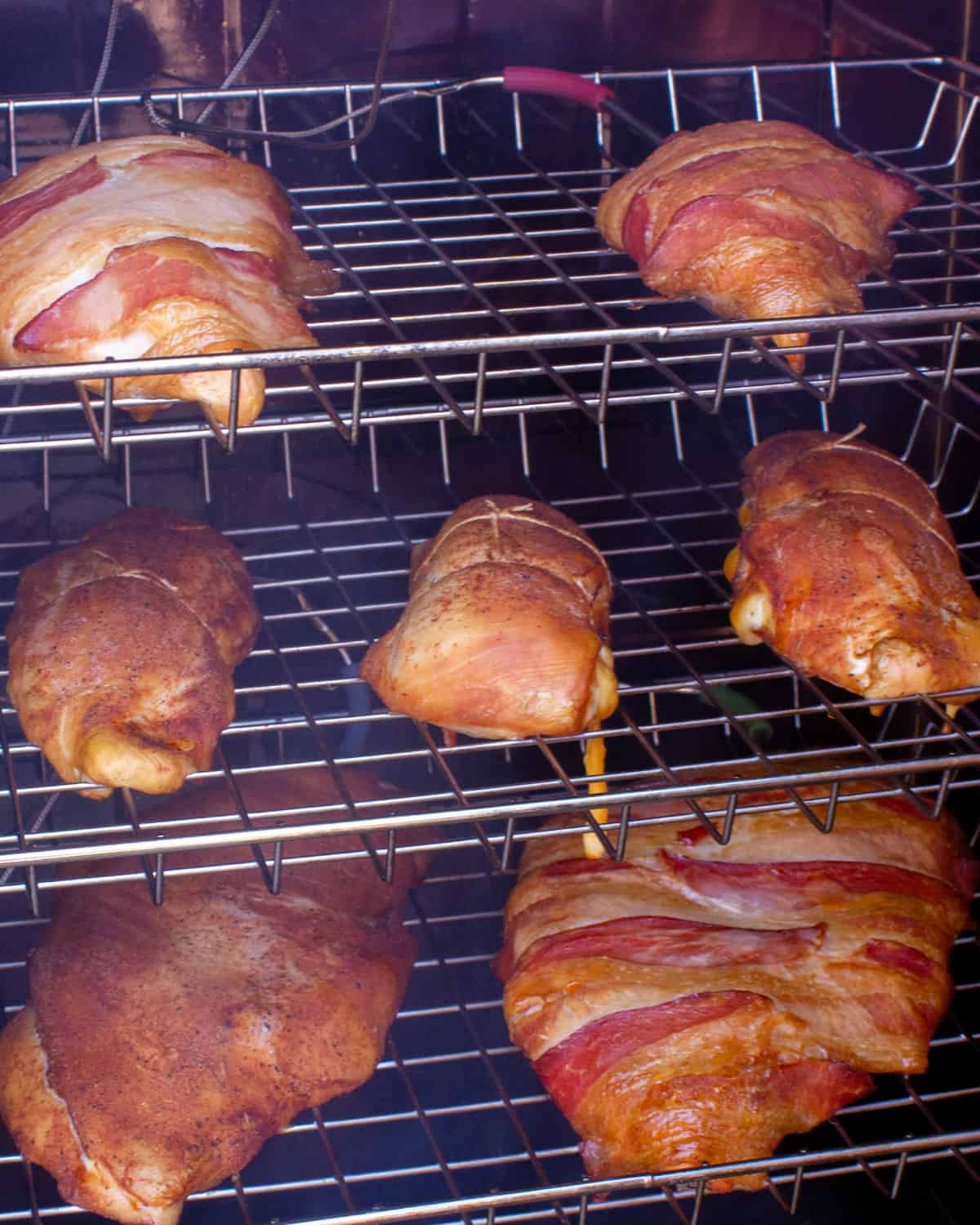 How Long To Smoke Chicken Breast
Place them in a smoker set for 250F and cook them until they reach an internal temperature of 165F. Depending on the type of smoker and the size of the chicken breast, the cooking time can vary significantly. I find that this can take 2 1/2 to 3 hours in my smoker to reach 165F.
Expert Tip! Chicken breast can go from being perfectly cooked to overdone and dry quite quickly. If possible, use a digital thermometer to monitor the internal temperature.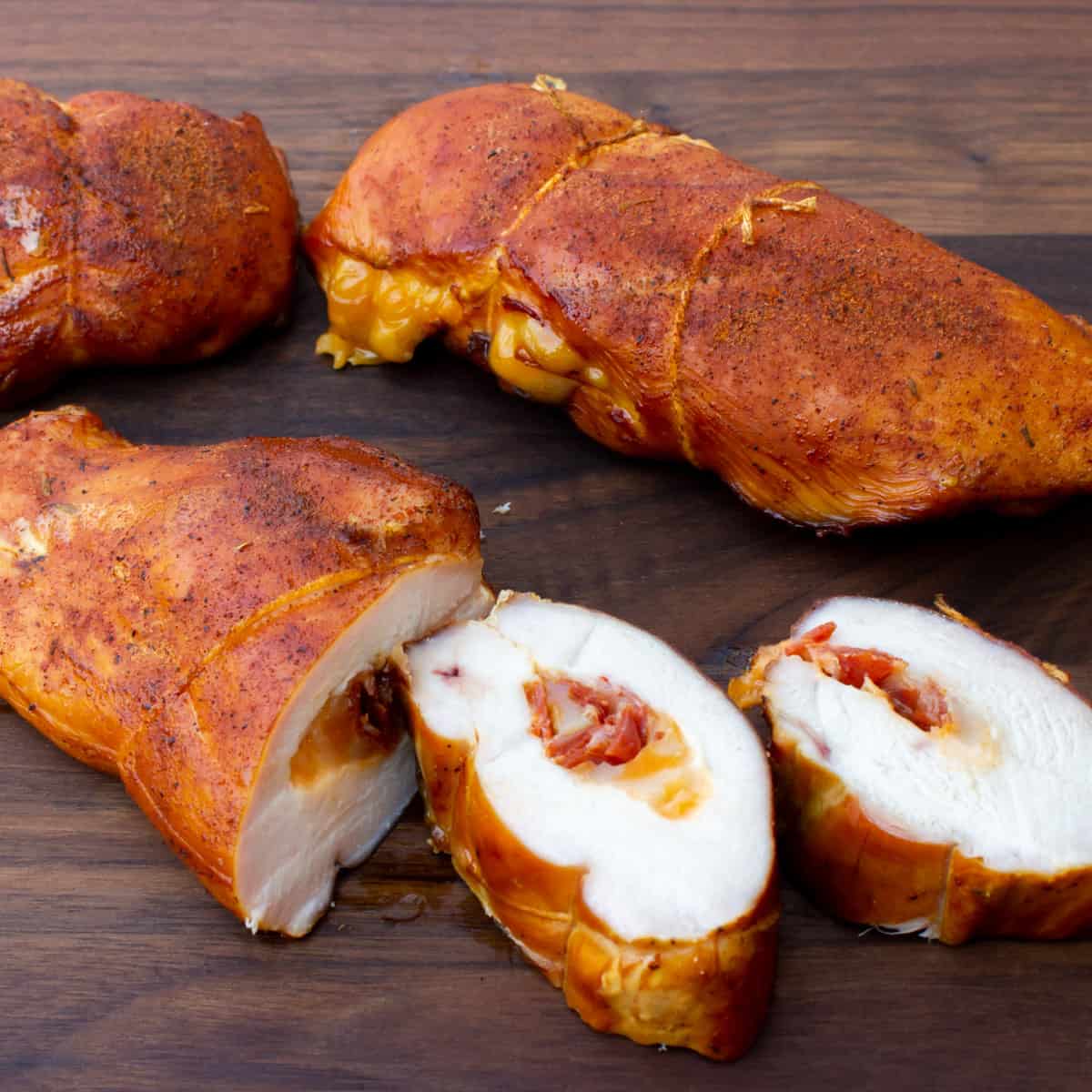 Let the chicken rest for a few minutes before serving.
Other Great Smoked Chicken Recipes!
Smoked Chicken Breast Stuffed with Cheese and Chorizo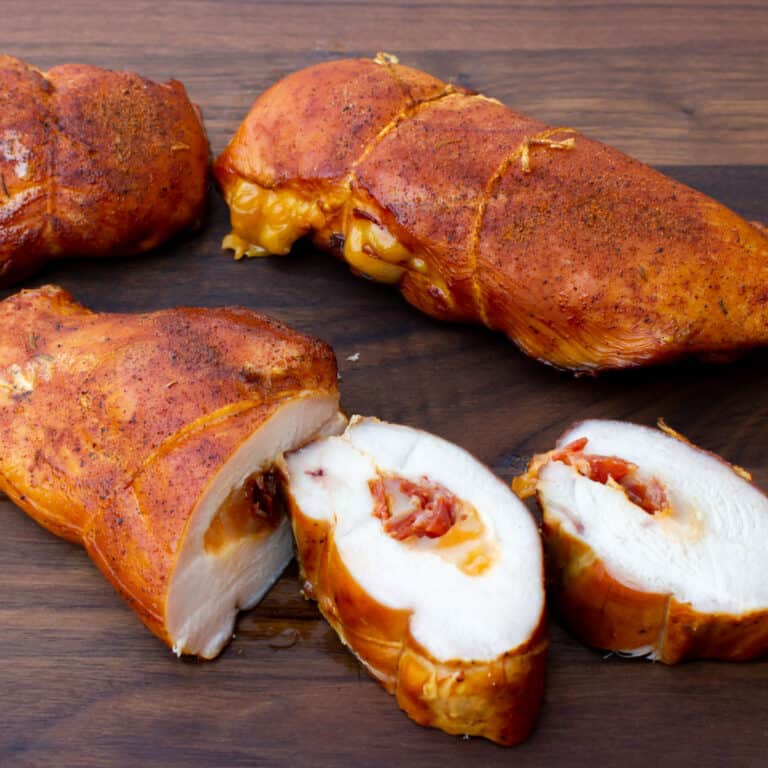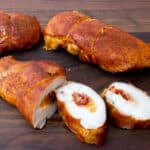 Print
Perfectly smoked boneless skinless chicken breast that has been stuffed with Spanish chorizo and grated cheese.
Servings: 4
Ingredients
4 boneless skinless chicken breasts
2/3 cup Spanish chorizo , diced
2/3 cup grated cheese , cheddar or Moneterey Jack
2 tbsp BBQ rub
8 slices bacon (optional)
Instructions
Set smoker to 250F and start up the smoke using wood of choice (Hickory, Maple, Cherry all work well)

Using a sharp knife, gently slice a pocket into each chicken breast. Try and slice as deep into the chicken as you can without coming through the other side.

Stuff the chicken with some of the diced chorizo and grated cheese making sure the same amount goes into each chicken.

Rub the spice mixture all over the chicken breasts.

If desired, wrap 2 slices of bacon around each chicken breast.

If you are not wrapping the chicken with bacon, tie up the chicken breast with string.

Place chicken breasts in the smoker.

Remove the chicken from the smoker when it reaches 165F, about 3 hours.

Let rest for a few minutes before serving.
Nutrition
Per serving:
Calories: 466kcalCarbohydrates: 6gProtein: 38gFat: 32gSaturated Fat: 12gCholesterol: 132mgSodium: 548mgFiber: 1gSugar: 0.3g