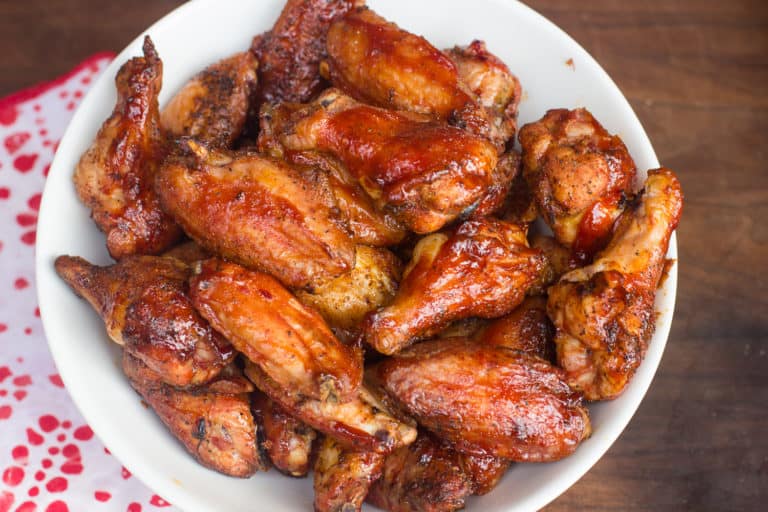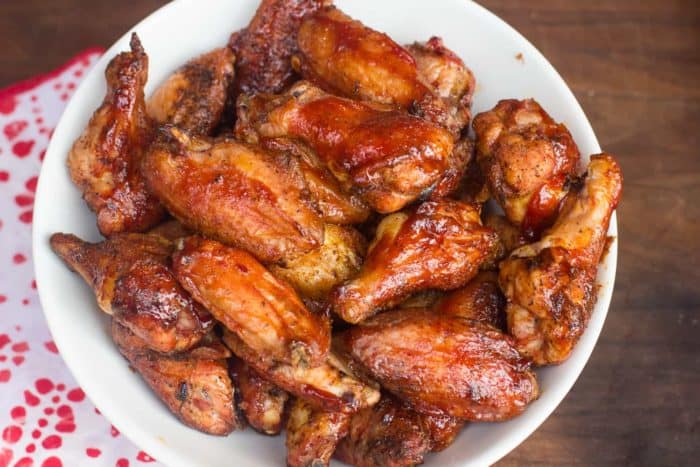 How to long to smoke chicken wings is one of the most common questions I receive. Smoking chicken wings is very easy and seriously rewarding. The flavour of a smoked wing is so bold, smokey and great for game day snacks and party food.
Over the years I have smoked wings using all kinds of different seasoning. Usually I toss them in a dry rub and then smoke them until they are cooked through. There are all kinds of rubs I have used with great success. Curry, jerk, cajun, herb and garlic are just a few of the kinds of seasoning that works great with smoked chicken wings.
Once they come out of the smoker, I sometimes toss them in a sauce prior to serving. On occasion, I will coat them in the sauce midway through the smoking session and then continue smoking (actually, this is what I did in the recipe below). Smoking first with the dry rub allows the smoke to penetrate the meat and then smoking some more after tossed in the sauce adds an even greater depth of smoke.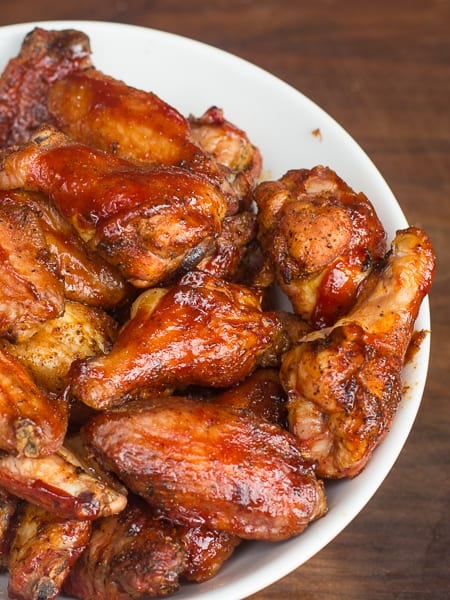 The recipe below and in the wings in the photos are some classic smoked BBQ wings. The seasoning for these wings is all about creating a classic BBQ flavour. The dry rub has a little bit of sweetness from the sugar and hint of heat from the chipotle powder. Toss the wings in the rub and smoke them at 275F for 2 hours.
Regarding wood choice, there are many types that are excellent for chicken. Personally, I love using pecan for chicken wings, which provides such a nice earthy smoke. Hickory, maple, apple and cherry are all great choices for wood as well.
Once the wings have smoked for 2 hours, I toss them in BBQ sauce and then put them back in the smoker for another hour or until they are cooked through and the skin is starting to crisp and render.
I like to use a BBQ sauce that is sweet and does not have a smoke flavour added since the wings are being smoked.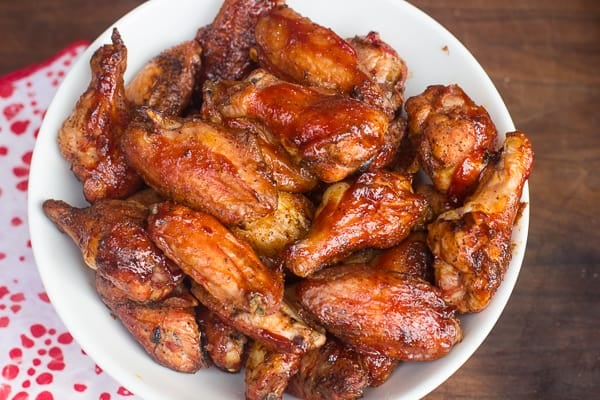 275F is a higher temperature for the smoker than normally use. I find that this temperature helps to render the skin and will start to crisp it up.
That's what we want in a wing – right?!?!
These wings are so addictive.
Sweet – smokey – meaty – delicious!!!
Smoked BBQ Chicken Wings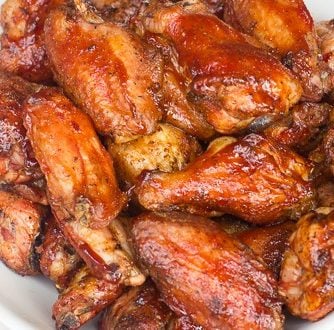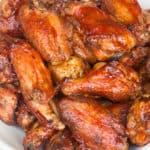 Print
How long to smoke chicken wings using electric smoker, pellet smoker, charcoal or other wood smoker. Dry rub and glazed with BBQ sauce.
Servings: 4 people
Ingredients
2 pounds chicken wings
1 tbsp ground chipotle powder
1 tbsp paprika
1 tsp garlic powder
1 tsp onion powder
1 tsp black pepper
1 tsp salt
2 tbsp brown sugar
1 cup BBQ sauce
Instructions
If desired, cut each chicken wing into three portions: drumette, middle portion and tip. Discard the tip of the wings and place the other portions in a large bowl.

Mix together the chipotle powder, paprika, garlic powder, onion powder, black pepper, salt and brown sugar together. Toss the wings in the seasoning so they are evenly coated.

Set up smoker for 275F using wood of choice.

Lay the seasoned wings on smoker racks and smoke for about 2 hours

Toss the wings in the BBQ sauce and place back on the smoker racks. Smoke for another hour, or until cooked through and the skin is crisped up.

Remove wings from the smoker and serve.